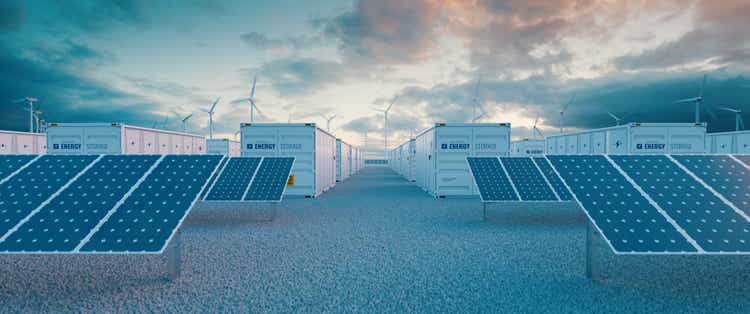 Iron, Chlorine, and Water = Long-term Storage
ESS Tech (NYSE:GWH) is another new battery developer for renewable energy storage applications. As is common, revenues are yet to be seen, as commercialization was spurned on thanks to friendly monetary policy in 2020-21. However, this is not to take away from the 10-year history of the company to develop a safer alternative to lithium ion batteries. In fact, if reports are correct, ESS will be one of the first large-scale producers of energy storage systems (outside of lithium ion and hydro storage), beating the slow pace of peers such as Eos (EOSE), FREYR (FREY), and Energy Vault (NRGV).
I say this because assembly lines are already completed after initial full-scale deployment way back in 2015, while some peers have yet to have even built their full capacity facilities. Meanwhile, GWH is already shipping units out to customers over the past few months and production lines are being optimized. While investors hate the lack of transparency, I rather have management work out the kinks before leading us on with unrealistic early stage revenues.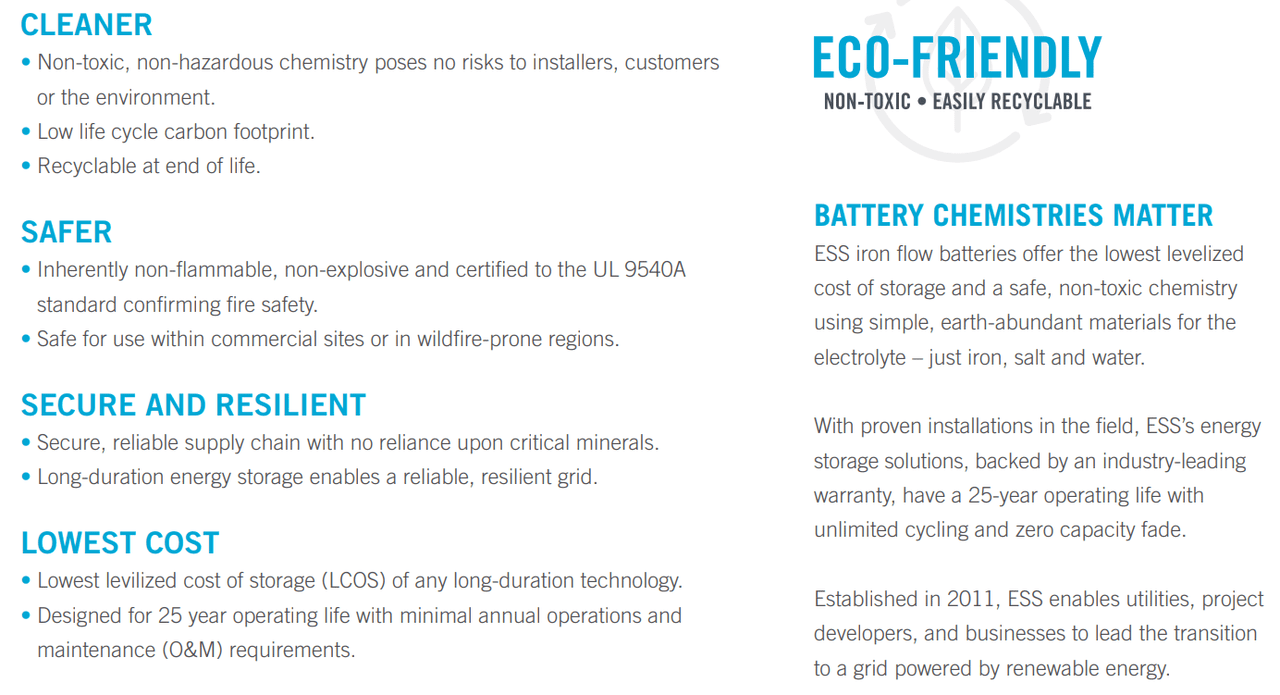 It is important to remember that energy storage is not a single use case. In fact, nearly every company and technology offers their own best-use cases, whether due to cost, ease of deployment, operational lifetime, power & capacity, and more critical factors. As such, I do not look at each company as competitors, rather, peers with their own opportunities to take. ESS, however, seems to offer favorable metrics when compared with peers, and may be a leader in the segment in time. I believe the most important factor will be the toxicity profile that allows for more diverse storage applications around the world, as batteries can be shipped more efficiently and costs are reduced as risk management is limited. So far, units seem to be heading out to customers at a rapid rate, with some additional improvements to account for. Management had this to say last earnings:
While we began 2022 slowed by the supply chain challenge that faced the globe, we have navigated the industry wide challenges and have strong confidence in our trajectory. We remain on track to ship 40 to 50 energy warehouses this year and our internal operation plans are generally proceeding well. Our efforts to diversify our partnerships with our suppliers are paying dividends. And we are up and running with our new injection molding vendor. In addition, while our supply chain electronics was less than optimal starting the year, we now feel we have a strong handle on securing the necessary components and expect to deliver on our production schedule.
The next factor to consider is if the cost profile is favorable compared to lithium ion solutions, whether due to performance or cost to build. Sure units are heading out to customers, but revenues have yet to be recognized. While most Li-ion competitor technologies claim to be cost effective, the true extent will not be known for some time. One favorable factor in regards to ESS's technology is that the base chemicals (ferrous chloride) used in the batteries are easier and cheaper to source than lithium that is facing a supply crunch. Ferrous chloride can be produced by reacting hydrochloric acid (very common) with red iron oxide, a common pigment with established yearly production of 600,000 tons (lithium is around ~100,000 tons per year).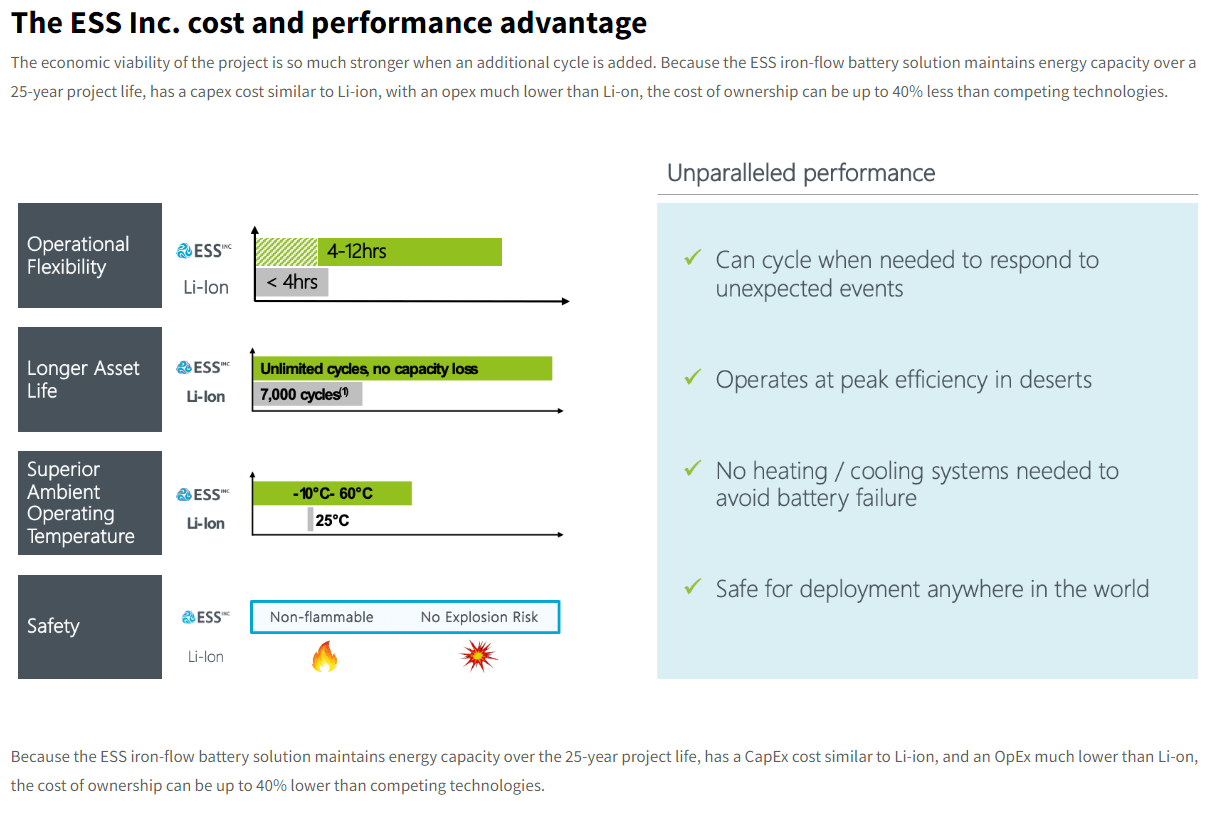 A third unique aspect of ESS is its partnership program that seems to surpass other early stage peers. First came extensive venture capital investments from names such as BASF (OTCQX:BASFY), SoftBank (OTCPK:SFTBY), Evergy (EVRG), and more. Then, as the technology has unfolded and been proven, a unique circumstance has evolved: a warranty system. This warranty is provided by Munich RE (OTCPK:MURGY), a $30 billion market cap German reinsurer and is the first example of this I have seen in energy storage. Along with other financing solutions, ESS seems to have the broadest commercial infrastructure in place beyond just production lines and this may allow for a safer investment.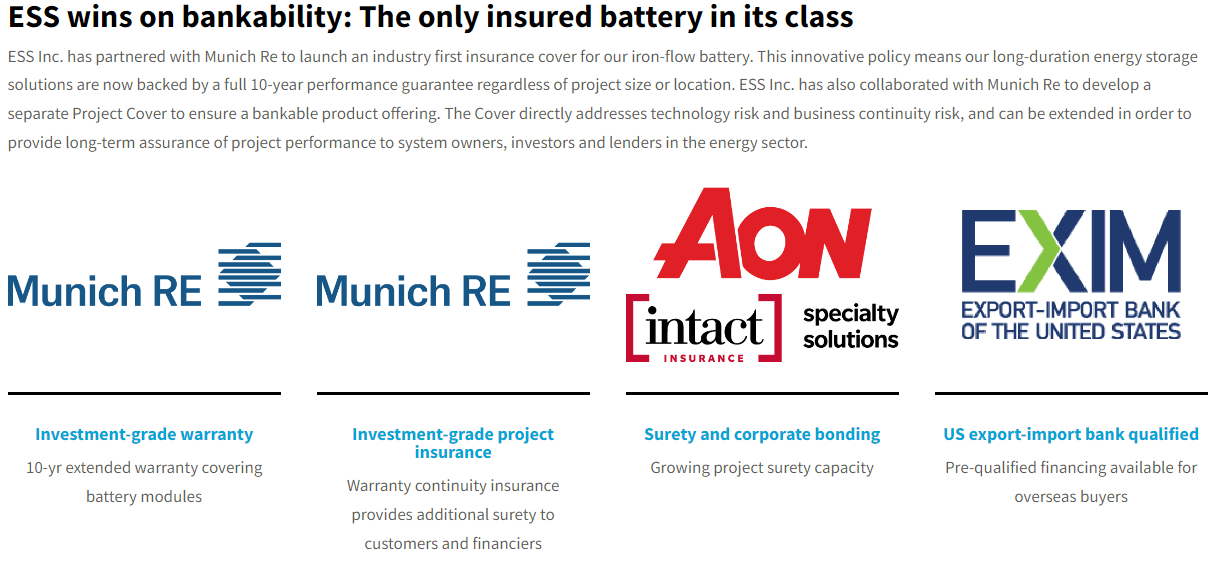 Time will tell on the quality of this investment, as revenue recognition is being delayed. However, next quarter is looking to be quite important, per management:
We intentionally are being deliberate with revenue recognition. And I can say working closely with our customers this quarter, we feel very good about our progress. And I definitely look forward to updating you on the next call in terms of our progress on rev rec.
Thankfully, the company has a solid balance sheet and limited amounts of losses per quarter. The recent IPO allowed GWH to acquire a cash balance of $250 million, which is now $212 million. At quarterly free cash flow of between $20 and $30 million, ESS has up to three years of operations supported by the cash balance. It will be interesting to see the earnings profile as revenues begin sometime this year, but dilution may remain a factor as operational expenses reached over $400 million last year. As there is no debt, the discrepancy between cash flows and operating losses is the result of investments, delayed revenue recognition, and dilution. Overall, however, the company is in a stronger position than peers, such as Eos, who have limited cash and higher losses.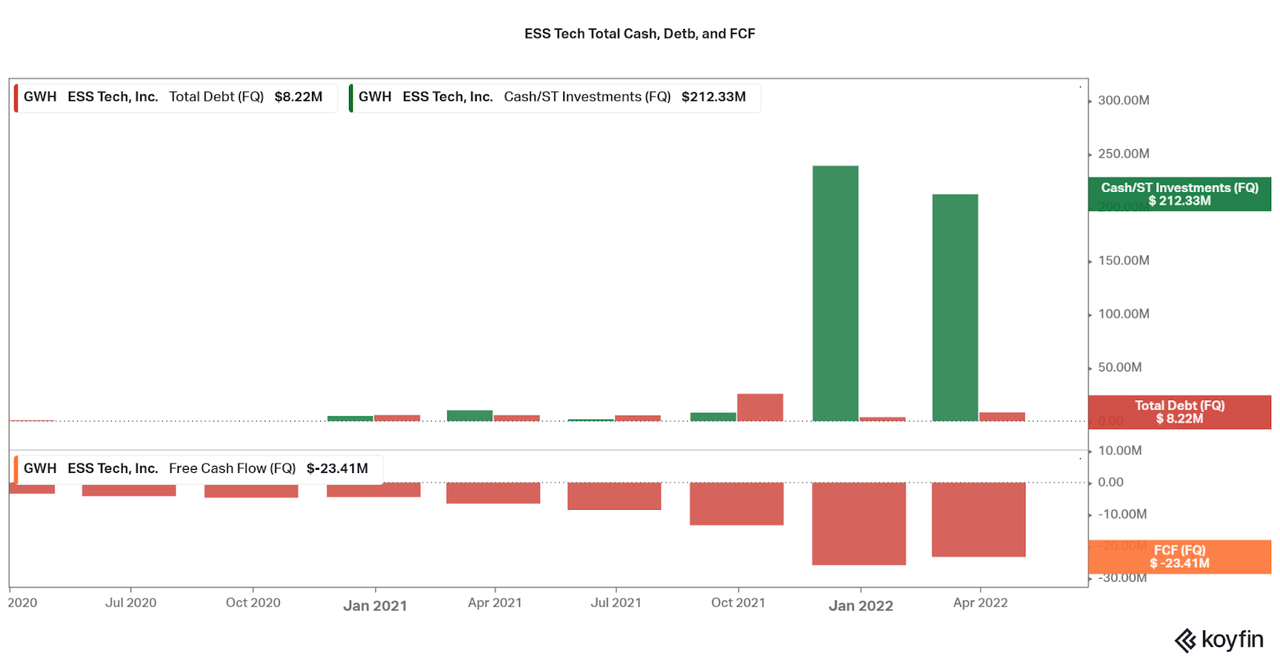 As a result of the commercially ready platform, I find myself edging towards a bullish view of the company. While volatility remains, there are still signs that risk assets may be having a resurgence, especially over the past month or so. However, the downward trend in share price is likely to remain until revenues are seen in the financial reports. Plus, I would not be surprised to see more shares issued upon a successful earnings report bounce, and I am sure risk-averse investors would be happy to wait to see how things turn out.
Therefore, I will be watching closely and more likely to choose ESS as my energy storage technology exposure. The company certainly has an enticing lack of clarity compared to my coverage of Eos Energy who has multiple revenue metrics (energy storage market growth, project pipeline, backlog) without performance to back up the data. Perhaps conservative expectations are a good sign. I will be sure to keep everyone posted on the developments over the next quarter or so.
Thanks for reading.