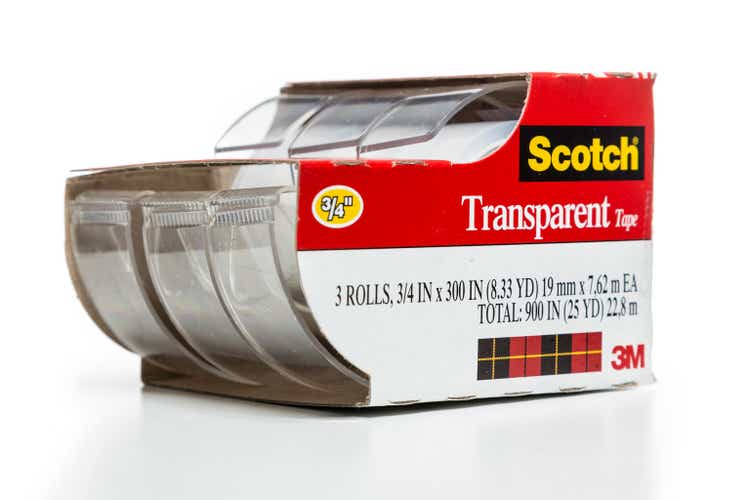 My last mention of 3M – Minnesota Mining & Manufacturing (NYSE:MMM) was in January here, where I projected a period of underperformance of the overall U.S. equity market would continue (from price at $178). I also suggested 3M would eventually turn into a strong defensive buy opportunity. Well, the opportunity part of the prediction has arrived in early July.
I know there are product liability lawsuits being lost, lingering environmental concerns and settlements over some of its "forever" chemical inventions, and major supply-chain disruptions across the globe continuing from COVID-19. Seeking Alpha contributor Chuck Walston wrote a nice overview of the litigation headwinds to 3M in June here. Based on the company's roughly $6 billion in annual earnings, I estimate litigation and settlement charges up to $30 billion could be doled out ($2 billion in extra interest expense annually on newly issued debt), without major changes to its finances or operating businesses.
The honest truth is many of these issues have always existed when investing in 3M. As one of the biggest inventors and patent holders on the planet, often one fix for our lives can create new headaches and problems. However, massive profitability remains part of the investment equation, and this is where I will focus my attention in this article. My conclusion is owning a diversified brand-name consumer and supply-chain giant, with super-strong operating business and investment returns, is worthy of your research time and effort.
Trading at nearly an 8-year low price, 3M now sports the top forward earnings yield and sustainable cash dividend yield vs. U.S. competitors and peers. Why not make the reasonable decision to add such this wonderful buy proposition to your portfolio? If you can ignore the 2022 swoon in its stock quote and negative headlines of the day, the math says 3M is a truly unique bullish pick right now.
Rock-Solid Financials
The company still sports one of the strongest and most conservative balance sheets of any large-cap business in America. In terms of profit margins and cash flow returns compared to peer conglomerates, 3M stands out as a terrific long-term holding. Final net profit margins of nearly 16% on sales are on par with healthcare titan Johnson & Johnson (JNJ) and consumer staple Procter & Gamble (PG), pictured below. In addition, this efficiency number is better than other diversified conglomerate brand-name leaders Honeywell (HON), General Electric (GE), Icahn Enterprises (IEP), DuPont (DD), Albemarle (ALB), PPG Industries (PPG), Church & Dwight (CHD), Kimberly-Clark (KMB), and Colgate-Palmolive (CL).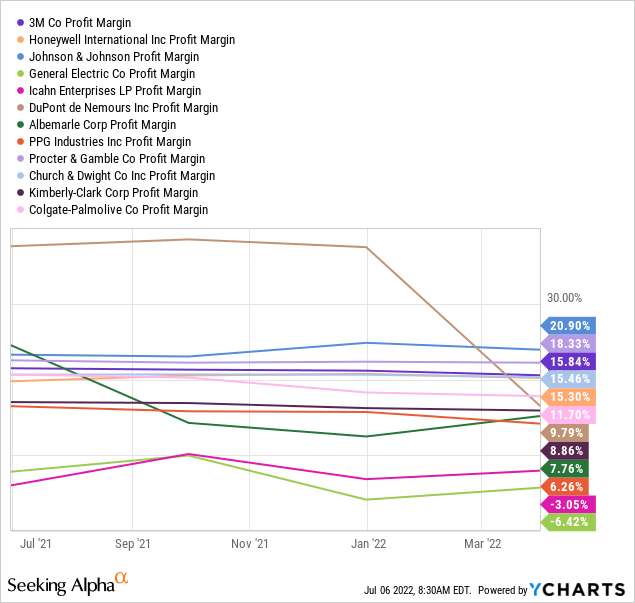 Basic cash flow over the past 12 months is also top tier vs. the group when reviewing ratios on sales or total debt. A 19% margin of cash flow on sales is truly superb. And it would theoretically take just 30 months of cash generation coming in the door to pay off all interest-bearing debt.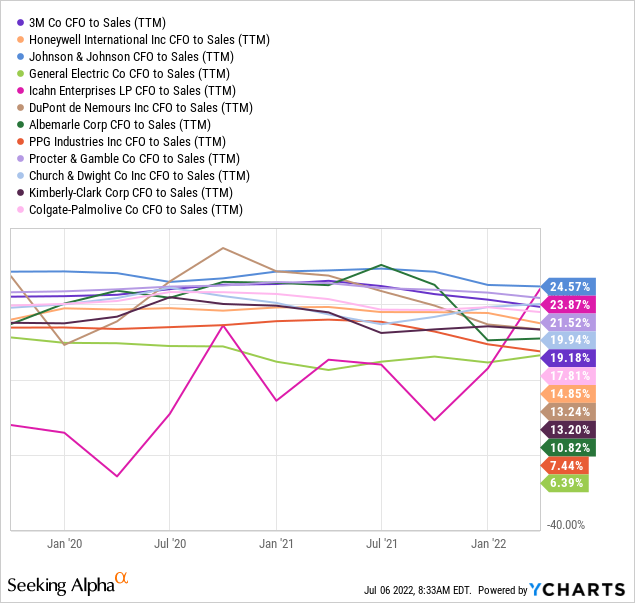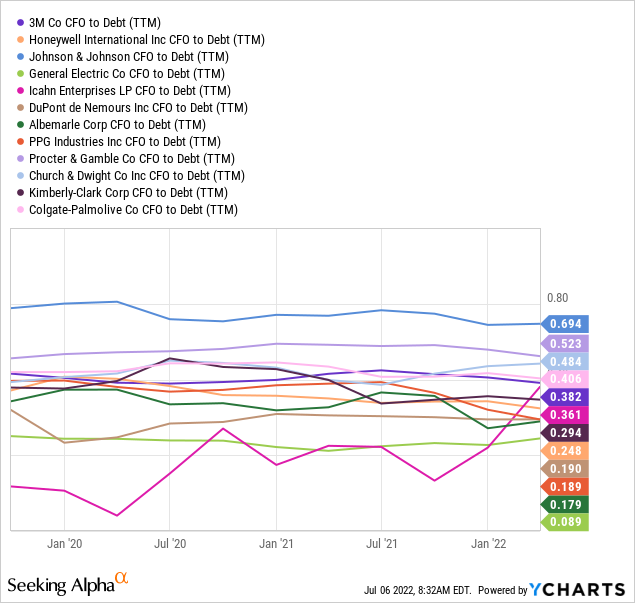 Further, the return on assets ratio is one of the best in the large-cap blue-chip peer group, while total liabilities to assets are near a typical setting vs. other conglomerates.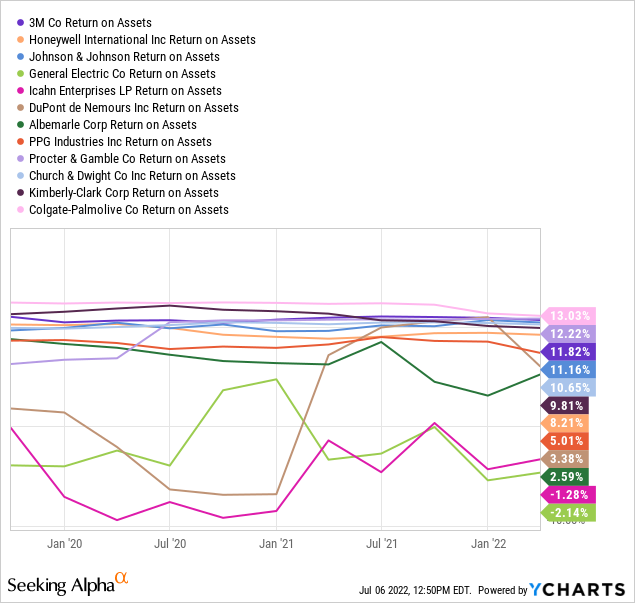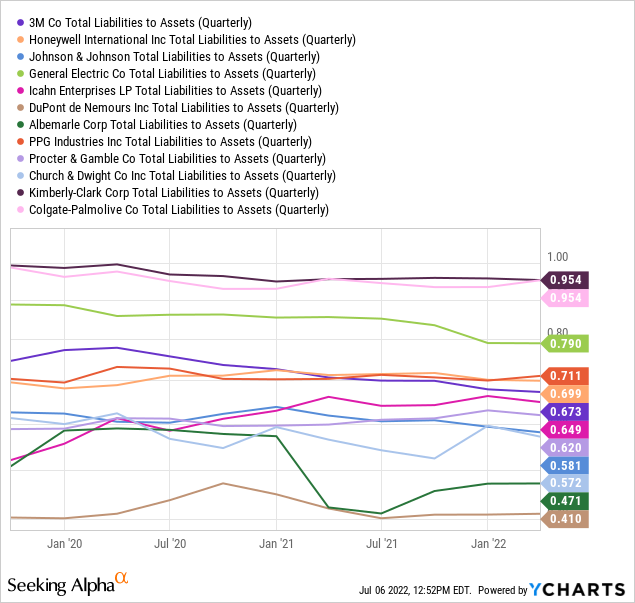 Valuation Screaming Buy
Even better than the balance sheet and operating margin setup is 3M's overall valuation on current and future estimated results, after a near -40% dump in the stock quote from 2021's peak. The huge backward movement in price has opened up the smartest valuation for new investment since at least 2013, as you can review below. On price to trailing earnings, sales, cash flow, and book value, 3M is becoming a more compelling bullish selection by the day.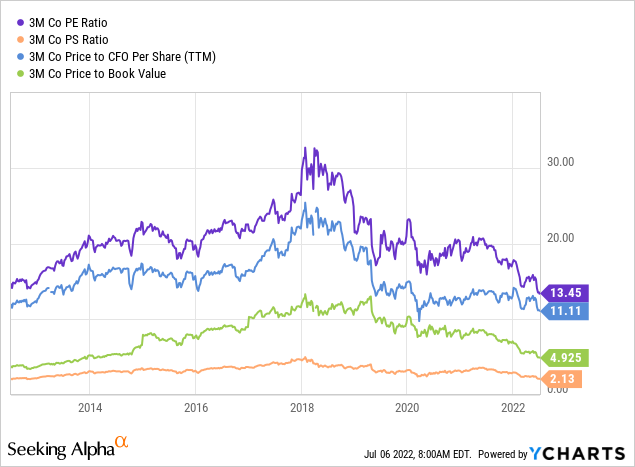 Without a doubt, the earnings yield story is hard to ignore for blue-chip bargain hunters. On both trailing and Wall Street analyst estimated numbers, 3M is by far the winning choice for value investors in July. The 7.4% to 8.7% income return for investors around $129 per share matches up extremely well with 8% CPI advances, or the S&P 500 earnings yield around 5%.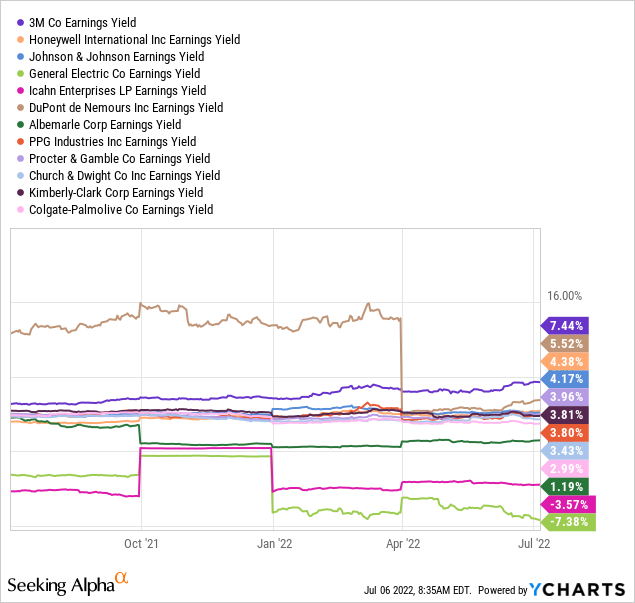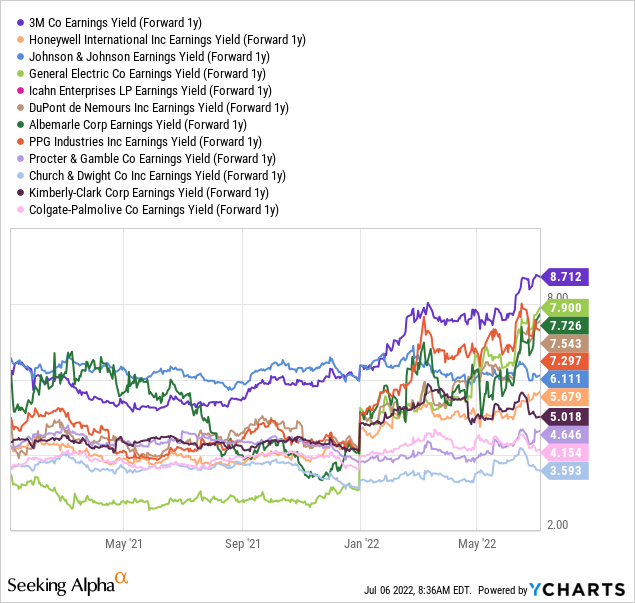 But that's not all the positive "yield" news. 3M also has the highest sustainable cash distribution yearly, with earnings covering dividends by a ratio 1.62x. The current 4.6% cash yield is also TRIPLE the S&P 500 average equivalent around 1.6%, with a similar coverage ratio from earnings. For income investors, 3M should really grab your attention in July. On a combination of current and future yield ideas (earnings and dividends), 3M stands out today as a top conservative choice for new capital.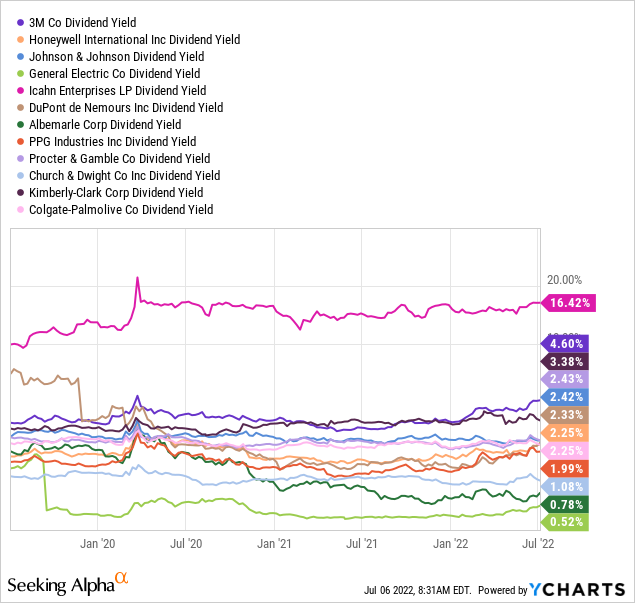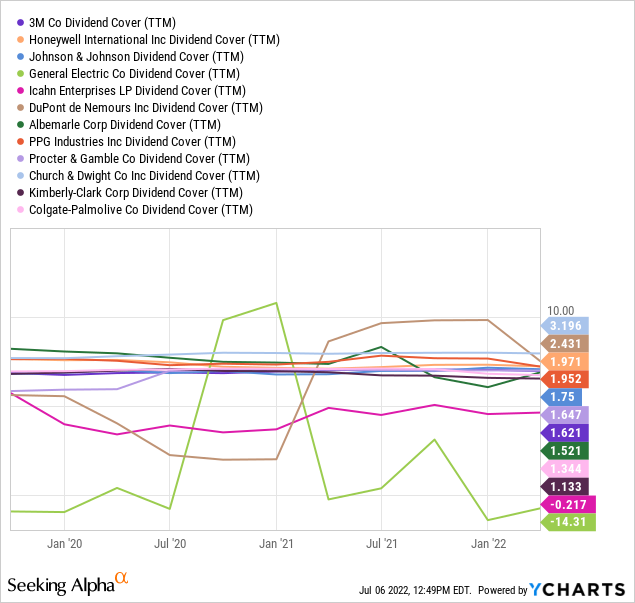 When we include debt outstanding and equity market capitalization, enterprise values on business results remain quite bullish. Below is a graph of EV to EBITDA and Revenues. Both calculations are hovering near 9-year lows.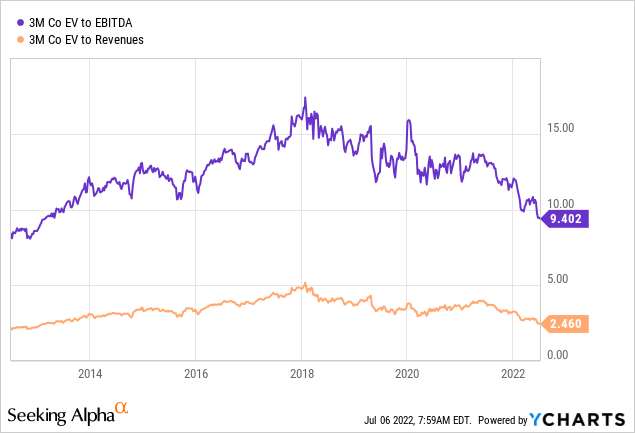 Again, the main 3M cash generation EBITDA number of 9.4x (which allows more direct apples-to-apples comparisons of company worth if an investor could acquire a company whole and pay off all debts) highlights how much cheaper the company is priced vs. peers and competitors. In fact, this EV ratio is roughly HALF the median average for the group of 17.5x.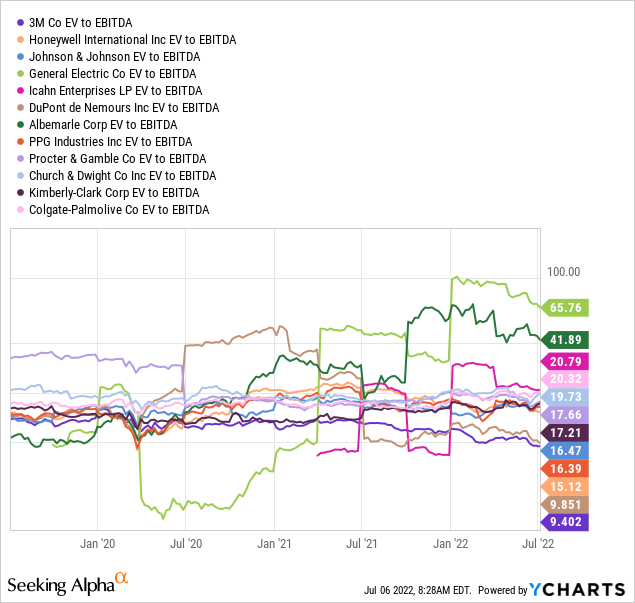 Oversold Trading Condition
Another piece of the 3M investment puzzle is its ugly-looking chart. This is not my usual setup of rising momentum and strong buying I prefer to find. However, such trends are almost impossible to dig up today in the blue-chip sector of the market. After a -25% bear market since December in many indices, we have to think a little outside of the box to nab bargains, akin to my deep-value bottom fishing articles.
What 3M clearly has outlined in June-July is its most oversold reading for downside momentum in the last decade. Really, only one drop in 2019 comes close to the current overdone extreme in selling pressure. For defensive blue-chips, you don't get dramatically oversold conditions very often. So, contrarian investors focused on the operating business fundamentals should be salivating.
Below is an 18-month chart of daily changes highlighting this oversold condition. The 14-day Average Directional Index reading above 45 (circled in red) is about the same as the March 2020 pandemic bottom in price, and only eclipsed by the May 2019 reading on a significant selloff over the last ten years. In addition, the 14-day Relative Strength Index (circled in green) and Money Flow Index (circled in blue) have reached blowout lows over the past two weeks.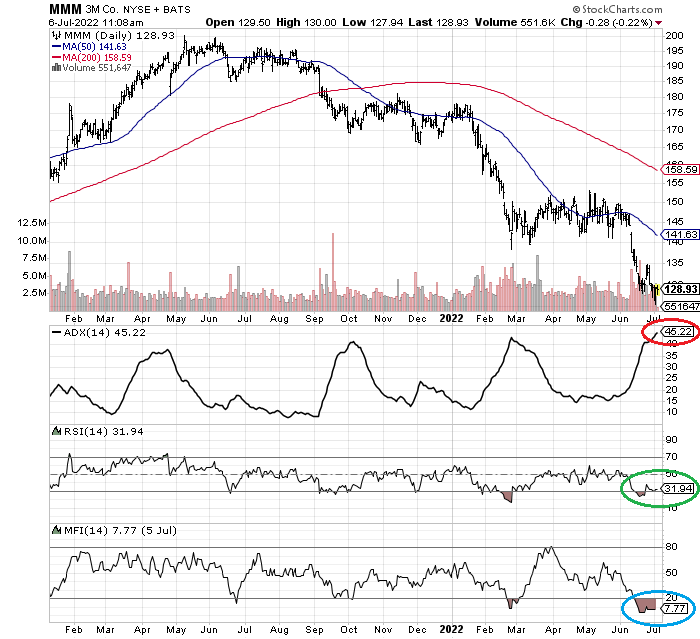 Final Thoughts
Forecasting higher 3M quotes in the short run is not rocket science, based on the oversold chart pattern. And, when you contemplate how cheap the shares have become on underlying fundamentals, the odds favor a long-term bottom is probably taking place or is very close for 3M in the summer of 2022.
What could wrong? Sure, major lawsuit victories and class-action settlements over the safety of a number of 3M products could slow any rebound from here. However, the company is churning out incredible profits, so such charges may not produce headwinds for long.
Of greater immediate concern is the Federal Reserve push to raise interest rates and impede economic growth, all an effort to slow inflation increases in the macro economy. This is the main excuse for the 2022 decline in 3M share pricing. If we end up with a deep recession the rest of the year into 2023, 3M may not rise much for shareholders. Yet, a near-5% dividend yield and its defensive sales trends historically during recessions are real positives to support investor interest.
My modeling puts potential downside risk in 3M shares to $100 in a worst-case scenario of much higher interest rates and a severe contraction in "real" GDP of -5% over the next 12 months. The upside forecast in my risk/reward analysis is $175, assuming the Fed is about to end its tightening effort by September's meeting, and the economy treads water with very minor growth. If current analyst estimates for earnings and sales are hit, and we put 10-year average fundamental multiples on the valuation, bullish upside is easy to understand.
For total returns, including the high dividend payout, downside potential of -20% vs. upside of +40% argues in favor of ownership. I have a Buy rating on 3M with a limited and conservative upside target of $150 by next spring. Of course, higher pricing is entirely possible if the Fed succeeds in bringing down inflation without sending the U.S. into deep recession.
Thanks for reading. Please consider this article a first step in your due diligence process. Consulting with a registered and experienced investment advisor is recommended before making any trade.