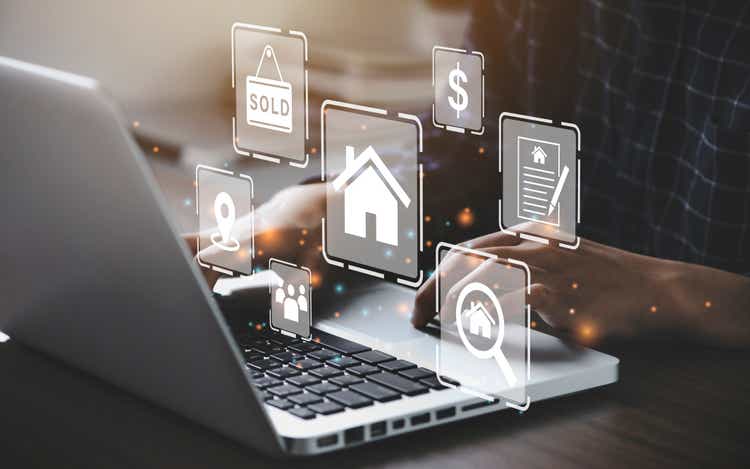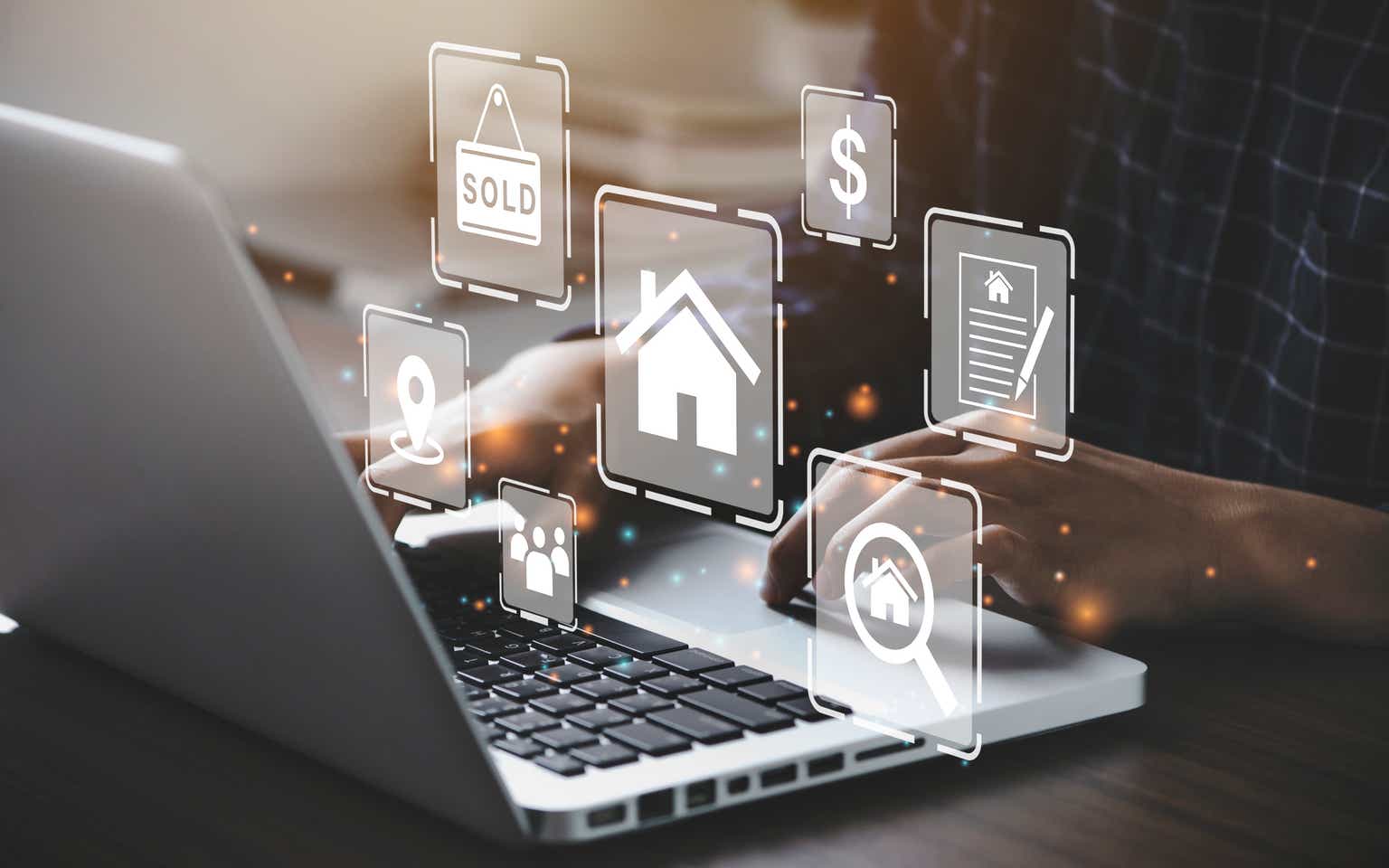 A Quick Take On loanDepot
loanDepot (NYSE:LDI) went public in February 2021, raising around $54 million in gross proceeds from an IPO that priced at $14.00 per share.
The firm has developed a variety of digital loan technologies for mortgage loans in the U.S.
Until we see progress on its cost-cutting efforts along with stabilizing revenue fall-off, I'm on Hold for LDI.
LDI Overview
Foothill Ranch, California-based loanDepot was founded to develop a digital-first platform to originate, process, underwrite, close and service residential mortgages in a more efficient manner.
Management is headed by Chief Executive Officer Frank Martell, who previously was CEO at CoreLogic and COO at ACNielsen.
The company's primary offerings include:
Lead routing

Loan processing

Loan servicing
The company uses its proprietary scoring system for processing leads to make a compelling offer to each prospective client based on a number of attributes.
loanDepot's Market & Competition
According to a 2020 market research report by ATTOM Data Solutions, in the first quarter 2020, U.S. residential property mortgage originations reached 1.07 million refinancings for Q1 2020.
This result was 16% lower than Q4 2019 but up 87% from Q1 2019.
Interest rates dropped to all-time lows as a result of the Covid-19 pandemic and resulting lockdowns sharply reducing economic activity.
Homeowners took advantage of this lower interest rate environment and refinancings account for 55.7% of the 1.92 million home loans in Q1 2020.
However, high lending volumes in the main part of the pandemic served to pull refinancings forward.
A rapidly rising interest rate market environment combined with previously completed refinancings is reason for serious concern about market activity in the near term.
Major competitive or other industry participants include:
AmeriHome (AHM)

Rocket Companies (RKT)

Guild Holdings (GHLD)

Caliber Home Loans (HOMS)

Home Point Capital (HMPT)

Others
LDI's Recent Financial Performance
Total revenue by quarter has dropped sharply from early 2021 to present: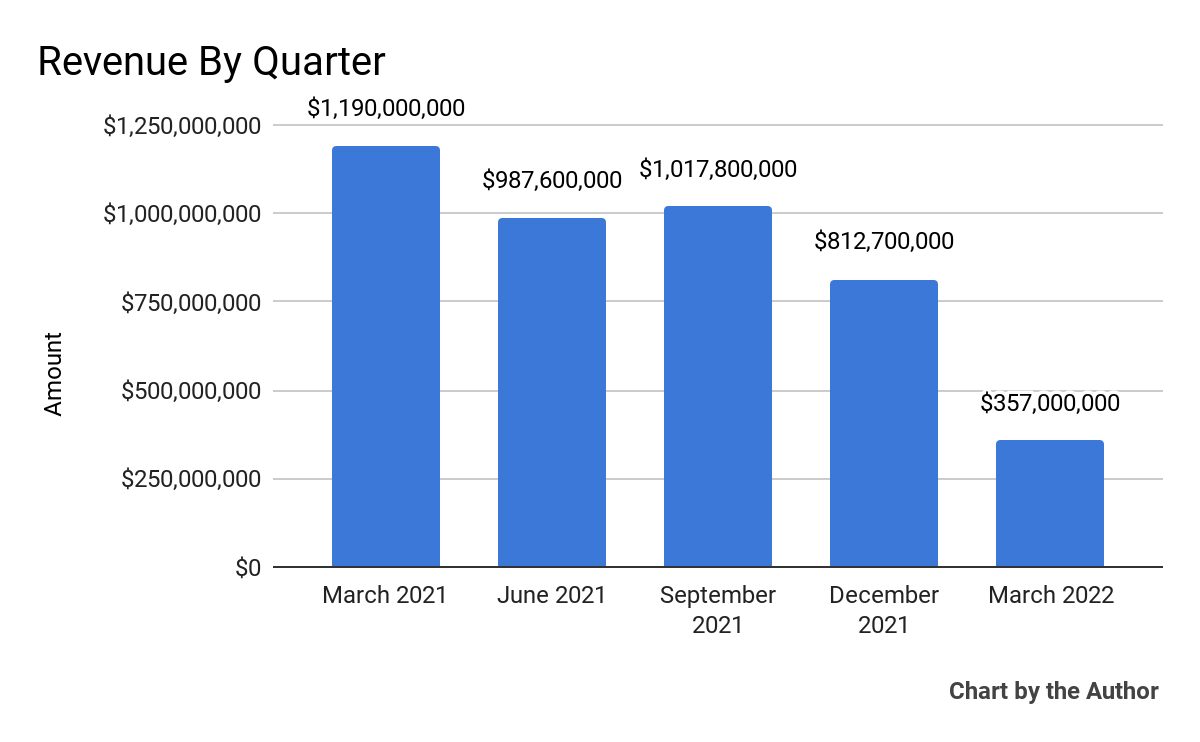 Gross profit by quarter has followed the same trajectory as that of total revenue, as the chart shows below: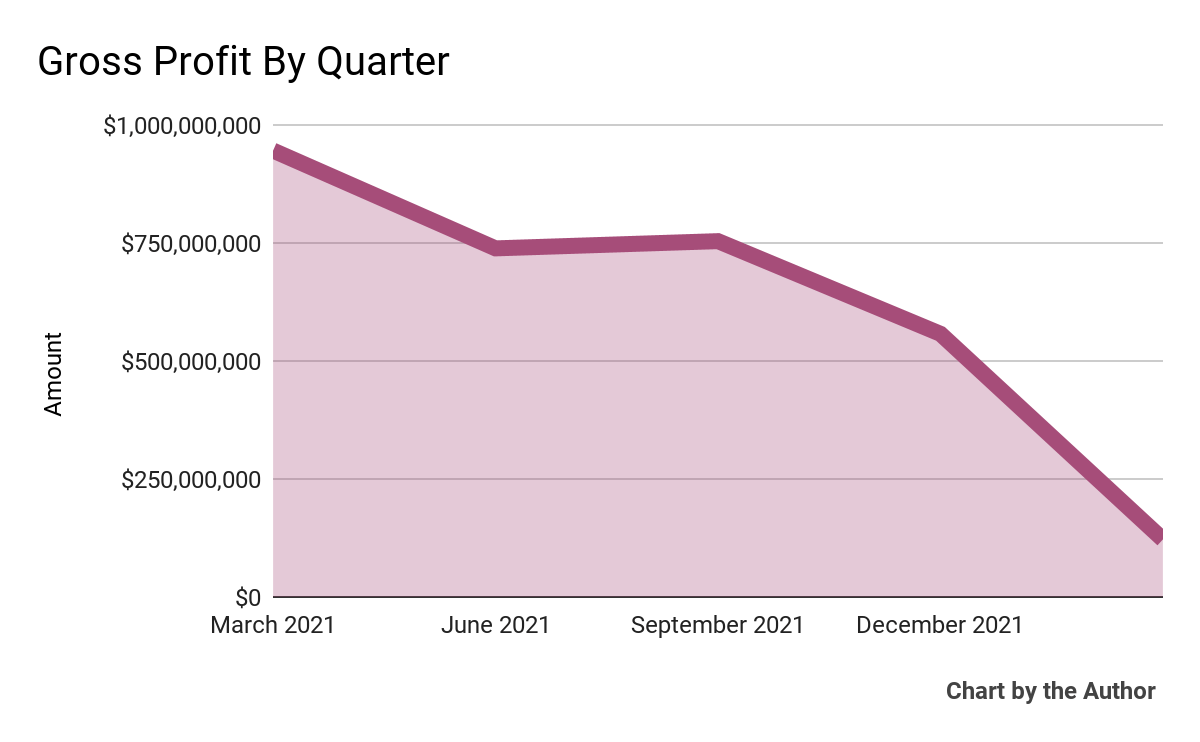 Salaries & Other expenses as a percentage of total revenue by quarter rose dramatically in the most recent quarter, as the company's cost structure has remained elevated despite dropping topline revenue: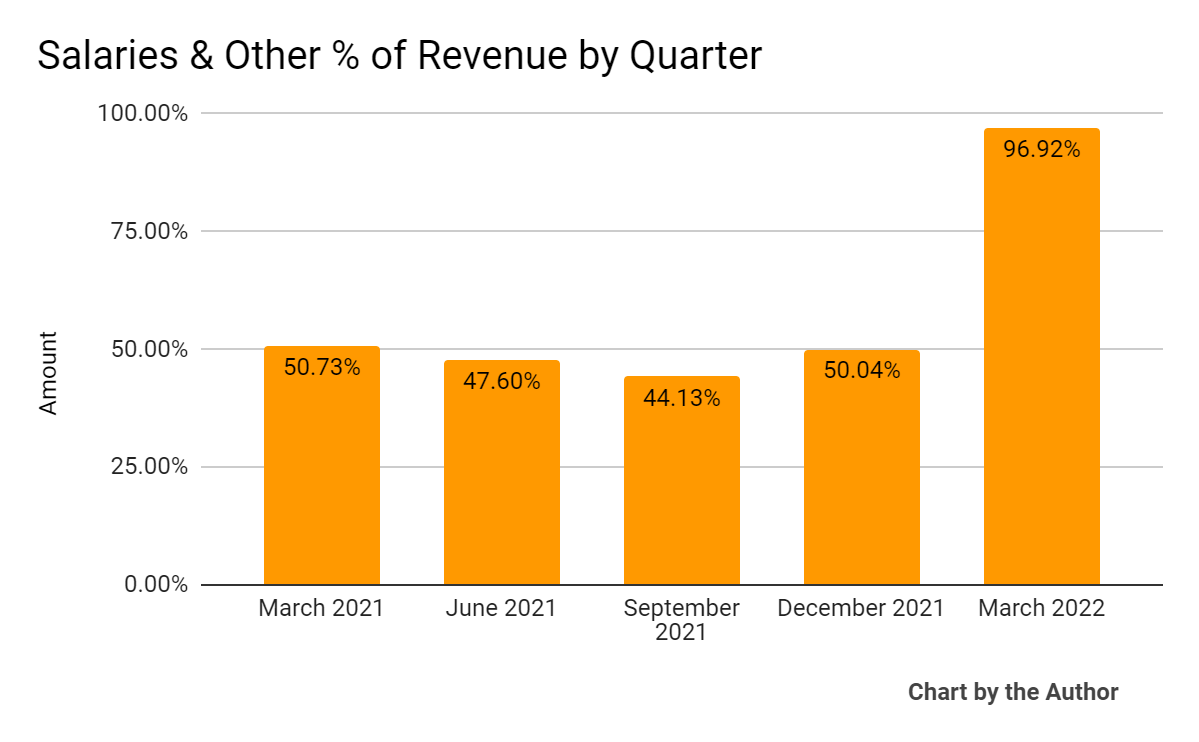 Operating income by quarter has fallen sharply into negative territory in the most recent quarterly report: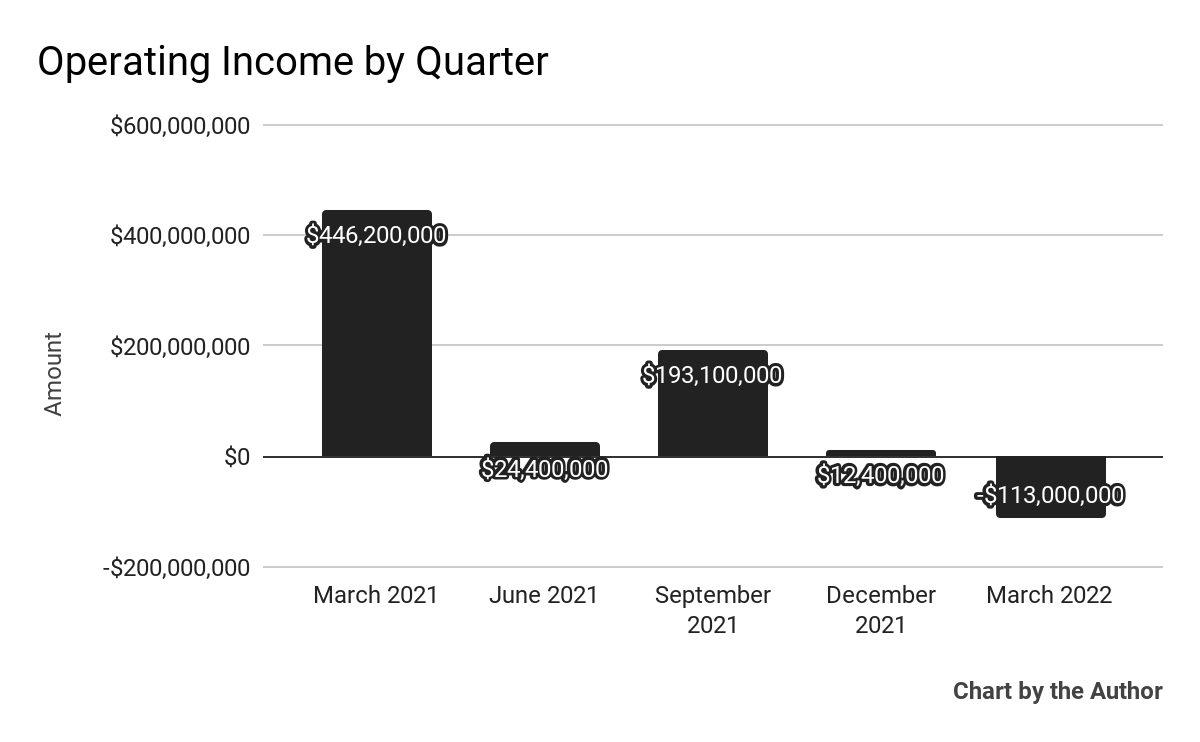 Earnings per share (Diluted) have swung significantly negative in Q1 2022: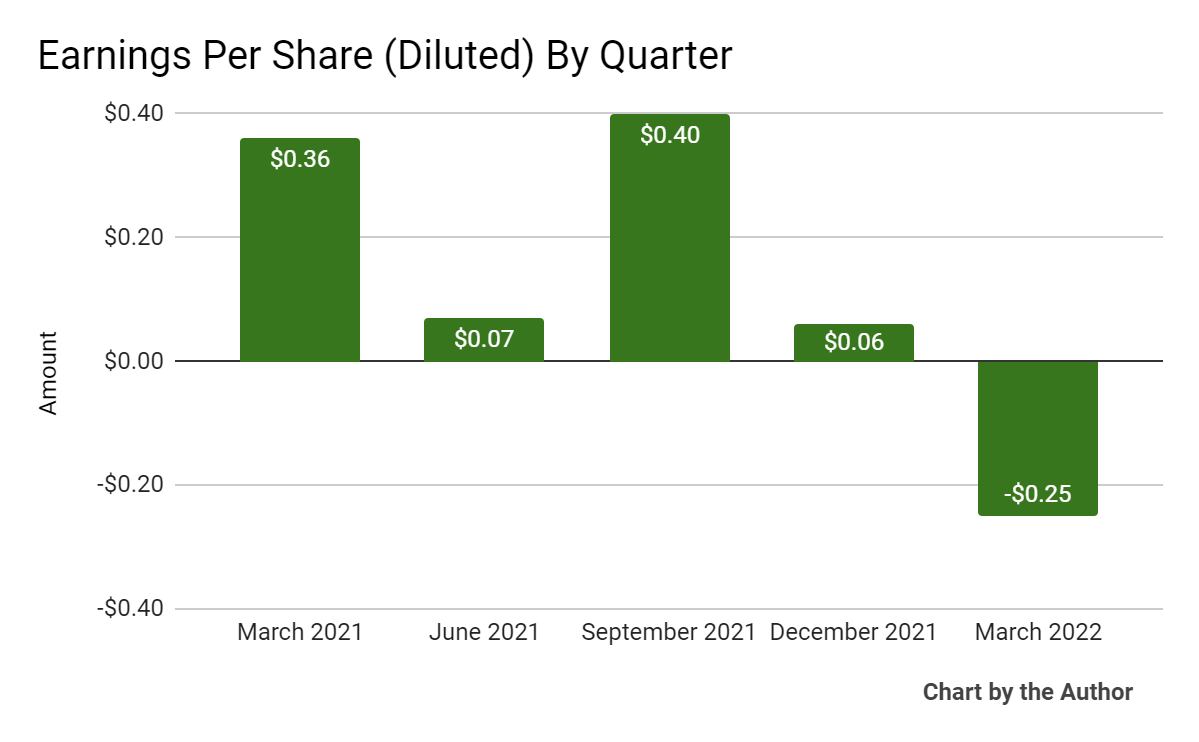 In the past 12 months, LDI's stock price has dropped 88 percent vs. the U.S. S&P 500 index's fall of around 10.6 percent, as the chart below indicates: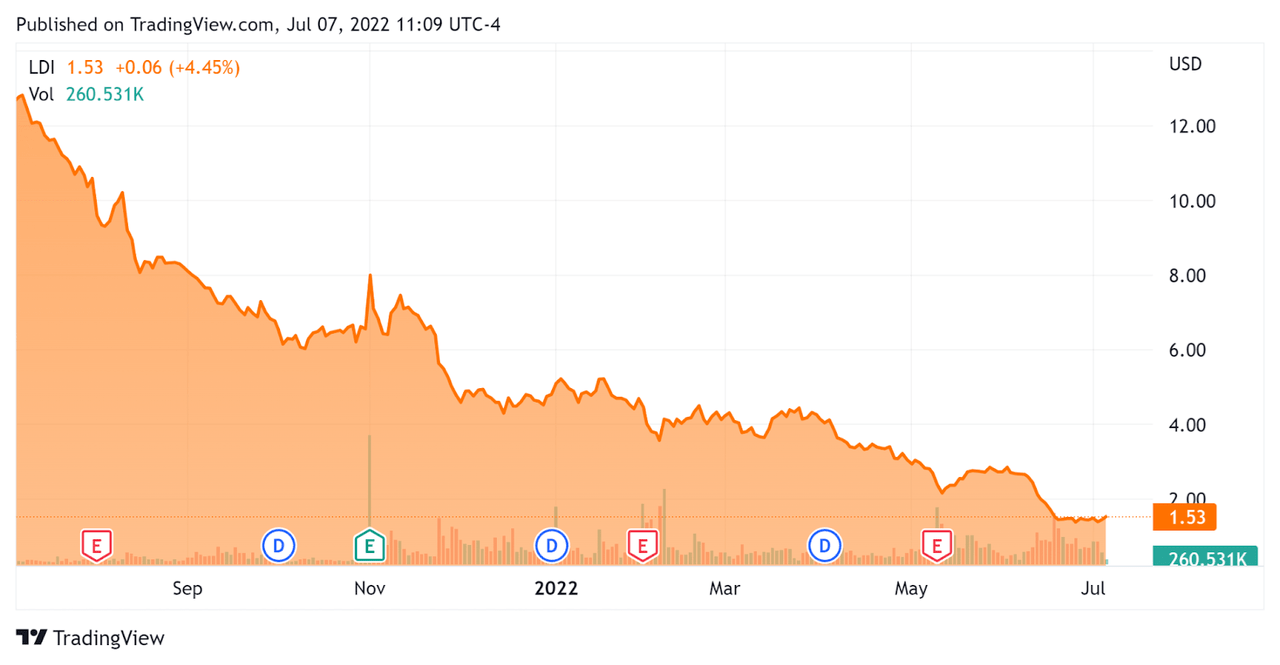 Valuation Metrics For loanDepot
Below is a table of relevant capitalization and valuation figures for the company:
| | |
| --- | --- |
| Measure | Amount |
| Market Capitalization | $431,010,000 |
| Price / Sales [TTM] | 0.14 |
| Revenue Growth Rate [TTM] | -38.45% |
| Operating Cash Flow [TTM] | $1,560,000,000 |
| CapEx Ratio | 28.74 |
| Earnings Per Share | $0.28 |
(Source - Seeking Alpha)
As a reference, a relevant partial public comparable would be Guild Holdings; shown below is a comparison of their primary valuation metrics:
| | | | |
| --- | --- | --- | --- |
| Metric | Guild Holdings | loanDepot | Variance |
| Price / Sales [TTM] | 0.40 | 0.14 | -65.0% |
| Operating Cash Flow [TTM] | $1,520,000,000 | $1,560,000,000 | 2.6% |
| Revenue Growth Rate | -22.1% | -38.5% | 74.2% |
(Source - Seeking Alpha)
A full comparison of the two companies' metrics and performance can be viewed here.
Commentary On loanDepot
In its last earnings call (Source - Seeking Alpha) covering Q1 2022's results, management highlighted the sharp increase in mortgage rates during the quarter, resulting in lower loan volumes and a rapid reduction in profit margin.
Additionally, the industry is experiencing robust competition, which management believes will favor the firm over the longer term, as less-efficient companies produce worse results.
During the quarter, a new CEO was hired, Frank Martell, who has extensive experience in the U.S. mortgage banking industry.
The company intends to launch its mello HELOC (Home Equity Line Of Credit) all-digital product in Q3 2022. The product aims to help homeowners who have seen significant price appreciation in their home values access funds on an as-needed basis.
As to its financial results, revenue dropped sharply during the quarter along with gross profit, while its cost structure was far too high.
The result was a significant loss during the quarter.
For the balance sheet, LDI finished the quarter with $554 million in cash and equivalents but $2.8 billion in current portion of its long-term debt. The board decided to suspend the regular dividend 'for the foreseeable future.'
Looking ahead, management does not expect to be profitable for fiscal year 2022 but intends to further reduce headcount and rationalize its cost structure in line with changed market conditions with a goal of returning to breakeven run rate by the end of 2022.
Regarding valuation, the market is valuing LDI at a significantly lower Price/Sales multiple than competitor Guild Holdings, which isn't surprising given its worse revenue contraction rate.
The primary risk to the company's outlook is a continued high interest rate environment, which combined with the recent price inflation in the U.S. housing market, has served to severely reduce demand for new home loans.
A potential upside catalyst would be lowered interest rates as a result of reduced inflation combined with a mild recession; however, I don't see this best-case scenario taking place until well into 2023.
In the meantime, management needs to quickly reduce company headcount to properly scale the firm in accordance with current market conditions.
Until we see progress on its cost-cutting efforts along with stabilizing revenue fall-off, I'm on Hold for LDI.