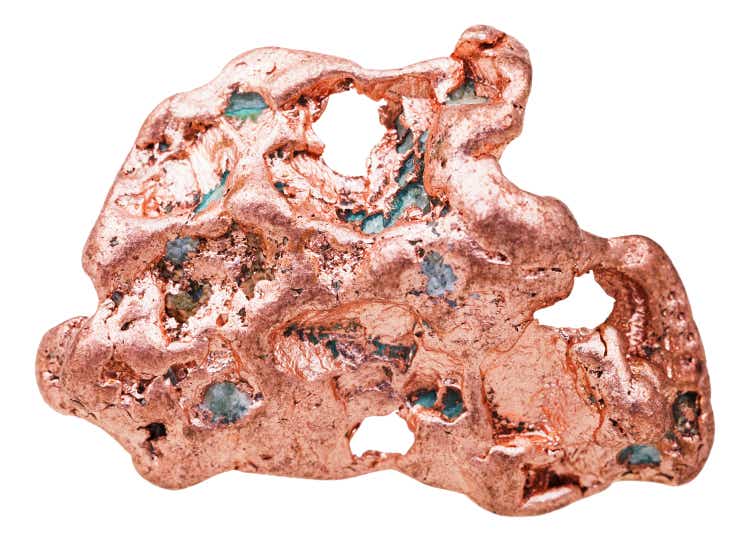 Not quite merger arbitrage
Here are two of my current favorite pre-arbitrage opportunities. Both stocks face substantial headwinds as their relevant commodity prices are routed. But despite the commodity weakness, I have reasons to believe that they will both work. The buyers want to close their deals and the equities are cheap compared with their commodities.
Who?
Turquoise Hill Resources (NYSE:TRQ) explores for copper, gold, and silver.
Continental Resources (NYSE:CLR) explores and produces oil and gas.
What?
Rio Tinto (RIO) offered to buy the 49% of TRQ it doesn't already own for C$34, which is currently worth about $26.20.
Harold Hamm offered $70 per share in cash for the 17% of CLR his family doesn't already own.
When?
The RIO offer came in March; the Hamm offer came in June. We will know much more about the direction these are going by this time next month.
Where?
TRQ is headquartered in Canada and develops and operates the Oyu Tolgoi copper and gold mine in Mongolia.
CLR is headquartered in Oklahoma and operates throughout the US.
Why?
My first interest in these is to express a mild opinion that the recent commodity route is overblown and that the odds of a nasty recession are less than priced in. Secondly, that the related equities are mispriced, too cheap relative to the commodities. Thirdly, these are two long-term oriented buyers who want these public subsidiaries out of the public market. Nothing about recent commodity or equity prices change that.
In US$, a reasonable bump for TRQ would be to at least $30 and probably closer to $35 per share in cash (I'd offer $30 as the bidder and ask $35 as the seller; both should be willing to meet in the middle). Hamm should bump the CLR offer to closer to $80 per share. The weaker commodities and equities should help convince the deal targets to sell at such prices. It is a rare opportunity to get to buy such pre-arbitrage deal targets beneath stated bids. If the CLR deal gets done on currently proposed terms by year-end, the $5.68 net spread offers an 18% IRR. But it will probably be better than that. The buyer isn't unfamiliar with cutting big checks; here, for example was his divorce check: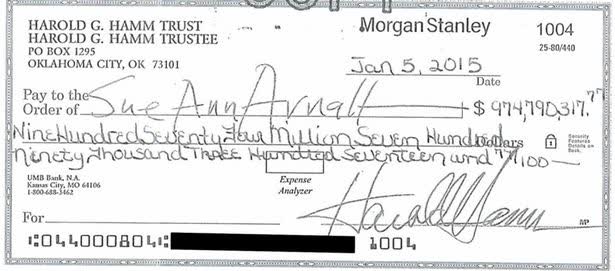 Caveat
These are just non-binding offers. With commodities, equities, and credit softer than when the offers were made, the potential buyers could simply refuse to bump or even walk away.
Conclusion
RIO and Hamm are already mostly pregnant with these targets; it would be easier and better for them to take them private than to walk away at this point.
TL; DR
Buy TRQ and CLR. Also, buy your wife some flowers. It is good insurance.