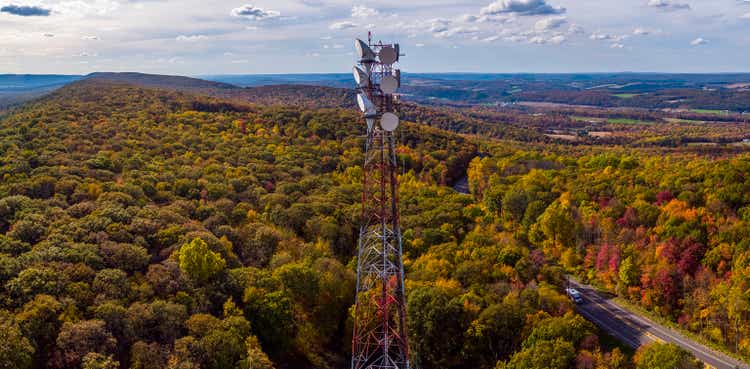 Jim Chanos, famous for short-selling stocks recently announced that he was raising money in order to short data center REITs. His statement which is based on the assumption that hyperscalers like Amazon (NASDAQ:AMZN), Microsoft (NASDAQ:MSFT), Oracle (ORCL), and Google (NASDAQ:GOOG) (GOOGL) will reduce the data center space they rent, induced volatility in the stock prices of specialized REITs on July 1 as marked by the dotted line below.
With hyperscalers occupying 45% to 60% of data centers' colocation space, American Tower (NYSE:AMT) as shown in the orange chart above has also been impacted, namely because of the CoreSite acquisition. However, as I will show in this thesis, Chanos' rationale for shorting does not seem justified. My aim is also to elaborate on the way the tower company has achieved a differentiated product portfolio spanning distributed towers, data centers, and the edge.
AMT's Expansion into Edge DCs
Large quantities of data are created and distributed as more aspects of business and people's lives become digitalized through technologies like AI, 5G, and IoT (Internet of Things). The processing of this data is mostly carried out in big centralized data centers referred to as Metro DCs. However, this way of doing things is being challenged by use cases encompassing manufacturing and warehouse operations where the requirement is more to process data at the outskirts of the network or in smaller data centers located nearer to users called edge data centers (Edge DCs).
With its 220K tower sites located in over 26 countries, this presents AMT with significant opportunities to vertically develop its real estate through Edge DCs. The reason is that it makes sense to process data as close as possible to where it has been generated to deliver the fastest processing times, while at the same time ensuring lower latency (delay).
It is here that AMT's distributed towers, come in handy for telcos as it also lowers their costs when having to provide enterprise customers with edge services. Thus, through its edge strategy, AMT is mainly targeting telcos, in addition to hyperscalers. Thinking aloud, Jim Chanos got it wrong, as with its data center strategy, AMT stands to monetize underlying and passive real estate assets at its tower sites, by offering collocation space, power, networking, and compute capabilities for edge services.
To be realistic, this requires some adjustments to the existing property contracts which relate mostly to real estate on land or rooftops, but, if done within the realm of appropriate partnerships for the computing, power, and connectivity parts, the edge can translate into an $87.3 billion opportunity by 2026, with the market growing at CAGR 19% from 2021. For this purpose, even before it acquired CoreSite in November 2021, AMT had already launched its metro and edge data centers in 2019 and 2020 respectively.
The Metro DC Strategy
With CoreSite, AMT got access to 25 Metro DCs, in addition to the one it had in Atlanta. Now, in contrast with office REITs, AMT can pass on most of the additional hosting expenses due to rising labor and energy costs to telecom and mobile network operators at its tower sites as well as enterprises and hyperscalers renting its data centers.
In addition to benefiting from incremental rent income during high-inflation periods, the company also has other levers to increase margins like hosting more antennae on the same tower. This is driven by a process called densification whereby operators need to deploy more hardware to enable 4G LTE and 5G coverage. As a result, organic billing growth, or the rent obtained from the existing customer base has increased despite suffering from revenue churn from Sprint which was acquired by T-Mobile (NASDAQ:TMUS) some years back.
Consequently, the revenue guidance has been upgraded, cash gross margins beefed up to $26 million with the company raising the adjusted EBITDA outlook by around 10.5%, or $55 million as shown in the diagram below.
Further countering Jim Chanos, one of the advantages of having hyperscalers as customers is that they tend to rent large collocation spaces at one go, instead having to wait for several enterprise customers, each coming with specific space, power, and connectivity requirements. On the flip side, as leasees of substantial capacity, hyperscalers tend to bargain harder on the rent they pay and the "discount" normally translates to lower margins for data center owners.
However, hyperscalers compensate for this shortfall by constituting anchor tenants, or those who are normally the first to occupy space in a new facility and provide cloud on-ramps. Now, these on-ramps are particularly attractive to enterprise customers (large corporations) when choosing a data center to host their servers as they enable direct cloud connectivity within the facility itself rather than having to go through the public internet and pay for the traffic.
This colocation model which constitutes a win-win for data center REITs and hyperscalers has stood the test of time and is unlikely to be put into question as high inflation and supply chain constraints result in escalating costs of building new facilities. Thus, Chanos is again not right in his rationale for shorting.
With CoreSite, AMT got its hands on 21 cloud on-ramps and over 32K interconnections in major U.S. markets, and at the time of the acquisition on November 15 last year, investors were enthusiastic about the move as the REIT subsequently enjoyed an above 12% upside till the end of 2021.
Valuations and Capital Allocation Strategy
Looking further, the tower company has a partnership with AST SpaceMobile (ASTS) for an LEO (low Earth orbit) satellite network which will connect directly to standard smartphones. Space-based cellular connectivity should address the coverage gaps faced by subscribers moving in and out of 5G connectivity regions on a daily basis. It can also connect remote locations throughout the world where it is prohibitively expensive to implement ground-based networks. This constitutes a $1 trillion market.
Coming back to earth, operators are in the process of upgrading tower sites with new equipment to provide contiguous 5G coverage across their networks and this should continue for years as low latency requirement has to be paired with more data consumption.
This ultimately means the construction of more towers which should reach 308K by 2027 based on 2017 and 2021 figures as shown in the table below. Furthermore, the average smartphone should reach 45 gigabytes of data per month. This ultimately means more revenues for AMT, reaching $13 billion by 2027, based on an extrapolation of the 2021 figures by 40%. This increase has already been priced in the forward EV/Sales multiples for 2022 which means that I cannot issue a buy now.

This said the above figures do not include the edge revenues as part of the $87.3 billion opportunities I mentioned earlier. These should get traction in 2023 with augmented reality, gaming, AI, and other applications requiring lower latency moving compute to the Edge DCs.
Looking at the capital allocation strategy, the company has been spending more capital than its peers on a quarterly basis since the middle of last year as shown in the deep blue chart below.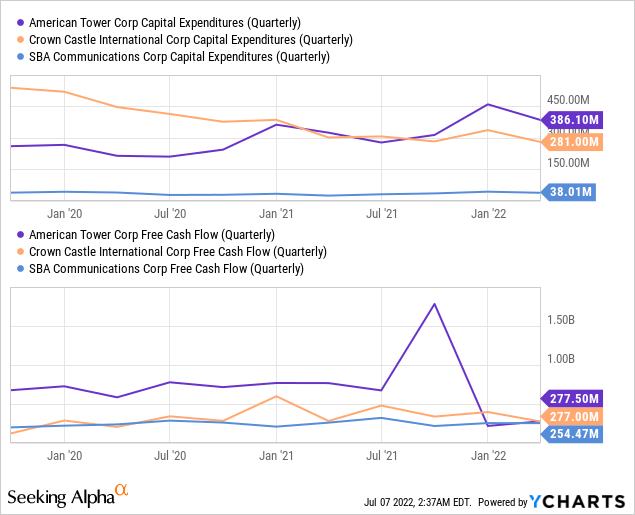 As a result, free cash flow which is the money generated from operations minus Capex has been trending lower, as shown by the deep blue chart above. Still, the company continues to generate slightly more free cash than peers Crown Castle (CCI) and SBA Communications (SBAC). This shows that AMT's strategy to allocate more capital to expand the tower business and venture into the data center vertical forms part of a well-planned diversification strategy.
Conclusion
AMT is undergoing a transformation from a passive towerCo into a more active digital infrastructure REIT, one which can provide a broad range of services encompassing Metro and Edge data center facilities. Here, the REIT now has a more direct relationship with hyperscalers for their cloud on-ramps and can support telcos across a broader ecosystem as they digitalize their networks. At the same time, the way the company has deployed capital has not resulted in an erosion of the free cash flow.
Finally, given the REIT's rich valuations metrics, a highly volatile stock market that depends a lot on the Federal Reserve for direction, amid high inflation concerns and recession risks, Jim Chanos' positioning, while not justified, can still result in a temporary downside for the stock. For this matter, as a high momentum stock, AMT with an RSI of 53 (above 50) can briefly fall under the $250 level, constituting an opportunity for those who have been eyeing this dividend-paying stock.