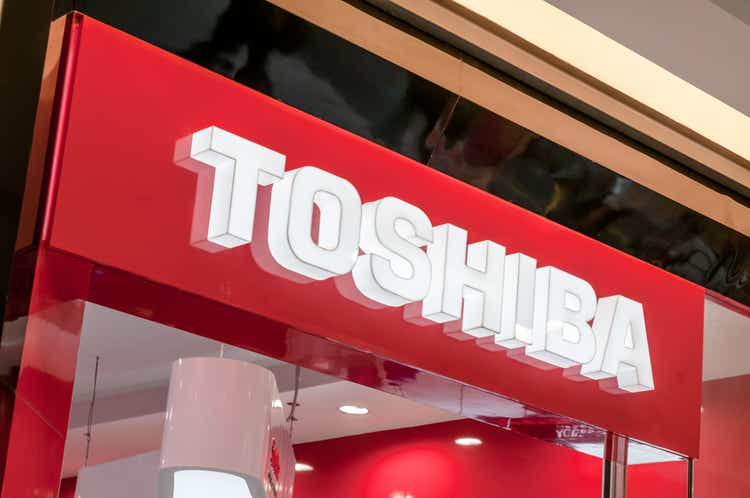 Goodbye Consumer Electronics
Toshiba (OTCPK:TOSBF) (OTCPK:TOSYY) is mostly known for their consumer goods, including formerly holding a leading position in the flash memory production market after discovering the process in the 80s. In fact, the history of the company dates back to the late 19th century, in particular, a partnership with Thomas Edison's General Electric (GE) in the first decade of the 1900s was a signal of things to come (the relationship would be renewed in the 50s). Unfortunately, a poorly timed acquisition of nuclear energy producer Westinghouse in 2006 resulted in bankruptcy and an accounting scandal (Westinghouse was eventually sold to Brookfield Business Partners (BBU) (BAM)). Also, competition/weakness in the consumer segment and generalized operational weakness has led to multiple spin-offs over the past decade, and I expect more to come.
The two largest spin-offs to date are the memory segment as Kioxia (potential suitors include Micron (MU) and Western Digital (WDC)) and the consumer computers segment to Sharp (OTCPK:SHCAY). The breaks are quite insignificant in terms of total assets, especially as Toshiba still owns 40% of Kioxia. After activist activity began in 2020, the company announced that they intended to split into 3 separate companies: the infrastructure or industrial segments, electronics segments, and a holding company that includes the Kioxia assets. However, this was not approved by shareholders and so the company is currently in stasis as potential deals continue to be worked out. Unfortunately, the problems have been simmering under the surface for some time, especially after the Westinghouse formed a breaking point:
'This is the tragedy of the Toshiba case—they invented flash memory,' said [UCSD Researcher] Schaede. 'And the missteps, if we are polite, the mistakes in nuclear power and some other businesses and the mismanagement and the scandals forced them to sell off this crown jewel…in a way, when that was out it's not clear what's left there. And so now if we want to break up the rest, then it becomes about what do we do about Toshiba's stake in Kioxia and the activist shareholders saw that.'
While I have no control over the process, I would like to share my two cents on the potential of this important company. I will start by discussing the industrial segments as these may offer some of the most enticing assets to either retain value for Toshiba, or find a suitable buyer. Then, I will discuss the electronics business and share why I believe those assets are the excess that should be left behind (albeit with a few exceptions). Spin-offs and splits are becoming quite common over the past few decades (think AbbVie (ABBV) and Abbott (ABT) or eBay (EBAY) and PayPal (PYPL)), and the sum of parts may be worth more than the whole when one segment is dragging down the valuation.
'There is a renewed energy and enthusiasm… toward what you could call 'deconglomerization'—getting nimble and agile,' said Schaede. 'For some companies that includes pivoting their core competence into next-generation technologies…in some ways this is smack right in the middle of that trend.'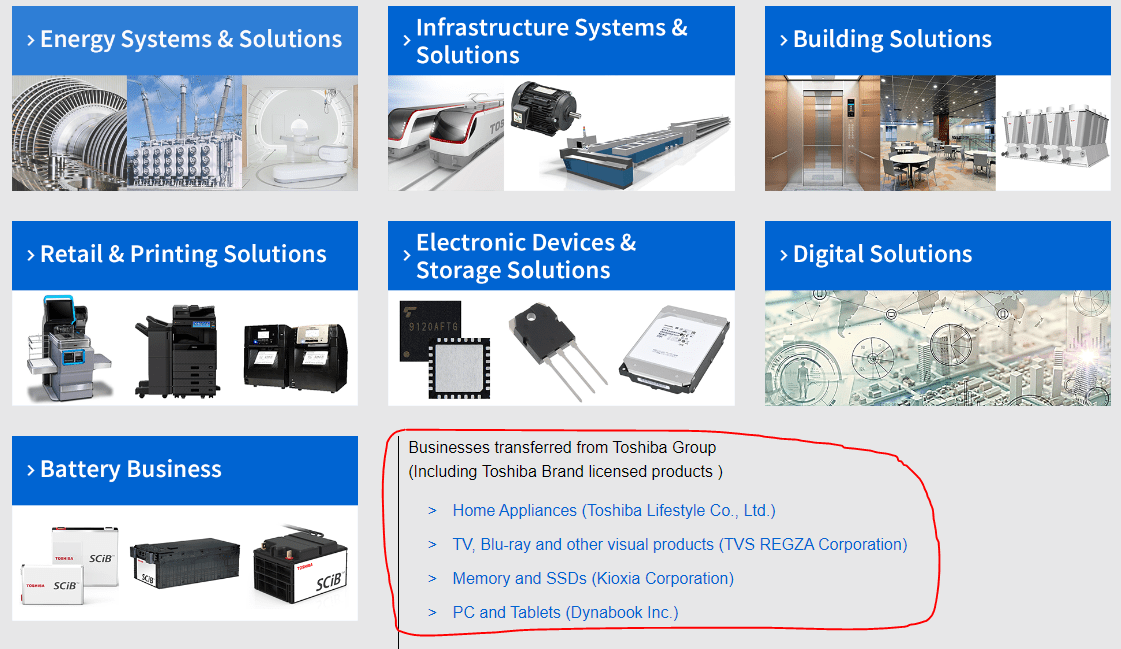 Current News
Due to the failure to complete a split at the 2021 shareholder meeting, bidders have been in a frenzy over the past few months as they look to make a deal. Toshiba management has received over 10 bids to date, with most being privatization deals. One of these even includes rumors of a purchase by the Japan Investment Committee, a state-backed investment organization. There are certainly many strings attached, so the process will be uncertain until the day of completion.
Bain Capital, CVC Capital Partners and JIC are among potential bidders for Toshiba, Bloomberg News has reported. Foreign investors have been watching developments at Toshiba to gauge shareholder influence and regulators' acceptance of foreign private equity firms in Japan.

Any sale of Toshiba, which owns key nuclear technologies, would require approval from the Japanese government. Toshiba is categorized as a company of interest to national security under the Foreign Exchange and Foreign Trade Act for its nuclear expertise.
This may lead to an opportunity for investors to bank on the M&A process as the current highest reported bid offers a 26.5% premium from current prices. I find that three possibilities exist for current investors: privatization at a sharp premium, a leveraged buyout by a public company like Blackstone (BX) for extended value, and then a process that may include only partial splits or spin-offs to improve Toshiba alone. The picture is certainly cloudy, especially after KKR (KKR) reportedly stepped away from the deal recently and activism has added two new board members. If things get uglier, as a Financial Times quote (below) suggests, I believe undervaluation will be a key driver in the investment opportunity.
In a letter Farallon sent to Toshiba's board on Tuesday, the fund said it was considering legal action against the company and called for an independent investigation into Watahiki's alleged attempts to influence the judgment of proxy advisory companies and shareholders.

'We cannot fathom why director Watahiki had asked Mr Imai to become a director in the first place, only to ultimately vote against his nomination and then spearhead a negative publicity campaign,' Farallon wrote. 'It is highly regrettable that our recent positive and constructive engagement with Toshiba has come to this point.'

In a joint interview with Shimada, Jerry Black, who chairs Toshiba's special committee set up to assess potential private equity deals, stressed that the management was aligned with shareholders.
Interestingly, recent management presentations paint a picture of company unity moving forward. It seems much of the blame on poor performance is put on the lack of synergy between the conglomerate's many units. With a revitalization of the platform with a variety of improvements including the removal of competition between units, better data analysis and optimization, and a focus on turnkey solutions may increase revenue growth and profitability within a few years. This may limit the probability of partial acquisitions if true, as a well-diversified company (that is run well) should have a benefit over more focused peers. More on this as I discuss each segment.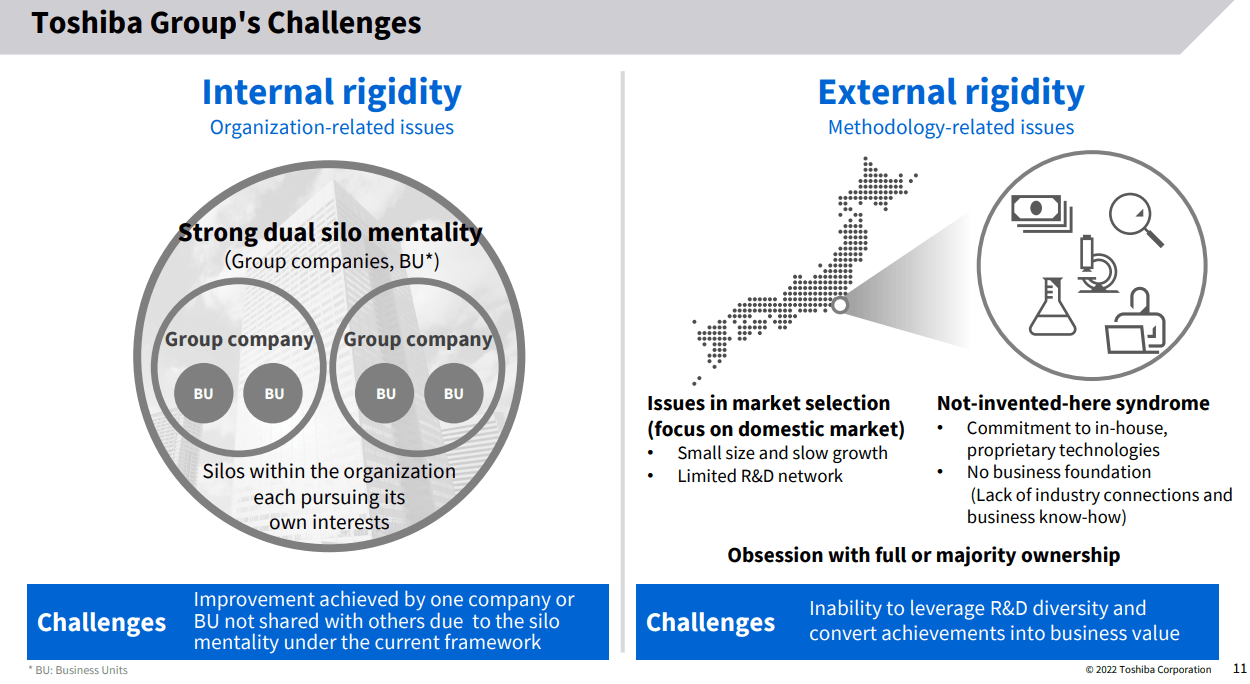 Segment Breakdowns
Toshiba Green Technologies (TGT)
TGT would combine the current areas of Energy Systems & Solutions, Infrastructure Systems & Solutions, Building Solutions, and the Battery segment. If Toshiba does not get bought out, we should look to see better synchronization between these segments in order to drive a green technology platform based on alternative energy and efficiency. If considering a buyout, I would expect that the building systems would be candidates for companies such as Otis (OTIS) or Johnson Controls (JCI). Also, there is a hidden Radiation Therapy group that has little synergy with the rest of the company and would be an easy way to get rid of some excess assets.
In terms of revenue upside, Toshiba's battery segment offers the strongest potential. With their trademarked SCiB lithium batteries, uses are varied, ranging from hybrid vehicles to IoT and even industrial applications. Also, a small, but growing amount of energy storage projects are being completed, although overall growth of this segment seems slow (based on posted case studies on the company website). In general, we see, and expect, a fast-growing need for Li-ion batteries across the world, and Toshiba is a leading supplier. Considering the company is still coming out with new designs, I expect management is rightly directing investment into this field.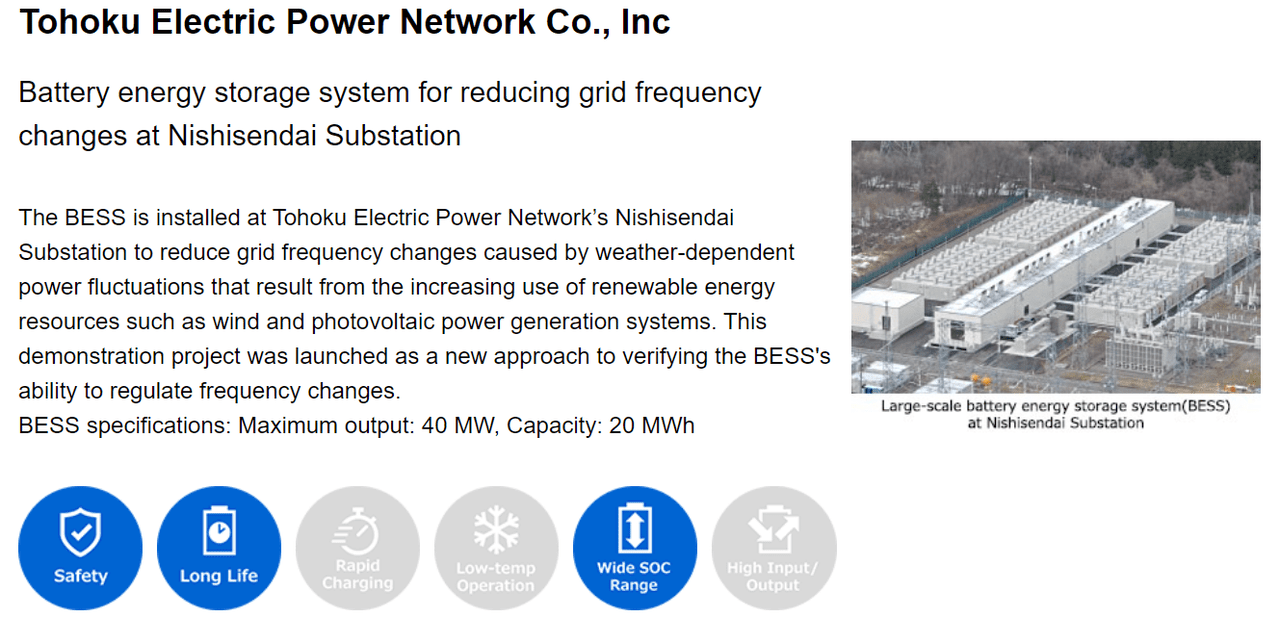 Combined, TGT would account for over US$13 billion worth of revenues per year and $761 million in operating income. As you can see, profitability is currently a big issue, and is the main reason for why dire changes in operations are required. Growth of these segments is also slow as the average YoY growth rate was only ~8% when most industrial companies should be seeing strong growth YoY. As I will discuss next, there are some improvements to be made to these three groups, including the sale of the legacy Building Solutions segment.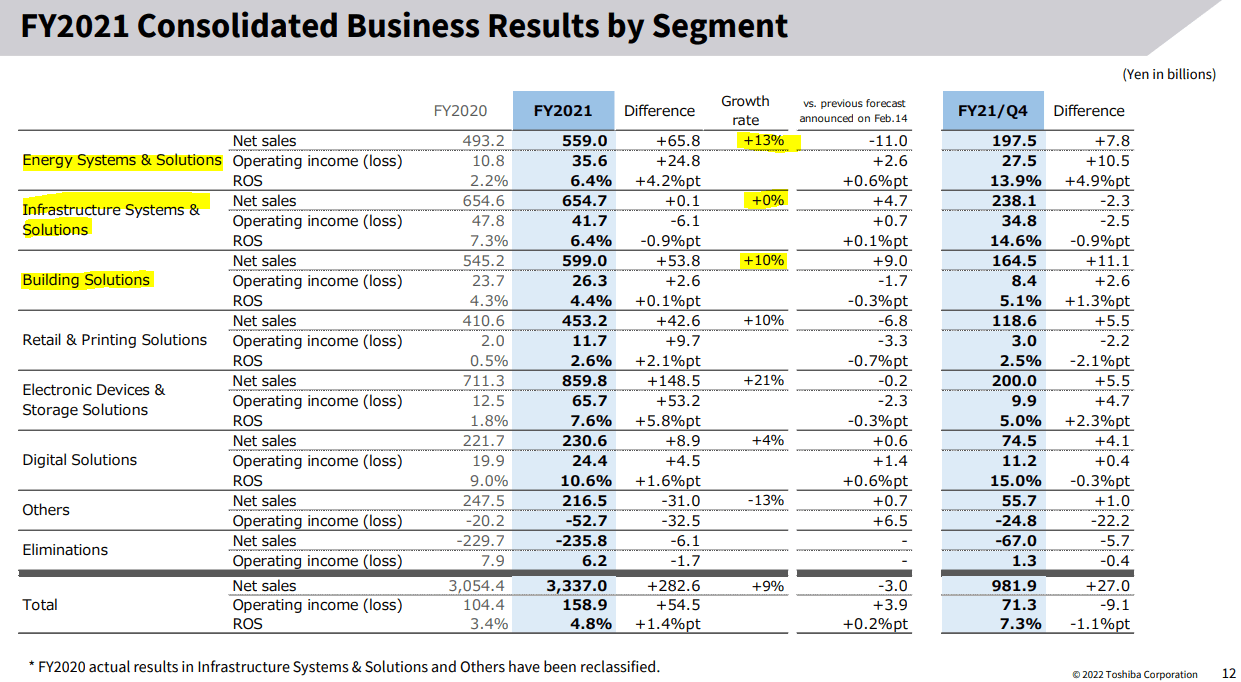 One common mistake that is brought against Toshiba is the lack of foreign sales and reliance on the Japanese economy, however, we do see meaningful improvements in sales within the Energy Systems segment (within the Energy Systems & Solutions segment) thanks to the weak Yen. However, this is the only segment with this distinction as most power generation is limited to Japan. We can expect that new management would want to capitalize on foreign expansion as soon as possible while the Yen remains weak and inflation limited within Japan. In the image below, I highlight the key points to consider as high-value prospects for the segment.
The strong segments are Power Generation Systems that would include hydrogen fuel cell and production technologies, wind & solar energy, hydro & thermal, and biogas plants, along with the associated cloud software to optimize grids. I would keep these segments.

The risk points are the nuclear power generation and low margin hardware transmission sales. These have limited growth and low profitability. I would sell the nuclear assets and attempt to reorganize the Transmission & Distribution segment.
When not looking through the lens that Toshiba has internal competition and disorganization between segments, I would assume that all these segments are tantalizing for the future as renewable energy production increases around the world. Depending on the assets, patents, and other IP within these segments, one would imagine that other conglomerates may be interested in an acquisition. However, a major issue is that the Nuclear Power segment is tied to the Japanese grid and is of national importance. Therefore, news about a Japanese utility being among the bidders, Tokyo Electric Power (OTCPK:TKECF), would remove this risk point and allow the rest of the assets to be sold or optimized, as I discussed earlier.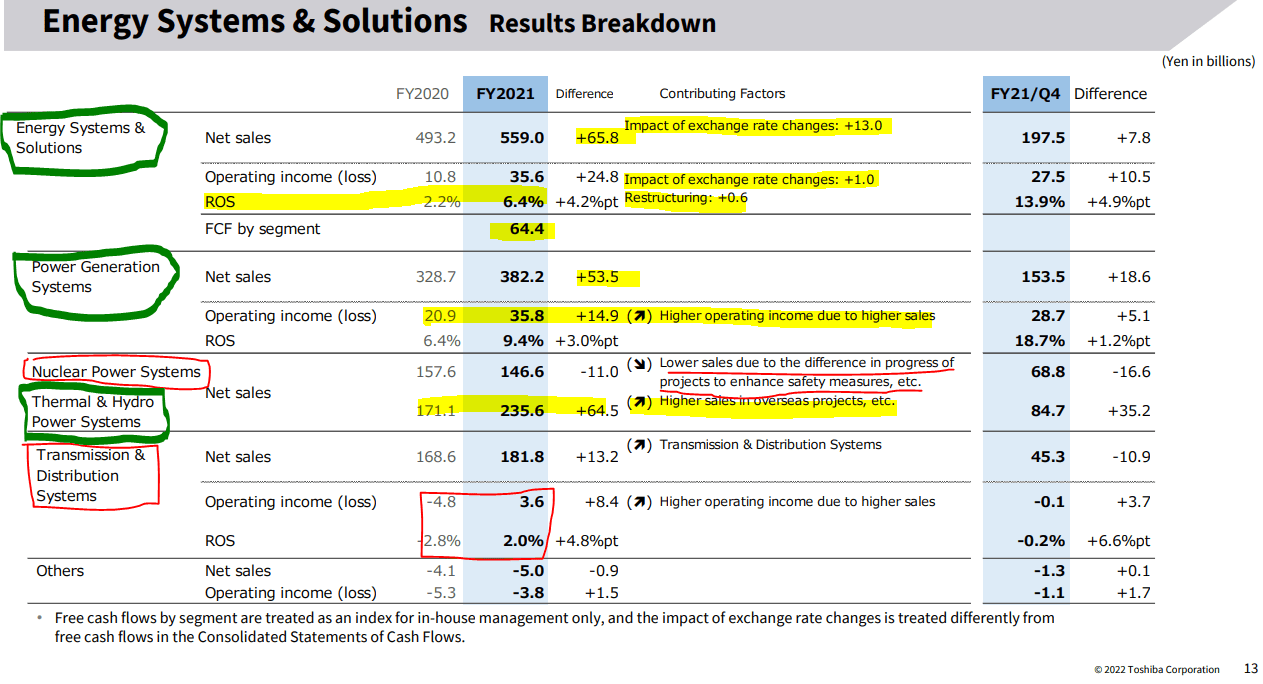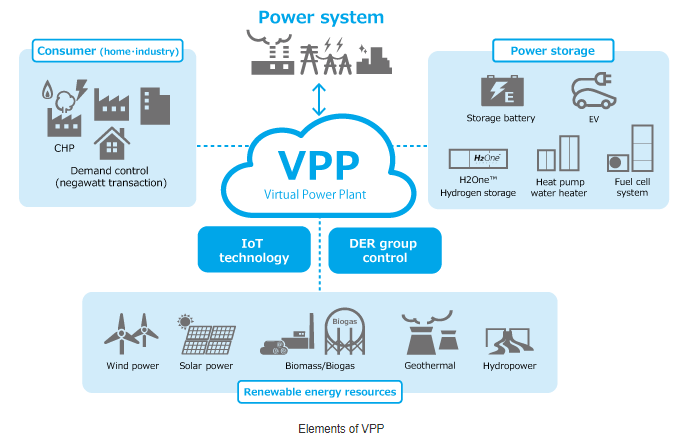 Moving to the Infrastructure Systems Segment, we can see that results are generally in line with the market. Civil engineering has been put on the back burner of late due to the pandemic and while US municipalities wait for infrastructure bill stimulus to enter the market. Further hits to the group are the result of high material and shipping costs that are unable to be restructured into project costs, leading to lower margins. Due to Toshiba's diverse capabilities, operations are global and this limits the available pool of potential investors. Regulations may prevent a clean sale as infrastructure projects rely on partnerships with governments, and it is unknown what effects a change in ownership may cause.
Also, while Infrastructure is intrinsically tied to Energy Systems, and I would see if synchronization can drive higher profitability, I am sure this segment is on the chopping block for a quick sale. A further reliance on the declining Japanese economy will continue to hamper the prospects of this segment and I believe expanding abroad is a necessary action if the segment remains in Toshiba. When looking at product segments, I believe that three segments could be moved to a different group: automation systems, security, and defense & electronic systems. While security systems can be moved to Building Solutions, I believe electronics and automation belong in the next Toshiba grouping I will discuss.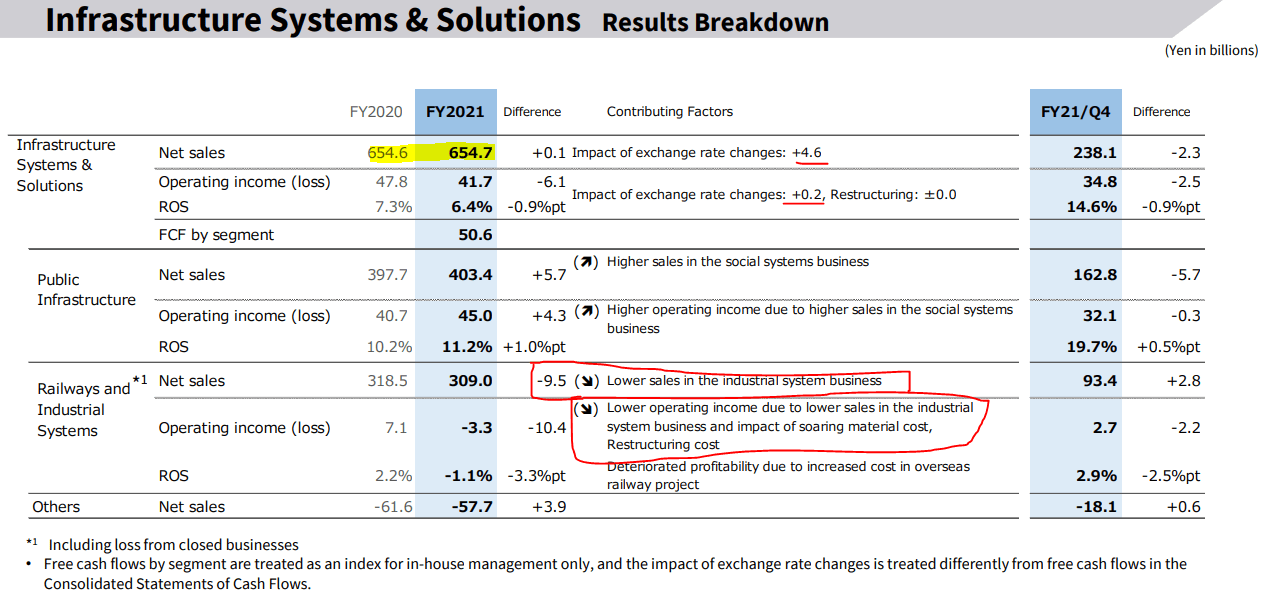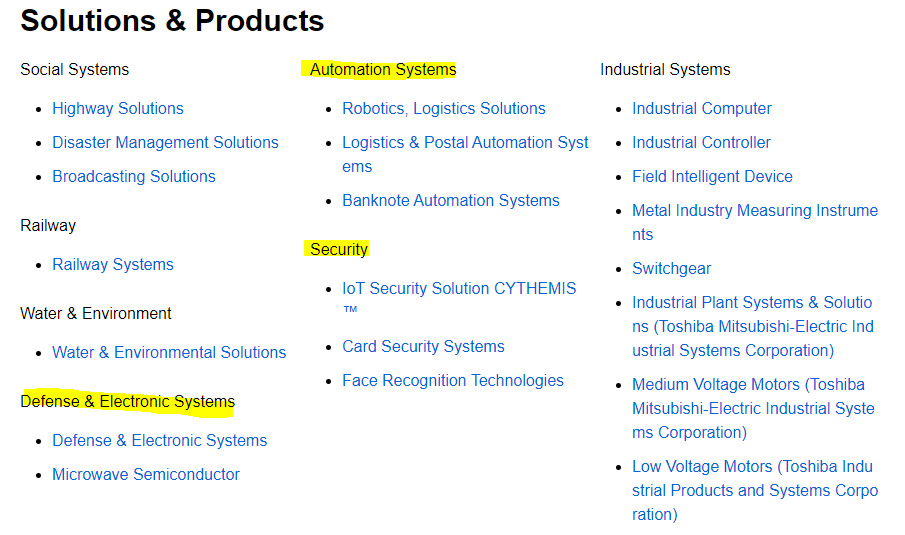 Toshiba Electronics and Digital Services (TEDS)
This second company would take the rest of the major assets of Toshiba. With a focus on data collection, analytics, and the necessary hardware, the integrated group should grow with the digital revolution. With the addition of the Automation Systems and Defense & Electronic Systems groups from Toshiba Infrastructure, TEDS would be a one stop shop for various IoT and data analysis systems for a variety of projects. While one can argue that there should be a differentiation between consumer focused operations and internet/data infrastructure applications, I believe the combined group could offer a better platform for growth. Combined, these segments would account for over $11 billion USD of revenues per year.
One mistake I believe was made by the management, whether due to pressure or some other factors, is that the HDD unit was not sold along with Kioxia. While sales are meaningful, they offer extremely low margins compared to the semiconductor segment (~5% vs ~10% operating margins). On the semis side, Toshiba has a range of product lines, with a focus on automotive, industrial, and consumer applications. When combined with the announced Data Services group, Toshiba may become a leader in IoT analysis software and hardware. Interestingly enough, Toshiba is also entering the quantum computing industry and management is quite excited about the prospects across these groups.
An alternative may be a sale of semiconductor equipment assets to names such as AMD (AMD) or NVIDIA (NVDA), especially after they expressed interests in diversifying their capabilities through the acquisitions of Xilinx and Arm (although this did not get approval). Toshiba's current focus on automotive applications makes this possible, but I believe the probability is low.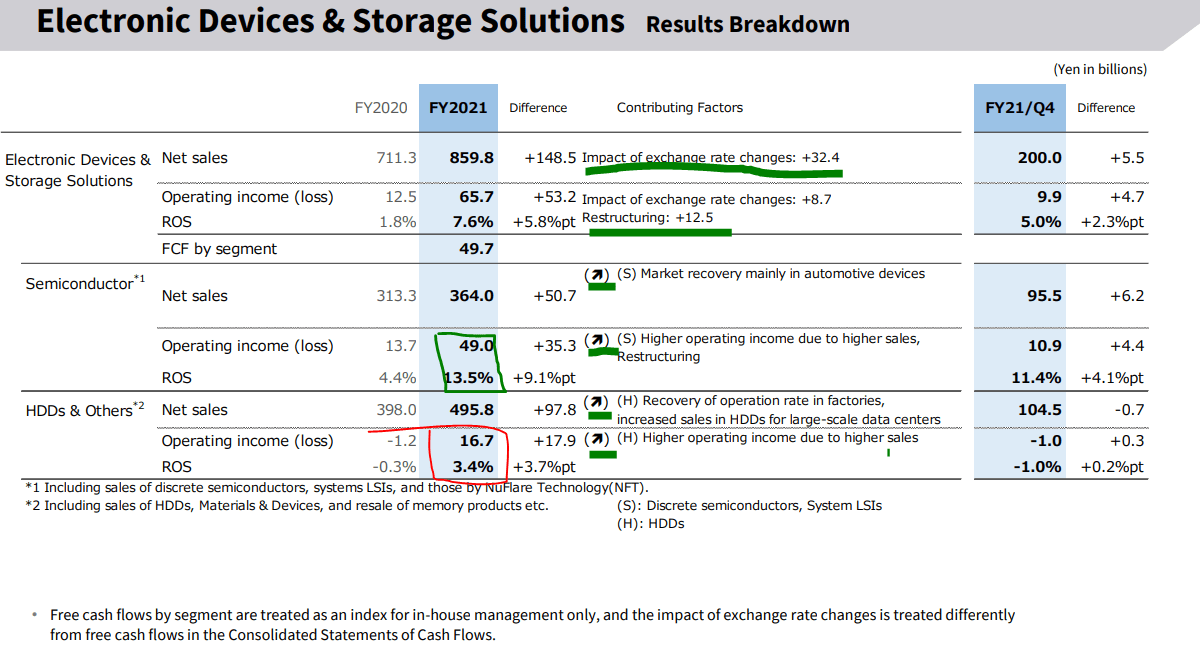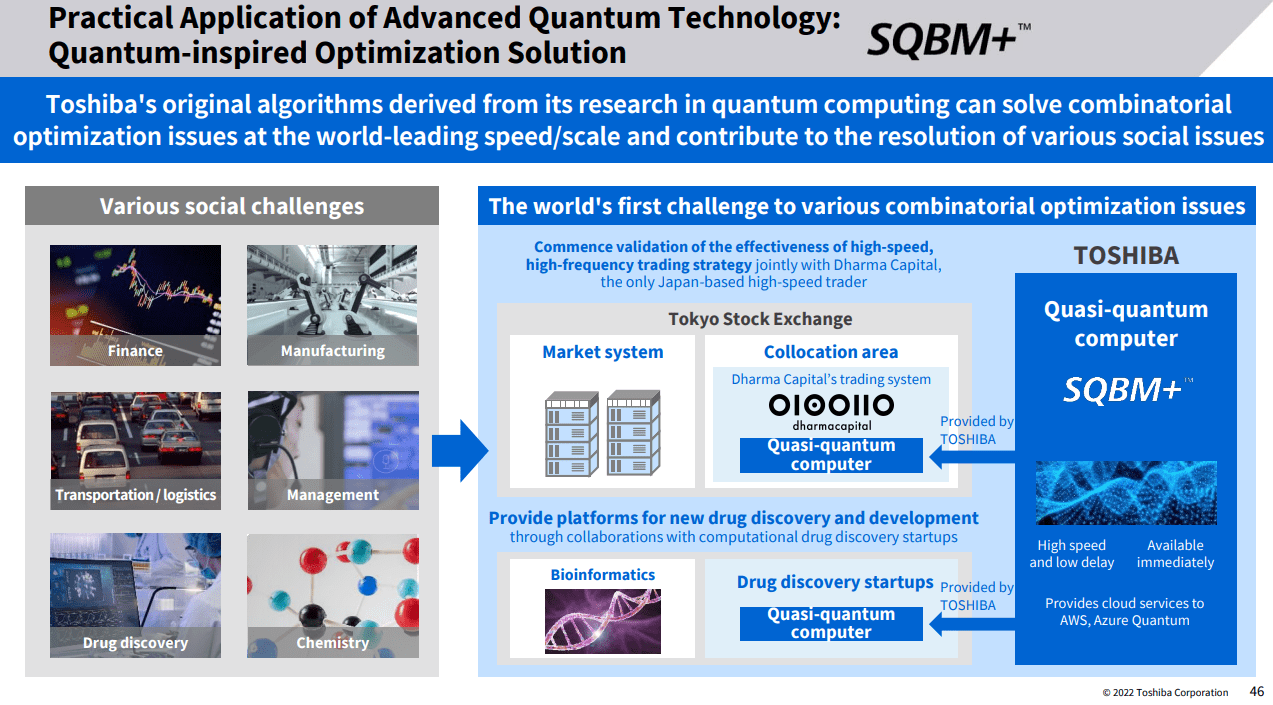 Overall, the weakest Toshiba segment at the moment is the Retail & Printing segments. I see little reason to hang on to these legacy groups especially when profitability is so low. Products include ink-jet printers and PoS systems, two items with plenty of competition and limited future prospects. The real segment to focus on is the Digital Solutions group that includes quantum technologies. While growth is slow YoY, profitability is high compared to other parts of Toshiba and management expects significant investment into the segment. Therefore, the sale of their high revenue, low margin retail segment can give a big boost in capital to reinvest. Therefore, I expect my fictional TEDS company to focus on innovative software/hardware platform using combined semiconductor and digital solutions experience.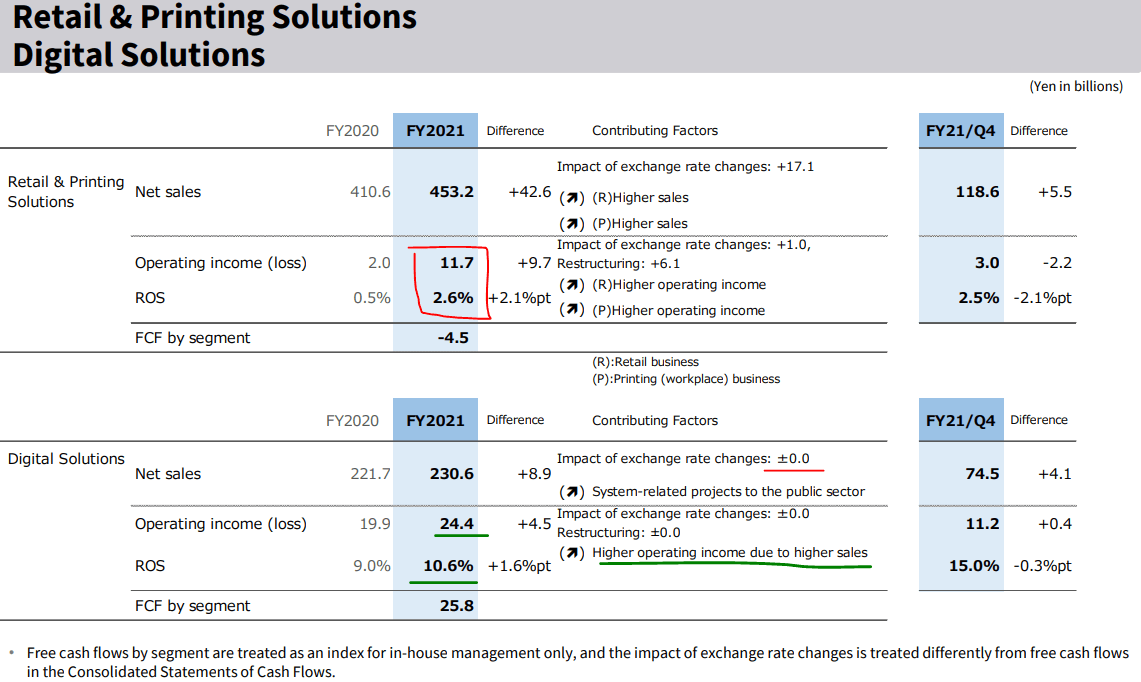 Summary
For the sake of clarity, I will summarize what I believe the two companies should, or could, look like.
Toshiba Green Technologies, or TGT, will focus on renewable energy projects and systems, with legacy civil infrastructure experience to diversify the platform. As operations are currently inefficient, I will look to the management to make good of their promises to bring new synchronization between all services into a newly integrated and data-driven platform. With my call for further foreign expansion, I believe Toshiba can reestablish themselves as a leader in energy production services in the growing renewable energy field. When each group begins to work together, clients will have a smoother process to drive revenues and cost reductions will improve margins. Other than a sale of the nuclear segment to a Japanese firm, and the potential sale of the building solutions group, I believe that Toshiba will focus on internal improvements rather than M & A.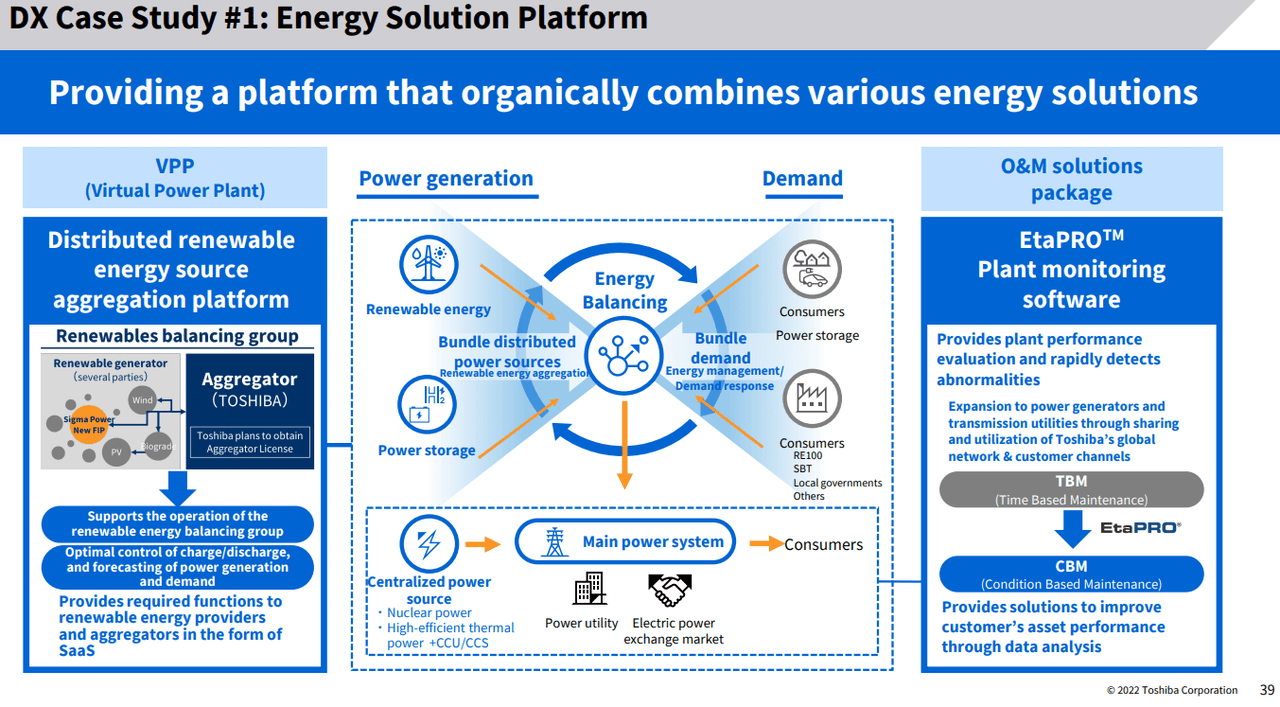 Toshiba Electronics & Digital Solutions, or TEDS, is a group that will leverage Toshiba's current applications in IoT semiconductor production and increase their digital services platform. With sales of legacy hardware segments, a boost in cash can increase capital expenditures to drive growth in software and data analysis development. With a move to quantum technologies recently, I look to the management to take advantage of an ever progressing digital society (see image below and open in a new tab to zoom in). On a last note, I believe that TEDS should retain their 40% Kioxia ownership in order to maintain a strong partnership to supply the necessary storage components that will be necessary to move forward.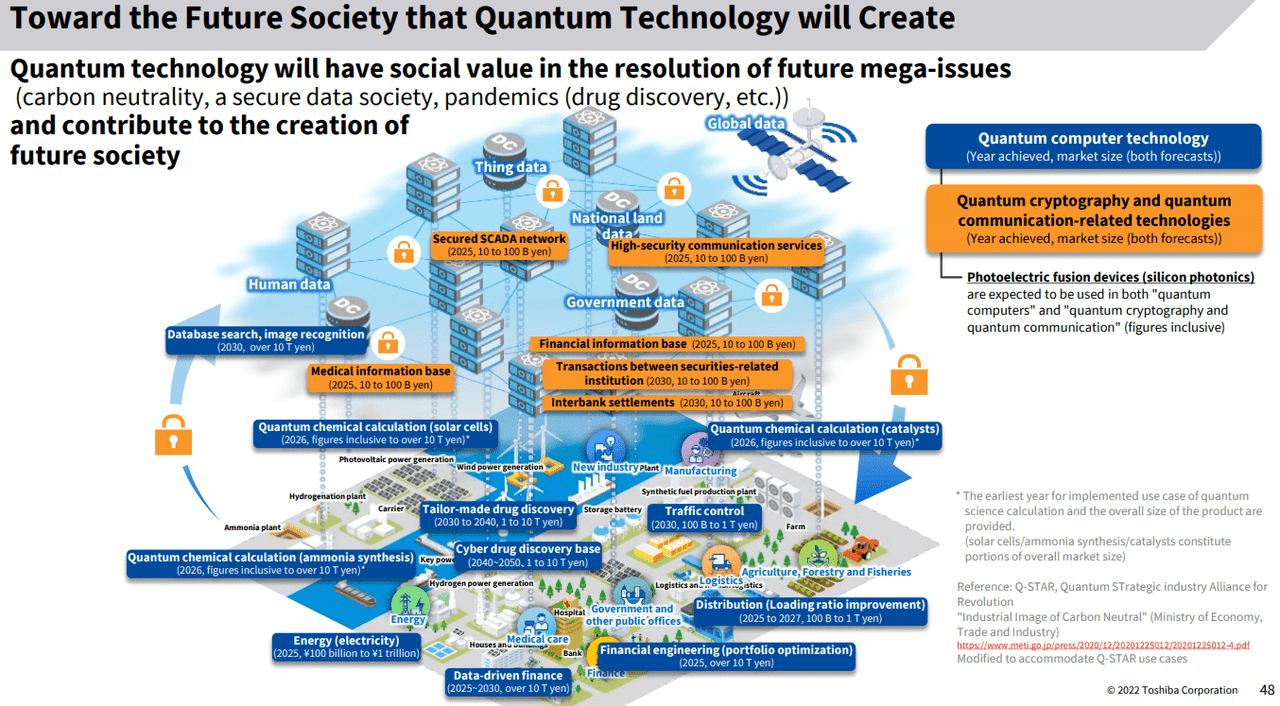 Conclusion
Notice something about the two companies I discussed above? Both have a renewed focus on data and digitalization. As Toshiba is a legacy company with a storied history, and potentially stubborn management, underperformance over the past decade can be attributed to the lack of digital optimizations. As Toshiba continues to get rid of unnecessary assets and improves harmony between the entire company, financial performance could see tremendous improvements.
In fact, after dissecting the company into two parts, I could see an increased focus on maintaining a consolidated company rather than splitting in two. This also means that M & A may be unnecessary as well. Based on how difficult the process has been over the past year or more, perhaps a deal may not even go through. Then, it will be up to Toshiba themselves, mostly the new management & activist BoD, to drive these improvements myself, and others have brought up. Either way, time is ticking according to the JCRA:
The Company's performance is picking up. The fiscal year ended March 2022 (FY2021) is projected to attain net income for the second consecutive year, helped also by growth in operating income. The effects of structural reforms, etc. continue to be evident, and diverse earnings sources remain an advantage. On the financial front, despite active shareholder returns, the generally good financial structure is maintained without any major changes. Based on the above, JCR affirmed the ratings on the Company and retained the Stable outlook. That said, while better evaluating the Company's performance, JCR is concerned about the increased probability of the prolongation of management turmoil.
This brings me to my final investment conclusion: establish a position as the valuation and performance are at a low point. Either, a deal to be acquired will allow for a significant premium boost over the next few quarters, or Toshiba will fix themselves and improve their financial position. I believe Blackstone would be the only asset manager with the scale to go through with an acquisition, based on the current potential bidders, but this is not a horrible outcome for investors. While I did not dive into all the financial intricacies, I will provide an update in the future if a deal goes through or not.
Thanks for reading. Let me know what you think may happen below!