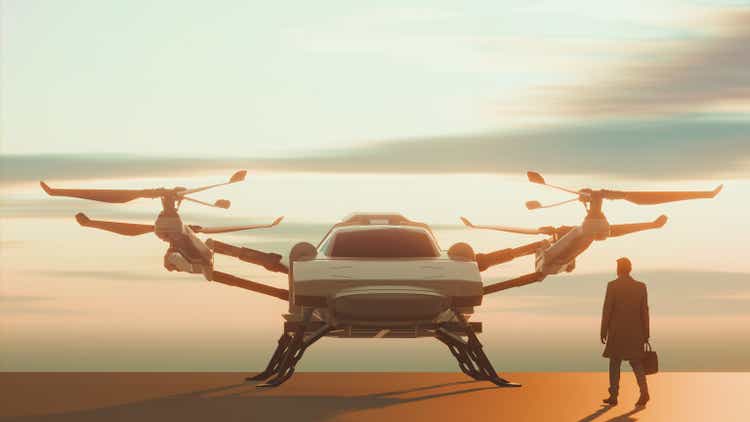 Amprius Technologies merger with Kensington Capital Acquisition Corp IV (KCAC.U) gives us an opportunity to get in early on a very unique technology. As someone who knows the company and their technology well, I thought I'd publish my thoughts, both positive and negative.
I can remember my visit to Amprius laboratories a few years ago very vividly. CTO Ionel Stephan has been an industry friend for a long time, and he showed me around and talked through some work we were doing together. Two things I can say here, and then I'll get on to the SWOT.
The Cell
After seeing the lab and the line where they create the electrodes, we sat at a table and Ionel showed me some of their standard batteries. The one he showed me was 5 Ah, but it looked like it was only 2 or maybe 3 Ah. Easily smaller than a cell phone battery, yet with 60% more energy. When I held it in my hand and felt the weight, I could almost not believe it. I must have asked him three or four times, "Are you sure this is 5 Ah?" I kept looking at the label to check and make sure that he didn't hand me the wrong cell by accident. Once I was sure that nobody was making a mistake, I was completely floored. I've visited about 25 different battery factories and held hundreds of sample cells. Nobody showed me anything like what they had. It is so much lighter and smaller; it truly is incredible. It's not an incremental change, but a step change.
The Line
The line is another story. Truly a black box, with the substrate material unwinding at one end, and then a very, very slow trajectory through the box until it winds up at the other end. Their process is much more sophisticated than was in the original Stanford patents. I can't talk about specifics here in terms of line speed, etc., but there are a few points that I surmised:
Labor is zero. The black box just runs, by itself, so it is truly just CAPEX, energy, and materials.
Uniformity: The process appeared very stable, and on inspecting the electrodes, they appeared very uniform. Given the slow, uniform march through the machine, I would expect a very stable process with a uniform end product.
Scale: While the line was narrow and slow, nothing about the process indicated it would not scale. More detail about this in the SWOT analysis.
SWOT Analysis
An investment in a venture like this can be thought of in terms of a SWOT analysis, to parse the reasons to invest (SO) and risks (WT). Here's a rough analysis, and I'll give some descriptions below.
Strengths

Light weight
Production-ready
Proven in applications
Head start over competition

Weaknesses

Slow process
High energy density exacerbates safety
Could be capital intensive
Revenue not monotonic increasing

Opportunities

Top-down market approach is huge
Reduce cost at large scale
Enable new applications

Threats

More conventional silicon-anode production
Other PVD silicon-anode companies
Lithium metal anodes with good cycle life
Let's take these one at a time:
Strengths
Light weight: This is their key advantage, which I described at the outset. Their energy density is >400 Wh/kg, while state-of-the-art production batteries are at 250 Wh/kg. This is a 60% increase, and their roadmap takes them even farther.
Production ready: Amprius has now produced hundreds of kWh of batteries and deployed them in field applications. There are no kinks to work out—what they have made is sufficient for their markets. They just need more of it, and that's what the SPAC is for.
Proven in applications: They have delivered batteries to customers such as Airbus, who have put them in applications and put them in the field and are satisfied with the performance. Working cells in devices delivering the performance they promise in the field is a huge milestone. I have an advisor who was a battery leader at Samsung, Apple and now Volkswagen and his key advice is that every application proven in the field is worth 10,000 pages of data and reports. Amprius has this.
Head start over competition: There are other companies who are promising to produce very high energy density batteries using solid state electrolytes or other ways to achieve lithium metal or pure silicon anodes—but Amprius is the farthest along in both production and field applicability.
Opportunities
Top-down market approach is huge: Start with drones, military and electric air mobility, and you have a niche where Amprius currently dominates which will grow to very large market sizes, multi-billion without a viable competitor. Having spoken directly to many of these customers, I can testify that they know they will pay a higher price to reduce weight, which is their critical parameter (with safety—see below).
Reduce cost at large scale: Their basic input, silicon, is almost free. Eyeballing the capex, it was not extensive, so we are left with energy. In doing our own calculations for the energy required for production PVD processes, I was shocked at how low they are, so I would not expect this to be too extensive either. At large scale, the process should enable inexpensive batteries, certainly acceptable for the large flying markets. Whether it gets to be competitive for EVs—I expect so for the luxury end, anyway. Want a 1,000-mile car—this may be your only choice.
Enable new applications: Every time there is a true step change in performance, new applications appear. Remember all the paper billboards—they have been replaced by 60' screens, and this ignores the giant displays at sports arenas. Something else will happen here—but whether it is flying screens that stay in front of us and respond to gestures or mass air taxis, I cannot at this time say. But very light batteries will enable something that hasn't been possible without them.
Weaknesses
Slow process: Without giving anything away, building up a thickness of 10s microns using PVD is a slow process. To mass produce will require a large plant, and lots of equipment. However, this is something that can be improved incrementally over time as the process is understood at scale. I watched textile weaving go from 100 picks/minute to well over 1000, and the same thing will happen here over time.
High energy density exacerbates safety: People who know Soteria (my company) will understand that we work on this in many forms. Packing more energy into a smaller package makes the safety equation more difficult. There is nothing inherently unsafe about the Amprius technology, but all that energy in a small package is challenging. Their team is excellent, and we are providing a few extra strategies—I believe they will crack the problem.
Could be capital intensive: This goes along with slow speed. I have no inside information about their capital costs, and certainly no knowledge of how they will scale. That all being said, they will have to prove out a bigger, faster machine in order to be competitive. This is the work of the SPAC and I believe in their team. It's a solvable problem, but will take time and money to optimize the capex cost equation.
Revenue not monotonic increasing: Their revenue has come from selling cells from their equipment, which is likely relatively small, and from government grants and other R&D contracts. From their disclosures, it's hard to tell how much is from what, but the revenue is choppy, and we are relying on the promise that using the SPAC capital to build a bigger production facility will result in ever-growing revenue. I believe it will, but it has yet to be proven.
Threats
More conventional silicon-anode production: Many companies are working on other forms of silicon anodes, including Sila-nano, Enovix, Advano, and many others. Sila Nano and Enovix are commercial, though at much lower energy densities than Amprius. (As an example, Enovix best cell claims only 291 Wh/kg, vs Amprius 450 Wh/kg.) While they certainly have a roadmap to higher energy densities, any cathode advancements will also be available to Amprius. In the long run, though, Amprius will need to continue to innovate in order to stay ahead.
Other PVD silicon anode companies: While there are fewer of these, they include LeydenJar and Graphenix, both of whom have solid technical bases. Neither is as well capitalized as Amprius, so Amprius has the resources to solidify their advantage.
Lithium-metal anodes with good cycle life: While there are solid-state companies who have good cells with a very difficult technical road to full-scale, economical production, some companies are taking a more conventional approach. These include companies like Cuberg and Sepion, both VC-backed companies who have advanced liquid-electrolyte lithium-metal technology with very promising energy density. If they solve all the associated problems with their technology, they could provide high energy density with a more conventional, less expensive production capability. Cuberg was recently acquired by Northvolt, so they have both the resources and scale-up partner to accelerate their adoption.
Summary
While it is difficult to truly know who will end up on top in the high energy density battery space, there are a few things that are certain:
High energy density batteries will have a very large opportunity, once available in quantity at a reasonable cost.
Amprius has a genuine lead over their competition, as detailed above.
The SPAC capital will enable Amprius to accelerate toward fully commercial cells.
Their competition will need to adapt and adjust strategy to grow faster given this influx of capital for Amprius.
Given the dynamics of the market, and their fine competition, there will likely be several survivors in this market segment, each of whom will grow to be large, profitable companies; Amprius will almost certainly finish among the leaders.