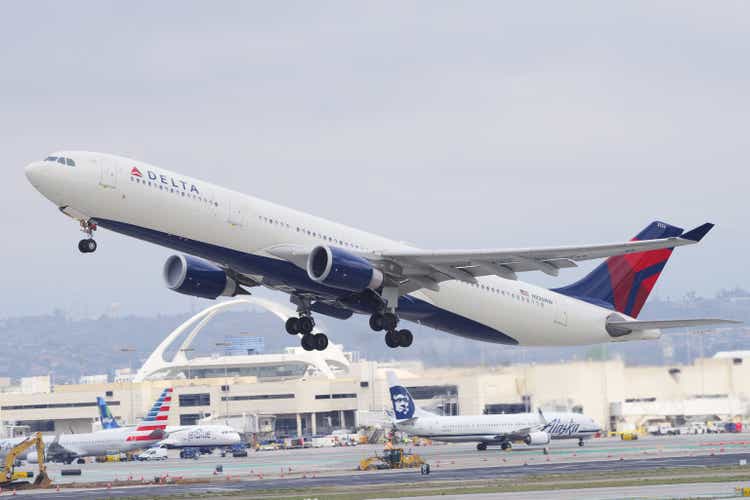 Delta Air Lines (NYSE:DAL) will kick off airline earnings season for the 2nd quarter of 2022 on Wednesday; Delta has not only established itself as the first U.S. airline to report its earnings each quarter but Delta gains an outsized platform to address key industry and macroeconomic issues, refining expectations for the industry and other airlines that will report after Delta.
The second quarter that just closed was the closest thing to normal the airline industry has seen in more than two years since the covid-19 pandemic began. Spring 2022 saw the reopening of a number of major international markets from the U.S. along with a return of business travel which many believed would be the indicator of the return of profits for legacy/global airlines like Delta.
Most analysts were not accurate in their predictions that low-cost carriers that were predominantly domestic in nature would have an advantage during the pandemic over their legacy/global carrier competitors. The reality is that Delta's margins during the pandemic exceeded several of its low-cost competitors in the U.S. and Delta is poised to take the lead as not only the most profitable U.S. airline in absolute dollars with its 2nd quarter earnings but also will post double-digit margins that few other airlines will match.
The goal of this article is to help investors understand the strategy behind Delta's 2nd quarter earnings, including relative to its competitors, and also determine how well DAL stock will perform in the midst of the predictable and unpredictable challenges that lie ahead.
Delta management noted during the pandemic that it was not planning to rebuild the company as it was when the pandemic began. While Delta was already the most profitable global airline in the world prior to the pandemic, there were clear areas of the company's performance that were not as strong as they believed they could be. Delta management has repeatedly said that they expect to be able to expand margins post-pandemic above the levels the company achieved pre-pandemic and they cite reasons which most analysts have missed in their commentary on Delta's earnings and future stock potential.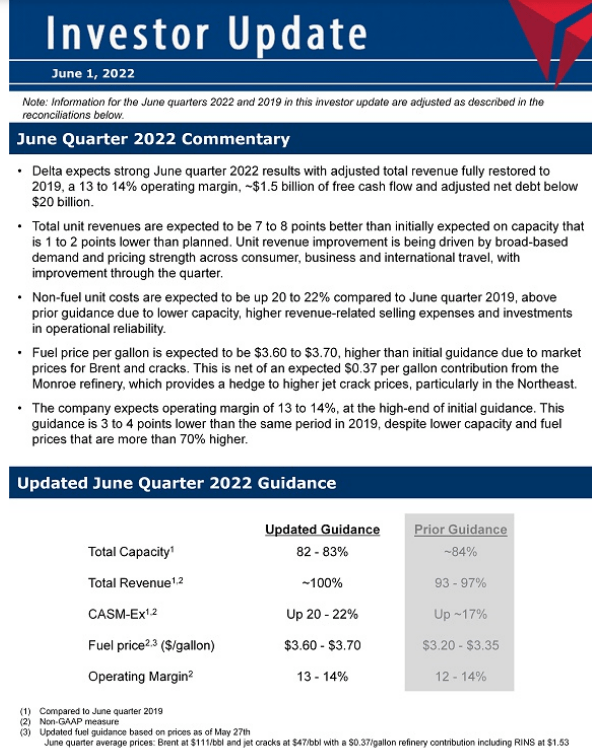 Peer-leading Revenue Growth
Pre-pandemic, Delta frequently traded places with American Airlines (AAL) as the highest revenue airline not just in the U.S. but also in the world. However, Delta flew a lot less passengers and seat miles than American to generate similar levels of revenue, highlighting the revenue premium the Atlanta-based carrier has had for years relative to its peers. Delta's strategy coming out of covid is to enhance and expand its revenue premium.
Prior to the pandemic, Delta's revenue premium was most heavily concentrated in its domestic system, in part due to its dominance of its interior U.S. hub markets – Atlanta, Detroit, Minneapolis/St. Paul, and Salt Lake City. Delta is demonstrating that it can expand its revenue premium into more of its international system as well as its coastal domestic hubs.
Delta Air Lines Net Income by Global Region
Domestic Latin Atlantic Pacific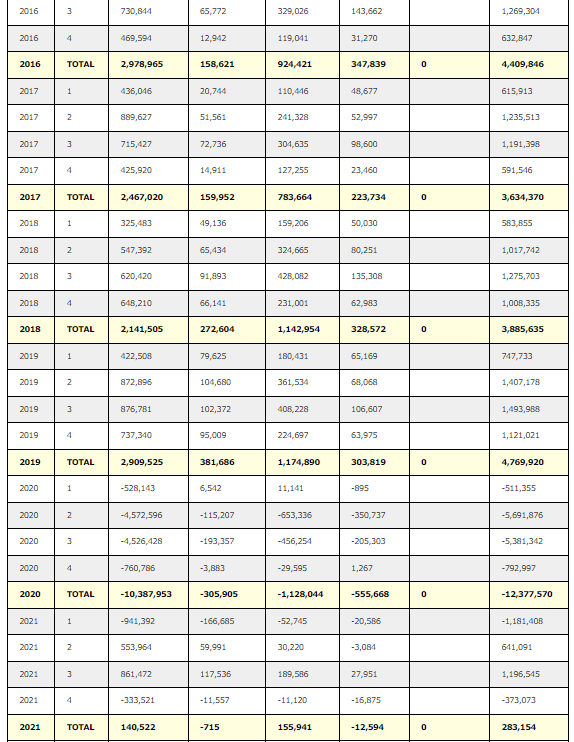 International Network Revenue Growth
International airline networks have long been the least profitable for U.S. airlines. According to DOT data, Delta was the only airline to consistently report profitability in all three of its global regions – transatlantic, transpacific, and Latin America – prior to the pandemic. Its transatlantic system has long been its most profitable system, sporting margins comparable to its domestic system.
In the Asia-Pacific region where Delta was the 2nd largest U.S. airline pre-covid, Delta will improve its revenue-generating ability in three major markets.
In Japan, Delta gained access during the early days of the pandemic so that Delta's entire Tokyo operation can now operate from Tokyo Haneda airport which is closer to the city center that Narita airport where nearly all transpacific flights previously operated. DOT data shows that flights from Haneda generate higher revenue than flights to/from more distant Narita airport. Delta is the only airline flying between the U.S. and Japan that now operates exclusively from Haneda airport.
In S. Korea, Delta's joint venture partner Korean Airlines is in the final stages of a merger with Asiana Airlines, one of several foreign airlines that saw their finances deteriorate to the point that they could not remain as an independent company. The Korean/Asiana merger has received approval from most governments although the U.S. has asked for changes in order for it to agree to the deal. Delta and Korean are by far the largest transpacific airlines at Seoul Incheon airport, one of the largest in East Asia, larger than traditional connecting airports in Japan. Approval of the merger will allow even more growth of the Delta/Korean joint venture.
In China and Hong Kong, Delta has gained its relative position in the market because of continuing restrictive covid regulations; changes in the U.S. – China political and economic climate will make China a smaller market for U.S. airlines. United has been the largest U.S. airline to China and Hong Kong but Delta now operates the same number of limited flights as United.
Delta will also gain in Latin America:
Delta joint venture and equity partner AeroMexico has emerged from chapter 11 reorganization with a much leaner cost structure. AeroMexico is the only global Mexican airline and Mexico is the largest market in Latin America from the U.S. based on passengers.
Latam is also a Delta equity partner and the Delta-Latam joint venture application has recently received tentative approval from the U.S. DOT and is expected to be converted to permanent approval shortly. Delta and Latam will serve a half dozen countries throughout the Americas and told the DOT they will launch new flights including a likely challenge to American's dominance as the largest U.S. airline in Latin America.
In Europe, Delta will continue to gain from the failure of a number of transatlantic low-cost airlines. Within the past week, Scandinavian Airlines filed for chapter 11 reorganization and has been forced to cancel large portions of its flights due to a pilot strike. European airlines are not as far along in the covid recovery as their U.S. counterparts. Pre-covid, Delta was the largest airline across the Atlantic.
Growing U.S. Hub Strength
Revenue growth on Delta's international network and its continued strength in its big 4 interior U.S. hub cities are being supplemented by growth in two of its four major international coastal hubs. In Boston, Delta is launching nearly one dozen new domestic and long-haul international flights this summer, surpassing JetBlue (JBLU) as the largest airline from Boston based on Available Seat Miles, the industry standard measurement of capacity. In Los Angeles, Delta has overtaken American as the largest carrier based on local market revenue. Delta is opening major portions of its rehabilitated LAX terminals which contain passenger amenities that are expected to drive revenue growth in the highly competitive Southern California market.
Focused Capacity Management
The most significant statement that Delta executives have made is that they will rebuild their global network to reduce the difference in capacity between the seasonal peaks in demand that occur in the airline industry. Pre-covid Delta held onto older aircraft like its 767-300ERs to meet the increase in high-value transatlantic demand that comes during the summer. While depreciated airplanes can be cost-effectively deployed in markets during peak demand periods that occur throughout an airline's network, it is much harder to redeploy employees and other assets to other markets and generate the same high margins that occur during peak demand periods. Delta's strategy involves not chasing as much of the peak demand as it has in the past – and what other airlines might chase – because the cost to do so cannot be justified outside of the peak demand periods.
Unique Non-Transportation Revenue
Delta is focused on increasing its non-transportation revenues, the largest chunk of which comes from its loyalty program, Skymiles, which is supported by a partnership with American Express (AXP). The two are the largest partners for each other and generate more loyalty program revenue for Delta than any other airline in the world. The growth of loyalty program revenue was slated to grow to $7 billion/year before the pandemic and is expected to continue on that trajectory as multiple indicators show that the $7 billion goal will not only increase high-margin loyalty program revenue for Delta but also increase its ability to attract new premium passengers.
Delta operates one of the world's largest aircraft maintenance facilities that services aircraft for other airlines. While Delta does not report its revenue from Delta Tech Ops separately, they previously indicated that their goal was to exceed $1 billion in Tech Ops revenue from other airlines per year doing engine overhauls which are much higher margin than transportation revenue. Delta has long-term maintenance contracts from engine makers Pratt and Whitney and Rolls-Royce that power thousands of commercial aircraft. Delta is seeking to add contracts for the 737 MAX family as part of a potential deal to acquire that aircraft type (see below).
All of Delta's revenue generation strategies will expand not just on the amount of revenue for Delta but also on the margins that each type of revenue provides; most of the revenue growth will result in growing competitive advantages including via some revenue channels which other airlines cannot duplicate.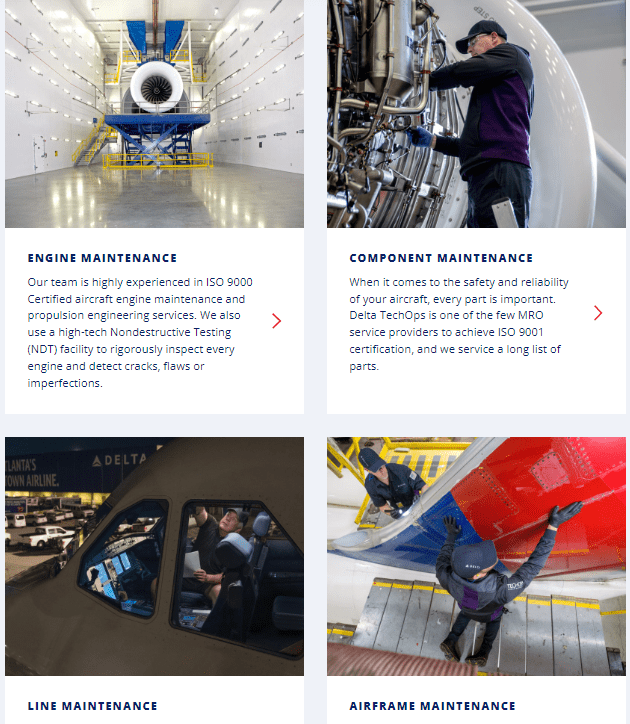 Sustained Cost Advantages
Delta has long had one of the best cost management track records in the airline industry. They indicated during covid that they would use the pandemic to reduce costs on a long-term basis. Airlines are highly labor and capital-intensive businesses which, combined with the highly competitive nature of the industry, makes it necessary to cut both types of costs in order to best competitors.
The Juniority Benefit
Delta has some of the highest labor costs because its salary and benefits are some of the highest in the industry. Delta offsets some of its high costs per person with high employee efficiency but it recognizes that margin improvement requires reducing its cost per employee. One of Delta's strategies during the pandemic was to retire as many of its employees as it could incentivize to leave in order to rehire new employees after the pandemic at the bottom of the pay scale. While airlines could not lay off employees because of federal aid, Delta offered the most generous early retirement and separation program in airline history. Delta is now rehiring employees and while it, along with many companies is struggling to hire enough staff in order to maintain service levels, Delta's labor costs are certain to not rise as fast as its peers.
Labor costs for all airlines are certain to rise since many airline labor contracts became renewable during the pandemic; airline labor contracts do not expire. United touted that it was the first airline to agree to a post-covid pilot contract but their union leadership suspended promoting the agreement with the company while pilots vote on the new contract, a highly unusual step, because American management offered a slightly richer opening proposal to its pilots. Both AAL and UAL's proposals have far lower wage gains than many pilots expect given the inflationary environment, indicating that both airlines might be signaling that they do not believe there is a case for large pay raises. While other airlines have large unionized non-pilot workgroups, Delta's pilots are its only large unionized work group and the company has already raised pay for its non-pilot personnel, meaning that Delta's wage increases should be lower than other airlines.
Top Tier Global Carrier Fuel Efficiency
Delta used the pandemic to accelerate the retirement of a number of older fleet types and is now replacing them with newer, larger, and more efficient aircraft. Delta's fuel efficiency has improved by taking delivery of all-new aircraft like the small mainline A220 as well as among its international widebody aircraft, replacing the B777 with A350s and A330-900s which burn 20-25% less fuel per seat than the 777s. It is accelerating the increase in average aircraft size (gauge) of its domestic fleet by replacing 150-160 seat older generation aircraft with aircraft with new generation engines that seat 190+ passengers, resulting in a 30-35% improvement in fuel-efficient per seat. Not only do the new engines and newer materials on the aircraft reduce fuel burn but they contribute to higher labor efficiency. Delta is reportedly near a deal to buy Boeing 737 MAX 10 aircraft, Boeing's largest single-aisle model, if Boeing can work through certification issues.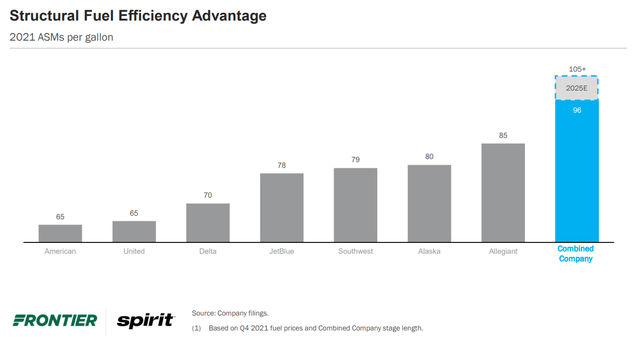 Fuel Unit Cost Benefit
Just as for other Americans, higher fuel costs are having a huge impact on airlines. Pre-covid, each of the big 3 US global airlines, including Delta, burned one billion gallons of fuel per quarter. Unlike either American or United and many of Delta's low-cost competitors, Delta has a fuel cost control mechanism via its refinery near Philadelphia which provides jet fuel for Delta's Northeast U.S. operations and also produces non-jet fuel products which Delta exchanges for jet fuel in other parts of the country. The refinery produces jet fuel and other petroleum products equivalent to more than 80% of Delta's domestic fuel needs. The refinery is expected to save Delta more than 37 cents/gallon in the current quarter compared to its largest competitors. Because current high jet fuel prices are due in part to high refinery margins, esp. in the Northeast, Delta's benefit is expected to remain even if crude oil prices fall. The combination of Delta's higher fuel efficiency and lower jet fuel costs will result in cost savings totaling more than $500 million per quarter – or approximately 5% lower costs compared to similar-sized rivals, more than enough to result in significant margin improvements or stronger pricing control in competitive markets.
Best in Class Balance Sheet Repair
One of the frequent (justifiable) criticisms of airlines is the debt they took on just to survive during the pandemic despite tens of billions of dollars in government aid to the industry. Legacy/global airlines historically have had lower quality balance sheets than younger low-cost carriers but DAL succeeded in regaining an investment grade credit rating prior to the pandemic and says it will regain that status in years, not decades. Delta is guiding to $1.5 billion in free cash flow just in the second quarter and potentially $4 billion or more in 2022, levels which cannot be matched by any of its global carrier competitors. Higher debt levels require spending more money on debt service expenses; in 2021, even with high levels of cash on hand, Delta spent $500 million less than AAL and almost $400 million less than UAL in interest expense and the gap will widen as DAL accelerates its balance sheet repairs while competitors either generate much lower levels of cash or spend much more in capex.
Strategic Stability
Seeking Alpha has more than adequately covered the ongoing competing merger/acquisition bids for Spirit Airlines (SAVE) by Frontier and JetBlue. While the end point of that process is far from clear, there is no doubt that airline mergers rarely result in the benefits that were promised, in part because the cost of airline mergers and acquisitions is high. The biggest takeaway from the SAVE saga is that this is the first time in the 45 years since the U.S. domestic airline industry was deregulated that legacy carriers as well as LUV are more profitable even on a margin basis than deep discount airlines; consolidation is taking place among deep discount airlines while larger airlines are strategically more stable. Delta has the least at risk and the most to gain of the big 3 because of the SAVE acquisition.
Delta's Formula for Success
Airline stocks have retreated from their highs earlier this year largely because investors aren't certain that airlines can maintain their heady momentum going into the fall and beyond; second quarter earnings come just weeks before the peak summer travel season begins to wind down. There is no reason to believe that the reduced demand that other industries are seeing as a result of inflation and a looming recession will not also impact airlines once the euphoria of the return of travel wanes.
Delta's formula for ensuring that its covid recovery is not stalled by macroeconomic factors involves this formula:
Achieve peer-leading revenue growth through its international and domestic networks, ancillary revenues, and matching capacity growth to profit-maximizing levels
+
Sustain covid era cost reduction via increasing the percentage of lower seniority employees, building top-tier fuel efficiency for a global carrier and maximizing its refinery cost reduction benefits
+
Best-in-class debt reduction
+
Strategic Stability with no M&A Activity
_____________________________________________________________
Industry-leading financial results
Every one of the elements of Delta's formula not only increases its financial performance relative to its pre-covid position but also gives Delta a greater competitive edge via stronger performance than its peers, leading to a higher valuation for DAL.
Valuation
Airline investors are certain to have noted that airline industry stock prices have moved pretty much in lockstep during the pandemic based on some differences such as perceived risk for international vs. domestic travel. However, fundamentals do matter in the valuation of companies which explains why DAL's market cap remains more than twice as large as AAL's and 60% higher than UAL's. The second quarter 2022 financial results are the beginning of a new chapter for airlines and financial performance will once again result in stock price movement based on fundamentals.
DAL currently sports the highest rating by Wall Street analysts of any U.S. airline and also shows the widest gap between price target and actual price for DAL over the past 3 years.
DAL is a buy now and will remain so as Delta's financial performance driven by its formula for its success justify much higher values.