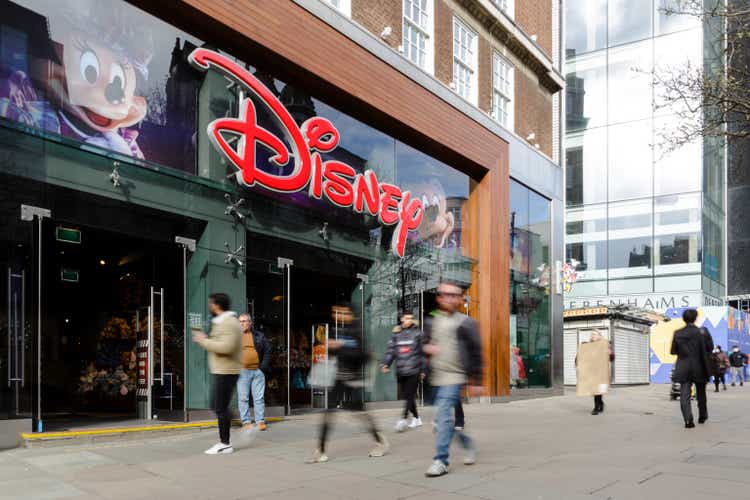 Investment Thesis
The Walt Disney Company (NYSE:DIS) is a diversified worldwide entertainment company with movie franchises, a streaming service, a theme park, and merchandising. Since the creation of Mickey Mouse in the 1920s, Disney has seen enormous success, acquiring and expanding into many different businesses. Disney's stock price has plummeted since mid-2021 and is now half its previous level, due to overall market volatility, the collapse of Netflix, and struggles across the entertainment and hospitality industry. I believe the market is over-discounting Disney's strength, and I expect Disney to recover because:
Park and Entertainment businesses are recovering, and actually Disney is unable to meet full demand due to labor shortages.
Disney has strong cash generating ability and a solid balance sheet. Their debt to equity ratio (50%) is much stronger than competitors Netflix (99%) and Warner Brothers (106%).
Streaming service is peaking up, and movie theaters are getting busier as well. Revenue from the last twelve months has already surpassed its pre-pandemic level.
Recovering Theme Park and Entertainment Business
The Park and Entertainment business is recovering and booming. Based on the latest filing, the Disney Parks, Experiences, and Products segment more than doubled compared to last year. Management mentioned that this strong performance was due to increasing demand and personalized guest experience enhancement. Per capita spending grew more than 40% compared to its pre-pandemic level in 2019.
With traveler numbers recovering, new rides (e.g., next-generation storytelling and Guardians of the Galaxy), and theme park expansion (e.g., Disneyland Paris), I expect the Park and Entertainment business to continue its strong performance. Also, the current capacity of Disney theme parks was limited by labor shortage, not by demand. Demand is actually very strong. Disney is doing everything they can to staff positions, including offering larger signing bonuses, and their number of employees is heading upward. As positions get filled, Disney should be able to meet full customer demand and revenue will grow.
Strong Financial Position and Economic Moat
One of the main benefits of investing in a blue chip company like Disney is their strong financial position and well defined economic moat. Even during the middle of the pandemic, Disney generated operating cash flow of $3.7 B and $3.5 B in 2020 and 2021, respectively. Not surprisingly, their balance sheet is much stronger than their competitors. Their total debt to equity ratio (50%) is almost half that of Netflix (99%) and Warner Brothers (106%). With the Federal Reserve determined to control inflation, even in the face of a recession, this strong financial position should provide peace of mind for investors.
Also, Disney has a very well defined economic moat. Disney owns brands such as Marvel, ESPN, National Geographic, Lucasfilm, and Pixar. All together, this forms a composite group of market leading characters, and creates a formidable economic moat. A down economic cycle may temporarily affect revenue from movies or theme parks, but it will only be a short-term impact. Consumers will return to Disney's movies, parks, and merchandise in the long run.
Strong Streaming and Movie Market
Disney's streaming service and movie business is growing as well. Disney ended Q2 with more than 205 million total subscriptions, and they expect to reach 230 million to 260 million Disney+ subscribers by 2024. Their expansion plan includes 1) growing into international markets, 2) ad-supported lower cost subscriptions, 3) leveraging blockbuster titles like Star Wars: The Book of Boba Fett and Marvel's Moon Knight. Given their long history of success in the film and broadcasting business, I have little doubt they will reach their goals.
The movie market is recovering as well. The number of ticket sales has been sharply rising since the middle of the pandemic in 2020. The number may not have fully recovered to its pre-pandemic level, but it is certainly trending upward. Ticket sales for June in the U.S. and Canada was about $990 M, which was only about 10% lower than 2019. This is a sharp uptick given that movie attendance was 44% lower in April (compared to 2019) and 26% lower in May. As we leave the pandemic, I expect box office numbers will soon return to their pre-pandemic level.
Intrinsic Value Estimation
I used a DCF model to estimate the intrinsic value of Disney. For the estimation, I utilized free cash flow ($10.8 B) and current WACC of 8.0% as the discount rate. For the base case, I assumed cash flow growth of 14% (Seeking Alpha estimate) for the next 5 years and zero growth afterwards (zero terminal growth). For the bullish and very bullish cases, I assumed cash flow growth of 17% and 20%, respectively, for the next 5 years and zero growth afterwards. Given that their theme park and movie business keeps recovering, 17-20% growth seems achievable.
The estimation revealed that the current stock price has a 15-30% upside. Given their economic moat, recovering theme park and movie business, and increasing streaming revenue, I expect Disney to continue to recover and ultimately achieve this upside.
| | | |
| --- | --- | --- |
| | Price Target | Upside |
| Base Case | $108.72 | 13% |
| Bullish Case | $121.67 | 27% |
| Very Bullish Case | $135.93 | 42% |
The assumptions and data used for the price target estimation are summarized below:
WACC: 8.0%
Cash Flow Growth Rate: 14% (Base Case), 17% (Bullish Case), 20% (Very Bullish Case)
Current EBITDA: $10.8 B
Current Stock Price: $95.86 (07/08/2022)
Tax rate: 20%
Cappuccino Stock Rating
| | | |
| --- | --- | --- |
| | Weighting | DIS |
| Economic Moat Strength | 30% | 5 |
| Financial Strength | 30% | 4 |
| Growth Rate vs. Sector | 15% | 3 |
| Margin of Safety | 15% | 5 |
| Sector Outlook | 10% | 4 |
| Overall | | 4.3 |
Economic Moat Strength (5/5)
Disney has one of the strongest economic moats around. Their iconic characters and brands are part of everyday pop culture. It's also very impressive that many different parts of their businesses (animated movie, sports, streaming, TV broadcasting, and etc) were able to generate tons of cash even in the midst of a pandemic.
Financial Strength (4/5)
Disney has been a cash generating machine these past several decades. Even in the middle of the pandemic and with their theme park business half-paralyzed, they were able to generate over $3 B of operating cash flow. Their balance sheet is much stronger than competitors.
Growth Rate (3/5)
The growth rate of Disney will be outstanding for the next several years as we leave the pandemic restrictions and recover to pre-pandemic activities. However, long-term growth rate should stabilize around 5-7% per year range, which will be in-line with the rest of the industry and competitors.
Margin of Safety (5/5)
The recent drop of their stock price (~40%) created a great opportunity for investors to grab Disney's shares at a discount. A blue chip company like Disney with a strong economic moat is a great way to build long term wealth if you can grab it at a bargain.
Sector Outlook (4/5)
The entertainment business will grow with the population and economy. A portion of people's disposable income will naturally flow towards the entertainment business. As the leader in the entertainment business, Disney will enjoy the long term sector growth.
Risk
The Federal Reserve seems determined to cause a recession to fight inflation. Every time the stock market gains some momentum, the Federal Reserve comes out and pours cold water on it by either raising interest rates sharply or forecasting a dire economic scenario. Therefore, I don't expect the stock market to gain any sustained momentum until inflation drops. In a recession, there will naturally be fewer theme park visits and less movie theater spending, and that will hurt Disney's growth prospects.
Disney is approaching a 2024 deadline to buy an additional 33% stake of Hulu ($27.5 B). The incorporation of Hulu into Disney could constrain capital, drain human resources, and create conflicts in merging two different business models. As Disney already has a successful Disney+ streaming service, Hulu's value to Disney has decreased quite a bit in the past couple of years. Disney certainly has plenty of experience acquiring and incorporating new businesses, so I expect they will find an approach to successfully utilize Hulu's contents and subscribers base. However, investors should monitor the progress closely.
Conclusion
Disney has been a superb investment for the past several decades. With many market-leading brands and characters, I expect them to stay a cash generating machine for a long time. The recovering theme park and movie business should provide a spurt of growth, followed by steady long-term growth. A potential recession would be only a temporary setback. Overall, I expect 15-30% upside.
Marketplace In Preparation
Thank you all for reading my article. I'm in preparation for a Marketplace launch soon. Please get excited! Also, let me know the types of analysis or information you would like to see more of in my articles. I will take that into consideration for the marketplace. Thank you all for your support!