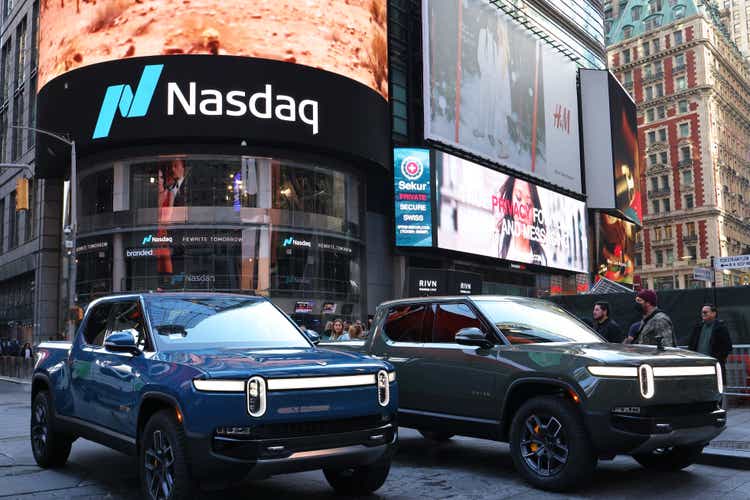 Despite a recent bump in the share price of Rivian Automotive (NASDAQ:RIVN), the electric vehicle company faces a couple of tests in coming months including the release of second-quarter results. Last week, Rivian revealed production numbers for the second-quarter which were received well by the market, but the company needs to prove in the second half of the year that it can sustain this momentum!
Underwhelming performance in FY 2022
With a year-to-date loss of 69%, Rivian's IPO in the fourth-quarter of last year represented a value trap. While the firm's valuation initially soared - chiefly due to an escalating hype affecting all kinds of electric vehicle stocks - Rivian's subsequent performance was a major disappointment. An early investment in the electric vehicle manufacturer has dealt huge losses to investors, including to the two biggest backers of the start-up, Ford (F) and Amazon (AMZN)... both of which are set to reveal billions of dollars in impairment losses on their Rivian investment for the second-quarter. Ford and Amazon were precluded from selling shares during the initial hype because of lock-up rules that expired in May.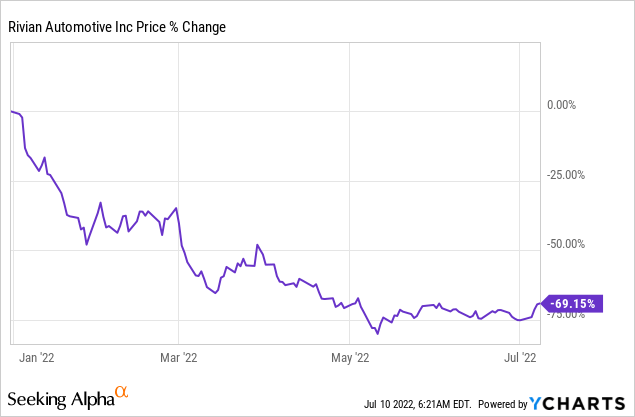 Progress regarding production ramp in Q2'22
Rivian's production ramp is going according to plan, but investors can and perhaps should only expect the electric vehicle company to meet its lowered guidance this year. Rivian is producing only three products now, the R1T pickup truck and the R1S SUV for consumer markets, and the EDV electric delivery van for commercial markets. Rivian lowered its production guidance for FY 2022 from 50 thousand electric vehicles to just 25 thousand electric vehicles due to supply chain disruptions and the stock price is still reeling from the downgrade. The lowered guidance strongly suggests that the market overestimates Rivian's growth potential.
In a release last week, Rivian said that it produced 4,401 electric vehicles at its manufacturing facility in Normal, Illinois, in the second-quarter, showing 72% quarter over quarter growth. During the first-quarter, Rivian produced 2,553 electric vehicles. Rivian's deliveries caught up to the production rate in the second-quarter as well: Q2'22 deliveries reached 4,467 compared with 1,227 deliveries in Q1'22, showing 264% quarter over quarter growth. Rivian's production volume in FY 2022 totaled 6,954 electric vehicles.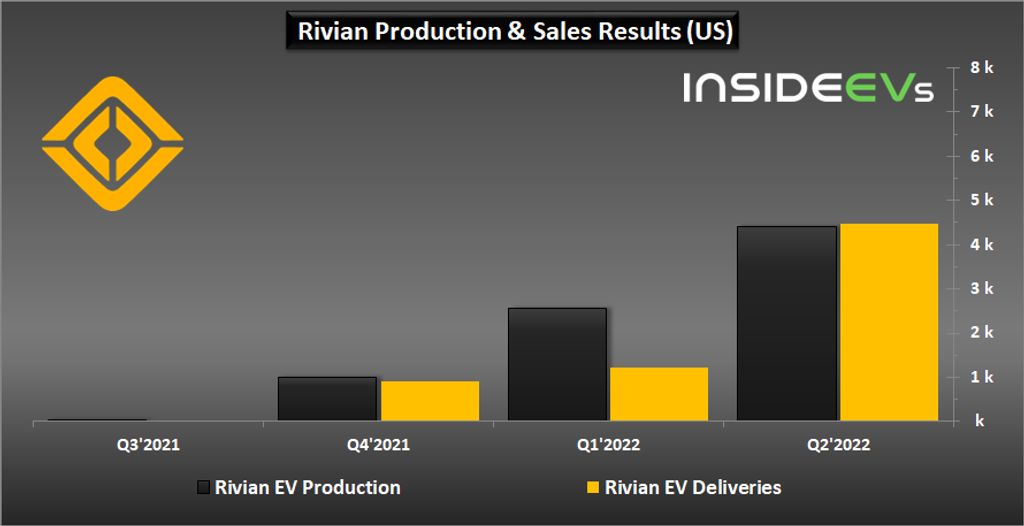 The surge in deliveries quarter over quarter is impressive and it shows that Rivian is really making progress regarding its delivery ramp. However, Rivian's average Q2'22 monthly delivery rate was just about 1,500 units. Because deliveries have now caught up with production rates, I believe increases in deliveries in the second half of the year will not be as great as in the second-quarter, since production continues to be the restraining factor for Rivian.
Rivian needs approximately 60% sequential production/delivery growth in Q3'22 and Q4'22 to meet its production target of 25 thousand electric vehicles… which is certainly doable, but investors should not expect much more than that for FY 2022.
Besides having to prove that it can sustain production momentum for the rest of FY 2022, Rivian faces an important test when it releases earnings on August 10, 2022 (expected earnings report date). The expectation is for Rivian to report an adjusted loss of $1.61 per-share on revenues of $325M. In Q1'22, Rivian achieved $95M in revenues.
Rivian's valuation may still be too high
The time for nose-bleeding valuation factors for electric vehicle companies has passed. In 2022, the market has woken up to the fact that many EV firms are years removed from profitability which is why a major revaluation of companies like Rivian has occurred.
Rivian is expected to remain unprofitable for at least three years and the company may not even be able to turn a profit after that...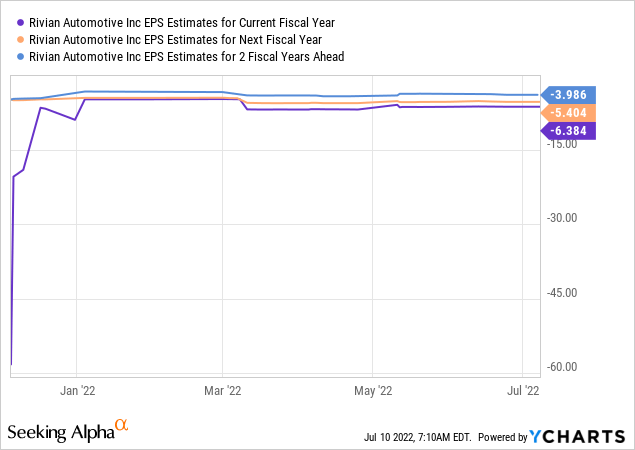 I believe that Rivian has a market cap that is not justified at this time. Rivian has a market value of $29B and a price-to-revenue ratio of 4.6x based off of expected sales of $6.3B in FY 2023, which is excessive. While it is true that EV companies are valued based on their future revenue potential, I believe the market as a whole is still too optimistic about Rivian's ramp, especially with recession clouds lingering over the economy. During recessions, a funny thing happens: investors start to suddenly care about cash flow and profits. A down-grade of growth estimates for the economy could result in a disappointing guidance for FY 2023 production targets as well which may weigh on Rivian's valuation.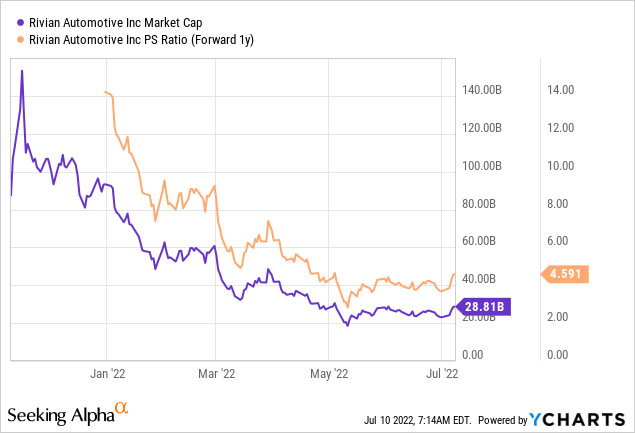 Risks with Rivian
The biggest risk, as I see it relates to Rivian's production. Although the company had a decent second-quarter regarding production growth, the EV company has not upgraded its full year outlook, meaning the company is likely only going to achieve 25 thousand produced EVs this year, which is disappointing. If production and recession headwinds result in lower demand for electric vehicles, which they arguably could, then investors must expect a weak guidance for FY 2023.
I believe Rivian will guide for a doubling of production next year as early investments in capacity are paying off, but the EV company may still be set to only achieve early FY 2022 production targets by the end of FY 2023, which could seriously cap Rivian's revaluation potential.
Final thoughts
The market seems overly optimistic about Rivian, and I believe investors are overpaying for the firm's potential. The market also makes no allowance for the possibility of a recession which could result in Rivian issuing a weak production and delivery forecast for FY 2023, which could make the EV company a growth trap for investors.
Rivian still needs to prove that it can grow production and deliveries in a consistent manner in the second half of the year. Additionally, Q2'22 earnings are due next month which the company could use to narrow down its guidance for FY 2022 or make updates about the expansion of its production capacity. I still believe Rivian is overpriced right now which exposes investors to very high risks!