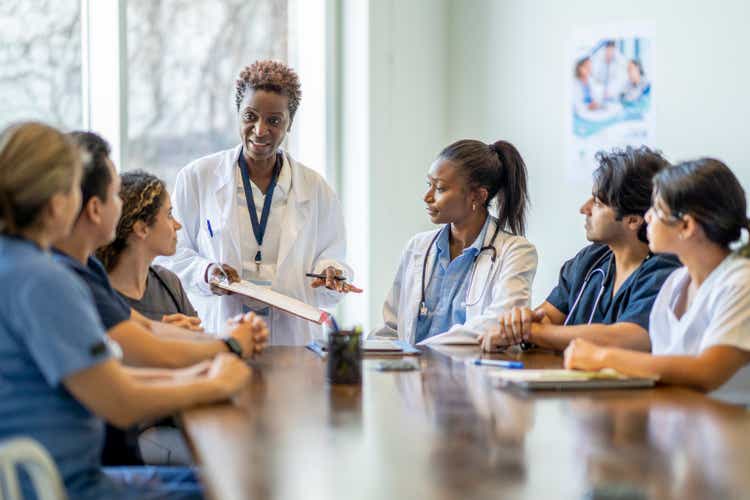 A 40% Rumor-Fueled Gain… and Possibly More to Come
Rumors of a possible acquisition by CVS (CVS) have propelled Google-backed (GOOG, GOOGL) 1Life Healthcare, Inc. (NASDAQ:ONEM) shares, which closed today July 8th at $11.55, nearly 40% higher this month.

Notes:
Data as of market close July 8, 2022.
Reports indicate that while CVS appears to have lost its appetite, other firms may be readying offers; activity which is consistent with recent primary care services firm takeover "buzz", such as with Humana's (HUM) reported interest in Cano Health Inc. (CANO). With buy ratings from a number of analysts, including a recent upgrade from BTIG who offer a price target of $15.00, ONEM shares may offer a near-term opportunity.

So, with CVS (apparently) bowing out as a suitor, what is the likelihood of an acquisition now? What kind of premium might shares attract under that scenario? CVS' interest in ONEM is obvious given the former's strategy to further develop its primary care offerings and the latter's "...membership-based primary care platform [featuring] digital health and…in-office care [services]." Logically, other firms seeking to build out and/or enhance their own primary care offerings represent potential acquirers and BTIG sees this list including "...large health plans such as UnitedHealth (UNH), Elevance Health (ELV), Humana (HUM) or potentially a large publicly traded hospital system." With this in mind, ONEM's business model merits a deeper discussion to better understand the firm's acquisition prospects and possible valuation.
A Brief Overview of 1Life Healthcare: Unmet Needs in a Nearly $1T Market
ONEM offers a software platform and network of metropolitan-centric primary care centers to address (what they see as) 4 large, unmet market needs within the U.S. healthcare system:
Many consumers are frustrated by poor, or lack of, primary care options and services.

Many employers want to offer their employers better or enhanced primary care benefits.

Many primary care providers struggle under the U.S. healthcare system's fee-for-service model and are characterized by poor patient experiences and high-rates of burnout.

Many health networks want to improve the integration between primary care and specialty care for their members; and, in doing so, they seek to attract more patients to their network while simultaneously lowering costs.
ONEM's technology platform and current in-person network in 29 metropolitan markets attacks these opportunities, with management noting that "[the] U.S. commercial primary care and Medicare market together is estimated to be approximately $870 billion in 2021, including approximately $170 billion for the commercially insured population and $700 billion for the Medicare population."
The result of ONEM's model, bolstered by their September 2021 acquisition of Medicare-patient-focused Iora Health, Inc. for $1.4B, is a diversified revenue stream with "[ONEM recognizing] net revenue as (1) membership revenue from annual employer and consumer subscription fees, (2) partnership revenue predominantly on a per member per month, or "PMPM", basis from health networks and fixed payments from enterprise clients for on-site medical services and (3) net patient service revenue on a per visit basis from health insurers and patients, including remote visits." More broadly, the company buckets its sales as commercial revenue and Medicare revenue, with the latter accounting for roughly 20% of FY '21 sales via the purchase of Iora Health.

Net sales exceeded $623M in FY '21 and, using the high-side of management's forecast offered in their Q1 FY '22 earnings release, FY '22 net sales may reach just shy of $1.1B.
At the end of FY '21, ONEM recorded 736,000 members, inclusive of 703,000 commercial revenue members and 33,000 "At-Risk" members. At-Risk members generally reflect Medicare patients obtained through the Iora Health acquisition. The company assumes financial responsibility for these patients which involves "...the risk that the cost of providing services will exceed [ONEM's] compensation for such services." Using the high-side of management's FY '22 forecast again, the firm expects to finish the current fiscal year with 810,000 members.
Acquisition Prospects Through the Lens of ONEM's Growth Trajectory
The previous section provides hints of ONEM's trajectory. Expectedly, top-line and member growth rates have been growing steadily. Sales jumped 109% in Q1 FY '22 to $254.1M versus the prior-year period; and membership increased to 767,000, a 28% increase over the prior period. Full-year projections for FY '22 continue along the company's growth path.


Notes:
FY '22 revenue and total member forecasts reflect high-side management estimates as of Q1 FY '22.
While the interpretation relies on a limited set of data, care margin, which ONEM defines as "...income or loss from operations excluding depreciation and amortization, general and administrative expense and sales and marketing expense", had also been trending higher prior to the Iora Health acquisition.

Notes:
FY '22 care margin forecast reflects high-side management estimate as of Q1 FY '22.
Although the actual and expected declines in care margin in FY '21 and FY '22 respectively might initially strike as a reason for concern, it should be noted that ONEM's At-Risk patients, who (as previously mentioned) the company maintains financial responsibility for irrespective of reimbursement, carry a higher medical expense ratio initially, with that ratio declining in subsequent years as their cost of care decreases over time via improved care management.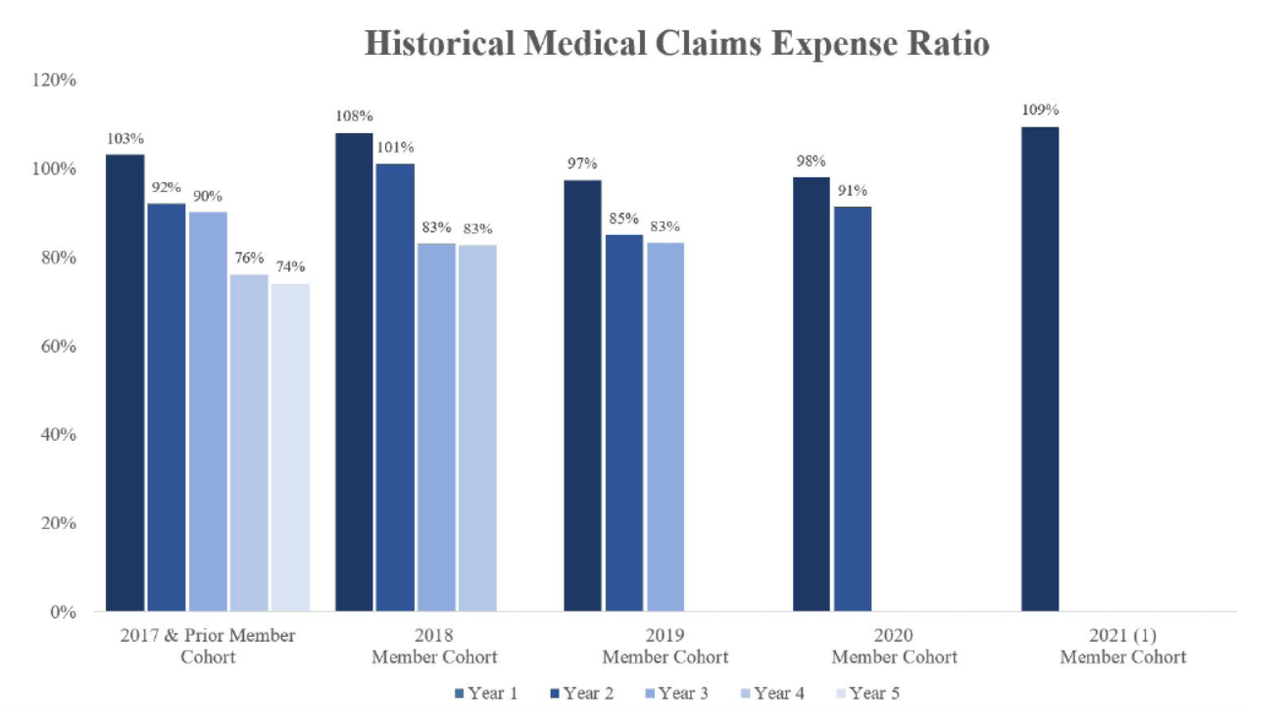 Hence, while care margin will dip in FY '22, as it did in FY '21, investors can expect the metric - particular to the patient base in those years - to improve moving forward.
With ONEM addressing the large market opportunity around enhanced primary care services, and with net revenue, care margin, and member growth all (generally) headed in the right direction, it is certainly understandable why BTIG "...thinks that the odds of [the company] being acquired are fairly high" and Citigroup has suggested "...that a potential buyout of [ONEM] could come at a 'significant premium' to its unaffected share price."
Risks and Counter Arguments
Before investors throw their capital at ONEM on the possibility of a premium-priced acquisition, let us consider certain risks.
1. ONEM's commercial business growth is slowing. While ONEM's commercial sales were growing at an average of ~30% prior to the Iora Health acquisition, growth is expected to slow dramatically in FY '22, even when using management's high-end-of-the-range forecast.

Moreover, Q1 FY '22 net commercial sales of $126.7M were only ~4% higher versus $121.4M in the prior FY '21 period. Although, one could argue the slowing rate is, at least, partially attributable to the "law of big numbers" and reflective of the health of a business growing into an increasingly larger enterprise. And, in fact, Q1 FY '22 commercial sales were $6.7M above the top end of management's guidance for the quarter and management increased full-year guidance for the business following Q1 results. Still, the slowdown in commercial sales should at least raise some questions in the minds of investors, as it could hint at sales and scalability problems.
2. As may be already obvious, the large jump in Q1 FY '22 sales was largely inorganic. The 109% increase in Q1 FY '22 net revenue versus the prior year period was mostly due to contributions from the Iora Health business. Indeed, the jump in estimated FY '22 net revenue as seen in Figure 4 is mostly attributable to the recognition of Iora Health business for the full calendar year versus only 4 months in FY '21.
3. ONEM member counts are estimates. ONEM derives a portion of its (primarily commercial) members from enterprise clients - i.e. companies that have contracted with ONEM to provide primary care services to their employees. The company had more than 8,500 enterprise clients at the end of FY '21. ONEM notes that their services may be provided to 1 or more dependents of a given employee. As a result, management counts 1 dependent per enterprise member when calculating their total member count. This means that it is possible that ONEM is over-estimating its true number of members. Yet on the other hand, this approach may be reasonable. For example, if a majority of employee members have more than 1 dependent, it could be that ONEM is actually underestimating its member count. While it is impossible to know which scenario is more likely without more data, conservative investors might lean toward an over-estimation of members when evaluating their investment decision.
4. ONEM recorded a significant amount of goodwill when acquiring Iora Health. The firm's goodwill jumped from $21M in FY '20 to $1.15B following the Iora Health acquisition; and goodwill represented an (arguably) unhealthy ~44% of total assets at the end of FY '21. Many investors might agree that large acquisitions have a tendency to not workout over the long-run, and impairments tend to manifest themselves during poor market conditions - like the conditions investors are wrestling with right now. From my point-of-view, the potential for goodwill impairment must be considered one of the "brightest" red-flags when evaluating ONEM.
5. ONEM's financial performance may vary substantially from year-to-year due to contractual obligations and a dependence on key customers. As discussed, ONEM assumes financial responsibility for its Medicare patient base regardless of reimbursement. While Figure 7 suggests that the cost "structure" of this patient group over time is somewhat predictable, the possibility nonetheless exists that this cost model could be disrupted in a given year for any number of reasons. Further, management notes in its Annual Report FY '21 that:
Historically, [ONEM's] revenue has been concentrated among a small number of customers. In 2020 and 2021, [ONEM's] top three customers accounted for 35% and 32% of our net revenue, respectively. These customers included commercial payers and a health network partner…The loss of one or more of these customers could reduce our revenue, harm our results of operations and limit our growth.
Google, for example, is noted to have accounted for 10% of revenue in FY '20 and "something" less than 10% of revenue in FY '21. While one might not expect any dramatic change in the cost model for Medicare patients, or for any of ONEM's large enterprise customers to terminate their contracts, the possibility nonetheless exists for dramatic variability in annual financial performance.
6. Slowing COVID tailwinds may impact performance. The COVID-19 pandemic benefitted ONEM with the company providing COVID-19 testing and related services. Many investors seem to think these tailwinds are slowing and therefore ONEM's future results may reflect this change. Personally, I have argued elsewhere that COVID seems to "pop back up" when it is least expected, particularly when one considers recent and new COVID waves in other countries. Accordingly, I would tend to be more optimistic on this point; and I think the firm may continue to see some additional degree of COVID-fueled growth heading into FY '23.
7. ONEM's competitive moat for their technology may not be all that deep. ONEM's software platform facilitates provision and coordination of member care. While it undoubtedly represents a unique, differentiating characteristic of the firm, it is not clear that the barrier-to-entry - specific to ONEM's technology - is so high as to provide the company with a deep moat. That is to say, it is not clear (to me at least) that a large healthcare services company with deep pockets would be unable to develop similar tooling from scratch. On the other hand, the acquisitive interest in ONEM must be fueled (in part) by a desire to not have to build similar applications from scratch; and, potential acquirers presumably see an opportunity to scale what ONEM has developed to their own (larger) member base.
My point in this section is not so much to suggest an acquisition is unlikely given the risks described above, but rather to suggest that investors temper their expectations a bit in terms of the premium than an acquisition might command.
My Take
Firms like BTIG and Citigroup have deep experience evaluating healthcare firms. While they are not infallible, their bullish position on ONEM, and suggestion that shares are underpriced relative to an acquisition scenario, cannot go unnoticed - especially as shares had closed at nearly ~$60 in the not too distant past.

Notes:
Data as of market close July 8, 2022.
In fact, in that context, BTIG's price target of $15.00, a roughly ~30% premium to where shares closed on Friday, July 8, doesn't seem unreasonable. However, let us remember that shares have already advanced ~40% this month. If takeover "buzz" were to die down, for whatever reason, do investors have a good margin of safety procuring shares at the current level? I would tend to think not.
Personally, I lean toward a hold recommendation for ONEM based on the possibility of an acquisition. I hesitate to make a buy recommendation given that shares have advanced so much this month as they could be vulnerable to a significant pullback if acquisition chatter begins to dissipate and based on the risks described in the preceding section.