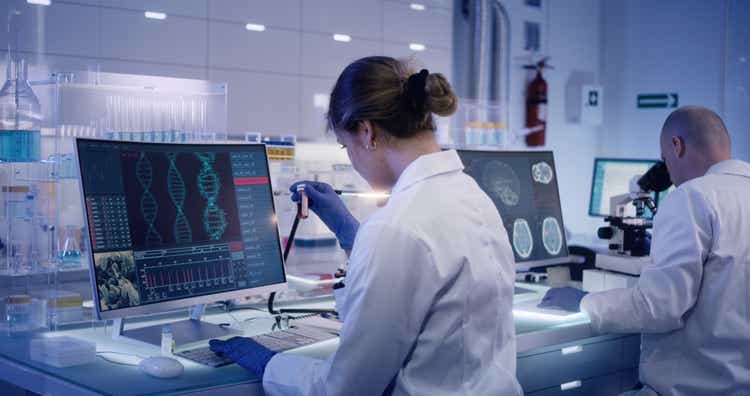 Galectin Therapeutics Inc. (NASDAQ:GALT) is a great speculative biotech play to look into. That's because it is focused on a population with a huge unmet medical need. It is currently enrolling and treating non-alcoholic steatohepatitis (NASH) cirrhosis patients with its Belapectin drug in a phase 3 study known as NAVIGATE. A prior phase 2 study established proof of concept in a subpopulation of NASH cirrhosis patients with varices. That is, the drug worked well in this specific patient population.
However, when looking at the overall NASH cirrhosis population the entire trial failed. The thing is that if this study ends up succeeding, it would establish proof of concept in using Belapectin as an anti-fibrotic treatment towards other indications such as: Lung/Kidney disease, advanced NASH fibrosis, pulmonary arterial hypertension (PAH) and many others. What is also good about Belapectin is that it can also be advanced for oncology as well. As such, Galectin Therapeutics has already selected to advance this drug in combination with Keytruda for the treatment of patients with head and neck cancer. It intends to file an IND in 2022 to initiate a more advanced phase 2 study just focused on using this combination to treat this patient population.
Based on the potential with Belapectin as an anti-fibrotic drug, plus the ability to possibly expand into oncology, these are the reasons why I believe that Galectin Therapeutics is a great speculative biotech play to look into.
Belapectin For The Treatment Of Patients With NASH Cirrhosis & Other Fibrotic Disorders
The main program in the pipeline is the use of Belapectin for the treatment of patients with NASH Cirrhosis. Cirrhosis occurs when the scarring (fibrosis) of the liver is at a late stage in the cycle. The liver is severely injured and it keeps trying to repair itself. It can be caused by many things, like Hepatitis and chronic alcohol drinking. Another item that has been prevalent is eating a lot of fats.
What do I mean by this? Well, as I will explain below, Galectin Therapeutics is also going after NASH fibrosis. People who obtain non-alcoholic fatty liver disease (NAFLD) can develop Non-alcoholic steatohepatitis (NASH). If the inflammation and scarring of the liver becomes far more severe, then that becomes cirrhosis. Cirrhosis is a major problem and may eventually lead to liver failure. Another item to note is that the company ran a proof of concept study known as NASH-CX, which I will talk about below in detail. However, it only saw a benefit of patients of NASH cirrhosis for 50% of the population. More about this below, but just know that this program has massive potential.
Galectin was able to show that Belapectin was able to help about 50% of the NASH cirrhosis population it treated. This accomplishment was observed from the phase 2b NASH-CX trial. This is a study that treated up to 162 patients with NASH cirrhosis who were randomized to receive either Belapectin or placebo. The breakdown of the dosing was as follows:
2 mg/kg of belapectin
8 mg/kg of belapectin
Placebo
Patients receive one of these doses for a total of 62 weeks. The thing to note is that this proof of concept study heavily focused on well-compensated NASH cirrhosis and not decompensated NASH cirrhosis. What's the difference between well-compensated cirrhosis and decompensated NASH cirrhosis? In compensated NASH cirrhosis patients are somewhat functioning albeit not that great. These patients don't have symptoms and their liver does still function. For those with decompensated NASH cirrhosis, the liver is heavily damaged and is not working much if at all. It is said that when a patient is diagnosed with decompensated NASH cirrhosis, they have a life expectancy between 1 and 3 years. That's why the company recruited patients who did have NASH cirrhosis but had not yet reached to decompensated status.
The primary endpoint of the study was a reduction in HVPG. HVPG stands for Hepatic venous pressure gradient. It is used to measure the portal hypertension of the liver. That is the vein that carries blood from the digestion organs to the liver. When this is under pressure, it means the disease is far more advanced. The goal of Belapectin is to reduce this measure. The final end result was that 50% patients given Belapectin had achieved a significant reduction in HVPG compared to placebo. That is, those who took 2 mg/kg Belapectin had achieved a 44% reduction, compared to only 15% for those on placebo. This gave a statistically significant p-value of p=0.02. However, the main thing to point out is that this was for patients without varices. What is varices? Basically, varices means an enlarged vein in the liver that is blocked. For the other 50% of patients with varices, Belapectin did not achieve statistical significance. In my opinion, at least the company can still target 50% of the cirrhosis population. Of course, that is that the ongoing late-stage study pans out.
The statistical significance of using Belapectin to treat NASH cirrhosis patients was very good. Good enough that the FDA had allowed Galectin to initiate a late-stage phase 2b/3 study known as NAVIGATE. This study intends to enroll up to 315 NASH patients with NASH cirrhosis without esophageal varices. The goal is to attempt to prevent varices from even forming in the liver in the first place. Patients are going to be given either 2 mg/kg of Belapectin , 4 mg/kg of Belapactin or placebo. This phase 2b/3 study was initiated back in June of 2020. As you guessed, the primary endpoint will be to determine the number of varices formed at the end of the treatment period. The less varices developed with patients given belapectin compared to placebo, the greater chance that the study will succeed.
As long as belapectin achieves statistical significance for this patient population over placebo, then that opens the door to other fibrotic indications. The company notes that it intends to possibly seek for accelerated approval and may even seek a partnership to help fund it commercially should it need to eventually be marketed. The biggest downside, though, is that this study is a long one. That's because the expected completion date of the study itself is not expected until June of 2023. Thus, interim results from this late-stage NAVIGATE study won't be released until around Q1 of 2024.
Financials
According to the 10-Q SEC Filing, Galectin Therapeutics had cash and cash equivalents of $39.6 million as of December 31, 2021. However, it received $10 million in proceeds from an unsecured convertible promissory note from its Board Chairman Richard E. Uihlein. I don't think it needs to worry about funding too much, especially with the amount of cash this Board Chairman has put in.
It is said that Galectin received a total of $30 million in unsecured promissory notes from Mr. Uihlein in 2021. Not only that, but because its program is highly focused on Belapectin in the ongoing phase 3 NAVIGATE study, it believes it has enough cash to fund its operations until March 31, 2023. Around that point, it will need to obtain additional funding. If it can't get any more cash from Mr. Uihlein again, then I believe it will just have the typical biotech option of selling shares of its common stock on the open market to obtain funding. If it does need to go this route, my guess is that it won't need to do so until the end of 2022.
Risks To Business
There are several risks that investors should be aware of before taking a position in this speculative biotech. The first risk relates to the phase 3 NAVIGATE trial itself using Belapectin for the treatment of patients with NASH cirrhosis without esophageal varices. Even though the phase 2 study established statistical significance for Belpectin in this subpopulation of NASH cirrhosis patients, there is no guarantee that the same will be achieved in the NAVIGATE trial. If the study fails, not only do I predict that the stock will trade below $1 per share, but also that it will force it to move all its efforts towards oncology.
The second risk would be the advancement of Belapectin plus Keytruda for the treatment of patients with recurrent/metastatic head and neck cancer. An IND filing is expected in 2022 and there is no guarantee that this study will succeed either. The proof of concept established for this study was done with a small sample size. A phase 1b investigator sponsored study was completed in using this combination for both Melanoma and Head & Neck cancer patients. It was shown that the objective response rate of 33% (2 out of 6 patients) was achieved in patients with head and neck cancer. As such, Galectin is moving forward to conduct a randomized phase 2b study to see if this holds up in a larger pool of patients. It is worth exploring, because monotherapy is weak in terms of response rates, not many treatments are available specifically for this indication and it is a high unmet medical need.
Conclusion
Galectin Therapeutics is a great speculative biotech play to look into. That's because it has huge potential with the use of Belapectin for the treatment of patients with NASH Cirrhosis without esophageal varices. If it can meet the primary endpoint of the phase 3 NAVIGATE study, then it would change the scope of the biotech for the long-term. Not only might it be able to possibly seek accelerated FDA approval for Belapectin for the treatment of this patient population, but it it might also be able to expand to another indication if it chooses to do so. Meaning, it could possibly advance the use of this drug towards the other indication for which I have highlighted above, which are: PAH, advanced NASH fibrosis and Lung/Kidney Disease as well.
Even if it doesn't succeed towards the fibrotic indications, it still has another shot on goal in targeting patients with various types of cancer. It is nice to see that Belapectin worked so well when it was combined with Keytruda. I do warn again that the sample size for the head and Neck cancer data was tiny. It will first be important to see if this can be replicated in a larger phase 2b randomized study. That's exactly what this biotech is planning to do in filing an IND for this combination study in 2022.
Based on its pipeline, plus its advancement of already running an ongoing phase 3 study in a huge unmet medical need, these are the reasons why I believe Galectin Therapeutics is a great speculative biotech play to look into. Consider that there are currently no FDA approved drugs for the treatment of patients with NASH Cirrhosis. Hopefully Belapectin is successful in reducing the number of varices in NASH cirrhosis patients. In addition, reducing the hepatic venous pressure gradient (HVPG). The goal is to prevent the advancement of NASH Cirrhosis towards the decompensated stage. Once decompensation occurs, median survival is approximately 2 years.