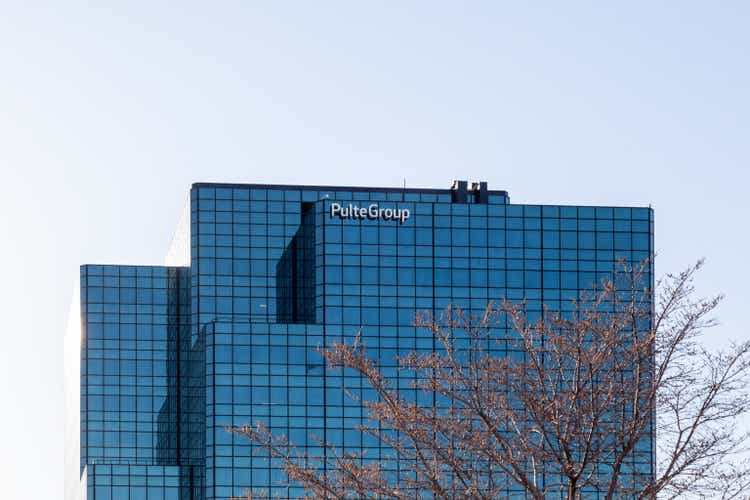 Introduction
In the past few months, I have often discussed how tricky this market is for traders and investors. We're dealing with a toxic mix of falling economic sentiment, a very hawkish Federal Reserve, ongoing supply issues the central bank cannot influence, and significant geopolitical issues like the devastating war in Ukraine. Problems investors run into are weakness where one wouldn't expect it. Housing is one great example (unfortunately, that is). While everyone knows that high demand and exploding prices have been in the headlines since the end of 2020 lockdowns, homebuilding stocks are everything except sources of great wealth. One of America's largest builders PulteGroup (NYSE:PHM) is now trading where it was when the pandemic started, erasing all post-pandemic gains.
In this article, I want to assess the risk/reward based on the company's own numbers and characteristics as well as developments in the housing market. The good news is that a lot has been priced in. The bad news is that housing is truly on thin ice until a point where financial easing becomes a thing again.
Now, let's look at the details!
What's Happening To Housing?
The most recent Redfin housing market update (June 30, 2022) started as follows:
A record-high share of home sellers is dropping their prices after this month's historic mortgage-rate hike put a damper on homebuyer activity. But there are early signs that demand is leveling off.
Basically, homebuilders have become "rate plays". This is true in general, but now more than ever as we're in one of the steepest rate surges in recent history. The average 30-year mortgage rate in the US is now at 5.3%, exceeding prior cycle highs. It's down from 5.8%, but still at elevated levels.
With that said, the Redfin report focused on more than 400 US metro areas using data covering the four-week period ending June 26.
First of all, the report sees strong prices, but some moderation as higher mortgage rates take their toll on affordability:
- The median home sale price was up 14% year over year to a record $399,249.

- The median asking price of newly listed homes increased 15% year over year to $405,547, but was down 1.5% from the all-time high set during the four-week period ending May 22.

- The monthly mortgage payment on the median asking price home increased to $2,459 at the current 5.7% mortgage rate, but is down slightly from the peak of $2,494 during the four-week period ending June 12. This was up 45% from $1,694 a year earlier, when mortgage rates were 2.98%.
This is the chart showing the median asking price. It's up 14.7% and somewhat below its all-time high. Yet, so far, it's just a minor dip given the bigger picture.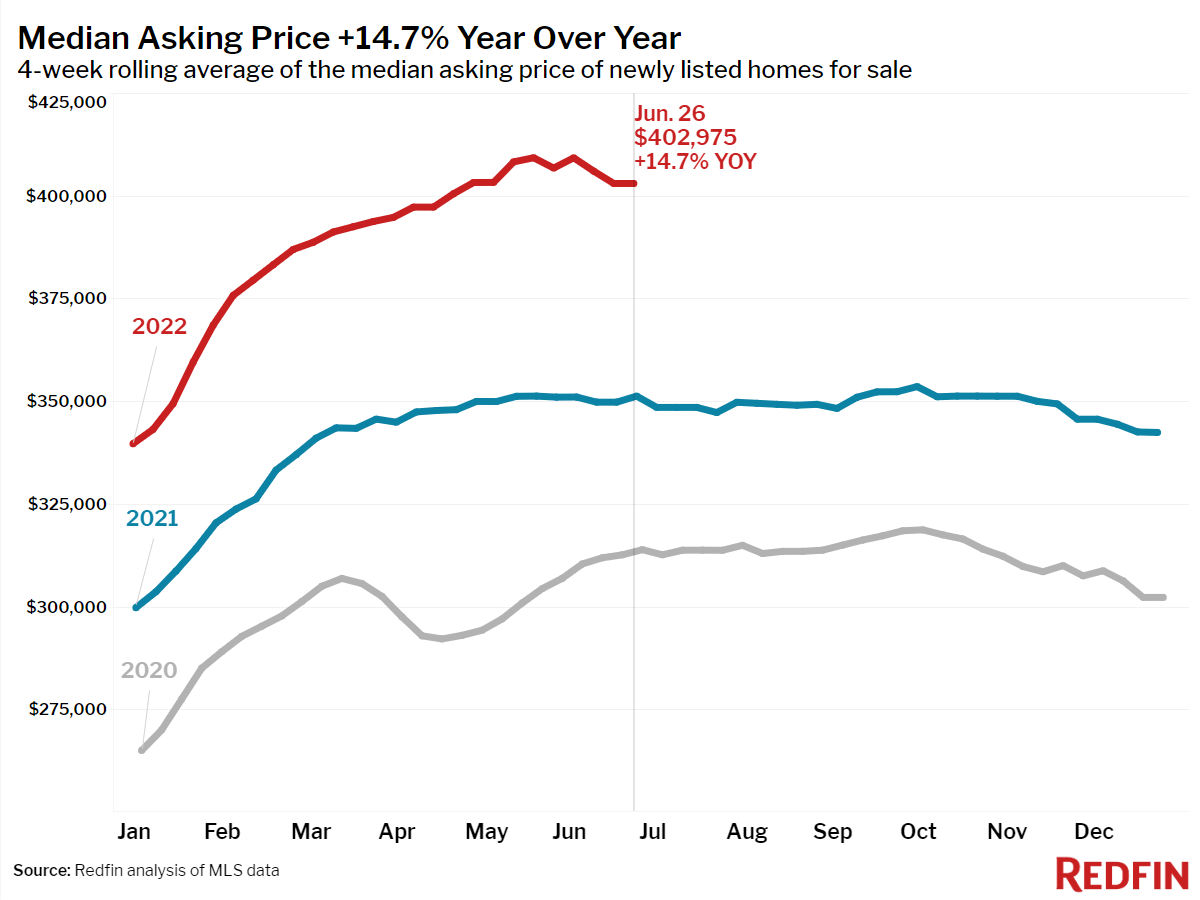 This is the chart showing mortgage payments. Redfin shows a 5.70% rate, which is roughly $2,500 per month. Last year, it was consistently below $1,750. That's an increase of $750 in a year, adding to other inflationary forces.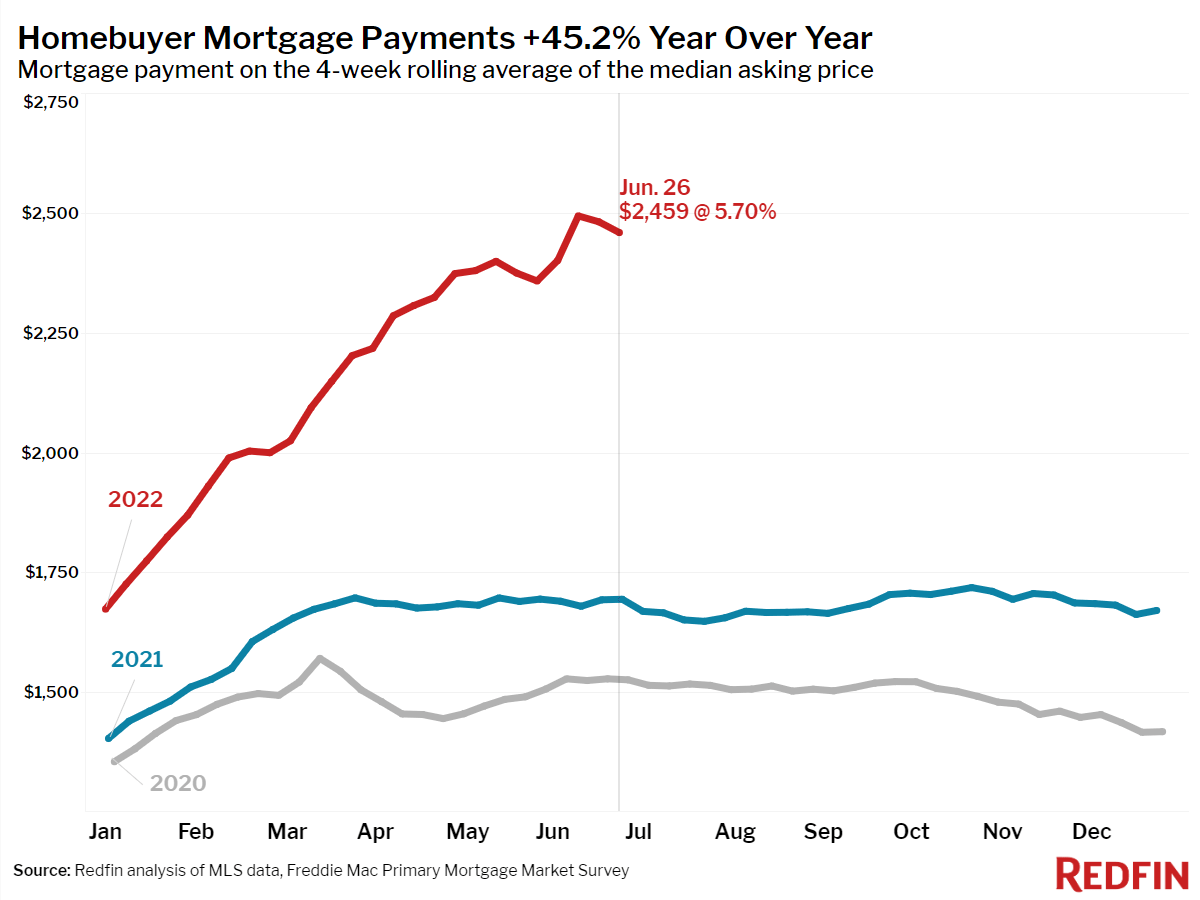 This is what the bigger picture looks like: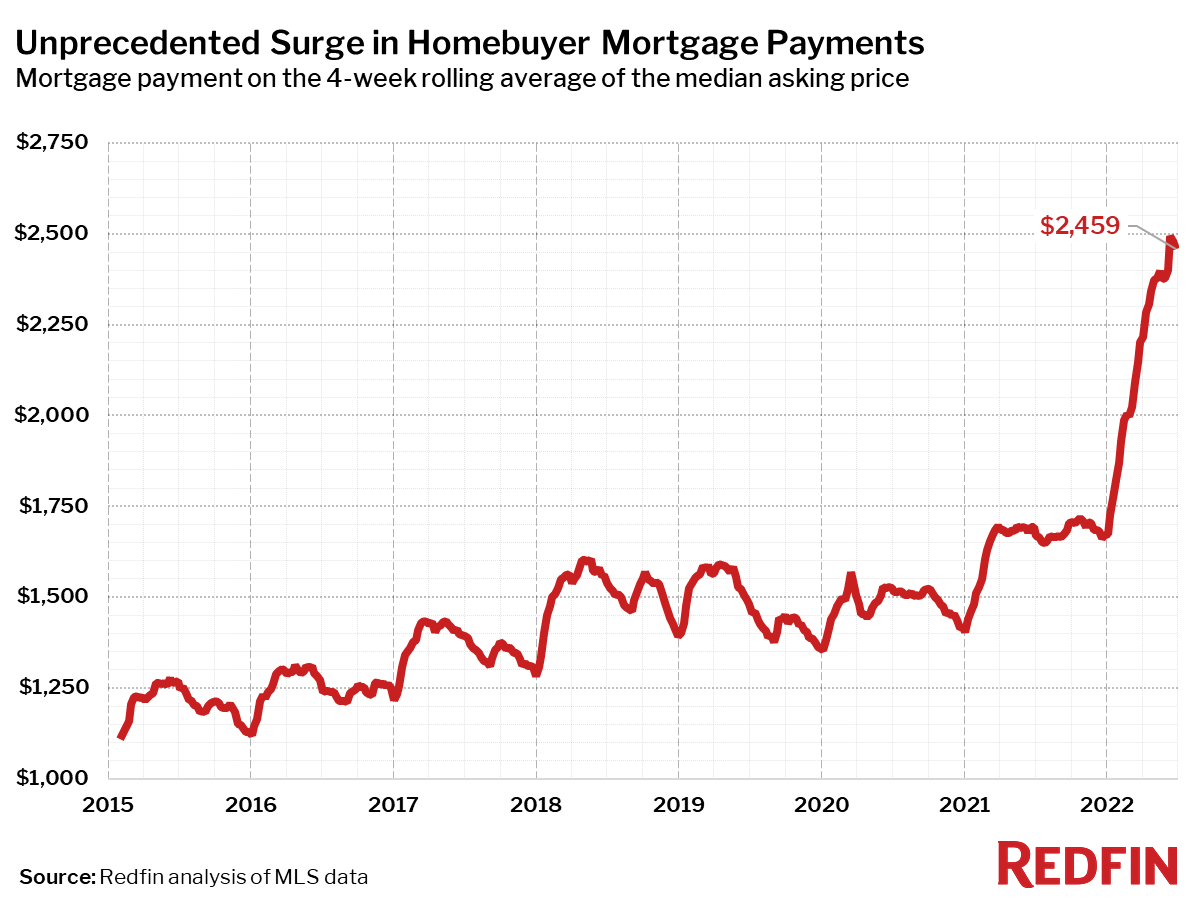 With that said, the cracks are starting to show as this is not sustainable.
- 46% of homes that went under contract had an accepted offer within the first two weeks on the market, down from 49% a year earlier.

- 32% of homes that went under contract had an accepted offer within one week of hitting the market, down from 36% a year earlier.

- Homes that sold were on the market for a median of 17 days, down from 18 days a year earlier and up slightly from the record low of 15 days set in May and early June.

- 54% of homes sold above list price, up from 53% a year earlier. This measure peaked in mid-May and has declined 2.5 points since then. Last year it peaked in mid-July.

- On average, 6.5% of homes for sale each week had a price drop, a record high as far back as the data goes, through the beginning of 2015.
We're now seeing a faster than usual increase in the number of active listings as sellers are using market strength to their favor.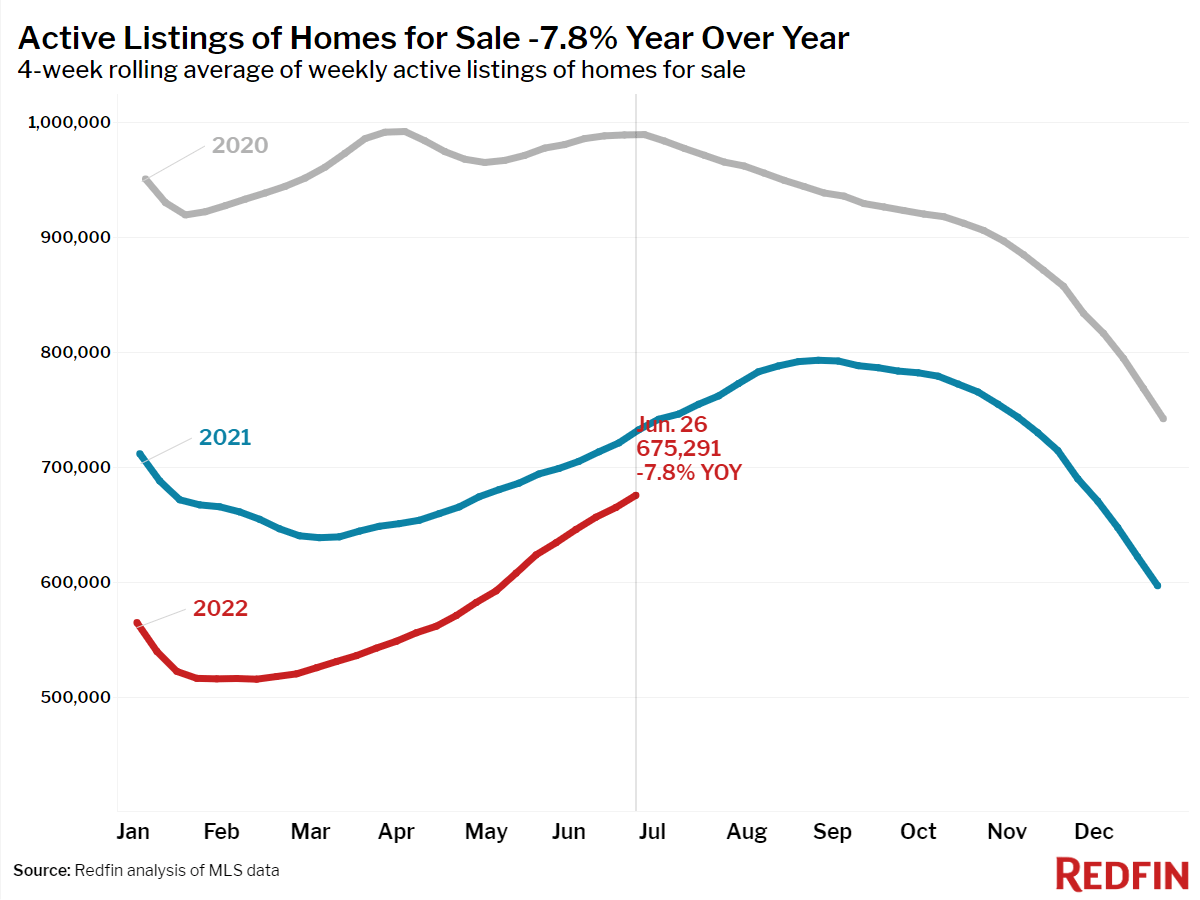 This chart shows the number of homes sold above the list price. This trend is significantly weakening as well.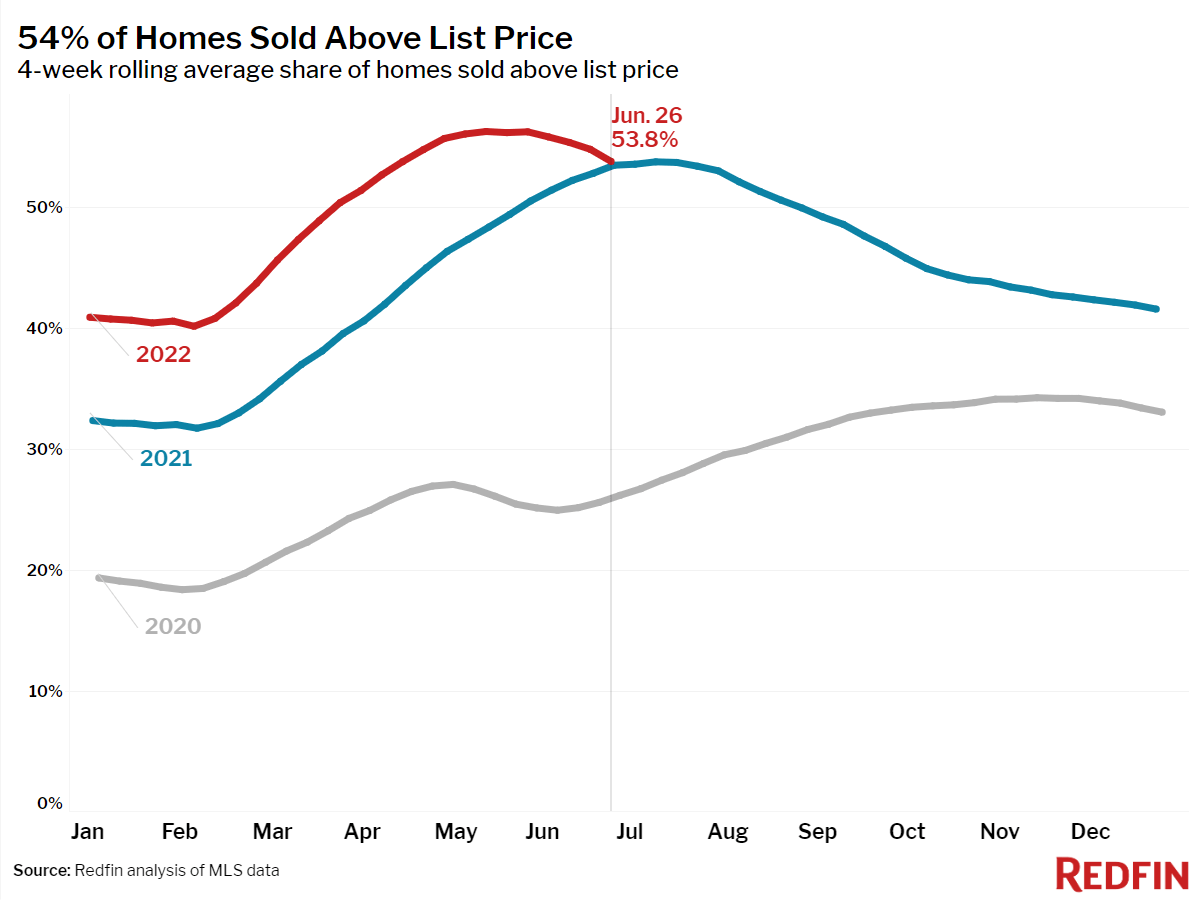 Based on this context, this is what I wrote in May (I updated the chart):
In other words, what seems to be a no-brainer situation for homebuilders is actually a "tricky" macro environment where higher rates are the leading cause of misery. If rates were to drop, affordability would increase and allow the demand side to rebound.

Unfortunately, for now, it seems that the pressure on housing sentiment is only growing as the divergence between Michigan Consumer Confidence (orange) and NAHB Housing Market Sentiment (black) is widening to a degree that makes me very uncomfortable.
Now, onto PulteGroup.
PulteGroup - Cheap, But Not Without Risks
PulteGroup is a $10.5 billion market cap home builder headquartered in Atlanta, Georgia.
Earlier this year, the company explained its own view on the market, which included some takeaways:
The company estimates that 1.5 million annual housing starts are needed to satisfy demand. This means that the pace of 2021 needs to become the norm.
The company sees favorable demographics and secular growth trends like the fact that 16.0% of people aged 25-34 live in their parents' households. The homeownership rate is less than 66% (69% in 2004).
The pandemic has caused accelerated demand for single-family housing.
I agree with all of this and I'm long-term bullish on the housing market. However, challenges persist as I showed in the first part of this article.
Hence, the company also addressed the rising rate environment. In February, the company noted that favorable market dynamics persist based on:
Expanding economy.
Excellent job market.
Wage growth.
Personal balance sheets are strong.
Pandemic has increased the desire for homeownership.
While the company was right when it published these expectations, we're now in a situation where wage growth cannot keep up with inflation. Hence, the consumer confidence chart I showed in this article was flat-out ugly. This is what the BLS reported for the month of May:
Real average hourly earnings decreased 3.0 percent, seasonally adjusted, from May 2021 to May 2022. The change in real average hourly earnings combined with a decrease of 0.9 percent in the average workweek resulted in a 3.9-percent decrease in real average weekly earnings over this period.
With that said, Pulte had some issues in 1Q22. For example, total new orders decreased by 19%. It's not necessarily due to weak demand but because of a 7% decline in the company's community count and its decision to restrict sales to better match the pact of production.
Total orders in 1Q22 were 7,971. However, the value of total orders rose by no less than $100 million due to better pricing as the average sales price increased by 18% to $508 thousand.
The company now has more than 19,900 homes in backlog with a value of $11.5 billion - up from $8.8 billion in the prior-year quarter.
While the company remains extremely positive, it does seem that the Fed is desperate to slow down inflation - even if that means hurting demand. The company will focus on flexibility, which comes with smart land management.
According to the company:
Given this dynamic, it makes sense for us to take actions to position our business for continued success. For now, this means focusing on our land acquisition practices. Internally, we are committed to increasing our option lot position and have set a goal of having 65% to 70% of our future land pipeline controlled under option. Our disciplined land investment process helped us to place some great land positions under control over the past several years and we will be closing on -- that we will be closing on in 2022.
Additionally, PulteGroup has a build-to-order business model. The company targets a BTO penetration of 75% of total housing starts. Speculative starts are, therefore, only 25%.
Going forward, analysts expect that the company will maintain an annual EBITDA result of more than $3.0 billion, which would reflect the base case that demand remains strong due to long-term underinvestments in the industry, high prices, and demand that outstrips supply.
If the company is indeed able to maintain this pace, it could see a very steep decline in net debt - excluding potential buybacks. In 1Q22, the company bought back 4% of its shares outstanding, which is truly remarkable. In other words, if EBITDA remains high, I expect the decline in net debt to be softer than expected as the company will prioritize buybacks. I believe that's the right way to do things as there's no need to go into deep negative net debt territory. It doesn't benefit shareholders as much.
Besides that, the balance sheet is already much healthier than at any point in the prior cycles.
With that said, the valuation is rather attractive. When adding the company's $10.5 billion market cap to -$820 million in expected net debt gives PHM an enterprise value of $9.68 billion.
That's 3.1x EBITDA ($3.1 billion).
The historic EV/EBITDA (next twelve months EBITDA) shows that this could deserve the definition of "dirt cheap".
We're truly at a point where investors are either believing that housing will come down hard, or that the recent sell-off has gone too far.
This brings me to my next point.
Takeaway
The housing market is truly in a very interesting/tricky spot. On the one hand, long-term supply is low, which is now meeting secular growth as people want to move into their own homes. Home ownership is low, people still want to leave cities, and work-from-home isn't going away.
On the other hand, the red-hot market is showing cracks. Prices are too high, which is now made worse by accelerating mortgage rates making new deals unaffordable for a lot of otherwise interested buyers.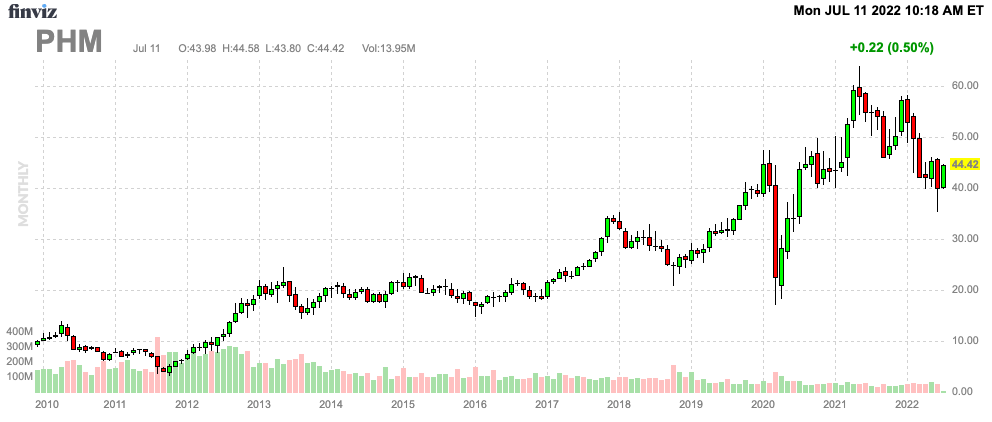 However, PulteGroup is well-positioned. The company has a very flexible business model that can quickly adjust to a changing situation in demand.
For now, Pulte is reducing sales as supply chain problems prohibit the company from turning expected demand into finished homes.
That's not an issue as it is still allowing the company to do more than $3.0 billion in EBITDA, which makes the company rather cheap at current prices.
The problem is that I don't really trust this market. Demand could weaken further and cause more panic selling down the road.
Yet, there is no denying that a lot has been priced in.
The best way to play PHM right now for interested buyers is to buy gradually. Add some exposure now and add on a gradual basis. If the stock continues to weaken, investors can average down - I remain long-term bullish on homebuilders and related stocks. If the stock suddenly takes off, investors have a foot in the door.
Either way, keep your positions small. I'm not a big fan of buying large positions in very cyclical and volatile homebuilders. They are great trading vehicles, but "bigger" money should be invested in less risky long-term investments.
(Dis)agree? Let me know in the comments!