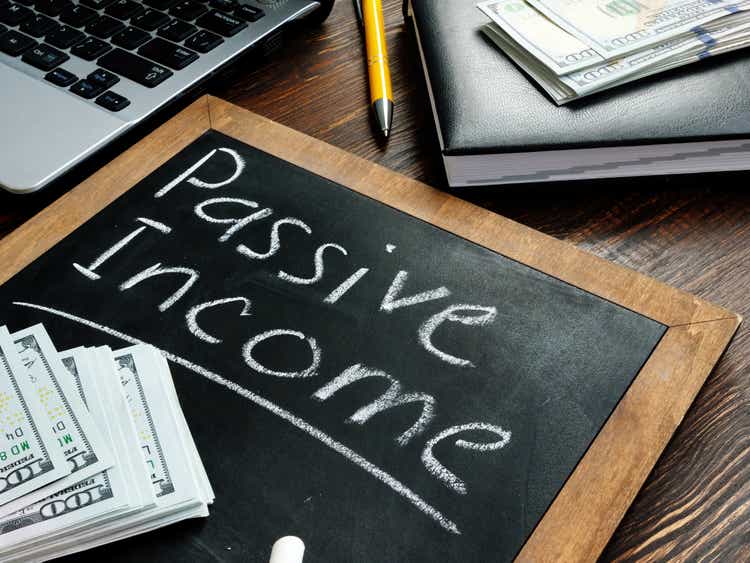 The Vanguard Real Estate ETF (NYSEARCA:VNQ) is a highly popular ETF for investors looking for passive income from real estate. However, there are several reasons why VNQ is a less-than-ideal method for real estate investing. In this article, we share some REITs that we believe offer superior risk-reward relative to VNQ.
Reasons To Buy VNQ
Before we discuss the downsides of VNQ, we need to first admit that there are many good reasons to invest in VNQ, including its vastly diversified and completely passive exposure to U.S. commercial and residential real estate via over 160 publicly traded REITs. As a result, "know nothing investors" - to borrow a term from Charlie Munger - get exposure to large-, mid-, and small-cap REITs through the fund, giving them a well-balanced portfolio. On top of that, its paltry 0.12% expense ratio and significant liquidity due to having $73.29 billion in assets under management as of this writing mean that investors can trade in and out of, hold, or even trade options on this fund with little frictional loss. VNQ enjoys narrow bid-ask spreads and charges investors a very low fee to manage their funds via its passive algorithm.
For perspective, one of the most popular actively managed REIT funds - the Cohen & Steers Quality Income Realty Fund (RQI) - charges a lofty 1.91% expense ratio. To illustrate the difference in costs, $100,000 invested in VNQ for a 30-year period at a 9% total return CAGR would result in a $43,127.48 cost of fees. The same amount invested in RQI at a similar assumed total return CAGR would result in a staggering $546,097.73 cost of fees. While RQI might outperform VNQ on a pre-fee basis, this enormous difference in fees places an enormous hurdle for RQI to overcome if it actually wants to generate alpha for investors net of fees over time.
Reasons To Not Buy VNQ
The main reasons why we are not bullish on VNQ at the moment are three-fold.
First and foremost, as a yield instrument, it is not particularly attractive with only a 23-basis point spread between its dividend yield and long-term U.S. interest rates: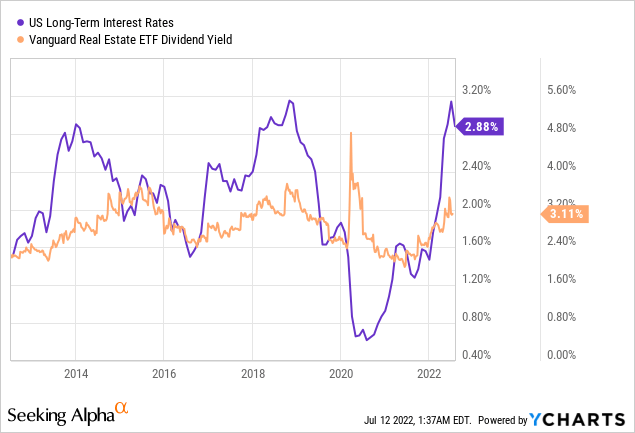 With interest rates widely expected to rise in the coming months, it looks like share price downside could be in order for VNQ.
Secondly, its 3.11% dividend yield is pretty paltry when viewed as a passive income source. Again, why - when we are very likely on the threshold of a recession - invest in a risky and volatile equity security like VNQ when you can get far safer investment grade corporate bonds that offer literally the same yield?
The third reason is that by buying VNQ, you are not only signing up for an unimpressive passive income stream, but you are also blindly buying all of the REITs in the index, regardless of valuation, management quality, or forward prospects. This leads to "diworsification" whereby diversification is pursued to an extreme extent in which the risk-reward profile is hurt, as incremental positions added to the portfolio do not reduce the overall risk profile of the portfolio to the same degree that they reduce its total return potential.
With recession risk on the rise, it makes sense to us to focus on the higher quality REITs that also enjoy some defensive characteristics and trade at reasonable - if not attractive - valuations with lucrative and sustainable dividend yields. While this may sound like pie in the sky wishing, it actually is not. After the recent market sell-off, there are plenty of high yielding REITs that meet these qualifications.
Investor Takeaway
Instead of buying VNQ in the current environment, passive income seekers would be better served building a portfolio of individual REITs that meet the aforementioned qualities. Some examples of these REITs include:
While some investors might be concerned that only holding 20 REITs instead of 160 will lead to outsized risk, this is not necessarily the case. If you are selecting well-managed, well-diversified, generally defensive, and investment grade REITs, you do not need to hold that many REITs. Remember that many REITs hold hundreds or even thousands of professionally managed properties in their individual portfolios, so you do not need 160 REITs on top of this to be "well diversified." In fact, Warren Buffett's mentor - Benjamin Graham - estimated that a portfolio of 10-30 stocks could provide enough diversification. Another study by Frank Reilly and Keith Brown showed 12-18 stocks can enjoy ~90% of the risk-mitigation benefits that can come from diversification. As a result, investors who want to build wealth with real estate with a focus on passive income would be much better served - especially in the current environment - avoiding VNQ and instead building a portfolio of high yield investment grade REITs and MLPs.
If you want access to our Portfolio that has crushed the market since inception and all our current Top Picks, join us for a 2-week free trial at High Yield Investor.
We are the fastest growing high yield-seeking investment service on Seeking Alpha with ~1,350 members on board and a perfect 5/5 rating from 145 reviews.
Our members are profiting from our high-yielding strategies, and you can join them today at our lowest rate ever offered.

You won't be charged a penny during the free trial, so you have nothing to lose and everything to gain.