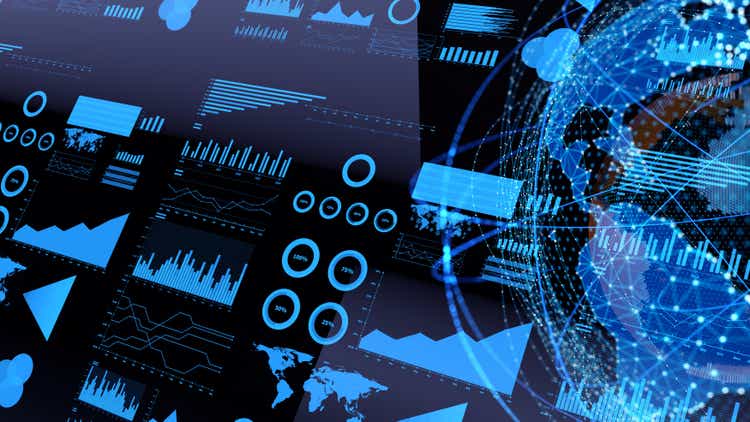 Software stocks have been truly awful in 2022, given they are not only sensitive to interest rates from a valuation perspective, but also because they're economically sensitive. That's a bad combination in a year where interest rates fly because of inflation concerns, and concerns about a hard landing recession permeate Wall Street. The result has been complete decimation for the share prices of many software companies, but I also think we've been given some extraordinary opportunities as a result.
I said a couple of weeks ago that I think the bottom is in, and until I'm proven wrong, I continue to trade based upon that belief. I believe it is the high-growth areas of the market that will lead us out of this bear market, which certainly includes software. Thus, I've been looking for great software names to buy, and a leader in the space is Datadog (NASDAQ:DDOG).
The case for buying Datadog today is quite compelling, and in this article we'll take a look at the technical and fundamental case for doing so.
The price chart shows a massive downtrend that saw the stock lose about 60% of its value during this bear market. But critically, there's significant evidence Datadog bottomed a while ago, and could actually already be in its next uptrend.
On the price chart itself, we can see a double bottom put in at $81/$82, which launched into a sharp relief rally to $107. The next pullback was to $90, and we saw a test of the 20-day EMA yesterday at $102. Was that the second pullback? It's certainly possible, but the point is as long as we continue to see higher lows, this stock could go much higher.
The high for this last rally was a higher high as well, so from a price perspective, it looks quite good. There is a significant zone of resistance between $115 and $120, which corresponds to the bottoms that were put in (temporarily) earlier this year. We can see Datadog rallied to the bottom end of that zone and was rejected, which is to be expected. This is not a sign of weakness, as we should not expect a stock to just blow through significant resistance like that. The key is to get those higher lows and higher highs, and so far, so good.
All of the indicators look good, including the 20-day EMA crossing over the 50-day SMA. If that holds, that's extremely bullish, and I'm betting it will, given the other evidence we have.
The accumulation/distribution line has moved meaningfully higher for the first time in months. This indicates big money is buying dips rather than selling rips.
The PPO has moved from -10 to +2 in a straight line, rapidly improving the momentum picture. The 14-day RSI is showing similar improvement, and is now ahead of the centerline.
Finally, the software stocks as a group have been outperforming the S&P 500 for about a month already, and Datadog has been outperforming the software stocks for longer than that.
So, if we boil all of this down, we have a stock that certainly looks like it has made a significant bottom, is showing great momentum, is in a group that is beating the broader market, and is outperforming the outperforming group. These are all of the things I want in a stock, and it's why I notified subscribers last week that it was time to consider Datadog, and why I own it myself.
Now, let's take a look at the fundamental case, which I think is equally as compelling for a longer-term hold.
Integration as a service
Datadog has proven as successful as it has because it offers a unique, and very valuable, service to enterprises. At its core, Datadog integrates data from a variety of sources/platforms/products into a single source of truth that all teams can use.
The idea is that an enterprise can have different forms of logs, sources of metrics, metadata, etc., which would traditionally need to be manually joined to make them useful. This is time consuming, expensive, and difficult to do.
Datadog forms these data together for the customer, creating a single platform which all teams across the enterprise can use. That's extremely powerful, and it's why I think Datadog has such a strong future ahead of it.
The benefits to the customer are numerous, and Datadog's retention rates are outstanding because of that. The customer gets things like more productive tech personnel, faster rates of innovation, faster remediation of errors, etc. The value proposition for Datadog's services is compelling, so again, while I like Datadog for a long trade here, I also think this is one you buy and put away for a while, provided you can handle the inherent volatility.
Datadog is still very much in its infancy, but even so, its metrics are impressive. Revenue is up 78% year-over-year, and margins are huge. You would expect margins for a software company to be very high, as it's one of the things about software companies that creates compelling investment cases. But Datadog is still growing at enormous rates, so having 19% adjusted operating margins and 28% free cash flow margin while significant investment is still taking place portends great things for this company. Normally you'd expect to see negative FCF, and potentially negative operating margins due to R&D and capex, but that's not the case here.
I mentioned the rapid growth the company has shown, and this chart sums up its very strong customer growth, but also retention. Customers generating more than $1 million in annual revenue more than double last year, after roughly doubling every year since 2017. Not only is Datadog acquiring these customers, but it is retaining them as well. After all, if Datadog were seeing customers flee after joining the service, these numbers wouldn't be growing at this rate. That's also why its dollar-based net retention rate has been in excess of 130% for the past nineteen quarters. If that's not a sign of a great product, I'm not sure what is.
All of this has led to massive amounts of revenue growth, as you'd expect.
From 2017 to this year's guided revenue, Datadog will have grown the top line at an average rate of 74%. Each quarter has been better than the last, and that's expected to be the case for the foreseeable future, as we can see with the revenue revision schedule below.
This company is growing by leaps and bounds, but consider this; 2022 has seen countless companies hit with downgrades from analysts from revenue to margins to earnings. There were dips in the out years for Datadog towards the end of 2021, but this year, we've seen almost nothing but upgrades in the revenue outlook for Datadog. With inflation and recession talk permeating Wall Street while estimates rise, imagine what could/will happen when those things aren't factors any longer.
Datadog isn't an earnings story because it's too early in its lifecycle for that to really matter from a valuation perspective, but I would like to show the revisions to drive home the point we just made about revenue.
Estimates continue to rise nicely, and this is a stock that could (and should) see enormous rates of earnings growth for many years to come. To be clear, I don't think Datadog's EPS will matter all that much to investors from a valuation perspective for at least five years, so I see revenue growth as much more important. But this company is already profitable and should only become more profitable as time goes on. That's a key differentiator to most early-stage software companies.
"Cheap" is a relative term
Now, this company has produced huge amounts of growth in the past eight or ten months while the stock has been decimated, so you'd expect the valuation to have improved. And improve it has, as we can see below with the forward price-to-sales ratio.
Datadog has a short trading history, so our evidence is somewhat limited. But for what it's worth, the stock put in a new all-time low valuation on a forward P/S basis in the past several weeks. That means the valuation was lower than the COVID panic low in 2020; just let that sink in.
While the froth of the 53X forward sales is unlikely to be repeated anytime soon, the current valuation is just too low. This company is a leader in a burgeoning field, and it will be recognized as such with its valuation again at some point.
The average forward P/S ratio for the company's trading history is 33X, and we're at 19X now. While calling a stock that trades for 19X forward sales "cheap" is a stretch for value-oriented investors, for a rapidly-growing, early-stage software company, that actually is cheap. That leaves a massive opportunity for multiple expansion in the coming quarters, and that's the opportunity with Datadog.
Final thoughts
Datadog has all the elements I want in a stock. It has a great looking chart from the perspective that it has almost certainly made the bottom, it has a unique product that provides significant value to customers, its growth trajectory is extremely impressive, and the valuation is at a trough.
As an example, if we use 2023 revenue estimates, which will be the forward estimates used for the P/S ratio in about five months' time, and apply a below-average multiple of 30X sales, we get ~$67 billion in market cap. We're at $34 billion today, so that's double the current value of the company. That would roughly correspond to the all-time high of the stock. I'm not saying the stock is going to double in the next five months, but I'm not saying that either.