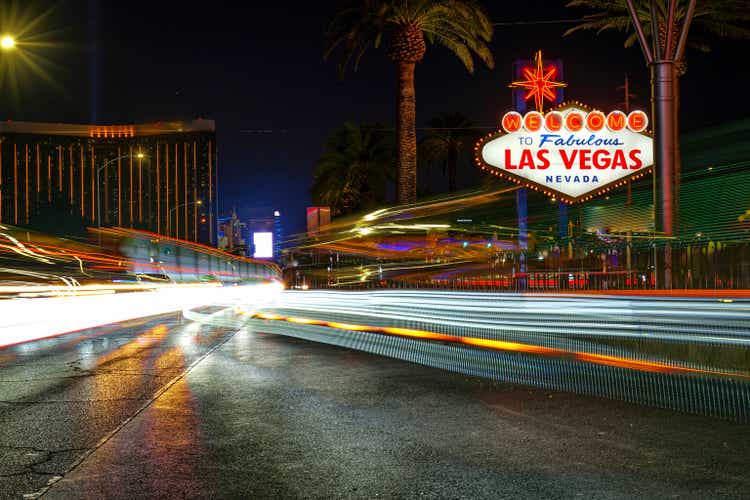 One of the most enduring truths I have learned through my decades in the casino business is that management focus on execution rather than expressing lofty earnings goals is what defines a foundational portfolio stock. Great properties are more the result of smart management vision that drives execution over time. Quarter-to-quarter results are snapshots. Long term resilience is the product of a smart operational culture that bends but doesn't break in good times or bad.
There are few better examples of this than Boyd Gaming Corporation (NYSE:BYD), which through its long history beginning with visionary founder Sam Boyd in 1975 has displayed a gut level understanding of how to make money in the casino business. Among its demonstrated skill sets over time is smart asset allocation, often against the grain of prevailing conventional wisdom in the industry.
Sam had his share of hard way decisions-on the craps table of expansion. He took his profitable Vegas locals operation public in 1963. But over 17 years along came the spiders: in the teeth of recessions hitting gaming markets and his plan to get into the strip luxe market with the ill-fated Echelon project, Sam faced only lesser of various evils. He faced bankruptcy unless he moved fast. BYD stock dropped to $3. But rapidly, Sam put Keith E. Smith in the driver's seat as CEO. (Below: Sam Boyd built a great locals gaming business but stubbed his toe on misread markets. Corrected when he stepped aside).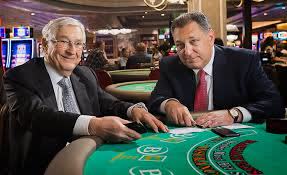 What followed next was a rationalization of the company's business from the ground up. Cleaning up the balance sheet, dropping dream sequences about mega-projects, and focusing hard on what had made the company profitable historically: the everyday slot player no matter where he or she was.
The biggest decision it made was to partner with MGM, sharing the risk of a great project in Atlantic City.
That decision was the conceptual structure of its Atlantic City entry 50% partnered with MGM Resorts International (MGM) -the Borgata casino hotel at the Marina. I recall a presentation to industry leaders I attended run by its management team-to-be in 2000. At that time, the market was predominantly driven by geography as it still is. We all lived off volume bus ridership from New York, Northern New Jersey, and Metro Philadelphia. And we all saw it as a necessary evil. We competed in virtual hand to hand combat over "bus packages" which were heavily couponed offers of coin, food and repeat visit rebates.
Harrah's was an exception, focusing its marketing on drive-in to its biggest in town garage. Drive-in patrons had bigger average gaming budgets, were less comp-sensitive, and felt more comfortable in the pleasant, relaxed surroundings of the Marina area.
All of us on the Boardwalk learned our lesson in time and built garages to accommodate the more valuable customers. But the bus customer still prevailed as comprising the core source of mass slot business. The one characteristic shared by both bus and drive-in patrons was the basic age demo: Atlantic City's bread and butter customer, no matter the mode of transportation, was the older, if not oldest demographic base of the U.S. northeast. While events and entertainment bookings appealing to younger demos mushroomed, and did begin to move some younger customers into the market, overall, their per-trip numbers and value were a small part of the market.
So, during the Borgata industry presentation, management made two points. One, no bus program. And two, its marketing would be strongly aimed at a younger demo. When questions were raised as to how they thought they were to avoid bussing and find a route to a younger demo, their executives simply said they believed the younger, less-giveaway sensitive demo would respond to a superior property and marketing focus.
BYD was the operating partners of the Borgata property. From the day it opened in 2003, it quickly soared to first place in gaming win, non-gaming revenue in the market. And any day you walked the property, you saw a paucity of grey hairs at the slots-though they were there. What you did see was masses of Gen Xers, and the younger edge of boomers crowding around the blackjack tables, filling the lounges and dining outlets, and rocking to the leading-edge rock performers of the day. The Borgata, against the grain, was making a ton.
As it turned out, BYD's 50% sunk cost in the $1b property had a great run of 13 years with great accretion to its bottom line from the Borgata. Then, in 2016, when management's thinking in the light of the growing competitive grid in neighboring states changed, it sold its interests to its MGM partner for $900m, with net proceeds on the sale of $589m. The company then pivoted and used those proceeds with some lending to vastly expand its regional and Vegas locals market.
It was a continuing expression of BYD's carefully laid out expansion program beyond its Nevada borders to acquire modestly profitable or underperforming regional properties, building itself out to the U.S. middle west and south. In the process, BYD became a leading national casino operator, which today comprises 28 properties in 10 states divided in three divisions: Las Vegas Locals, Downtown Vegas, and Midwest/South.
So, what we saw was a management with a clear-eyed vision of the main chance as the last fifteen years showed a business which was consolidating. They move their capital around to match their recognition as to where the gaming market was headed. They moved their pieces around the board like chess masters in my view by putting their footholds in markets they understood, at acquisition prices that held reasonable premiums and a forward plan for steady growth. BYD saw itself as a U.S. company and did not enter the global fray in Asia or anywhere else.
No company in the gaming and leisure sector in the U.S. was, of course, immune to the devastation of the covid-19 outbreak in 2020. BYD was forced to lay off 25% of its workforce. But the company deftly shaved its cost structure to hold operating margins that first and foremost assured solvency through the worst of the crisis. And equally important, positioned itself to recover at a steady pace as the covid-19 crisis evolved into the sporadic outbreaks we live with till this day and recovery began to show in both Las Vegas locals markets and its properties in the Midwest and south.
It also launched a partnership with a northern California tribal group south of Sacramento, lending them ~$107m against the future proceeds of a management contract, giving them 35% of the profits pre-tax. The Sky River casino property is expected to open by the end of this year. The metro area has 2.3m people and is a 1.5-hour drive from San Francisco's metro's 4.5m population base.
Why BYD is a foundational holding for sector investors
Having demonstrated a long track record of very savvy asset allocation reflecting a solid understanding of how and where gaming markets work best, BYD stands among the best buys in the sector today. The U.S. gaming sector as a whole is improving but still bumpy due to sporadic covid-19 outbreaks, scare headlines about new variants, rampant inflation, labor shortages, and supply chain crises.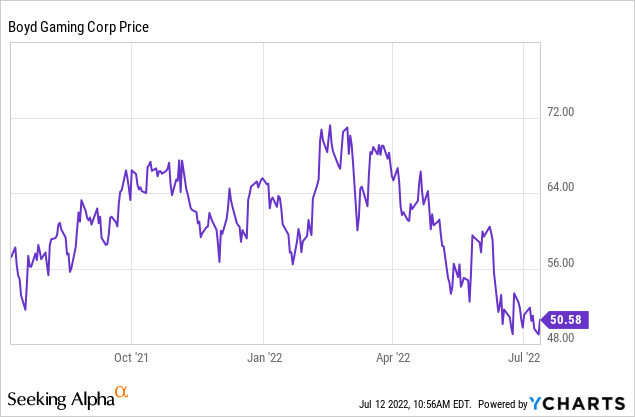 On the other hand, results from its leading operators in 1Q22 reflect improving results, partially attributable to the massive shower of covid-19 crisis money printing by the federal government that put lots of potentially disposable income in the hands of people who really didn't have to worry about where their next meal was coming from.
The core factor in the early recovery cycle has been the confidence in at least the decline of crisis hysteria, of masking mandates dropped, high gas prices, that has brought back the all-crucial older demos to regional casinos. In other words, the core casino customers, scared away by health concerns through 2020 and most of 2021, began streaming back to their favorite properties in great enough numbers to produce real earnings gains.
BYD capsule glance post initial covid-19 crisis
2021 revenue: $3.37b.
2022E revenue: $3.48b.
2023E revenue: $3.55b
The estimates above are those of a consensus of analysts who follow BYD. I believe them to be generally in the ballpark base on the very difficult forecasting algorithms at their disposal as covid-19 outbreaks continue to spike here and there. Using my own metrics, I come up somewhat more bullish on revenue largely based on conversations with former colleagues and associates active in the same markets as BYD.
My questions pose somewhat deeper dives for responders than what one may hear in earnings calls from analysts. Much of what we discuss is casino floor activity seen in rated vs. non-rated play trends, hotel occupancy vs. labor shortages resulting in room inventory unused due to labor shortages.
I also look at historic vs. current trends in numbers of covers in food outlets, mass vs. gourmet rooms, staffing and stable or unstable pressures on comping levels due to competitive pressures in their markets. Projecting what I hear against my own historic proprietary measures, I come up with an estimated revenue base of $3.6b for this year and $3.72b for 2023, up from $3.37b in 2021.
For comparison, baseline pre-covid-19 2019 revenue was $3.32b, which itself was up 26% from baseline 2018. This tells us that BYD has not only recovered, but surpassed its base year comparisons. That is an indicator that its long-term growth trajectory was positive pre-covid-19, and remarkably has resumed now at near the endgame of the pandemic. However, given the lingering uncertainties and seasonable factors for 2Q22, we see something of a dip in revenue and earnings possible for 2Q22. Investors should not be spooked by such results if BYD experiences an earnings miss for 2Q22. Results in 1Q22, I believe, are more indicative of a more bullish long term trend:
2021 EPS: $5.12
2022E EPS: Consensus: $5.46. Our estimate $6.00
2023E: EPS: $5.85 Our estimate: $6.31
3-year CAGR revenue growth to date; 6.88%
Gross profit margin: 73.88%
ROE: 37.72%
Dividend yield: 1.21%
Return of capital to shareholders, dividends and repurchases aimed at authorized goal of $500m by early 2023.
Price at writing: $49.05
Alphaspread Discounted Cash Flow value: $74.50.
52-week range: $47.66 to $72.77. This puts the current price near 52-week low representing in our view an excellent entry point.
Market cap: $5.44b with an EV of $8.95b.
Cash on hand: $493m.
Total debt: $3.91b.
Current ratio: 0.99. By any measure, indicative of a strong balance sheet in a time frame ahead that is a disconcerting blend of upside potential, lingering covid-19 challenges, inflation, high gas prices, and labor shortages. But the track record of management operational culture lends credence in our view that the stock is significantly undervalued. If moderating circumstances develop going forward on covid-19, recession depth, etc., BYD is positioned to build bullish sentiment in the sector and move into a PT range of $66 by the end of 3Q22.
Planning in progress:
Estimated capex total $250m expansion and maintenance;
Look for completion of the move of its Treasure Chest river boat casino property in Louisiana to a land based, full service casino hotel by mid to late 2023.
Challenges ahead
Inflation: Company-wide wage minimum raised to $15 as part of plan to retain employees, added to which have been retention bonuses for non-executive employees. Overall inflationary pressures felt in areas like utilities, and food costs reflected in menu prices but held to levels where increased volumes can contribute to amelioration. Same applies to hotel occupancy currently constrained by labor shortages triggering higher costs. But this is expected to be compensated by total more rooms available in market where currently demand is outstripping ability to care take rooms.
Major updating and expansion of popular dining outlets at BYD's Freemont Street properties in downtown Vegas to debut sometime late this year. Disruption minimal.
Sports betting brand leader Fan Duel operative in live sports books at BYD properties. (BYD owns 5% of FD equity). Over $30m in commissions earned to date, expansion of online/interactive business by purchase for $170 of Pala Interactive LLC a B2B and B2C online tech gaming operator to enhance BYD's overall entry into online with tech know-how, apps, and sports betting acumen. Transaction expected to close by end of 2023.
Conclusion
Based on performance metrics alone in difficult times, BYD should be included in any well-balanced gaming portfolio. But behind those numbers lies the unappreciated value of the stock in our view, in the sustained stability and savvy of both the corporate office as well as the operating day-to-day management culture.
We see BYD as among the best buys in the sector now. We don't expect them to be as acquisitive as they have been in the past, usually making great capital allocation moves. We are in a period of advanced consolidation for BYD, where attention and focus is riveted on readiness to embrace macro recovery. Clearly the Fed and the hostage-taking of covid-19 lurk in the foreground here, joined by a looming stagflation to which there is little immunity in any stock.
Yet BYD's healthy balance sheet, strong portfolio in three gaming market regions already showing recovery, and past performance in deft investment moves, contribute to our confidence in BYD as a foundational company to own in the U.S. gaming sector no matter what lies ahead. Longer term, the company will prosper off its deeply ingrained customer culture.
This is not easy. Gamblers in locales like the Vegas locals market are picky and persistently demanding. Reports of failures in customer service are always part of the scene. The lyric in the theme "New York New York" that touts if you can make it here you can make it anywhere - applies to BYD. If you can build a strong locals market in tough Vegas, you can make money anywhere casinos are legal.