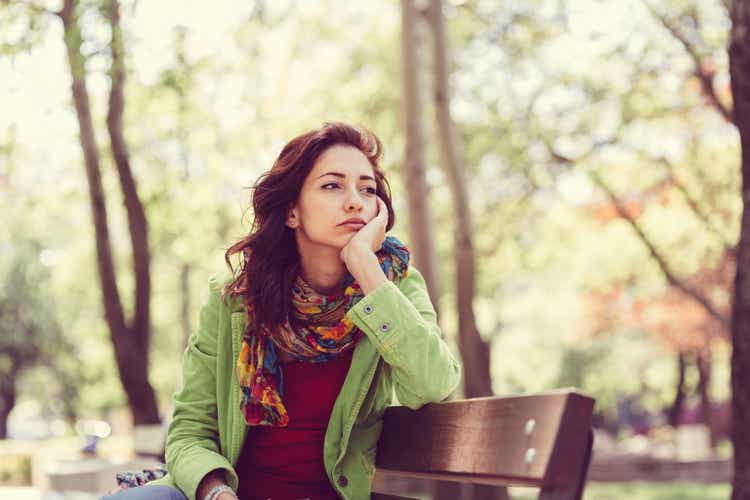 Investment Thesis
Having covered COMPASS Pathways (CMPS) in a recent post for Seeking Alpha, I thought it would be interesting to take a closer look at another company, MindMed (NASDAQ:MNMD), attempting to treat a variety of psychiatric, addiction, pain and neurology conditions with psychedelic drugs.
In Compass' case the lead candidate is COMP360 - a proprietary formulation of synthetic psilocybin, which is administered alongside psychological support. This type of approach has allowed Compass to file for a series of patents that go as far as to specify the type of soft furnishings in the room where the patient is treated, which may help the company circumvent the problem of trying to patent a naturally occurring substance.
In MindMed's case, the company does not seem to have gone so far down the road of marrying its drugs to simultaneous psychiatric care, although the biotech had a patent portfolio consisting of 26 pending US patent application, and 12 pending Patent Cooperation Treaty ("PCT") applications at the end of 2021, according to the company's 10K submission to the SEC, related to compositions of matter, dosing, and "methods of treating an individual."
Before either Compass or MindMed need to worry about patent protection, however, they must prove that their drugs and approach can work to improve patients' conditions. COMP360 has delivered positive data from a Phase 2b study of 233 patients - the largest ever conducted using a psychedelic showing that:
a single 25mg dose of COMP360 demonstrated a highly statistically significant and clinically relevant reduction in depressive symptom severity after three weeks, with a rapid and durable treatment response.
While Compass finalizes protocols with the FDA around a Phase 3 scheduled to launch in H222, MindMed has several candidates in the clinic, at different stages of development.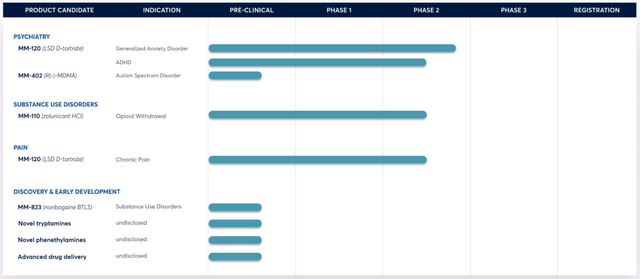 Source: company presentation.
The furthest advanced is MM-120, a pharmaceutically optimized form of LSD which read out top line data from a Phase 2 study in patients with Generalised Anxiety Disorder ("GAD") in May. A Phase 2b will now begin, expected to read out data in H223. There's also an opportunity for MM-120 in ADHD, with a Phase 2a study readout expected in H223, and in Chronic Pain, with a Phase 2 expected to begin before the end of the year.
MM-402 - a proprietary form of the R-enantiomer of MDMA (3,4-methylenedioxymethamphetamine) - is expected to begin a Phase 1 trial this quarter in Autism Spectrum Disorder, while MM-110 - a proprietary form of 18-methoxycoronaridine, a congener of ibogaine - is about to enter a Phase 2a in Opioid Withdrawal.
In collaboration with the University of Basel MindMed conducted its LSD-Assist Phase 2a study of MM-120 involving 46 patients with clinically significant anxiety. Results suggested "rapid, durable and significant anxiolytic effects" with further details revealed as below:

Source: company presentation.
Unlike Compass, which raised ~$128m at $17 per share in its September 2020 IPO, and saw its share price peak at $49, before steadily falling to its current price of $12.3, MindMed's shares were approved for listing on the Nasdaq in April 2021, after previously going public on the Toronto NEO exchange around a year before.
Both companies' share prices have declined significantly over the past year - Compass' by 67%, and MindMed's by 83%. Neither company has present financial concerns however - Compass has nearly $250m cash and made a net loss of $21.2m in Q122, whilst MindMed has a cash position of ~$120m, and made a net loss of $18.5m in Q122.
The question for investors to answer is therefore whether MindMed's recent trial results may offer new hope that the medicine is effective and safe, and whether longer term, positive Phase 2b or pivotal trial results could trigger a spike in the share price, perhaps allowing management to raise funds at a higher price per share, with any investor dilution offset by the valuation boost.
As I discussed in my post on Compass, the Central Nervous System ("CNS") treatment fields are crowded, but equally there are no stand-out drugs that are proving to be consistently popular, and the CNS treatment market can therefore be described as an area of high unmet need.
What probably weighs heaviest on the valuation of companies like MindMed, Compass, and recently IPO'd Atai Life Sciences (ATAI) - which raised $225m in its June 2021 IPO, and also has a 20% stake in Compass - is the fact that the psychedelic drugs they seek to bring to market are designated "Schedule I" drugs, which means both the Drug Enforcement Agency ("DEA") and Food and Drug Agency ("FDA") define them as follows:
(they) have a high potential for abuse, have no currently "accepted medical use" in the United States, lack accepted safety for use under medical supervision, and may not be prescribed, marketed or sold in the United States.
In order to get their drugs to market, MindMed, Compass and Atai must somehow persuade the FDA and DEA to reclassify psychedelics to a Schedule II drug, otherwise the regulations and restrictions on use will likely be too onerous to make the business model financially viable for a drug developing company.
Even so, you could make the case that with its shares trading at $0.6, and a market cap valuation of $267m - around half Compass' valuation of $525m, and two thirds less than Atai's $678m, some solid study results in GAD, ADHD or even pain could generate a significant spike in MindMed's share price, give the DEA and FDA pause for thought, and give the company a new lease of life.
In the remainder of this post I will take a closer look at MindMed's management, drugs, and hopes for success in target markets, which I also will break down in terms of potential peak sales opportunity.
MindMed Overview
MindMed's headquarters are in Vancouver, Canada, and there's also an office in New York. The company had just 41 full-time employees as of February 2022.
MindMed's original President and CEO J.R.Rahn stepped down in June of last year, replaced by Robert Barrow, who had recently joined as Chief Development Officer. Barrow joined from the Usona Institute, where he was Director of Drug Development and Discovery. The Institute's mission is to:
conduct and support pre-clinical and clinical research to further the understanding of the therapeutic effects of psilocybin and other consciousness-expanding medicines.
Executive President and Board Director is Dr. Halperin Wernli, formerly a co-founder of Australian Stock Exchange listed Creso Pharma, a cannabis company, and a qualified psychiatrist, dividing her time between the US and Switzerland and working for companies including Roche (OTCQX:RHHBY) and Merck (MRK).
Chief Medical Officer Daniel Karlin was formerly CEO of HealthMode, acquired by MindMed last year, and before that worked within Pfizer's Digital Medicine and Innovation Research Lab. Chief Commercial Officer Francois Lilienthal M.D. spent 14 years as a Vice President and General Manager at Merck's commercial division, before forming his own consulting firm.
As such there's a reasonably strong blend of drug development experience and commercial knowhow at MindMed, plus a Scientific Advisory Board and a number of other collaborators named on the company website.
That ought to give some comfort that this is not a "fly by night" type of company, although the loss of its former CEO Rahn, and Chief Technology Officer Branford Cross, who departed last December, may raise a few eyebrows. Chief Financial Officer David Guebert also retired in March.
The high turnover of senior staff certainly seems to have played on investors' minds, as the stock price fell from a high of $4 in May 2021, to <$1 before the results of the LSD-Assist trial were made available.
Markets and Opportunities
MindMed initially had some trouble gaining the Investigational New Drug ("IND") approval from the FDA to begin trials of MM-120, but the Phase 2b dosage has now been agreed with the agency at 200 micrograms. CMO Karlin has called the upcoming trial the "first large commercially sponsored study of LSD in more than 40 years" and expects results to inform the design of a potentially pivotal Phase 3 trial.
With results from the Phase 2b not available until H223, that likely implies MindMed would not be able to file a New Drug Application ("NDA") with the FDA - asking for permission to market and sell MM-120 - until perhaps 2025 at the earliest, assuming a pivotal trial would take at least 12 months. On top of that, negotiations with the FDA and DEA would likely take at least 12 months due to the drug being Schedule I, meaning it's unlikely MindMed will have any approved drugs on the market until the second half of this decade.
Typically, GAD is treated with antidepressants, including medications in the selective serotonin reuptake inhibitor ("SSRI") and serotonin and norepinephrine reuptake inhibitor ("SNRI") drug classes. The Mayo clinic website gives examples such as Lexapro, Cymbalta, and Effexor, whose global sales last year were respectively ~$300m, $580m, and undisclosed, although Effexor's sales were ~$2.7bn in their peak sales year of 2007.
What this tells us is that there remains a huge appetite in the US and globally for anti-depressant therapies that genuinely work - most SRRI / SNRI drugs are viewed with some skepticism and not necessarily seen as the long-term answer to treating CBS conditions. Johnson & Johnson's Spravato - a formulation of Ketamine - has been approved to treat depressive conditions, but its sales have been underwhelming to date - ~$100m in 2020.
One in five US adults is diagnosed with a mental health disorder today, according to MindMed, and a quick check online suggests that ADHD is a potential ~$17bn market by 2026, whilst chronic pain management is a potential >$160bn market by 2030.
Anyone who has been watching Hulu's documentary on Purdue Pharma and Oxycontin will likely be aware of how open to abuse - both corporate and individual - treating CNS conditions and pain can be. There's ample room for more and different approaches, in my view, but as I discussed in relation to Compass, I cannot see psychedelics being anything but a niche market.
Like Compass, MindMed must ensure that its patients are properly cared for - they cannot simply be sent home with the drug to self administer. That's likely the reason why the company acquired HealthMode last year, in order to use digital analytics to keep a close eye on patients - although it's a significantly more hands-off approach than that employed by Compass.
Pipeline ex-MM-120
While MM-120 may have the most advanced data and target the most lucrative markets, it's a positive that MindMed is exploring other drugs too. MM-110 targeting Opioid Use Disorder looks intriguing - preclinical data suggests the drug "mitigates withdrawal symptoms and opioid self-administration" while Phase 1 results suggest a dose of up to 500mg per day is tolerable.
As such, the Phase 2a with its Primary Endpoint of Mean Subjective Opiate Withdrawal Scale ("SOWS-GOSSOP") score over the first 5 days of treatment phase ought to be well worth waiting for.
MM-402 - or the use of recreational drug MDMA to treat Autism Spectrum Disorder - strikes me as more speculative, although MDMA has been proven to reduce social anxiety and improve social functioning in previous studies.
Like Compass, MindMed is collaborating with independent research organisations to look at e.g. LSD for Major Depressive Disorder ("MDD"), and Cluster Headaches, whilst other drugs being looked at include mescaline, and DMT.
Conclusion - If MindMed Is Still Around in 2025 Its share price Will Likely Be Worth Double What It Is Today
What I mean by this conclusion is that MindMed is presently a small company that has experienced a significant overhaul of its Senior Management team over the past year, attempting to develop a class of drugs that neither the FDA nor DEA class as having any medical benefit.
Looked at this way, the path ahead looks very challenging for MindMed, which will not release any genuinely meaningful study data for at least 12 months by the looks of it. The hurdles that need to be overcome - success in the clinic, reclassification of the drug, securing the necessary patents - to make any of its drugs a commercial success look too onerous.
On the other hand, MindMed ought to have cash to last it until perhaps early 2024, meaning that investors who buy MindMed stock today stand a good chance of seeing the stock price leap on some good Phase 2a and 2b data in GAD, pain management, opioid withdrawal etc.
MindMed may need to arrange a reverse stock split to maintain compliance with Nasdaq listing laws (that insist shares must not trade >$1 for a protracted period of time), and it may not generate sufficiently good data form its trials to be able to continue as a going concern, which is why this would be a highly risky stock to back.
Balanced against that is the fact that both Compass and MindMed have achieved positive results from Phase 2 studies and that for some time the scientific community has believed that psychedelic drugs may be able to help patients improve their mental health.
MindMed and Compass may have hit upon the right formula - extremely careful monitoring of patients when they are "tripping," and psychedelics are not associated with the same addictive qualities as opioids.
As such I would be reasonably hopeful that MindMed is heading in the right direction with its research, although questions need to be answered about the oversight of the company and the level of commitment amongst the senior management team, because the path to commercial success is long and tortuous.
Personally, I hope and would even say I expect to see more positive data from MindMed's various studies. I would make the stock a "HOLD" due to high risk of investors losing their entire investment in this company, if the DEA and FDA won't budge on classification, but I - and more importantly, a significant portion of the scientific community - think that somewhere in the combination of psychiatric care and psychedelic drug use there could be a genuinely effective therapy.