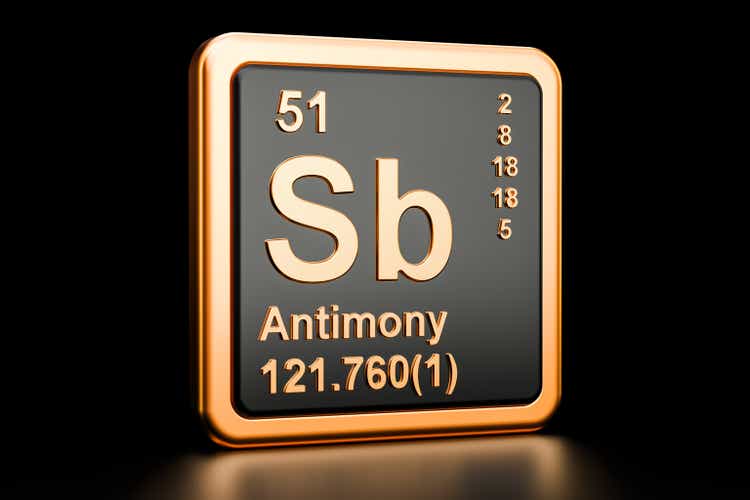 Introduction
Pro Cap NYC, LLC, a private company owned by Herbert A. ("Bert") Denton, released an open letter to the Board of Directors of United States Antimony Corporation (NYSE:UAMY) dated July 11, 2022.
The letter seeks the formation of a special committee of the Board of Directors to "seek, evaluate and act on strategic alternatives available to the company."
As announced this morning, Bert Denton will host a Zoom call on Wednesday, July 13, 2022, at 4:15 PM Eastern Standard Time. The call will be limited to 100 participants (Zoom capacity), and an invitation to attend the call may be requested by email to info@activistedge.com.
I have previously covered UAMY on Seeking Alpha and firmly continue to support the thesis from my previous article that UAMY is attractively valued, financially well positioned and has the potential to benefit greatly from strong medium and long-term demand for domestically sourced antimony products. I believe that a management team with vision, a strategic plan (clearly stated to shareholders) and incentives to execute on that plan could drive an increase of several multiples in the share price in coming years. Can this be developed independently? For Bert, the answer is "not optimally" and for that reason, he believes the Company needs to explore strategic alternatives.
Bert Denton is a seasoned shareholder activist and is authoritative on matters related to corporate governance and shareholder rights. He has placed over 60 directors on 30 corporate boards in his career and been interviewed by many publications including The Wall Street Journal and The New York Times.
Q&A with Bert Denton
Q: Bert, I know you have followed US Antimony for a number of years, can you give us a brief summary of your interest in the Company?
A: US Antimony has numerous high potential projects such as supplying antimony for Ambri's long life liquid metal battery; being part of the supply chain for a potential Congressionally mandated national defense stockpile in light of a potentially belligerent China, the only other source; processing antimony from the Stibnite Gold mine being revived by John Paulson's 40% owned Perpetua Resources (PPTA) and development of a massive antimony deposit at Los Juarez in Queretaro, Mexico.
The balance sheet has $21 million in net cash and 13:1 current ratio, the best in the industry and the shares are cheap trading at $20 million enterprise value. I believe shareholders, some going back over 40 years, and its two senior operational managers with valuable smelting expertise would all be immensely benefited by merging UAMY and its assets, spread across 2500 miles from Montana to Mexico City, into a larger mining company with a deeper bench and having additional skill sets.
Q: Bert, in your letter to the Board, you call for the Company to "explore strategic alternatives", what does that mean to you? Is it a formal process or is it something the Board can do itself? How will investors know if the Company is seriously considering strategic alternatives?
A: An investment bank is preferred due to its expertise and industry-wide relationships and hiring the investment bank is the tell-tale sign.
Q: What are the risks of or your specific concerns about UAMY trying to navigate its own course as an independent company considering that it does have the financial means and recently demonstrated the profit potential of its business with record-setting 1st quarter performance?
A: The critical risk is either that the interim-CEO of two years, who is 73, retires or the President is incapacitated or retires. There are only two operational executives to manage two businesses with operations in two states and two countries. With the company's modest pay scale and out-of-the-way location in Thompson Falls, Montana it has not been easy to attract talent.
Q: What are your thoughts about near-term performance of the Company?
A: In the short term, Q2 should be nicely profitable, akin to Q1 with the price of antimony at $6/lb, a 16-year high. Then as many as five high-impact projects should start to kick in later this year or next.
Bert, thank you, and I look forward to following developments with UAMY.
Recommendation and Risks
Since publishing my original article on UAMY, I have found a very interesting article, The Return of Industrial Warfare published by a U.K. defense think-tank, the Royal United Services Institute. This article highlights just how under supplied with traditional munitions NATO militaries are in light of usage in an intense ground war, such as that being fought in Ukraine. It further elucidates flawed assumptions on the part of Western militaries that have allowed the industrial base required to undertake war of this nature to deteriorate. This suggests the stockpile of antimony that the U.S. may need to build might be quite large indeed and that a reinvigorated UAMY could potentially be an important part of the industrial base required to be prepared for an intense ground war.
My view on UAMY shares has not changed, and I reiterate the view from my previous article:
The primary risks are continued monopolistic practices by Chinese miners and the impact this could have on global antimony pricing. This risk is mitigated, in my view, by the strong balance sheet, modest premium to book value and heightened awareness of industrial and government users of antimony to both ongoing supply chain issues and risks of geopolitical disruption of supply.

At 1.4x book value, I believe long UAMY is a favorable risk/reward trade with little downside and a lot of upside driven by two highly favorable drivers of demand for domestically sourced antimony.
A merger (or insertion of a highly capable management team to drive growth in market share) would be just the thing to light a fire under shares of UAMY, in my opinion.
Activist Edge
I have known Bert for over 20 years and had the privilege of working for him for about three years at Providence Capital, Inc., his New York City-based brokerage firm and predecessor of Pro Cap NYC, LLC. He and I have collaborated on other projects over the years, including a new one I am pleased to announce in this article.
Bert and I have agreed to collaborate on future Seeking Alpha articles. The objective will be to focus on select activist-led initiatives in the stock market that in our opinion have the potential to create highly attractive trading opportunities for private investors. To be clear, we will be focusing on activist initiatives by the broader activist investor community, including, but not limited to, those in which Bert is directly involved.
Bert is The Activist, a corporate governance expert and authority on shareholder rights. Together, we will offer our thoughts and insights on fundamentals, value proposition, governance and upside potential (or downside, as the case may be) of activist-led situations that we believe are likely to drive share price performance. Our collaborations, including future articles related to UAMY, will be released under the profile, and with the objective of giving our readers, the "Activist Edge".
I will continue to publish non-activist related ideas under my own name.