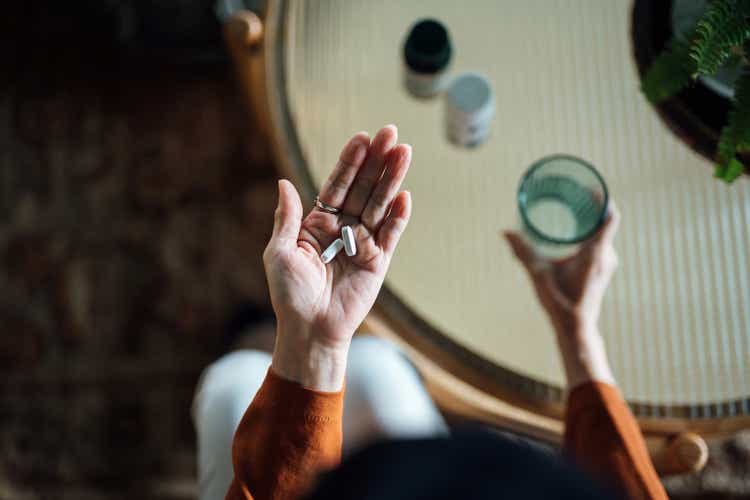 The incomplete and somewhat ambiguous results that Lexicon Pharmaceuticals (NASDAQ:LXRX) reported in late June from its Phase II RELIEF-DPN-1 study of LX9211 ('9211) are, unfortunately, par for the course for a company that has a long record of struggling to deliver hoped-for results for its shareholders. That said, as a proof-of-concept study it was a success, and it continues to support the notion that there may be enough upside from this high-risk/high-reward biotech to merit attention from aggressive risk-tolerant biotech investors.
The story today at Lexicon basically boils down to two key opportunities and uncertainties - can the company effectively market its SGLT-1/2 drug sotagliflozin ("sota") in the heart failure market (assuming approval, of course), and can LX9211 generate enough high-quality data to coax a larger pharmaceutical company into a development partnership? There are legitimate bear arguments to be made with both questions, but also enough upside in a favorable outcome to make this worth ongoing attention.
A Sigh Of RELIEF, But More Info Is Needed
Analyzing the results of Lexicon's Phase II RELIEF-DPN-1 proof-of-concept study of LX9211 is made more difficult by the paucity of information that the company offered. This is understandable, as the company intends to publish the results later in a scientific journal and journals can be notoriously squirrely about prior data disclosures, but it does make an investor's task more challenging. Nevertheless, I'd call the results no worse than "encouraging".
Lexicon reported that one of its two dosage groups (the low-dose group) achieved statistical significance in reducing pain from diabetic peripheral neuropathic pain (DPNP, or DNP), as measured by an 11-point average daily pain score methodology.
The low-dose group (a 100mg initial dose followed by 10mg/day) saw a 1.39-point reduction, against a 0.72-point reduction in the placebo group, with a p-value of 0.007. The high-dose group (200mg initial, 20mg/day) saw a roughly similar 1.27-point absolute reduction, but missed statistical significance (0.003 versus the 0.028 cut-off).
Adverse events included dizziness, headache, and nausea, but the company did not provide data on the frequency or severity of adverse events. Likewise, while there were higher drop-out rates in the treatment groups, there were no specific numbers. I would note that dizziness is a common side-effect of gabapentinoids, a drug class that includes Pfizer's (PFE) Lyrica and that is often prescribed for DPN.
How should investors interpret this release? On balance, I would say "positively", but with some significant "but's".
The lack of statistical significance in the high-dose group is a concern, but that result could have been impacted by a higher incidence of drop-outs, and it sounds as though despite the company's efforts to minimize confounding factors (a common issue in pain trials, and something that management deserves praise for) there was still a higher skew of patients on concurrent pain medications in the placebo group and a lower skew in the high-dose group.
Tolerability and dose optimization are still open questions. Future publication of study results will tell us more about the severity and frequency of adverse events, but it sounds as though the company may need another Phase II study (a Phase IIb study) to further dial in the optimal dosing regimens for a pivotal study.
Last and not least is the basic efficacy. There are numerous challenges in comparing across drug studies, but on a very simple level, the 0.67-point placebo-adjusted reduction in pain scores looks like a "good, not great" result relative to other pain therapies targeting DPN. A reduction of a point or more would have raised eyebrows as a particularly promising result. This result (0.67 points) is enough to make the drug worth developing, but factors like tolerability are going to be significant in terms of shaping the potential market opportunity.
Commercialization Is Still A Key Risk
Both of Lexicon's lead platforms, sotagliflozin and LX9211, face significant commercialization hurdles.
I've discussed the commercialization challenges for the company with sotagliflozin in prior articles, but the gist of it is this - while this drug could get an advantageous label, it will still be competing against large rivals like AstraZeneca (AZN) (Farxiga), Lilly (LLY)/Boehringer Ingelheim (Jardiance) and Johnson & Johnson (JNJ) (Invokana) in the market, and Jardiance, too, enjoys a strong label (approved for patients with reduced or preserved ejection fraction).
Retail investors often like to believe that data alone drive prescribing decisions, but the reality is that not nearly as many doctors make data-driven decisions as people would like to believe, and marketing efforts carry meaningful sway. An argument could be made that sotagliflozin has delivered better data (at least in some respects), but the reality is that Lexicon will have a steep hill to climb when it comes to marketing against these much larger companies.
So too with pain drugs and LX9211, should the data continue to support eventual filing, approval, and commercialization. A cardiology-focused sales effort built to support sotagliflozin won't be of much use in marketing LX9211 (even if there will be shareable "back-office" infrastructure), and Lexicon will likely need to find a partner to effectively commercialize this drug. There's definitely a worthwhile opportunity out there for effective non-opioid pain treatments, but Lexicon will need to generate clean, compelling data to land a partner and that's still up in the air.
The Opportunity
Relative to my last update on Lexicon, I've increased the odds of approval in DPN based upon these Phase II results, but I would remind investors that Phase II programs, overall, only see about 15% of drugs go on to eventual approval - about 30% go on to Phase III, where there's a roughly 50/50 historical success rate, and the success rate of pain medications is worse than average. I'm currently assigning a 30% chance to LX9211, and results from the company's other proof-of-concept study (in postherpetic neuralgia), due in Q3'22, could further clarify the opportunity.
I estimate around $4/share of value from the sotagliflozin opportunity in heart failure, with a contribution from LX9211 now up to around $3/share, moving my fair value estimate from around $6 to $7/share.
The Bottom Line
Lexicon still has a lot to prove if that potential value is to be unlocked. I'm not too concerned about the FDA rejecting the company's application to market sotagliflozin (likely a 1H'23 event), but I do think marketing the drug and taking meaningful market share will prove challenging. Likewise, I do think the clinical update on LX9211 was positive, but it wasn't a thesis-changing win and the company needs to see further positive developments from this program.
Given the performance of the market so far this year, there are easier opportunities in biotech, with less-risky companies trading at attractive valuations. Even so, and incorporating my skepticism regarding the marketing/commercialization challenges here, I believe Lexicon shares are undervalued at today's price.