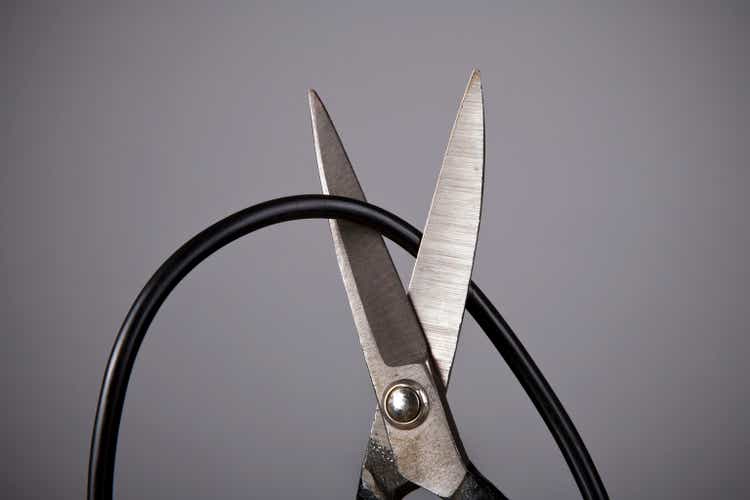 As fuboTV (NYSE:FUBO) continues to tread water below $3 per share, lots of bears are taking victory laps. I won't join them as I never actually went short on the stock. I just warned against going long, and watching the plunge in the stock of course now I'm wishing I'd taken the plunge on a few puts.
Today, however, bears got another reason to cheer when fubo rival YouTube TV, owned by the tech giant Alphabet (GOOG) (GOOGL), announced that it had crossed the 5 million subscriber mark as of June 30. This announcement actually includes free trials as well, but it's also two weeks since the date so if they weren't over 5 million then they probably are now.
While the news is obviously big for Alphabet, it's probably bigger for fubo. This is because YouTube is but one piece of Alphabet and YouTube TV is only a small piece of YouTube. Meanwhile, fuboTV is the pureplay stock in streaming live TV. This article will therefore analyze Alphabet's YouTube TV news in the context of its competition with fuboTV, as well as painting a broader picture of the streaming TV and overall pay-TV market.
fubo's Market Position
YouTube TV's success is somewhat of a mixed bag for fuboTV. On the one hand, it's a headwind since the two are competing in the same industry: Every subscriber YTTV got is a subscriber fuboTV didn't get.
Even worse from fubo's perspective is that this growth eliminates or at least greatly diminishes one its few legitimately bullish indicators. One of the few true feathers in fuboTV's cap since its massive stock decline started has been its apparent position as the fastest-growing streamer. Since July 2020, when it made the bold decision to drop Turner Networks, fuboTV has grown almost 4x its size as of March 31, when it reported it had reached 1.06 million subscribers. This is an increase of 770,000 over 21 months.
This, until today, compared favorably with most of its competitors. DirecTV Stream has been a disaster, owing to the inefficient way AT&T management structured it. Sling TV's growth has more or less ceased for reasons that are somewhat more surprising.
Two Years Running
Disney's (DIS) Hulu with Live TV, which is the largest service which regularly reports subscriber figures, was a little harder to decipher. It was already at 3.4 million when fuboTV made the Turner decision, and it now stands at 4.1 million, suggesting that it has nearly matched fuboTV in growth - though obviously, not on a proportional basis.
Even that, however, understates fubo's success. The first quarter after a major change is always somewhat of a transition as the new approach catches on, and Hulu Live rocketed up to 4.1 million in September 2020 as the NFL season started. September quarter is always massive for all live-TV streamers, and fubo rocketed as well, to 455,000. Since then, fuboTV has added 600,000 more subscribers, while Hulu Live's most recent report showed… 4.1 million. In other words, Hulu Live hasn't grown since September 2020, while fuboTV has more than doubled since then.
And even just holding steady has required a bit of an asterisk, as Hulu Live now offers the Disney Bundle as part of its base offering - costing Disney $7 per month over and above the Hulu offering that has always been part of the Hulu Live service. So effectively maintaining Hulu Live's position has required cutting its net price. And the price-cutting continues - until Hulu reports its June quarter numbers we won't know how its new free upgrade to unlimited DVR has boosted numbers, if at all.
A Real Body Blow
All right, that's all of fubo's other competitors, and it was blowing all of them out of the water. But now, the report from YouTube TV, and it changes everything.
YouTube TV hasn't officially released a number since that same September quarter in 2020, when it said it was "over 3 million." If growth has been steady since then, YouTube TV has been adding somewhere between double and triple the number of subscribers fubo has the last two years. If growth was low and recently surged drastically, that doesn't bode well for fubo either. It would suggest something has recently changed and fubo has lost whatever advantage it had.
About the only way fuboTV could brush this off is if YouTube TV had actually rocketed past 3 million to well over 4 million a long time ago and is only now crawling its way to the finish line. Since YouTube TV didn't officially announce its 4 million subscriber mark, we can't say for certain that didn't happen…but I doubt it. As I said, the September quarter is key for everyone as all the football fans pile back into live TV. It seems highly unlikely that YTTV rocketed in the December quarter when no new football leagues started up. And once you get to next September you're well into what we thought was fubo's "industry-leading growth" period.
Altogether, it seems YouTube TV has added probably somewhere between 1.5 and 1.8 million new subscriptions while fubo has been adding 770,000. Admittedly, fuboTV still takes the percentage growth crown, growing by 300% while YTTV is a far more pedestrian 55% or so at the midpoint. But given just how easy it is to switch services, it's clear that more people are choosing YTTV over fuboTV. That's bad news.
The Silver Lining
If there's one saving grace here for fubo, though, it's that YTTV's content strategy has evolved to become so similar to the one fubo is pursuing. Indeed, fubo investors can see validation as well as usurpation in YTTV's growth announcement.
From the moment it launched, one of the immediate takeaways from analysts of Alphabet's new YouTube TV was that it represented the purest iteration yet of what had become increasingly the dominant narrative of digital TV - that the key partners are the Big Four broadcasters of ABC, NBC, FOX and CBS, and their associated cable networks, principally ESPN and the news networks, and that pure cable services - at the time, the Little Five of TimeWarner, A&E Networks, Scripps Networks, Discovery (WBD) and AMC Networks (AMCX) - can safely be excluded as non-essential.
At the time, the one thing those Little Five had in common was that they were predominantly scripted and reality content. Only the then-TimeWarner had any meaningful sports exposure, and fubo proved that even its Turner Networks can safely be excluded. Essentially, then, YTTV pursued a sports-centric content strategy almost identical to the one fuboTV has been pursuing. And they are, even after this announcement, still the two fastest-growing streaming-TV services.
So fubo appears to be on the right track. But faced with two streaming services with solid strategies, more consumers are choosing YouTube's iteration over fubo's. What accounts for YTTV's superior consumer appeal, and for that matter Hulu Live's as well, in absolute terms? Is it because Hulu and YouTube are far more familiar platforms for consumers to use, and upsell to live TV?
That probably is part of it, but in my opinion, it doesn't account for YTTV's entire growth pattern. Rather, I think this is the latest iteration of a pattern I've been noting for years in a variety of other industries. What we're probably seeing, yet again, is the power of account sharing to shape financial outcomes in streaming, and YouTube's unique mastery of exploiting that fact better than anyone else.
The Power Of Sharing
I've been arguing for a long time that account sharing goes much farther than some people give it credit for, to explain some of the trends we've seen in all corners of the multi-varied streaming market over the last decade or so. Readers who have followed me for more than a few years will know that I've argued account-sharing to explain, among other things, Netflix's (NFLX) subscriber behavior patterns, which after years of denial that company finally belatedly admitted two months ago when its stock started to well and truly crash. And I think its power has made another appearance.
Back in April 2021, Omdia released research showing that YouTube TV accounted for 26% of virtual pay-TV subscriptions at the time, but it accounted for 39% of virtual pay-TV users.
At the time, I noted the research but didn't remark upon it because without official subscriber figures it was difficult to fully explore the ramifications. Now that we have a number, though, I think this point is crucial. It illustrates one of the most critical attributes of any streaming service, live-TV or otherwise: They're fiendishly difficult to confine to a single household.
Size, Streaming And Saving
US households have a typical Gaussian distribution for the most part in terms of size, but roughly 63.5% of them have only one or two people in them. 15% have exactly three, 12.5% four, and the rest five or more. But YouTube TV and most other streaming services offer an industry-standard three simultaneous streams.
This means that the vast majority of US households have a strong financial incentive to adopt virtual pay-TV services in place of traditional ones, because their cost savings are even stronger. Traditional pay-TV is bound to a single house by the physical wire running it to the premises. So people pay the same no matter how many people live there - subject to a few exceptions. And they can't put their wasted excess to any use. But streaming services are digital, and meant to be taken out of the house.
If a one- and two-person household split fuboTV's three streams between them, they pay $35 a month for service rather than $70 - which means they can add another $35 in savings to whatever price cut fubo already represents compared to traditional service.
This sort of disproportionate sharing is not at all unusual. We see very similar dynamics playing out in Charter's (CHTR) mobile wireless business, competing with traditional wireless companies like AT&T (T) and Verizon (VZ) which charge high prices for single-line users and increasing discounts for multi-line family plans.
The Dynamics Of Sharing
Alright, that explains why lower-sized households would prefer virtual pay-TV to traditional. But why is fuboTV and, increasingly, Hulu Live being left behind by YouTube TV? Considering that they all offer the ability to share accounts, shouldn't they all be benefiting?
While most investors understand that some degree of account sharing is taking place, they tend to either treat it as monolithic (everybody is sharing with everybody) or at most single-axis defined (small households share, big ones don't.) But in fact, there are two other important variables that define the shared-account dynamic.
There's Price, And There's Price
The first is simply price. As I have argued many times before, almost all streaming services are best understood not as their headline price, but as their headline price divided by the number of streams offered. At the highest tiers, Netflix costs $20 and HBO Max costs $15, but Netflix offers four simultaneous streams while HBO Max offers three. So they're both priced the same in the consumer's eyes, if the consumer in question is sharing, at $5 per stream.
On streaming-TV, fubo and YouTube TV both offer three simultaneous streams while Hulu Live offers only two. So while Hulu Live looks like it costs the same, it actually costs 50% more, making it less attractive to sharers. Even if we discount Hulu Live $14 for someone who already has the Disney Bundle, at $28 per stream they're still well over the $21 and change YTTV charges per stream.
I encourage you to read some of my prior work on this subject at the links provided, as I've somewhat truncated the dynamics of how sharing affects a streaming stock here. But fuboTV offers three streams, just like YouTube TV. So what gives there?
The Cost Of Saving On Sharing
The other aspect of sharing is the non-monetary cost of sharing. Sharing's financial savings come at a cost in privacy.
Almost all of us have the potential to get into some sort of trouble (greater or lesser, familial or social) if our entire viewing history is exposed. Men aren't supposed to enjoy romcoms, and women shouldn't actually enjoy watching some masked psycho carve up victims. (Those stereotypes have been thoroughly debunked, by the way.) And who just binge-watched the entire series of Gilmore Girls in three days while they were supposed to be too busy with work to babysit the nieces? And finally, some of us just don't like the idea of other people knowing that much about us, even if our viewing patterns do largely conform to expectations.
This is why account-sharing doesn't occur randomly. Rather it tends to surge whenever a service implements a price increase, as Netflix has learned not just once but repeatedly. Each price hike causes some consumers to reassess just how much extra they're willing to pay for privacy compared to someone's offer to share.
YouTube's Real Advantage
But YouTube TV is unique among almost all streaming services (live TV or otherwise) in that sharing on YTTV involves almost no loss of privacy.
For most services, including Netflix, account-sharing is done by giving one's email and passcode to another. While many services allow the creation of multiple user profiles to separate viewing history and recommendations from other users, every user has access to all profiles at all times. Privacy is thus protected by little more than the honor system on most services.
YTTV is different. Users may be invited by the Family Manager to the service by adding their own email to the service as an authorized user. This new user logs in using their own independent email and password. And none of the different email logins have access to one another's DVR recordings or viewing history.
There was some concern that a "new, easier account switcher" feature rolled out a few months ago might actually compromise this privacy, but so far that does not appear to be the case.
fubo Doesn't Share YTTV's Sharing Gift
For fuboTV, unfortunately, its systems are not quite so sharing friendly. Like most services, including Hulu Live and Netflix, it allows sharing but doesn't really nurture it by protecting privacy. So most dedicated sharing households probably tend to go elsewhere.
I believe the wide disparity between fubo and YTTV has more to do with this than with any failure of strategy on fubo's part. YTTV and fuboTV both have the right strategy, but with YTTV available fuboTV probably only appeals to households of a certain size, or willing to spend a considerable premium for privacy.
This theory also fits into the Hulu Live data pretty well. Like I said, Hulu is probably worst of all for sharing. On the other hand, Hulu offers the 'Unlimited Screens" add-on (only Unlimited at home) for $10 while YouTube TV charges $20 for the privilege so Hulu Live might actually be more attractive to large households…except that fuboTV now offers that same perk for no charge at all on its base plan. So it makes sense that fuboTV is still growing, albeit less quickly, as it's probably not only equally appealing to three- or four-person households, but more appealing than YTTV to households larger still, looking to avoid the $20 surcharge.
But the good news for fuboTV here is that unlike content strategy or interface design, which can take months or even years to fix, there's nothing particularly difficult to duplicate about privacy features like separate email logins. So this doesn't have to be a deathblow. It simply needs to match some of YTTV's more sharing-focused features.
Summary Of Analysis
The best interpretation of this data seems to be that fuboTV continues to take market share from primarily larger-sized households who would otherwise be inclined to perhaps sign up with Hulu Live. Meanwhile, YouTube TV remains attractive to those who see an opportunity to share a three-stream service across smaller households, with full privacy. Given the preponderance of smaller households across the country, that would be expected to leave YTTV with considerably more growth than fuboTV, which is exactly what we see.
When fuboTV was flying high I urged caution, and now as it crashes and bears crow I urge, if not bullishness, then at least something less than a sky-is-falling reaction. The most likely driver of YTTV's outperformance since fuboTV's new content strategy came into effect probably has more to do with easily replicable privacy features than any inherently superior content approach. While I'm not going long on fuboTV, I don't consider this the final proof fubo is going to $0 either.
Investment Summary
I remain a cautious Hold on fubo, and recommend avoiding it until we know more about its approach to privacy and content going forward.