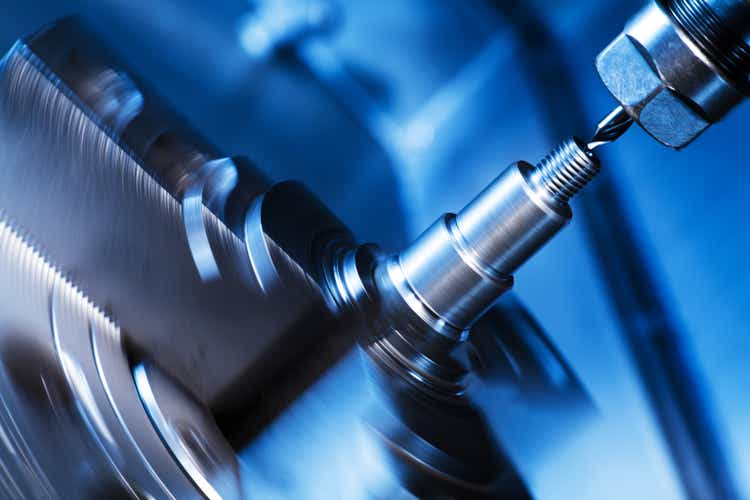 What I thought back in March may have just been a "pothole" for Hurco (NASDAQ:HURC) has started looking more like a sinkhole, as orders have turned down and investors have grown considerably more worried about the health of short-cycle industrial names, particularly those exposed to capital equipment budgets.
Time will tell if we get a true cyclical downturn in the next few quarters or whether this is a shorter "correction" in response to inflationary and labor pressures (not to mention the chaos created by the pandemic). In any event, it's clear that short-cycle industrials are by and large not in favor right now, and while I do think Hurco's valuation is too low now, the reality is that the market can often overcorrect and investors looking to take advantage of the pullback have to at least be aware of the risks of further declines before the outlook and sentiment stabilize.
Looking Back On Fiscal Second Quarter Earnings
Hurco's early June report of fiscal second quarter earnings didn't offer much in the way of good news, with further erosion in sales momentum and flagging orders, though margins were mixed. While none of this was entirely out of my expectations, it does seem to be coming on faster and sharper than I'd expected even a quarter ago.
Revenue rose 8% from the prior year, or 12% in constant currency terms, but fell 6% sequentially. Sales in North America rose 14% yoy and fell 7% qoq, while sales in Europe rose 15% in constant currency and fell 9% sequentially. Sales to customers in Asia-Pacific countries rose 4% yoy (constant currency) and rose 8% qoq.
Management mentioned price as a meaningful contributor to sales growth, but didn't elaborate further. Industrial distributors MSC Industrial (MSM) and Fastenal (FAST) reported about six to seven points of price contribution to their sales growth in their most recent quarters, and while these are absolutely different businesses, I think it gives at least some anecdotal context for what sort of contribution Hurco may have seen from pricing in the quarter.
Gross margin declined 70bp yoy and 50bp qoq in the quarter as reported, but the year-ago results include benefits from pandemic relief. Netted out, gross margin rose 60bp on improved volumes, but there was sequential erosion. Likewise with operating income, which declined 120bp yoy as reported, but improved 160bp on an adjusted basis (while falling 290bp qoq). Spending ahead of a major tradeshow later this year could explain at least some of the sequential change.
Eroding Orders A Valid Worry
The most concerning part of the report was the 10% yoy decline (8% in constant currency) in total orders, which also declined 17% sequentially, driving the book-to-bill to 0.94x from 1.06x in the prior quarter.
Orders rose 26% yoy and 11% qoq in North America, but fell 16% yoy (constant currency) and 31% qoq in Europe and 43% yoy (constant currency) and 19% qoq in Asia-Pacific. The book-to-bill in North America actually rebounded, improving from 0.92x in the prior quarter to 1.09x, while the Europe book-to-bill declined from 1.19x to 0.90x.
Interpreting these numbers is no simple task. For starters, Hurco isn't like DMG Mori or other large machine tool manufacturers –large well-known multinationals aren't their core clientele, and their core offerings aren't really aimed at large volume production. With a smaller, more specialty-oriented customer base, it's harder to draw straight lines from macro trends to Hurco's performance (and vice versa).
To that end, I'd note that DMG Mori's first-quarter results (which overlapped some with Hurco's quarter) were quite strong, with revenue up 33% and orders up 46% and strong management sentiment for the full-year outlook. I'd also note that the Japanese Machine Tool Builders Association (or JMTBA) has continued to report strong yoy sales trends (up 24% in June, up 25% in May, and up 30% in April), though with two straight month-over-month declines.
There are a lot of things that could be happening. Smaller customers may be holding off on capital investments, focusing instead on managing through current backlogs and supply shortages. Customers may be nervous about continuing to invest in capacity ahead of a downturn in orders (with ISM new orders going back below 50). Customers in Europe may also be nervous about investing given the war in Ukraine. Or Hurco could simply be losing share to other machine tool manufacturers. I don't think it's just a Hurco problem, though, as the performance of these shares has been similar to Kennametal (KMT), another short-cycle industrial bellwether, on growing worries about short-cycle trends.
The Outlook
A quarter ago I started pulling in my assumptions for a downturn, and I've accelerated that process. I'm still modeling revenue growth for Hurco in 2022, and I think FQ3'22 will be up yoy, but I'm looking for mid-single-digit full-year growth and I see some risk to that estimate. I've lowered my expectations for 2023 as well, but pulling in the downturn also pulls in the rebound – my five-year and long-term revenue estimates have changed very little.
I've chosen to take an approach that I believe is erring on the side of caution with respect to margins for 2022 and 2023 as I see ongoing inflationary pressure that could be exacerbated by further declines in orders and eventual declines in production volume. Again, my longer-term "steady-state" margin assumptions aren't meaningfully different than before, but reducing near-term margins has a more negative impact to valuation on my DCF and margins/returns-based models.
Long term, I'm looking for low single-digit revenue growth and mid-single-digit FCF margins, with EBITDA margins in the high single-digits (and with significant peak-trough variability).
The Bottom Line
Between discounted cash flow and margin/return-driven multiple-based valuation, I believe Hurco is undervalued below the low-$30s. That's a meaningful deterioration from the high-$30's valuation I saw before, but again has a lot to do with a faster, sharper downturn than I'd initially expected (and that may yet prove conservative). In any case, market expectations are not particularly robust here, and I do see value, but investors will have to be patient and aware of the risk that the market will over-correct in the downturn as it went too far with many industrial names in the upturn.