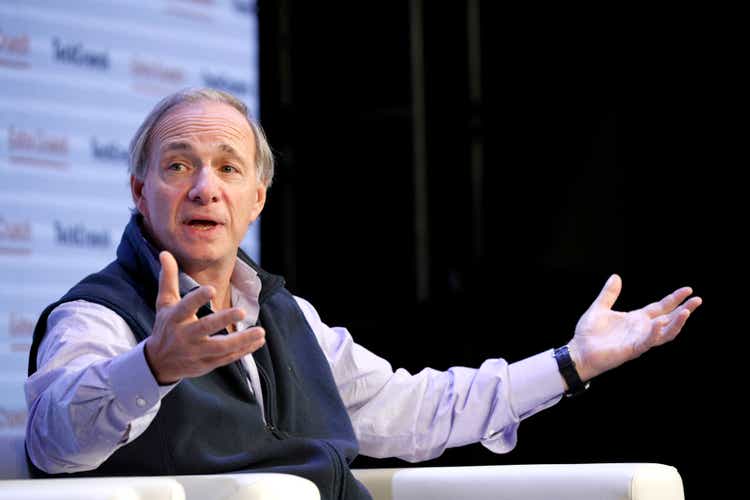 The founder of Bridgewater Associates - the world's largest hedge fund - Ray Dalio recently predicted that a new world order is coming. According to Mr. Dalio, the main theme of this geopolitical realignment will include rising tensions, competition, and potentially even conflict between the United States and Communist China. Additionally, he expects that the current macroeconomic ills of massive sovereign debt, out-of-control money printing, and a yawning wealth gap will become even worse.
In this article we will look at how Mr. Dalio's view of this "new world order" is impacting his investing strategy and then share some of our top high yielding picks whose investment theses are supported by Mr. Dalio's vision of the future.
Ray Dalio's Portfolio Moves
Mr. Dalio's portfolio moves in response to this perspective are a $6.7 billion short position on European stocks (STOXX) (given their sensitivity to inflation and rising geopolitical tensions and conflict via soaring energy prices, including ASML Holding (ASML), TotalEnergies (TTE), Sanofi (SNY), Santander (SAN), Bayer (OTCPK:BAYZF), AXA (OTCQX:AXAHY), ING Groep (ING), and Allianz (OTCPK:ALIZF)) as well as defensive positions against sell-offs in U.S. bonds (BND) and U.S. stocks (SPY).
At the same time, Ray Dalio also believes that "cash is trash" stating:
Cash is not a safe investment, is not a safe place because it will be taxed by inflation
As a result, he is not totally forsaking equities. Instead, he is investing very selectively in the markets. Here are some of his top holdings according to Bridgewater's latest 13F filing:
The Vanguard FTSE Emerging Markets ETF (VWO) which invests in over 5,000 stocks high growth emerging markets such as South Africa, India, Brazil, and China. This is Bridgewater's largest holding and jives well with Dalio's recent statement that "Emerging Asia is very interesting. India is interesting" and general expectation that international developing markets are poised to outperform developed western markets.
Procter & Gamble (PG) is Bridgewater's second largest holding, which also makes sense given that it is highly resistant to recessions and has proven to deliver steadily increasing dividends to investors for decades through all kinds of economic climates. Its significant brand power and global diversification also make it suitable to an inflationary environment. The company recently announced its 66th consecutive dividend increase, this one being a substantive 5% hike.
Alibaba Group Holding (BABA) is another major holding of Dalio's. As a leading Chinese technology giant, this pick also fits with his narrative that China will continue to rise as a major challenger to the United States.
As the chart shows below, while not all of Dalio's picks have been winners, his picks are still beating the market and - when you factor in his large short position on European stocks, U.S. stocks, and bonds - he is definitely winning in this market.
In fact, Bridgewater's flagship Pure Alpha fund posted a stunning 32% total return in the first half of 2022 despite the SPY falling by ~20% in the first half of the year.
Our Top Picks
Given Mr. Dalio's new world order perspective and investment moves, these are some of our top high yielding picks at High Yield Investor:
Patria Investments (PAX) is the leading alternative asset manager in Latin America. It grew a lot through a partnership with Blackstone (BX), which also took a very large stake in the company. It is now looking to launch the next phase of its growth by going public last year to raise capital in order to pursue a more aggressive M&A strategy beginning with Moneda in late 2021. This should enable it to solidify its competitive positioning as the alternative asset manager of choice in the region and also should generate very strong distributable earnings per share growth for shareholders.
PAX's Q1 results reflect this ongoing strong growth momentum:
Distributable earnings per share were $0.24, up a whopping 90% year-over-year, while net accrued performance fees were up 45% sequentially and 100% year-over-year.
Total assets under management were up 96% year-over-year and 16% sequentially, while fee earning assets under management were up 136% year-over-year and fee related earnings were up 85% year-over-year.
The company raised $1.5 billion during Q1 for its funds.
The company reaffirmed its expectation of growing fee related earnings by more than 50% in 2022.
The growth momentum here is strong and the company is weathering the current macro environment well. With a 7.07% trailing twelve month dividend yield, PAX remains deeply undervalued and is poised to deliver strong dividend growth in the coming years. We remain long and eager to add to our position on dips in the stock price.
Ares Capital Corp. (ARCC) is the world's largest publicly traded business development company (BIZD) and has a proven track record of delivering strong shareholder returns across market cycles: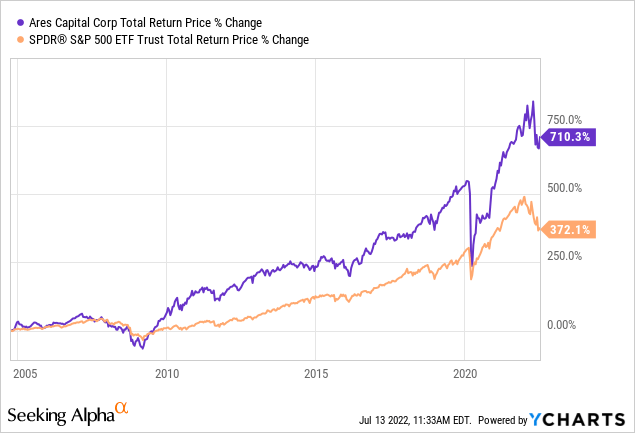 The company leverages two key competitive advantages to generate its superior performance:
Support from its parent Ares Management Corporation (ARES) gives it the knowledge, capital scale, and deal flow to execute superior risk-adjusted underwriting on its investments.
A strong investment grade balance sheet that enables it to respond opportunistically to market volatility.
In a world where soaring inflation will likely lead to higher interest rates, ARCC is well positioned. Its CEO stated on the company's recent Q1 earnings call:
As of quarter end, holding all else equal and after considering the impact of income-based fees, we calculated that a 100 basis point increase in short-term rates could increase our annual earnings by approximately $0.23 per share, a 14% increase above this quarter's core EPS run rate.

A 200 basis point increase in short-term rates could increase our total annual earnings by approximately $0.44 per share, a 26% increase above this quarter's core EPS run rate.
With recent inflation data indicating the more rate hikes are in order, ARCC appears poised to see strong profitability growth.
With an 8.6% current dividend yield and the potential for further dividend growth as interest rates climb, ARCC looks well-positioned for the "new world order" of which Ray Dalio speaks.
Investor Takeaway
Bridgewater Associates pours immense resources into understanding history and the current world and how these various dynamics and principles converge to drive the events of the future. Using these insights, Bridgewater then makes aggressive and oftentimes bold bets with its portfolios in order to generate superior risk-adjusted returns. Its record speaks for itself. While it doesn't always outperform, its long-term track record is excellent and its year-to-date results are outstanding.
At High Yield Investor, some of our top picks like ARCC and PAX are poised to benefit from these macro forces while also delivering safe and high income yields for our portfolio.