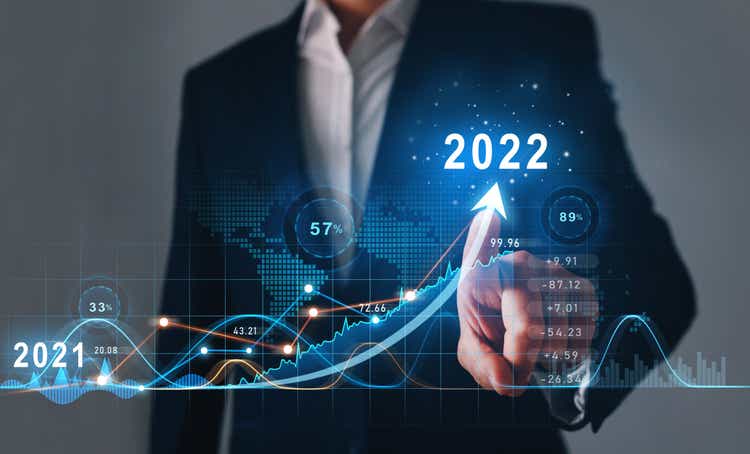 REITs come in all shapes, sizes, and forms, and can be a great diversifier for any portfolio. One can even arguably create a basket of economically diversified stocks by just sticking with REITs alone, which range from retail, to apartments, data centers, office, industrial, and self storage facilities.
This brings me to the defensive REIT, Corporate Office Properties Trust (NYSE:OFC), which has become cheaper like the rest of the REIT sector. In this article, I highlight what makes OFC a good defensive name to own, so let's get started.
Why OFC?
Corporate Office Properties is a self-managed REIT that's focused on office and data center properties that serve high priority defense and cybersecurity missions of the U.S. Government. 90% of OFC's properties are leased to either the government or its contractors, and the remaining 10% are Class A office buildings leased to commercial tenants.
The company has a long track record of operating in this space, as it's been around for nearly 30 years. Along with Easterly Government Properties (DEA), OFC is just one of a handful of landlords that are entrusted to handle U.S. Government and defense contractor tenant requirements.
This can be an attractive space to be in, as the defense-oriented tenant portfolio enjoys high occupancy. This results in portfolio stability and the specialized nature of its buildings come with lower recurring capex requirements compared to traditional office properties, which are potentially subject to high tenant improvement costs whenever there is lease turnover.
OFC has enjoyed rather steady growth since 2018, with an FFO per share compound growth rate of 4.4%, with the company expecting to maintain at least a 4% growth rate through 2026. Meanwhile, occupancy remains healthy, at 92%. Notably, OFC saw a somewhat lower than expected tenant retention of 64% during the first quarter, due primarily to the Transamerica non-renewal in Baltimore, Maryland. Management, however, has reiterated guidance for 70-75% tenant retention for the full year.
Looking forward, OFC should benefit from its robust development pipeline, which includes 1.7 million square feet of active developments that are 96% pre-leased, and OFC typically gets a respectable initial cash yield of around 8% on office buildings leased to the U.S. government and its contractors. As shown below, OFC's specialized development capabilities result in value creation, as its properties are immediately accretive upon completion.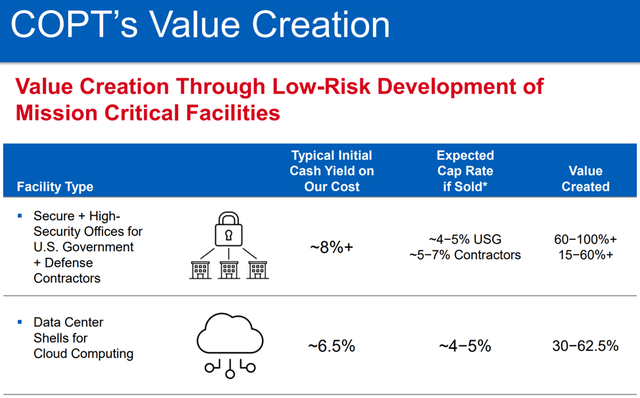 Moreover, it appears that OFC has no issues attracting low-cost capital, given its defensive nature, as it issued $1.8 billion of senior unsecured notes since September 2020 at a weighted average interest rate of just 2.51% with a long weighted average maturity of 8 years. 97% of OFC's consolidated debt is fixed rate, which helps to shield it from near-term interest rate hikes. It also carries a relatively low debt to EBITDA ratio of 6.3x and has BBB- / Baa3 investment grade credit ratings from Fitch and Moody's (MCO).
OFC also currently yields 4.2% with a safe payout ratio of 87%, considering the durability of the tenant base. While dividend growth has been lacking, I see potential for raises down the line with continued FFO per share growth.
Lastly, OFC is now trading well below its 52-week high of $30.51, and at the current price of $25.51, carries a forward P/FFO of 11.1. Sell side analysts expect to see FFO per share growth in the low to mid-single digits going forward, and have a consensus Buy rating with an average price target of $30.25, implying a potential one-year 23% total return.
Investor Takeaway
Corporate Office Properties Trust is a high-quality office REIT that's focused on U.S. Government and defense contractor leases. The company has a long history in this space, and its properties enjoy high occupancy rates and are typically subject to lower capex requirements. It also has a robust development pipeline. OFC is currently trading at a discount to its 52-week high and analysts' price targets, making it an attractive buy at the current price for those who are willing to sacrifice high growth for defensive attributes in this name.