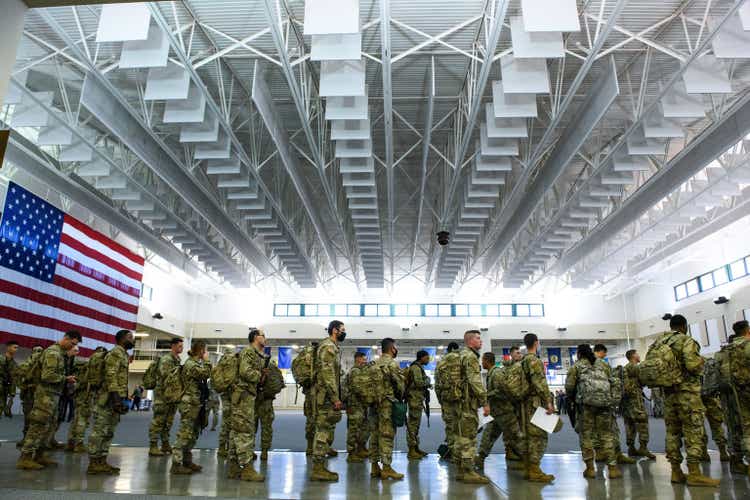 Palantir Technologies Inc. (NYSE:PLTR) is one of the few public companies that are destined to successfully deal with the ongoing geopolitical shocks that we are currently experiencing. The company has a healthy balance sheet, no major exposure to emerging markets, and a handful list of clients from the public and private sectors, who are eager to optimize their processes to improve the efficiency of their organizations and cut down costs. In addition, thanks to its close connections to the Pentagon, the company will likely benefit from the increased military spending of the U.S. and its European allies, as the latest NATO Summit in Madrid showed the willingness of member states to substantially increase their defense budgets. Also, Palantir's space and geospatial intelligence solutions are likely going to attract new customers given its successes on the Ukrainian battlefield.
Therefore, as investors are preparing to hear Palantir's Q2 earnings results in August, now is a good time to go through some latest developments that will positively affect the company's performance in the long run, and discuss its intrinsic value in the current environment to solidify the bullish case for the stock.
New Global Order
In the past, I have already extensively covered Palantir's governmental contracts, which account for the majority of the company's revenues. However, the latest NATO summit in Madrid shows that the company will be able to increase its market share in the defense business even more all thanks to its unique AI-based defense software solutions that are built on Palantir's Gotham platform.
The major highlight of the summit was the adoption of NATO's new Strategic Concept document that outlines the security policy of all member states for the following years. While the document itself is long and full of different details about various aspects of a new security policy, I want to focus on several main things from the final declaration that was adopted at the end of the summit, as they'll have direct positive implications for Palantir's business. During the summit, NATO member states agreed on the following:
We will build on our newly enhanced posture, and significantly strengthen our deterrence and defense for the long term to ensure the security and defense of all Allies. We will do so in line with our 360-degree approach, across the land, air, maritime, cyber, and space domains, and against all threats and challenges.
Palantir has been very active in cyber and space domains. In one of my previous articles, I have already explained how the company was able to track the movement of Russian troops near the Ukrainian border prior to the invasion. What I want to add to that is that Palantir was and is able to do so thanks to its equity investment in a geospatial intelligence business BlackSky (BKSY), which is able to track important targets on the battlefield that are later destroyed by artillery and rocket strikes. Just recently, BlackSky entered into a 10-year contract with the National Reconnaissance Office that's worth up to $1 billion. This will make it possible for the company to increase its market share in the geospatial intelligence market and help Palantir to recoup its investment as well.
In addition to this, here's another important statement that was made by NATO member states:
We are establishing a Defense Innovation Accelerator and launching a multinational Innovation Fund to bring together governments, the private sector, and academia to bolster our technological edge.
At this stage, Palantir is one of the most popular AI-based software solution providers to governmental agencies, as the U.S. Army, Navy, Space Command, CIA, and a handful of other departments are its clients. While in the past there was pessimism about the company's governmental business due to the lack of new contracts at the beginning of this year, the sentiment in recent months has completely changed. NATO's commitment to improving its technological capabilities to tackle the ongoing challenges is a positive long-term sign for Palantir as well.
Just in June, Palantir won a $53.89 million contract modification from the U.S. Space Command and also was selected to develop a prototype for the U.S. Army's TITAN program that's aimed at tracking threats with the help of AI and machine learning. Given the fact that it's not the first nor last contract from both the U.S. Army and Space Command, it's safe to assume that Palantir will continue to establish a stronger presence in the AI-based defense software solution market, especially as it's also actively expanding its operations in Europe to work with more NATO members.
Finally, another important highlight from the summit is the following statement:
We will build on the progress made to ensure that increased national defense expenditures and NATO common funding will be commensurate with the challenges of a more contested security order. Investing in our defense and key capabilities is essential.
In the past, there was a reluctance to increase defense budgets, especially among European NATO states, due to internal strife. However, the Russian invasion of Ukraine has changed this. If the military spending in the U.S. was declining since 2011, started to rebound only a few years ago, and reached 2011 levels in 2020, then in the following decade, we should see an unprecedented increase in the DoD budget. The latest forecasts show that the U.S. alone will be spending nearly $1 trillion a year by 2032 on defense, which is a positive thing for Palantir, which heavily relies on governmental contracts to grow its business. Add to this an increased spending of other NATO states and you'll see that Palantir's growth story is more alive than ever.
Numbers Supplement Palantir's Growth Story
Palantir not only has a growth story going for it but it also has solid fundamentals and a decent upside. The upcoming Q2 earnings results will come out in August, and even though there were nine downward revisions due to the volatile macro environment, the consensus revenue growth rate for the quarter still stands at nearly 26% Y/Y. Considering that a recession is already around the corner, having a double-digit revenue growth rate is pretty impressive in the current environment.
Another positive thing is that the company is already profitable on a non-GAAP basis and is also close to profitability on a GAAP basis. In 2022, the expectations are that earnings will continue to improve and the EPS for the year will be at $0.16, up nearly 25% Y/Y. What's also important to note is that Palantir has been generating positive FCF at least since its direct listing in 2020, as in 2020 its unlevered FCF was $273.8 million, while in 2021 it was $476.7 million.
When it comes to valuations, there has been a lot of speculation about Palantir's fair value due to its excessive stock-based compensation policy that leads to a net loss on an income statement even though the business has outstanding gross margins of over 70% and generates positive FCF. That's why I decided to create a DCF model in which I'll try to figure out the business's fair value and what shareholders should expect in the future.
For the revenue and EBIT estimates, I took the street consensus for the following years, which shows that advisory firms expect the company to show a positive EBIT in 2022 and onward after years of losses. The tax rate in the model stands at 21% of EBIT, which equals the basic U.S. corporate tax rate since the United States is Palantir's single biggest market. The D&A and capital expenditures in the model are at a rate similar to the previous years, while the change in NWC in the forecasted periods is positive since it's also positive in the previous years as well.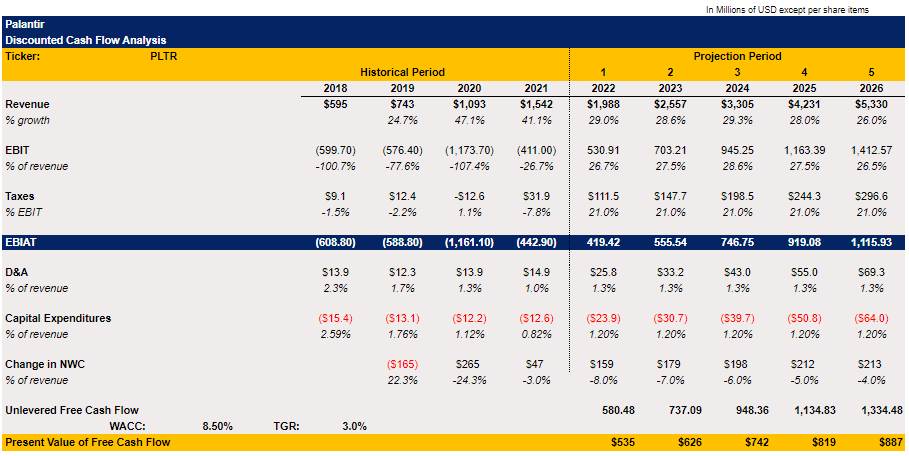 The WACC in the model stands at 8.5%, while the terminal growth rate stands at 3%. One of the main upsides of Palantir is that it has no long-term debt or short-term borrowings, which will make it easier for the company to navigate through the current volatile environment as it's going to be relatively unaffected by higher interest rates.
Another major upside is the fact that Palantir also has $2.52 billion in cash reserves to weather the upcoming financial storm. Thanks to a decent amount of liquidity and no debt, the equity value in the model stands at $22.75 billion which equals to a fair value of $11.17 per share, which represents an upside of nearly 20% from the current market price.

My DCF price target is also similar to the consensus street target of $11.26 per share:

It made sense for the model to show a similar fair value to the street consensus since the top-line expectations were in-line with the street estimates. However, it still shows a decent upside from the current market price and there are also several things worth discussing to understand why there's even more room for growth for Palantir's stock in the long run.
First of all, the company itself aims to grow at an annual revenue rate of 30% or above through 2025, which is above the growth rate in my model. If it manages to do so this and next year thanks to the increased NATO defense spending discussed above, then the intrinsic value already is going to be higher than in the model.
In addition, the stock-based compensation policy is the only thing that prevents Palantir from trading at higher multiples. Let's not forget that the company has a gross profit margin of nearly 80% due to the small cost of goods sold mostly thanks to the fact that the main thing that it provides is software solutions that don't require a lot of expenses on Palantir's side. The moment you decrease stock-based compensations – your EBIT starts to greatly appreciate and change the whole earnings inputs in the model.
The good news is that in recent years Palantir has been significantly decreasing its stock-based compensation expenses. If in 2020 the stock-based compensation was $1.27 billion, then in 2021 it was only $778 million, down 38.5% Y/Y. If in Q1'21 the stock-based compensation was $193 million, then in Q1'22 it was only $149 million, down 22.8% Y/Y.
This trend of strong top-line growth and the stock-based compensation decrease is one of the main reasons why I continue to be so bullish on Palantir and plan to hold my long position for a long time. Once stock-based compensation decreases even more – my model that already shows a decent upside will become too conservative given the changes to EBIT that were discussed above. This will lead to an even greater fair value and will likely push the stock to higher levels in the future.
Risks
The only main risk to Palantir's bullish story is a prolonged recession. Since Palantir is a growth company that generated a net loss in recent years due to the excessive stock-based compensation policy – its stock has already suffered a major depreciation. If we'll see a "lost decade" scenario where the economy will show little to no growth for years, then there's a risk that Palantir's commercial side of the business will take a hit. As a result, even if the governmental business continues to grow due to the increased defense spending, Palantir's commercial customers could terminate their contracts to cut costs, which will negatively affect the company's performance and decrease its forecasted top-line growth forecast.
However, we shouldn't forget that the goal of Palantir's software is to help its clients to better optimize their business processes to cut costs and minimize the downside of supply chain disruptions. That's why even in the current environment Palantir is able to strike major commercial deals with legacy automakers such as Stellantis (STLA) to accelerate the business's digital transformation. Therefore, it's likely that while a prolonged recession will hurt Palantir, it will bring only a short-term negative effect, as it's in the best interests of its clients to minimize the downsides caused by a volatile macro environment by implementing software solutions that improve the overall efficiency of their businesses.
The Bottom Line
Palantir's Q2 results will come out next month and even though the street revised the earnings forecasts, the company has everything going for it to continue to show outstanding results and grow at a double-digit rate. The latest NATO summit in Madrid shows that Western governments are serious about tackling the global challenges by increasing their military spending and improving their technical capabilities. As a result, it's safe to say that Palantir will be able to benefit from the changing geopolitical landscape thanks to its unique AI-based defense software solutions. Add to this the fact that stock-based compensations decrease while the top-line continues to grow at an impressive rate and you have the company that's worth investing in for the long haul.