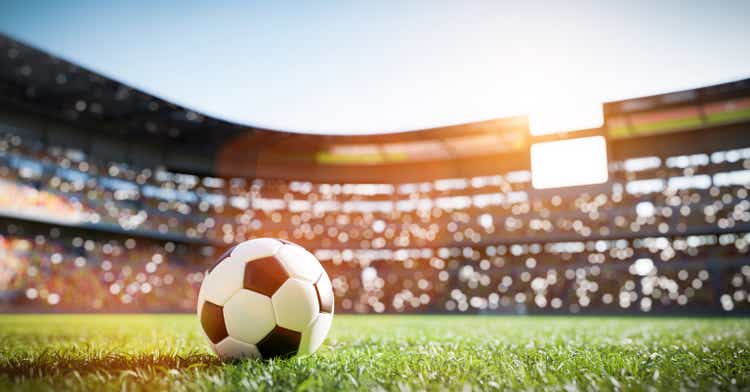 As the streaming wars continue to pick up pace (and, increasingly in the stock market, throw off rubble) one of the late entrants is starting to throw its weight around. Although Apple (NASDAQ:AAPL) confined itself to its iTunes Pay-Per-View store for many years and even now operates a relatively small streaming service at just $5 per month, there are growing indications that Apple is gearing up to do something fundamentally transformational in streaming. Transformational not only for itself, but for the industry writ large.
Apple is of course an incredibly broad company with several diverse revenue streams. This article will focus on its streaming operation.
From Bland To Bold
Up until now, Apple has been a fairly typical bidder for sports rights. It's deal with Major League Baseball is emblematic of this. Like most companies, it wrote a check for the rights to broadcast a few baseball games a week, selected for strong matchups or large audience appeal (i.e., bigger cities.) It then hired its own team of crew and broadcasters to produce the game and broadcast it on its own "channel," in this case its $4.99 a month streaming service, Apple TV+.
Apple is known to be bidding for other sports properties as well, most notably the NFL Sunday Ticket, which offers exclusive rights to out-of-market Sunday afternoon broadcasts games. Like most streaming sports services, that Sunday Ticket comes with certain restrictions around those broadcasts, most notably (and irritatingly, for fans) the "blackout rule."
Blackout rules essentially prevent the broadcaster from competing with the holder of the in-market rights, by requiring any game which is available on another channel to be blacked out on the streaming service, essentially forcing fans to go to that channel and giving the in-market right holder a monopoly on the game in the team's home markets, where they will be most popular.
There are some other restrictions on Sunday Ticket and most other sports contracts as well, and the one thing they all have in common is that they're pretty much all anti-consumer.
Other sports rights are also being pursued. But so far Apple's bids have always followed the traditional business model of sports broadcasting: buy, produce, sell.
A Whole New Approach
Now, its latest deal has completely blown that model up, turning almost everything about it on its head. While this particular deal is relatively small in the grand scheme of things, it could be revolutionary if it is a sign of how Apple, the eight-hundred pound gorilla in the streaming world, intends to start throwing its weight around.
I am referring of course to Apple's new deal with Major League Soccer. The ways in which it defies sports convention almost defy count, but let's give it a shot anyway.
Deal Terms, And Breakthroughs
First, price. The deal, which lasts for 10 years, doesn't have a set dollar figure cost. Second, rights granted. The lack of price is for a very interesting reason: Apple's deal doesn't actually give Apple control of the rights.
Apple has essentially entered into a guaranteed-minimum agreement: it will pay Major League Soccer a minimum of $2.5 billion over the next ten years as royalties/revenue share of a comprehensive, league-universal streaming service. Which brings us to point three. This is a streaming service that shows every game in the league with no blackouts, in regular or postseason. The streaming service itself won't actually belong to Apple - it will be an MLS streaming service, operating within Apple's video subscription store, just like Paramount+ and Epix and countless other streaming services.
But MLS has guaranteed Apple that it will never black out anyone from watching a game if they're a paying subscriber. A guarantee Apple had to get from MLS because, point four, production of the actual broadcasts themselves will be overseen by MLS, not Apple. And - point five - unlike most streaming services which market their wares across all platforms, Apple TV will be the only channel store platform where this new streaming service can be found.
A Complete Rupture
Any one of these points on their own would represent a substantial departure from industry standard practice. Taken together, they constitute nothing less than a complete rupture with almost 100 years of traditional broadcasting sports. Apple has literally ripped the rulebook to shreds.
Exploring The Implications
This has implications on two separate levels. First is simply whether or not it will work on its own merits. Having completely rejected the old approach, how good is the new one Apple has designed likely to be?
Second, and perhaps more importantly, how many other sports does Apple intend to treat in like fashion? Apple, almost alone of all the major tech giants leaping into streaming, has enough money in its war chest to completely turn upside down any sport it chooses, even the vaunted NFL. If it wanted to, it could literally replace every other paying rights holder and take complete control of a sport's broadcasting, much as it just has with Major League Soccer.
How many sports does Apple want, and how much is it willing to spend? Bearing in mind that the answer to the second question is really the only conceivable limit on the answer to the first.
The New Apple Way On Sports
But Apple is far more likely to want to spend money on an approach it is convinced will turn a profit and produce a viable long-term broadcasting strategy, and any sport's decision to sell will be guided by that same consideration. So let's examine that first. How well is MLS likely to do under this new system? How good a job redesigning sports did Apple do?
In a word… excellent.
Now, Sports Streaming "Just Works"
I don't want to overstate Apple's unique touch in this, because Amazon (AMZN) and other companies have worked hard to develop consumer-friendly reputations too. But compared to the traditional "we have the monopoly, so tough" attitude leagues and broadcasters take towards fan complaints, no matter how reasonable, this new system has got to be the fan-friendliest development in broadcasting since… well, broadcasting.
The system is designed to be a well-integrated component of an overall positive fan-service customer experience. It doesn't stand apart and actively undermine other aspects of the fan experience as broadcasts sometimes can (see, weird scheduling, unnecessary game stoppages or the NFL's perverse sellout requirement.)
For starters, all MLS season ticket holders will get complimentary access to the service, to reflect the fact that they've already bought into the league and prevent the bad taste of "greedy double-dipping" other leagues sometimes create. Compare this to baseball fans, who often spend thousands per seat for season tickets and yet have to pay hundreds more to get TV access at home if they're sick or out of town.
MLS is also moving most regular season games to Saturday night to promote predictability and availability of fans for the schedule, maximizing the chances of their being able to take advantage of season tickets. There are lots of other fan-friendly things too, but there just isn't time to cover all of them.
Streaming-First Approach
More important is how and why Apple and MLS can do this: they've signed a deal for a comprehensive streaming service, which means they don't need to satisfy the demands of advertisers or broadcasters in ways that compromise the fan experience. This streaming service has been designed as the primary home of MLS, not as a 21st century complement to entrenched contracts and interests which date back to 20th century analog or even over-the-air broadcasting. Linear supplements streaming, not the other way around.
This doesn't mean MLS is actively hostile to linear TV. It's not, and Apple didn't try to make it so. MLS is continuing to negotiate potential linear deals with Disney's (DIS) ESPN and Fox (FOX) for a limited national broadcast window, comparable to Sunday Night Football on the NFL or Apple's MLB deal. But even if (when, more likely) these deals are completed, the winner will have to share the games with the streaming service. Blackouts are not allowed, so MLS fans who already paid full price for access can't be forced to subscribe to a $200 per month pay-TV monopoly just to see the games they already paid for.
Superior Business Model
While this fan-friendliness should help boost the popularity of the sport, there is also good reason to think this business model is inherently more profitable than what it replaces.
As I said, most traditional deals see rights carved up and scattered across multiple channels. NFL broadcasts are divided between no fewer than twelve different channels across eight different TV/streaming contracts. NBA has four different national deals, including its own NBA TV. MLB has five. What's more, both of these leagues and the NHL have myriad regional sports deals for local broadcast rights in each city, all of them slightly different with different rules.
In addition to aggravating fans, there is good reason to think that this also costs the broadcasters themselves money - not that you'd ever know it by how they insist on trying to preserve the system. As I've been documenting over the past few months, national deals for select games often make far less sense than you might think, especially in a streaming world where customers can pick and choose which services to take.
As just one of many examples, consider the NFL again. If you know that 12 of your team's 17 games are going to be available on CBS's Paramount+ for $5 per month, are you really going to pay Sling or YouTube TV $65 per month to get access to the other five? Even if you can afford to, the sheer dichotomy of pricing means that some will probably decline to do so. So the assumption that these exclusive national games are going to drive subscriptions to expensive pay-TV services might not hold up at all.
The massive fees some channels pay to leagues to cherry-pick relatively few games and place them in exclusive national slots just doesn't make much sense in a streaming world. That is why Apple's new deal doesn't work that way.
Vertical Scheduling Division
Instead of dividing games horizontally (multiple games on each of several different channels with no connection to one another) the new deal again blazes a new path and divides game vertically. That is to say, there are tiers of access, and the highest tiers have access to all of the games on lower tiers as well as their own.
The new deal envisions three streaming tiers. A few games will be available for free on Apple TV without a fee. Several more, selected again for either matchup or local market size, will be available on Apple TV+. Essentially, this is Apple's "national" deal. Finally, all games will be available on the new MLS streaming service. This tier is the equivalent of the expensive, full-service Regional Sports Networks (RSNs) deals traditional sports sign with cable networks.
Highly Superior Tiering System
We will have to await results, of course, but this seems to me a far superior system. As we've long known and recent events have only re-emphasized, there are two very different kinds of sports fans. Those who want to see a good game, and those who want to see their team's game.
Offering a few games for free will help to introduce soccer to those who haven't given it a try before, hopefully broadening the sport's reach and appeal. On the mid-tier, those who care more about watching a good game than watching a particular team can get regular access to the best matchups without suffering a sticker shock that might drive them away. For the truly hard-core fan who is determined to follow and show loyalty to a particular team, the top-tier MLS service can maximize monetization to make the league viable.
Financially Solid Footing
Apple also doesn't really need things to go all that well for this deal to pan out. Production costs for an MLS season are estimated to be around $50 million, so this deal corresponds more to a $200 million annual traditional rights fee, apples-to-apples. With the old local rights deals that Apple is subsuming into the service estimated at around $80 million and the previous national rights deals around $65 million, Apple isn't even offering that much of an increase on current business. With MLS growing 27% between 2012 and 2017 - COVID kind of scrambles more recent numbers - even just steady growth probably covers the increase. And the whole point of this fan friendly approach is to make growth accelerate.
Of course, MLS's incentive is that the same fan-friendly approach will let it get over the minimums and extract additional revenue… but if that happens Apple can be confident that it is already in the black. And even if it doesn't work as well as expected, barring a complete collapse in league sales, Apple almost can't lose any significant amount of money on this deal.
Cautionary Qualifications
Small Scale Of Soccer
This new approach from Apple is truly revolutionary in design. Whether it can be revolutionary across sports at large, however, is more questionable for one simple reason. The soccer market is small, and will remain relatively so even if all of its high growth projections are hit.
Consider exactly how much is at stake here, compared to more established sports. Assuming a standard 15% commission on sales for Apple, $3 billion in total sales would yield $2.55 billion over 10 years in content payments. We'll call the extra $50 million miscellaneous fees to keep our math nice and even. So essentially, Apple is guaranteeing $3 billion in overall sales, to get to the MLS's $2.5 billion guarantee.
Bear in mind, this is $3 billion over 10 years for all the league's media rights. Meanwhile, the NFL generates well over $10 billion per year in sales for all media rights, and the NBA is targeting close to $8 billion in national media rights alone in its next contract. So MLS is hoping that by 2032 it will be about 3% of the NFL's size, and optimistically maybe even 5% of the NBA's size. It's just hard to talk about "transformational" deals when you control such a small share of the sports pie.
Production Difficulties
It also needs to be acknowledged that one possible reason Apple has signed a deal which, among other things, outsources production of the actual broadcast to someone else is that things in that department haven't been going all that well for Apple. Its baseball broadcasts have been considerably less fan-friendly than we've come to expect of Apple, though again that could be blamed in part on all the different traditional broadcasting boats they have to take care not to rock as they go about their work.
But Apple has also had various problems with talent relations, contract negotiations and reconciliation and settlement. While Apple is a gargantuan power in business, Apple TV+ remains a relatively small player, and its growing pains have been, to put it mildly, not inconsiderable. If Apple is taking a position as a dominant platform, it may be at least in part because it's not as good as being a dominant producer as it thought it would be.
Potential For Similar Deals
Apple's deal with MLS is therefore significant more for what it signifies about other sports and streaming in general than what it represents for soccer specifically. Despite some underwhelming early results in sports, Apple just demonstrated that it truly is thinking big and bold in terms of a sports revolution.
The initial leap in many minds is probably that the NFL is next. Reports have been circulating for months that Apple is among the bidders for the NFL Sunday Ticket, and at one time there was even a report that Apple had actually already won the bid and was just sitting on the news until fall. That's been more or less debunked now.... but today there is another report that Apple has once again been declared the winner, to the tune of a cool $3 billion per year!
Apple very well may win the Sunday Ticket, but it's unlikely that its NFL service would be quite as revolutionary as this. Sadly for fans, the NFL just concluded a new round of broadcast deals and probably can't be turned upside down in this fashion, since Apple will only control out-of-market rights even if it wins. It can't create a truly comprehensive NFL service.
But other leagues are more promising. The NBA's deals are expiring in two years and probably due to start heating up new deal talks any week now. MLB is officially locked up for a while yet, but unofficially its RSN partners are in such financial straits that its rights may come back on the market far sooner than expected. Such RSN troubles might cause the NHL's rights to boomerang back onto the market as well, since they're all under the same corporate umbrellas.
Does Apple want similar deals with all of these leagues? If it does, it has the money to get all of them. And if it secures similar exclusivity for its platform on all of them, it could make Apple TV into the dominant streaming platform almost overnight.
Implications For Other Stocks
Even if the final result ends up being not quite so revolutionary and Apple-centric, other streamers like Comcast (CMCSA) and Disney (DIS) might find their own worlds turned upside down, even if they manage to hold onto their rights.
Most impressive of all in this is simply the design of the system itself. It reflects Apple's characteristic customer-focused approach and not the frequently self-defeating exploitive approach of traditional broadcasters and team owners. If this is an indication of how Apple intends to approach streaming negotiations going forward, the sheer fan appeal of this approach means that regardless of whether Apple wins the bid or not, other streamers are going to have to become more open-minded to new approaches.
Fans will probably demand a certain level of customer-friendliness once Apple demonstrates it's possible. Even the more successful sports streamers like Paramount (PARA) probably need to prepare to make some concessions.
Summary
This deal is, by itself, not that significant for the simple reason that it is so much smaller than the Big Four US sports, and what they sell their rights for. But if it is an indication of how Apple will approach sports going forward, it could be remembered as the harbinger of the last big domino to fall in the streaming revolution, that of sports leagues converting to streaming. And if it works well, other sports leagues may even actively try to get their rights back onto the market early, so they can take advantage of Apple's new approach - and new willingness to spend.
I rate Apple a strong Hold, potentially moving up to a Buy as this plays out.