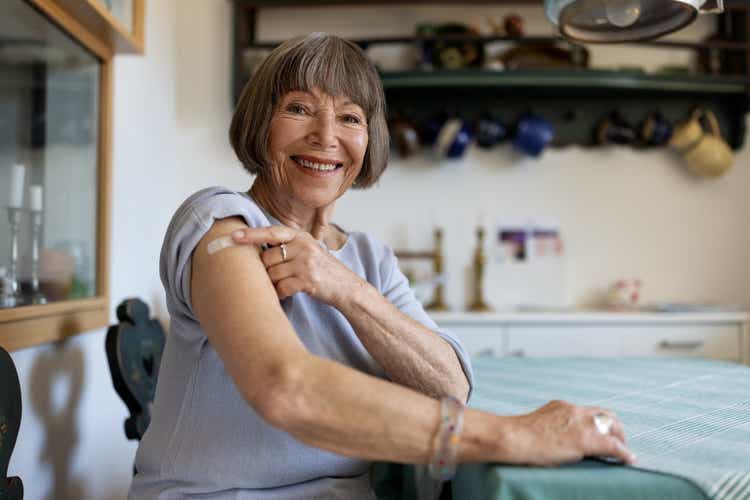 Background for Emergency Use Authorization of Novavax COVID Vaccine
On Wednesday, Novavax (NASDAQ:NVAX) and its long-suffering shareholders finally received the news they had been waiting for since late 2020 - NVX-CoV2373, the company's sub unit protein COVID vaccine, was awarded an Emergency Use Authorization ("EUA") by the FDA.
Novavax shares traded at a price of ~$4 prior to the COVID outbreak in March 2020 as the company struggled to persuade the authorities to approve an RSV and an influenza vaccine, but the company was quick to develop an adjuvanted COVID vaccine candidate, which early data suggested could be among the frontrunners for a first EUA.
Novavax was selected to participate in Operation Warp Speed - the government's official COVID vaccine program - and awarded ~$1.6bn of funding. By August 2020, its stock price had risen to a staggering $170. But the company struggled to complete trials in the UK and South Africa, and it was Moderna (MRNA), and Pfizer (PFE) / BioNTech's (BNTX) revolutionary messenger-RNA vaccines - SpikeVax and Comirnaty - that secured EUAs in December 2020. That still did not stop Novavax' share price surging to an all-time high of $290 in February 2021, however, as investors kept the faith.
As Moderna and Pfizer began to roll out their vaccines in the US and EU, Novavax struggled to complete a Phase 3 study in the US and Mexico, and had to watch from the sidelines as the two approved vaccines generated nearly $50bn of revenues in 2021, a figure that's likely to be repeated in 2022.
Novavax shares plunged in value as delay after delay frustrated the approval process, and as it became clear it would not play a role in the global, government sponsored, mass vaccination programs, shares sank in value, hitting a two-year low of $40 in June this year.
Nevertheless, Novavax reported revenues of $704m in Q122, as NVX-CoV2373 - known as Nuvaxovid overseas outside the US - gained authorization in the UK, Canada, Australia, Switzerland, Singapore and New Zealand, and thanks to a partnership with the Serum Institute in India, South Korea, Thailand and Bangladesh. The European Medicines Agency ("EMA") handed Nuvaxovid a "conditional marketing authorisation" on 20th December 2021.
Announcing Q122 results, Novavax management guided for FY22 revenues of $4 - $5bn, based on an anticipated emergency use approval in the US.
After an Advisory Committee convened by the FDA voted 21-0 that NVX-CoV2373 ought to receive an EUA in the US, Novavax was finally able to announce that it had received it on Wednesday, and as the news broke, shares hit a three-month high of $76.
Unfortunately, and in keeping with Novavax' recent history, no soon as the EUA news broke, management found themselves forced to deal with a fresh crisis.
Nuvaxovid Label Update from EMA Triggers Fresh Safety Concerns
Yesterday, with impeccable timing, the European Medicines Agency ("EMA") issued a safety update covering all vaccines approved in the EU, in which it highlights a change to Nuvaxovid's safety label, as follows:
Following PRAC's assessment, anaphylaxis (severe allergic reaction) will be included in the EU product information as a side effect of Nuvaxovid, together with an update of the existing advice for managing risk of anaphylaxis (see box below).

The frequency category will be "not known," as it's generally difficult to robustly estimate side effect frequencies from spontaneously reported cases of suspected side effects.

A few cases of anaphylaxis have been reported spontaneously with use of Nuvaxovid. Generally, cases reported spontaneously by a patient or healthcare professional concern suspected side effects, i.e. medical events that have been observed after vaccination, but which are not necessarily related to or caused by the vaccine
Additionally, the EMA states that:
Paraesthesia (unusual feeling in the skin, such as tingling or a crawling sensation) and hypoaesthesia (decreased feeling or sensitivity, especially in the skin) will be included in the EU product information as side effects of Nuvaxovid.

Cases of paraesthesia and hypoaesthesia have been reported spontaneously with use of Nuvaxovid (189 paraesthesia and 67 hypoaesthesia cases reported worldwide from more than 1.5 million vaccine doses distributed worldwide by 31 May 2022).
That works out at about one case of pareesthesia or hypoasthesia in every 6k patients, and in a brief statement released yesterday in response to the news, Novavax states that it has received reports of two cases of anaphylaxis that "met a probable / definite case definition.
What Are Novavax' Vaccine's Side Effects?
Upon announcing the news of its EUA win in the US, Novavax discusses safety results from its pivotal, 30k patient trial in the US and Mexico - which achieved a 90.4% efficacy readout - as follows:
Among participants 18 through 64 years of age, solicited adverse reactions ("AR") following administration of any dose of the Novavax COVID-19 Vaccine, Adjuvanted were injection site pain/tenderness (82.2%), fatigue/malaise (62.0%), muscle pain (54.1%), headache (52.9%), joint pain (25.4%), nausea/vomiting (15.6%), injection site redness (7.0%), injection site swelling (6.3%), and fever (6.0%).

In participants 65 years of age or over, solicited ARs following administration of any dose of the Novavax COVID-19 Vaccine, Adjuvanted were injection site pain/tenderness (63.4%), fatigue/malaise (39.2%), muscle pain (30.2%), headache (29.2%), joint pain (15.4%), nausea/vomiting (7.3%), injection site swelling (5.3%), injection site redness (4.8%), and fever (2.0%).
Although the percentages appear quite high for e.g. injection site pain, fatigue and muscle pain, these adverse reactions are broadly in keeping with the MRNA vaccines developed by Moderna and Pfizer / BioNTech. This chart from WebMD provides a useful comparison, and it's interesting to note that the FDA previously issued warnings relating to cases of myocarditis and pericarditis - conditions that can permanently damage the heart - in SpikeVax and Comirnaty
It should also be noted that the Centers for Disease Control and Prevention identified 21 cases of anaphylaxis among the first 1.9m doses of the Pfizer vaccine - known as Comirnaty. 19% of these patients were hospitalized, 81% treated in an emergency department, and 95% were known to have made a full recovery at the time of the report's release.
As such, although the news of the EMA's label change is bad publicity for Novavax at a time when the company expected to be celebrating a first ever drug authorisation (after 35 years of trying), it's not necessarily unexpected, based on the safety profiles of other major vaccines, and does not necessarily make the vaccine any more dangerous than Moderna's Spikevax, or Pfizer's Comirnaty.
All vaccine recipients are required to wait for 15 minutes after receiving a dose in case there are any severe adverse reactions, and that will naturally also be the case with Nuvaxovid. Nuvaxovid's safety profile is less well established than SpikeVax or Comirnaty because it has been administered to far fewer patients in a real world setting.
The two cases of anaphylaxis observed to date seem to suggest the overall rate will be similar to that of Comirnaty i.e. extremely rare, although safety is of course of paramount importance.
Should the number of cases escalate, it will be a major cause of concern, but to argue that the EMA's adjustment to Nuvaxovid's safety label makes Nuvaxovid a more dangerous vaccine that those currently approved would seem to be an erroneous conclusion at this stage.
How Does The Vaccine Authorization Affect Novavax' Share Price?
If we assume, as Novavax has done, and as appears to be the case with Comirnaty (and probably SpikeVax too) that cases of anaphylaxis will be extremely rare with Nuvaxovid, then as I expressed in my last note on Novavax in June, the company's stock appears to be undervalued if we study the fundamentals.
Novavax' current market cap is $4bn, which, when we consider the company is guiding for revenues of $4bn - $5bn in FY22, is very low - the price to sales ratio is <1x.
Moderna, for example, is guiding for revenues of ~$20bn this year, while its market cap is $63.6bn - a forward P/S ratio of >3x, and BioNTech is guiding for revenue of ~$15bn, and its market cap is $37.5bn, which translates to a P/S ratio of ~2.5x.
That difference in valuation may be justified by the fact that Moderna and BioNTech earned >$15bn each from their vaccines in 2021 - a figure Novavax will be lucky to reach over a five-year period supplying Nuvaxovid - but even so, does Novavax deserve a market cap valuation that is >15x lower than Moderna, and nearly 10x lower than BioNTech, when the companies are now effectively competing in the same markets, with a product that has an almost identical efficacy and safety profile?
It's an interesting question. SpikeVax and Comirnaty are the market incumbents, and control the US and European markets, but should a decision be taken that another global round of mass vaccinations will take place this fall, might Novavax be able to exceed its FY22 sales guidance?
The company has a powerful ally in the Serum Institute, and the US Department of Health and Human Sciences ("HHS"), in collaboration with the Department of Defense ("DoD"), announced this week that they will buy 3.2m doses of Novavax's vaccine.
As well as having deals in place to supply product in more than 15 countries globally, and to the World Health Organization's ("WHO") Covovax program, Novavax is attempting to position itself as the vaccine skeptics' vaccine, given that it uses a more traditional approach compared to the MRNA vaccines. Nuvaxovid also has demonstrated reasonably strong efficacy against all strains of COVID, and it's easy to transport and store.
The FDA has suggested that all COVID vaccines are tweaked so that target omicron BA.4 and BA.5 spike protein components are included ahead of a potential new round of mass vaccination in the fall, and Novavax says it has a clinical trial ongoing to that effect and will have a product ready for Q422.
Given the struggles the company has had getting its original vaccine over the line, however, how much faith should investors have that a new version will be ready in time, that can compete with the vaccines that Moderna and Pfizer will doubtless have ready on time?
Nuvaxovid Can Target "Best of the Rest" Status
There's no question that Novavax failed to deliver its vaccine in time to target a meaningful share of the ~$100bn COVID vaccine market in 2021/2022, even though, based on studies and real world data gathered to date - it had a vaccine with a comparable safety and efficacy profile to SpikeVax and Comirnaty.
As I have discussed in previous notes, that effectively means that the days of a >$250 share price, or a >$20bn market cap are likely long gone. Nuvaxovid is unlikely to challenge the supremacy of Moderna and Pfizer's vaccines even if a new round of mass vaccinations arrives in the fall, or in a private market should COVID become an endemic disease, as seems likely.
Novavax' vaccine and its next iteration - should the company be able to make it on time - could become the "best of the rest" vaccine, however, and it doesn't seem too far-fetched to say that Nuvaxovid could be a blockbuster (>$1bn sales per annum) seller for at least 5 more years after 2022, when I expect the company to meet at least the lower end of its guidance of $4bn.
Novavax could gain a 5% share of a $20bn per annum private vaccine market, or supply government's looking to stockpile doses, or even develop a dual influenza / COVID targeting vaccine ahead of the competition. There are still plenty of opportunities for the company to win in this market.
Conclusion: Novavax Stock Forecast
As such, I believe that the negative reaction to the EMA's new safety labeling for Nuvaxovid will dissipate, and the boost from the US EUA will be more sustained, pushing up Novavax's share price and market cap valuation. I suspect that 2022 will likely be Novavax's best year of sales of Nuvaxovid if guidance is hit, but I also believe that the company can generate >$1bn per annum of sales from Nuvaxovid for the next 3-5 years, and likely drive a strong net profit margin, as Moderna and BioNTech do.
My price target for Novavax stock would therefore be around the $75 mark, valuing the company at ~$5.9bn - a ~48% premium to today. That reflects a revenue opportunity of ~$10bn all told for Nuvaxovid over five years, plus the possibility that Novavax can release new vaccines targeting Omicron variants, and perhaps a combo booster too.
Many market watchers may disagree, and post their own thoughts below. The next step for Novavax management is to submit its biologic license application ("BLA") to the FDA seeking full approval of Nuvaxovid, which could happen before the end of 2022, try to rollout an Omicron variant strain vaccine in time for the next round of mass vaccinations, and initiate a Phase 2 influenza combination vaccine.
There's still much to play for in the COVID vaccination market, and Novavax stock ought to ultimately gain more from this week's developments than it loses.