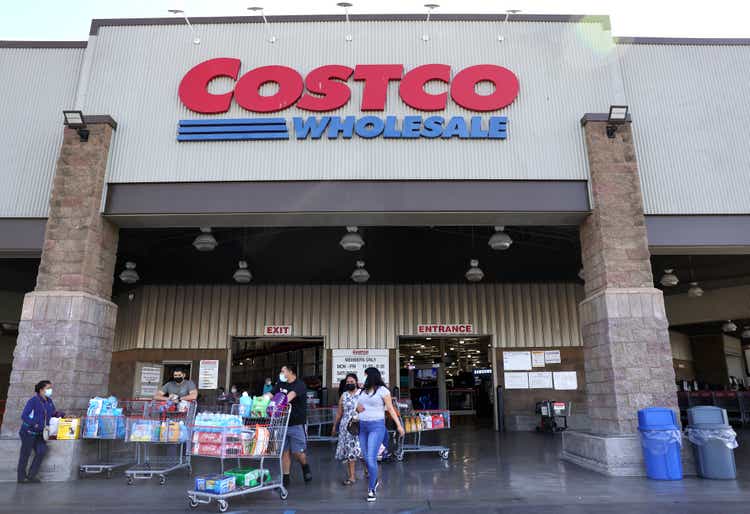 Costco Wholesale Corp (NASDAQ:COST) is the world's 3rd largest retailer through its members-only warehouses featuring low prices and bulk discounts. The model has been highly successful including a new wave of momentum this year with shoppers looking for savings amid record inflation squeezing discretionary budgets. Indeed, shares of COST have outperformed in 2022 supported by better-than-expected sales and earnings that have been relatively resilient compared to the broader market selloff.
That being said, we highlight the recent rally since the last quarterly report has pushed shares into a pricey valuation range. While we believe Costco is a long-term winner, high expectations over the coming quarters against tough comparables along with potential operating headwinds including declining gas prices may add volatility to the stock. This article covers the themes to watch.
What Was Costco's First Half Sales?
It's been about two months since Costco last reported its fiscal Q3 earnings with non-GAAP EPS of $3.17, which beat expectations by $0.15. Revenue of $52.6 billion, an increase of 16.2% year-over-year, was also $1.1 billion above estimates.
This was an otherwise solid report brushing aside concerns that the high inflation environment and more challenging economic conditions were hitting consumer spending. Indeed, strong comp sales up 16.6% y/y in the U.S and 14.9% globally in Q3 suggest Costco members are shifting purchases to the wholesaler. There is a sense that consumers being squeezed by higher prices are looking at Costco as an option to save money through bulk purchases. The dynamic is evident from higher traffic trends and average ticket figures.
Year-to-date sales are up 14.8% or 10.6% on an adjusted basis, which excludes the impact of changing gasoline prices and foreign exchange. Q3 volume of gasoline sold climbed an impressive 24% contributing about 5.1 percentage points to net sales. This is important because volatile gas prices can result in large swings in net sales over time which we discuss below.
For context, Costco offers gasoline stations at many of its locations typically at a discount to local retail pricing. This strategy is seen as driving shoppers to its warehouse locations although the segment is recognized as low margin. The firm-wide gross margin at 10.2% in the quarter fell from 11.2% in the period last year in part based on the strong contribution from fuel sales resulting in a shifting sales mix. General merchandise margins were also slightly lower related to headline-making supply chain disruptions and higher logistics costs.
COST Stock Key Metrics
In terms of financials, the takeaway here is the higher profitability. Efficiency efforts and cost controls helped SG&A as a percentage of revenue in Q3 declined to 8.6% from 9.5% in Q3 2022. The result helped operating income climb 8% y/y in Q3 and is now 19.5% higher compared to the first nine months compared to last fiscal year.
One of Costco's strengths is its rock-solid balance sheet. The company ended the quarter with $11.1 billion in cash and equivalents against $6.5 billion in long-term debt. Costco has been active in share repurchases, buying back $139 million in stock during Q3 with approximately $3 billion remaining under the active authorization. The quarterly dividend of $0.90 per share was last increased from $0.79 in April, with the annualized amount yielding a modest 0.6% on a forward basis. Historically, the company has made a special dividend distribution every 2-3 years as part of its capital allocation.
Is COST a good Long-Term Investment?
There's a lot to like about Costco as a great company and high-quality stock. One of the most positive aspects of its business model is its brand loyalty among customers and momentum in its "Kirkland Signature" private label. Management notes its private label continues to gain penetration with many members embracing the selection as a preferred option regardless of the price point.
The company continues to grow its membership count, reaching 116.6 million up 6% y/y. Within that figure, management notes that 43% are "executive members" which is a higher tier membership eligible for additional rewards recognized as the most loyal customer group and responsible for a higher percentage of recurring shopping. Overall renewal rates above 92% have climbed over the past year.
Costco ended the quarter with 829 warehouses globally, including 151 outside the U.S. and Canada. The expectation is that the company continues to open 20-25 new locations each year going forward adding about 3% to its global footprint.
According to consensus estimates, including the year-to-date results through Q3, the market is forecasting full-year revenue growth of 15.5% and EPS of $13.10, up 18% over 2021. Looking ahead, the forecast is for revenue to climb in the high single-digit range through fiscal 2025 while EPS growth averages around 10% between 2023 and 2024. The tailwind here includes continued expansion of warehouse locations along with a greater contribution from e-commerce and a push into new growth categories.
As it relates to valuation, shares of COST trade at a forward P/E of 40x which represents a premium compared to other major retailers. Walmart Inc (WMT), BJ's Wholesale Club Holdings Inc (BJ), and Target Corp (TGT), for example as a few comparables, trade at an average forward P/E closer to 20x. In some ways, the justification for the spread of COST is based on its stronger earnings growth profile and perceived higher quality fundamentals. Notably, COST has a net cash balance sheet position while the others in this group are leveraged with some debt.
On the other hand, it's important to note that these are not apples-to-apples comparisons. Based on different operating models, COST generates the lowest gross and operating margin in this group reflecting its efforts at deep discounting and the ongoing international expansion. Walmart Inc for example also has a larger e-commerce presence. The dividend yield with COST at 0.6% is also low compared to TGT at 3% and WMT closer to 2%. The point here is to say that while Costco continues to perform exceptionally in terms of operating and financial execution, we can make the case that shares are pricey.
COST Stock Price Forecast
Looking back at the price action since the better-than-expected fiscal Q3 report, it's clear that the rally in shares has already incorporated much of the strong trends. The stock is up 30% from a low in early May and nearly 25% from the Q3 earnings release. In other words, it may have been a great trade at the bottom but we see the upside as limited from here.
One dynamic that could be used to pour some cold water on the stock is a sense that getting into 2023, tough comparables from 2022 will be challenging to outperform which we believe will be necessary for shares to maintain momentum. Considering the sales momentum in the first half of the year has in large part been driven by strong fuel sales, the more recent trend of declining gas prices nationally based on lower oil price benchmarks can set up a headwind if members no longer have the urgency to only fill up at Costco fuel stations.
From a high level, Costco's operational trends are also exposed to the changing macro environment. One of the headlines in recent months has been retailers reporting a glut of inventory forcing a widespread effort at discounting merchandise to move items off shelves. We can see a scenario where a competitor like Target advertising compelling sales ends up pulling the customers away from Costco at least at the margin. Putting it all together, the risk is that consensus estimates now have room to underperform high expectations.
Is COST Stock A Buy, Sell, or Hold?
Balancing our positive long-term view of Costco against what we believe are near-term headwinds, we rate COST as a hold. The stock's premium valuation leaves little room for error and the potential that softer fuel sales through the second half of the year could add some volatility to upcoming quarterly earnings. A correction down to $480 may set up a better entry point as a new buying opportunity.
On the upside, one development investors should keep an eye on is any indication Costco may hike its annual membership fees. This topic was briefly touched on during the last earnings conference call since the company is approaching the 5.5-year cycle of traditional rate hikes. While the actual financial impact on earnings is marginal, it's possible the news could represent a short-term catalyst for the stock. A new surge in gas prices would also be positive for Costco as it relates to its fuel business. Monitoring points going forward include comparable sales along with margin levels.