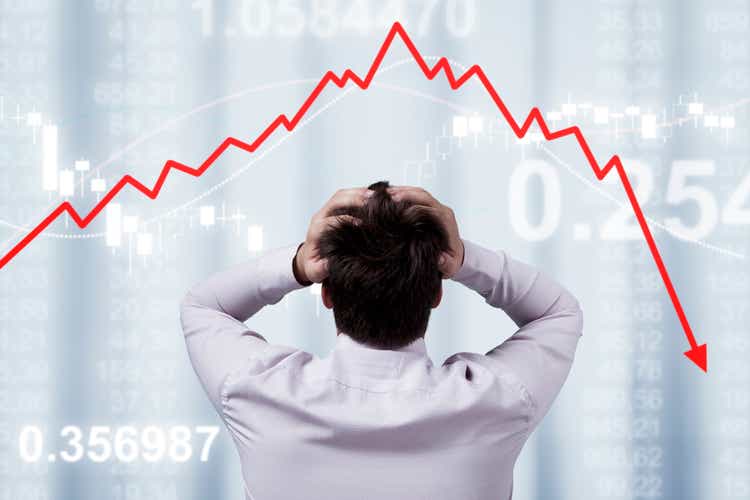 Year-to-date, the major stock market indexes like the S&P 500 (SPY), Nasdaq (QQQ), and Dow Jones Industrial Average (DIA) are all meaningfully down:
We believe that this was generally warranted after the market's epic post-COVID run-up that seemed to carelessly disregard the negative impacts of lockdowns, reckless government spending and money printing, and rising risks of inflation, interest rates, and geopolitical turmoil. Now, with the global economy increasingly likely to be headed towards recession, investors are entirely validated in taking a more skeptical approach to markets and stock valuations.
A sector that has been particularly hammered is high growth tech (ARKK) and even some mega cap tech names like Tesla (TSLA), Netflix (NFLX), Meta (META), and Amazon (AMZN):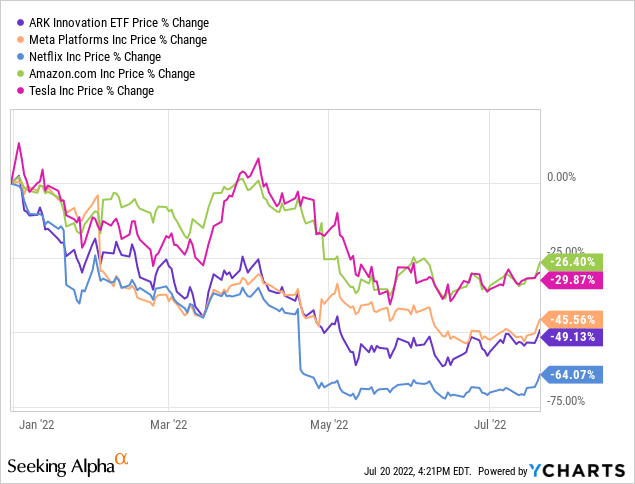 While we believe that each of these selloffs were warranted as market euphoria had gotten too extreme on high growth futuristic names, we also believe that the market has overreacted in some cases. This is particularly true in several high yielding sectors like REITs (VNQ) and midstream energy (AMLP).
We like many REITs right now because while inflation and interest rates are soaring, many of the REITs that we invest in are actually benefiting from these negative trends as much as - if not more than - they are being hurt by them:
Despite all of these benefits, REIT public valuations have tumbled, meaning that investors can snatch up shares at deep discounts to NAV.
Midstream energy is probably our favorite opportunity at the moment because equity valuations remain at suppressed levels despite the market for North American energy arguably never being better than it is right now. On top of that, their balance sheets are stronger than ever with debt maturities largely cleared out for the foreseeable future in most cases, leverage levels at historic lows, and interest rates almost entirely fixed. Last, but not least, midstream businesses - most of which are seeing CapEx budgets declining rapidly - are very inflation resistant with inflation indexes linked to almost all pipeline contracts and are also quite recession resistant with very stable cash flow profiles. With free cash flow gushing, distributions growing, and many businesses buying back equity and debt hand over fist, midstream appears poised to deliver phenomenal risk-adjusted returns for years to come.
Here are some of our favorite picks of the moment from each of these sectors.
REITs
Midstream
Investor Takeaway
The current selloff - while largely warranted by macroeconomic factors and stock market valuations - has also created some highly compelling opportunities. By investing in those opportunities that are poised to be relatively immune or even benefit from current macro trends that are largely deemed headwinds by Mr. Market, while also trading at highly compelling valuations, investors can position themselves for massive outperformance in the coming months and years.
While we recently released our list of our very top picks to members of High Yield Investor, we believe the picks that we shared with you today also offer compelling value at the moment and should combine high current yields with significant outperformance in the years to come.
If you want access to our Portfolio that has crushed the market since inception and all our current Top Picks, join us for a 2-week free trial at High Yield Investor.
We are the fastest growing high yield-seeking investment service on Seeking Alpha with ~1,350 members on board and a perfect 5/5 rating from 145 reviews.
Our members are profiting from our high-yielding strategies, and you can join them today at our lowest rate ever offered.

You won't be charged a penny during the free trial, so you have nothing to lose and everything to gain.