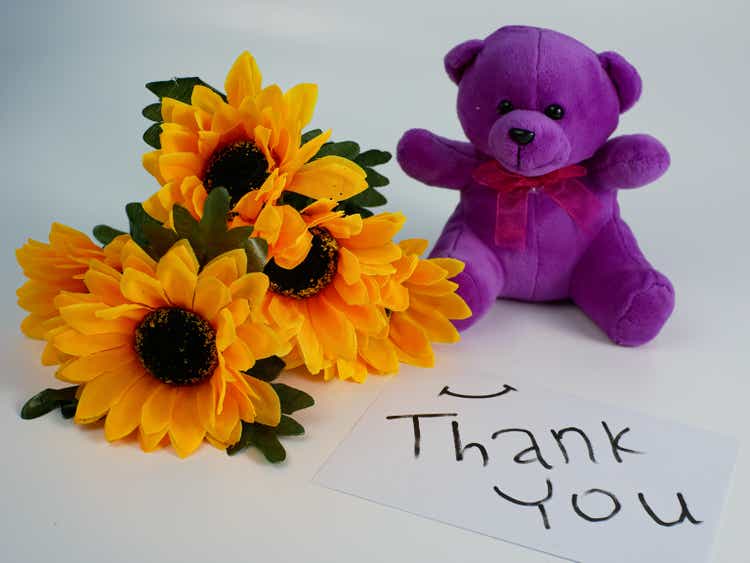 This article was coproduced with Wolf Report.
Let's start out with a quote from Benjamin Graham (emphasis added):
"The intelligent investor realizes that stocks become more risky, not less, as their prices rise – and less risky, not more, as their prices fall. The intelligent investor dreads a bull market, since it makes stocks more costly to buy.

"And conversely (so long as you keep enough cash on hand to meet your spending needs), you should welcome a bear market, since it puts stocks back on sale."
With that established, let's discuss office real estate investment trusts ((REITs)).
Admittedly, that space is a complex segment, especially with the current macro we're moving deeper and deeper into. Uncertainty about where we're going exactly, how, and why is high.
As such, investors need to be very clear as to what we're investing in.
You may recall an article iREIT published last week titled "REITs to the Rescue," which explained how:
"... office REITs are in somewhat of a tug-of-war. So we want to focus on the highest-quality, best-situated assets outperforming… Those with the best balance sheets, modest floating-rate debt, and well-laddered maturities."
Included in our top office sector picks at the time was Alexandria Real Estate Equities, Inc. (NYSE:ARE). Today, we want to do a deeper dive on why it's an outlier worth considering.

Alexandria Real Estate – An Outlier!
Alexandria Real Estate started out with a fairly unique vision, choosing to only serve clients in the life-science industry.
It was established and listed 28 years ago and, today, its market capitalization is over $24 billion. Also worth pointing out is how it's a member of the S&P500… and how it has a BBB+ S&P Global credit rating and a Baa1 from Moody's.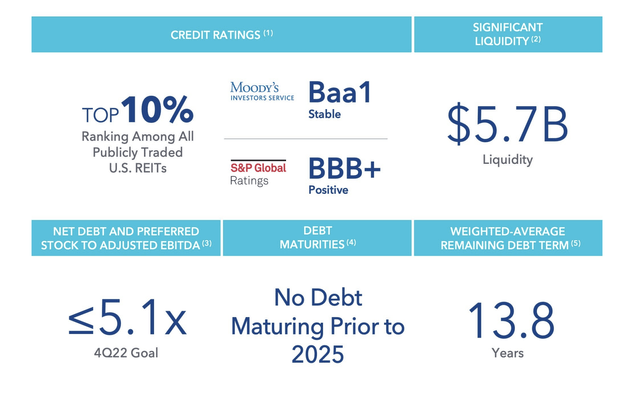 Admittedly, its yield is only around 3.2% after a two-month drop. Moreover, even 3.2% is well above what it usually offers.
Those who know their REITs immediately recognize that's not the most attractive amount ever. Yet it's not the lowest, either.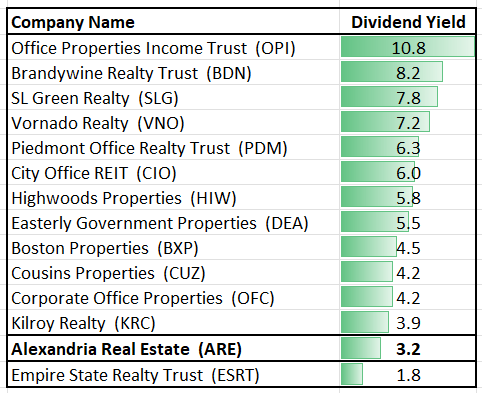 So let's explore exactly why…
ARE earns annual revenues of around $2.1 billion. Its earnings before interest, taxes, depreciation, and amortization (EBITDA) are $1.34 billion. And its interest expenses are around $142 million.
As such, ARE has EBITDA-based interest-rate coverage of 9.4x and a fixed-charge coverage of 3.1x. Net debt/EBITDA, meanwhile, stood at around 6.3x for 2021.
In addition, higher yields automatically trigger assumptions of risk, with good reason. Lower yields do the opposite… which is very justified, as we can easily see.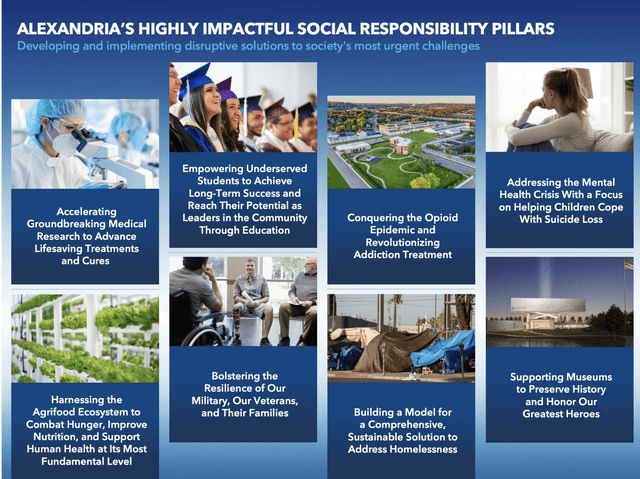 Among U.S. REITs, it's among the top 10% in total equity capitalization. This helps it borrow at a blended interest rate of 2.51%...
Which even the latest macro hasn't done much to increase on average even though its main markets are:
Boston – 35%
San Francisco – 25%
San Diego – 16%
Seattle – 6%
Maryland – 6%
All put together, ARE has 426 properties with a gross leasable area of 47.4 million square feet. Occupancy was 94.7% as of the latest quarter with renters like:
These are some extremely strong companies that aren't going anywhere.
More Money-Making Facts About ARE
The tenants above – which are mostly A graded or better, mind you – are all part of Alexandria's top annualized base renters list. Yet even all put together, they represent less than 15% of total ABR.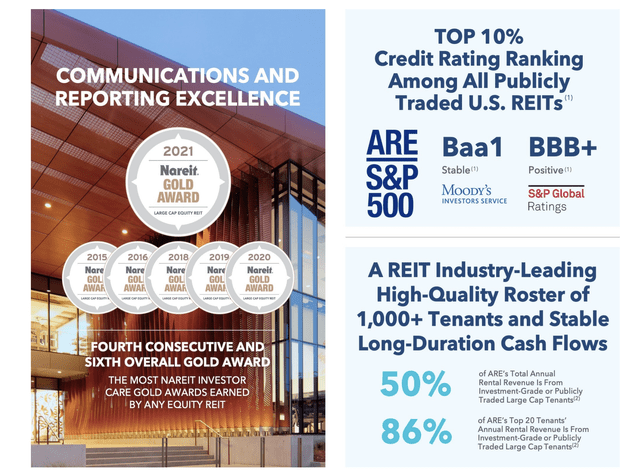 That's a good thing, showing that Alexandria has "doubled down" on safety.
Like we said earlier, it began by focusing only on life science and tech… then tightened its standards further by leasing significant amounts to only the best in the business – yet in such a way that its top tenant, BMY, represents less than 3.6% of its total ABR.
And ARE's latest quarterly report goes a long way to ensure that this safety continues. The REIT saw renewal rent spreads increase 16.5% year-over-year for 864,000 square feet, and same-property net operating income (NOI) increase 7.6% on a GAAP basis.
Meanwhile, core funds from operations (FFO) was up 7.4% YoY. And the company's ongoing development pipeline is more than half-finished going into this new environment.
ARE also managed to issue $1.8 billion worth of senior unsecured notes with a due date in 2023-2025 – before most of its macro and interest issues.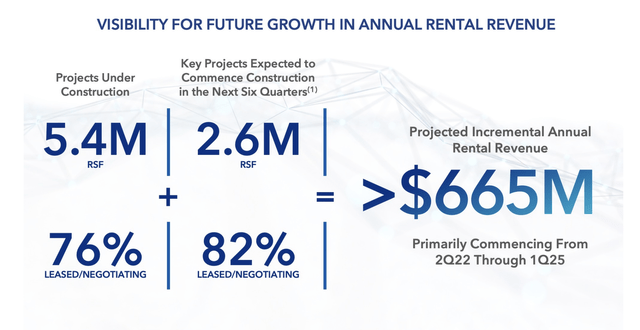 Based on a Q1-22 run rate, annual 2022 revenue should come in at $300 million above 2021, at revenues of close to $2.5B, with EBITDA of above $1.55B. This would imply an EBITDA/interest coverage of 13.3x and a fixed charge coverage of up to 3.5x.
It would also decrease leverage down to the 6x mark. That and mark down the AFFO payout ratio to close to 75%.
This should give ample room to increase the company's conservative dividend.
Overall, ARE has executed very strongly on leasing, development, and its pipeline… leading to very good visibility for future growth.
Our Attraction Grows
ARE owns and develops some of the most attractive properties in this entire sector… in the entire nation... and around the globe.
Just take Alexandria Point as an example. It involves the second-largest lease in the company's history and deepens its relationship with BMY in San Diego.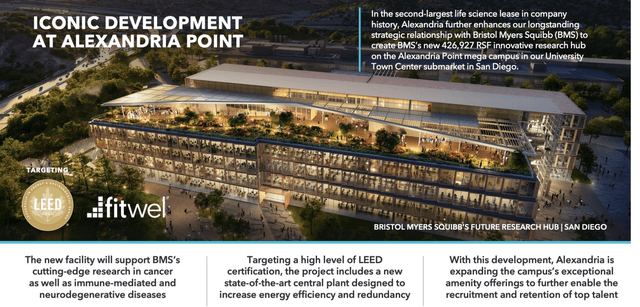 ARE has proven its ability at managing its portfolio in general for its 28 years. That's how, in 2021, ARE's annual leasing volume was twice that of pre-pandemic levels and therefore their absolute highest ever.
Quarterly leasing for Q4-21 alone was nearly annual levels of preceding years. And the company also completed its largest acquisition ever in the Alexandria Center for Life Science – as part of its upcoming Fenway Mega Campus – for around $1.5 billion.
Naturally, this has spurred some truly unprecedented levels of growth. ARE still has 4.8 million square feet of leasable space under construction, with 2.6 million square feet expected to be finished in the next six quarters or so.
The pre-lease on these square feet, either leased or in negotiation, is already close to 90%. So we're looking at even further confirmation of ARE's near-and-mid-term upside, with incremental annual rental revenue increases of $610 million.
The REIT had an industry-leading adjusted EBITDA margin of 72% in 2021. And it continues to make improvements to its credit rating — which is now in the top 10% of all publicly-traded REITs.
The downside to all of this, naturally, is price. 2021 was simply too strong a year. In fact, if we had shares in it back then, we probably would have taken gains when they hit over 25X P/FFO.
No company, no matter how good, deserves that sort of premium.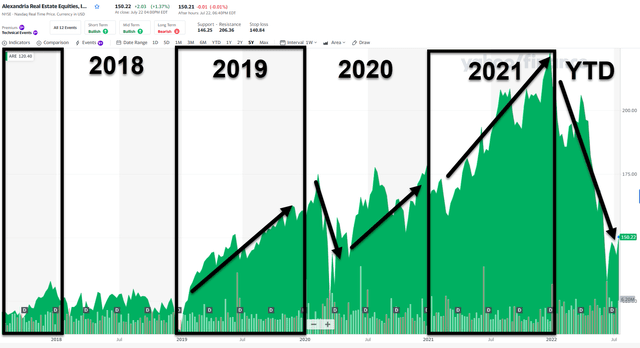 But this year is a very different story, as we'll show below.
ARE Stock Valuation
Now, based on fundamentals, Alexandria Real Estate does deserve to trade at a premium, which it typically does. However, it began trading above 25x FFO last year, and that was too much.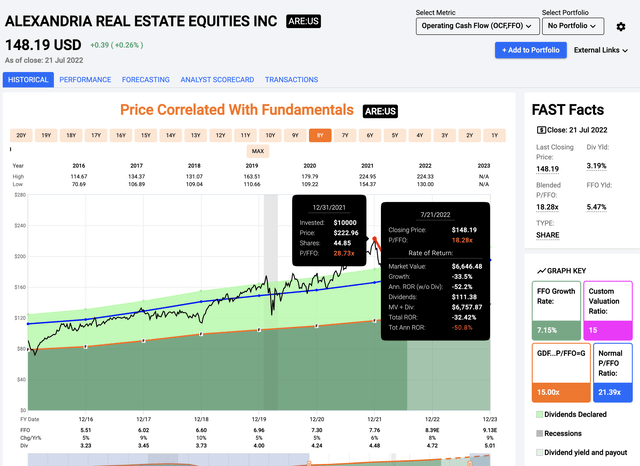 Now, the chart above could imply that ARE isn't a good investment considering how much it lost in less than seven months. However, that's like being upset because you bought something worth $5 at a $10 price tag.
Valuation is a pillar to being an intelligent investor! It's the metric we always spend the longest time calculating and looking at.
Over the last 20 years, ARE has averaged a P/FFO of 17.5x. And for the past 10, it's around 21x.
We think that's justified and something that will remain consistent going forward. The cost of building has increased, for one thing. So established REITs like ARE with world-class clients and assets deserve higher premiums.
As such, ARE trading below 18.5x is intriguing for a few reasons.
First and foremost, it has a very high-quality and visible overall pipeline of revenue and EBITDA increases hailing from new leases and properties over the next 3-5 years. So even if we see significant inflation headwinds and interest rate increases…
ARE's re-leasing trends, efficiencies, and growth will result in profitable FFO/EBITDA growth. Its 20x-22x P/FFO premium therefore remains intact.
The upside for ARE – even based on a lower 20-year average of 17x-18x – is now almost 11% annually, beating market expectations. And if we consider normalization to a premium, that upside grows. Quickly.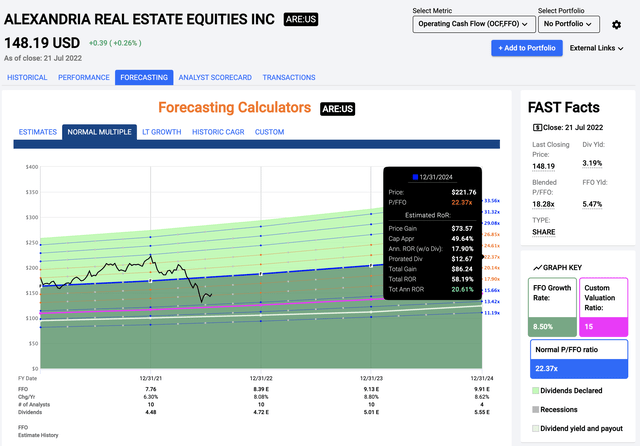 ARE here has an estimated – and likely – 2024 upside of close to a 60% rate of return. There are REITs with more upside, but there are very few REITs with portfolios and client diversification as well as quality such as this one.
In Conclusion…
The chance that any of ARE's top clients find themselves unable to pay their leases is close to zero. That's part of why it gets a coveted "100" quality score from us.
And take a look at how its coverage ratios have developed since 2016.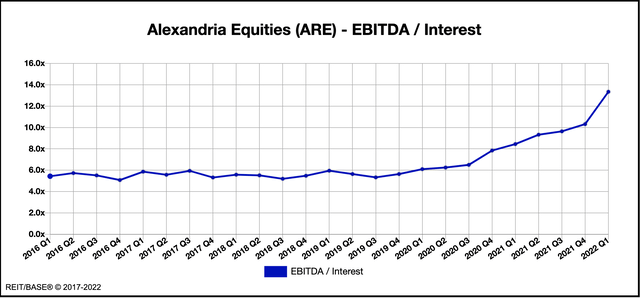 Now look at its AFFO-based dividend payout ratio (considering the pandemic an outlier, of course).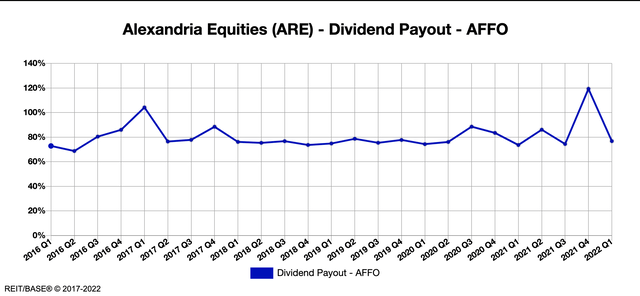 ARE is very skilled at keeping its payout under control while delivering growth.
Its subsector contains a lot of risky REITs, admittedly. But ARE isn't one of them.
That's why its EBITDA/interest coverage, fixed-charge coverage and safety metrics are close to 1.8x-2x the sector average. Incidentally, the sector average for total debt/book is close to 41%, while ARE has 28%.
The only metric where ARE doesn't exactly shine is straight yield. The sector average is now close to 5%, whereas ARE is at around 3.2%, as noted earlier.
But we argue that, in terms of safety, very few REITs come close to matching it. And in terms of valuation, we consider it a "Buy."
Our target comes to $170, which gives us a margin of safety of around 12% with plenty of room to add. In fact, I already added shares to my family trust portfolio.
The earnings conference call is on Tuesday, July 26th. I will be interviewing the CEO, Joel Marcus, on Wednesday for iREIT on Alpha members.
Alexandria Real Estate Q2 2022 Earnings Update
We edited this section as ARE has since released Q2-22 earnings after the original article was published at iREIT on Alpha (shares +1.2% after hours). ARE now expects 2022 FFO per share of $8.38-$8.44 vs. previous range of $8.33-$8.43, and exceeding the consensus estimate of $8.38.
Net operating income (cash basis) of $1.6B, annualized, compares with $1.5B in the prior quarter; increased 24.3% Y/Y; same-property NOI rose 7.5% Y/Y in Q2 vs. 7.6% in Q1. On a cash basis, same-property NOI increased 10.2% Y/Y vs. 7.3% in Q1.