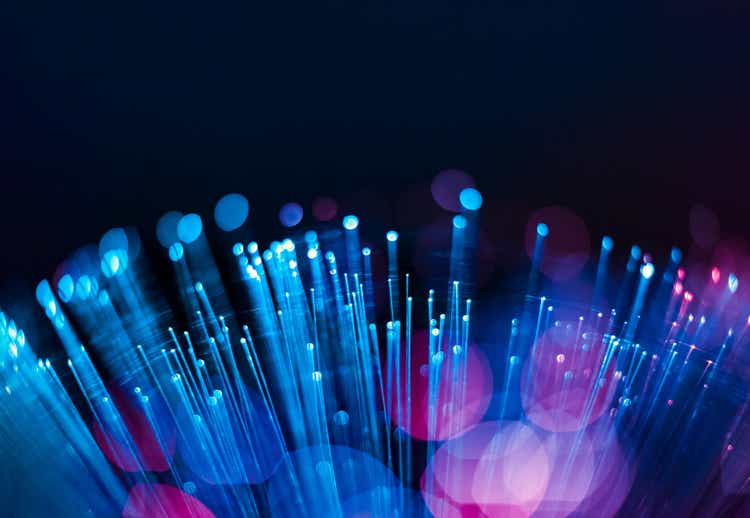 Despite great value with a forward price-to-earnings of 14.8 times, Corning (NYSE:GLW) stock is in a downtrend. Investors fail to recognize the company's growth prospects in communications and solar. Corning posted strong second quarter results. However, its third quarter outlook is below consensus estimates.
Should investors buy GLW stock? Shares pay a dividend that yields nearly 3%.
Mixed Second-Quarter Results
Corning posted revenue growing by 7.4% Y/Y to $3.76 billion, barely missing estimates by $30 million. It earned 57 cents a share (non-GAAP), beating estimates by a penny. The company benefited from strong performance in its Optical instruments unit. In addition, the company supplied key optical instruments for NASA's James Webb Space Telescope.
Corning is responsible for producing image capture technologies integrated within JWST's Fine Guidance Sensor and the Near Infrared Imager. The components assist in pointing and stabilizing the telescope platform. NASA may then collect data to characterize the chemical mixture and age of distant objects.
Sales from Optical Communications grew by 22% Y/Y. 5G, broadband, and the cloud lifted revenue to $1.31 billion in the quarter.
Q2 2022

Q1 2022

% change

Q2 2021

% change

Net Sales

$

1,313

$

1,198

10%

$

1,075

22%

Net Income Before Tax

$

233

$

211

10%

$

188

24%

Net Income

$

182

$

166

10%

$

148

23%
Data from Corning's Q2/2022 Press Release
Importantly, Corning has strong pricing power. Product volumes grew while prices increased.
Solar Energy
In Hemlock and Emerging Growth Businesses that include solar materials sales, Corning posted a 45% Y/Y sales growth to 4418 million:
Q2 2022

Q1 2022

% change

Q2 2021

% change

Net Sales

$

418

$

375

11%

$

288

45%

Net Income Before Tax

$

35

$

(7)

*

$

(18)

*

Net Income (Loss)

$

25

$

(8)

*

$

(15)

*
Data from Corning's Q2/2022 Press Release
* denotes not meaningful
Corning benefited from increased demand for solar. In addition, demand for automotive glass solutions and Corning's pharmaceutical technologies also grew. Instead of investing in traditional automotive firms, investors should consider buying component suppliers. Automotive customers must source quality products for Corning regardless of the economic conditions. By holding GLW stock, investors shield their portfolios from economic headwinds from a recession.
Sales Declines
In Display Technologies, Corning posted sales falling by 6% Y/Y to $878 million. Although prices rose sequentially, market volume declined. Specialty materials accounted for $485 million in sales, down just 2% from last year. Fortunately, Corning adopted premium cover materials. This increased net income by 12% Y/Y to $91 million.
Sales from the Environmental Technologies unit fell by 13% Y/Y to $356 million. Semiconductor chip shortages constrained the automotive sector. In addition, the Russia-Ukraine war and the COVID-induced lockdown in China hurt the automotive segment. The supply chain challenges are consistent with GM (GM) CFO Paul Jacobson's comment. He said that inflation and "late-breaking semiconductor challenges" hurt GM's quarterly results.
Opportunity
Corning is a Seeking Alpha author favorite. Wall Street is bullish on the stock, too. However, the stock has a neutral quant score: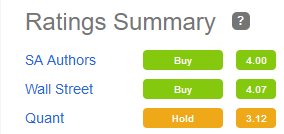 Corning scores a B on value. The stock trades at a P/E below that of the sector medium on a non-GAAP basis. It's above the sector on a GAAP measure: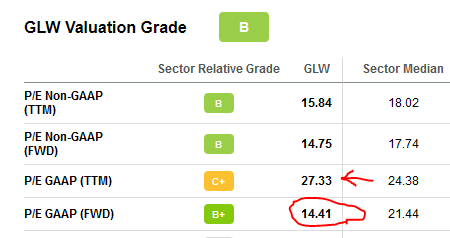 Despite that, Corning's forward P/E is below the median.
Corning's growth over five years is well below the market median. It scores a D- on its 3-5 year compounded annual growth rate: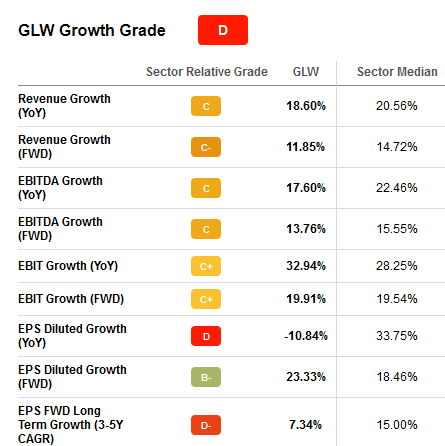 Long-term investors are frustrated with Corning's lack of upside. Shareholders may lower the average cost basis by selling calls with a Jan. 20, 2023, expiry. The further the option expiry, the greater the premium. The stock is stuck in a trading range with a downside bias. The bigger premium will lower the price paid.
Corning is highly profitable. Its margins may potentially expand as demand for solar increases.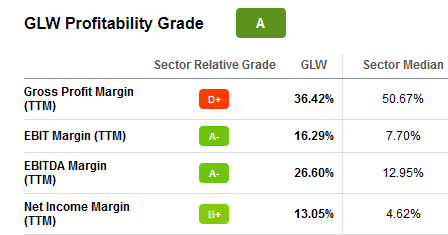 When the semiconductor shortage eventually ends, the automotive sector will rebound. Net income from Corning's Hemlock and Emerging Growth Business may offset weakness in its display technologies unit. For example, smartphone sales and panel demand could slow in the quarters ahead. Corning needs to pivot into higher growth areas. This would attract income investors seeking growth.
Risks
Corning posted demand falling for three out of its key markets: Panel maker utilization, smartphone sales, and automotive production. Overall sales grew and earnings expanded. Furthermore, Corning reported a free cash flow of $440 million for the quarter. At this rate, it will post another year of strong cash flow.
Corning has more than enough FCF payout ratio of 61.3% (according to Stockrover Research) to cover its dividend.
Your Takeaway
Corning remains a strong long-term buy for investors. The company offers a good balance of profit growth and stable dividends.
The company's subdued outlook is typical. Management does not want to over promise. It continues to manage its business units well despite the supply disruptions. At a forward P/E in the mid-teens, GLW stock is a buy.