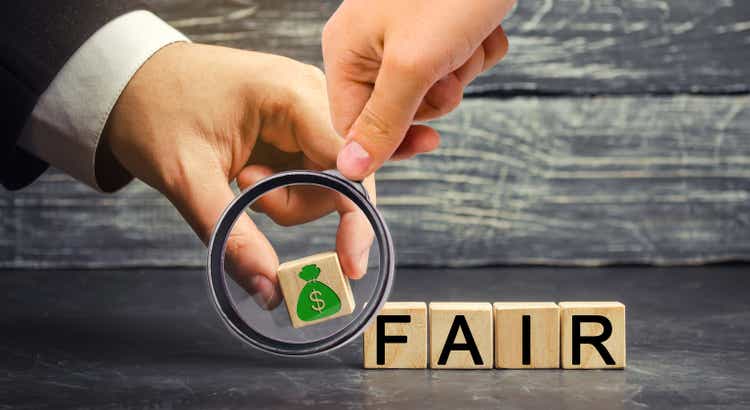 Although we are still just over halfway through the 2022 calendar year, it's important to note that some companies have their own fiscal years end at different times. An example of this can be seen by looking at specialty chemical company RPM International (NYSE:RPM). On July 25th, the management team at the firm announced financial results covering the final quarter of the firm's 2022 fiscal year. Management beat on both the top and bottom lines and forecasted continued growth for the near future. In short, the company basically demonstrated to investors that it continues to have a favorable future ahead for it. Ultimately, this is great for investors. However, it does not mean that shares make sense to buy into just yet.
Assessing RPM International's recent performance
Back in November 2021, I wrote an article detailing the positives and negatives about RPM International from an investment perspective. In that article, I said that the company's performance over time had been somewhat mixed. However, I said that its most recent performance had been robust and that it was demonstrating itself as a quality operator in the specialty chemicals space. At the end of the day, I concluded that the company had a favorable long-term outlook. But at the same time, I also came to conclude that shares looked more or less fairly valued. And as a result, I rated the business a 'hold', indicating my belief that it would achieve returns that more or less match the market for the foreseeable future. Since then, the enterprise has held up slightly better than I would have anticipated. While the S&P 500 is down by 16.2%, shares of RPM International have generated a loss of just 5.8%.
To be clear, this return disparity is not some fluke. The company has managed to generate fundamental performance that warrants said disparity. To see what I mean, we need only look at performance covering the fourth quarter of the firm's 2022 fiscal year. During that quarter, revenue for the business came in at $1.98 billion. Not only was that 13.8% above the $1.74 billion the company generated the same time one year earlier, it also beat and lost expectations by $23.2 million. The company's top line performance was particularly strong when it came to its Construction Products Group. Sales here increased 18.5% year over year, driven in large part by a 19.9% organic growth rate. The company also benefited to the tune of 1.6% from acquisitions the firm had made. At the same time, foreign currency translation impacted sales for this segment to the tune of 3%. This is not to say that other segments did not fare well. They did. Driven by a 17.4% rise in organic revenue and a 1.8% increase caused by acquisitions, the Performance Coatings Group saw revenue rise by 16.3%. But just like the Construction Products Group, sales growth was somewhat offset by foreign currency fluctuations. This seems to have been a trend during the quarter, also impacting the Specialty Products Group and the Consumer Group.
On the bottom line, the company also generated some pretty strong results. Net income came in at $199 million. That represents an increase of 27.5% over the $156.1 million generated the same time one year earlier. On a per-share basis, earnings came in at $1.54. That beat analysts' expectations by $0.07 per share. Operating cash flow did worsen, declining from $114.3 million to $22.7 million. But if we adjust for changes in working capital, it would have risen from $187.1 million to $239.4 million. Meanwhile, EBITDA for the business also improved, rising from $260.8 million to $290.1 million over the same timeframe.
Thanks to this strong top line performance for the final quarter of the year, the company finished off its 2022 fiscal year with a bang. Revenue of $6.71 billion for the year translated to a year-over-year increase of 9.9% compared to the $6.11 billion generated in 2021. It's also the highest year for revenue on record for the business. Unfortunately, the same cannot be said from a profitability perspective. The strong final quarter of the year notwithstanding, net income for the year as a whole dropped from $502.6 million to $491.5 million. Operating cash flow fell from $766.2 million to just $178.7 million. Even if we adjust for changes in working capital, it would have worsened, declining from $666.9 million to $627 million. Meanwhile, EBITDA also declined, dropping from $915.3 million in 2021 to $838 million during its 2022 fiscal year. This pain in 2022 seems to have been driven in large part by a contraction in the company's gross profit margin from 39.4% in 2021 to 36.3% last year. This was driven, in turn, by higher inflation associated with raw materials, freight, and wages for the year. Though this decline may not seem like much, when applied to the company's revenue for 2022, it had a negative impact on the firm's bottom line to the tune of $207.9 million. Fortunately, not every cost item followed this path. Selling, general, and administrative expenses actually improved relative to revenue, falling from 27.3% in 2021 to 26.7% in 2022.
When it comes to the 2022 fiscal year as a whole, management has not provided any guidance. However, they have provided some soft guidance for the first quarter of the year. They currently anticipate revenue rising at a rate that is in the mid-teens. And EBITDA should rise by between 20% and 25% year over year for that quarter. It is far too early to say for certain whether this represents the start of a really great year for the company. But if we were to assume that this kind of performance were to continue for the rest of the year, we should anticipate net income of $602.1 million, adjusted operating cash flow of $768.1 million, and EBITDA of $1.03 billion.
Taking this data, valuing the company does not become that difficult. On a forward basis, the firm is trading at a price-to-earnings multiple of 18.4. This compares to the 22.5 reading that we get if we use 2022 results. The price to adjusted operating cash flow multiple should drop from 17.7 for the 2022 fiscal year to 14.4 for this year. And the EV to EBITDA multiple should decline from 16.2 to 13.2. To put the pricing of the company into perspective, I also compared it to five similar firms. On a price to operating cash flow basis, these companies ranged from a low of 5.3 to a high of 22.8. Relying on the 2022 results, three of the five companies were cheaper than RPM International. And when it comes to the EV to EBITDA approach, the range is from 5.5 to 27.2, with four of the five firms coming in cheaper than our prospect.
| | | |
| --- | --- | --- |
| Company | Price / Operating Cash Flow | EV / EBITDA |
| RPM International | 17.7 | 16.2 |
| Akzo Nobel NV (OTCQX:AKZOY) | 18.5 | 8.7 |
| Eastman Chemical Co. (EMN) | 8.8 | 9.8 |
| Celanese Corp. (CE) | 6.5 | 5.5 |
| Chr. Hansen Holding A/S (OTCPK:CHYHY) | 22.8 | 27.2 |
| Umicore SA (OTCPK:UMICY) | 5.3 | 6.8 |
Takeaway
All the data provided suggests to me that RPM International is doing quite well for itself right now from a sales perspective. Although the 2022 fiscal year could have been better from a profitability perspective, the final quarter of the year showed that management is finally able to exercise its own pricing power. Management is also forecasting a rather robust first quarter for the 2023 fiscal year, but it is unclear whether that will translate into continued strong performance for the rest of the year. If it does, shares in the enterprise start to look attractive from a valuation perspective. But until we know whether that is the case or not, the stock still looks more or less fairly valued in my book. So, because of that, I've decided to retain my 'hold' rating on the firm until we have more clarity into the future.