Market Recap: The bears finally won. The market was quite weak today as the market had solid economic data to react to, but it could not continue to battle back and saw profit taking occur. The market is taking a breather today that is somewhat powered by the fact that China continues to look weak this week. China manufacturing contracted last month, and the global markets were weaker on the news. The markets were somewhat kept in check by the fact that jobless claims were strong and leading indicators were better than expected. The positive data, however, was not good enough to keep the markets from dropping significantly.
Yesterday, we talked about how the market still looks bullish to us, and we believe that the profit taking that is occurring is a healthy part of any bull market. The issue is that we dropped on very limited news. At the same time, we have next week as the last week of month and quarter could be a window dressing period. Further, we have the start of earnings season, which is going to be another crucial period. Today is a profit taking day, but we do not think it's all over. It's good to look at what can move higher and what can move lower.

Two Trades
We got involved with a hedge with iShares Russell 2000 (NYSEARCA:IWM) and we also like Coca-Cola (NYSE:KO). We think adding some hedges to the mix and mixing in more bearish positions is important right now. To do this, we like IWM. The Russell 2000 has been fairly weak over the week and has lagged other indices. We like placing a 47/48 Apr20 bear call spread on the Russell for a solid 10% gain with the ability to add to it by starting with a smaller position on moves upwards. That way the hedge grows as the market grows and then can become a very profitable hedge if the market weakens. That level seems unlikely to be hit by expiration as well. Coke has really been quite strong as of late. It has bucked the market trend as of late, and it appears to be breaking out right now. We like the trend on the stock, and it should continue to push higher. We have it buy-rated and believe the stock will be at 80 by end of June.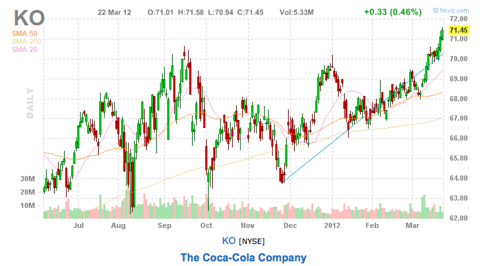 Tomorrow's Outlook
The market's move down today was pretty strong, and it does make us wonder about if more profit taking is on the way for the market. New home sales will be on the docket for tomorrow, and a good report could be just what the market needs right now to return to its bullish form. We also see next week as the "window dressing" week that will definitely provide the usual bullish picture. The global data is very limited for tomorrow, and we may see limited volume. It seems like some dip buying might occur tomorrow, but we need good home sales and some strength in the global markets. Should make for an interesting day.
Analyst Action
One of the interesting upgrades to us was Deutsche Bank's upgrade of PhillipsVanHeusen (NYSE:PVH) to Buy and $100 PT. We believe the company is worth much less and is sell-rated by us. The company has made quite a move, but we believe all growth is factored into the stock. We maintained a Hold rating on Starbucks (NASDAQ:SBUX) and upgraded the PT to $55. We downgraded Meritage (NYSE:MTH) from Buy to Hold and upped our PT to $27. We downgraded Westlake (NYSE:WLK) to Sell with $44 PT, and we maintained Yum (NYSE:YUM) at Hold with $63 PT.
Commodity Talk
Oil fell with equities as did gold, but we would say that oil and gold could both get a nice boost if the dollar drops on strength out of European markets, which have been weak all week. Oil had solid inventories, and we also believe that $105 is a strong support point that will hold up unless this market breaks down further. We would be looking at getting into Ultra Proshares Oil (NYSEARCA:UCO) on strength at the open tomorrow.
Oxen Group Moves
We closed two positions today. We closed our Salesforce.com (NYSE:CRM) long for a 1.35% loss that we entered yesterday. We also exited a long-term position we had in Dollar General (NYSE:DG) at 46.00 for an 11% gain that we entered at the beginning of the year. DG's earnings were very solid, and we like them to move to around to $55 by the end of the year. We added the hedge on IWM that we mentioned earlier.
We have the following positions. In our Short-Term Equity Portfolio we are long Panera Bread (NASDAQ:PNRA) and American Tower (NYSE:AMT). In our Options Portfolio, we are long CF Industries (NYSE:CF), Starbucks, Ralph Lauren (NYSE:RL), Google (NASDAQ:GOOG) and IBM (NYSE:IBM). We are short Apollo Group (NASDAQ:APOL) and IWM. In our Earnings Portfolio, we are long Monsanto (NYSE:MON), Ulta (NASDAQ:ULTA), Monster Beverage (NASDAQ:MNST), Finish Line (NASDAQ:FINL), and Goldman Sachs (NYSE:GS).
Chart courtesy of finviz.com.
Disclosure: I am long AAPL.