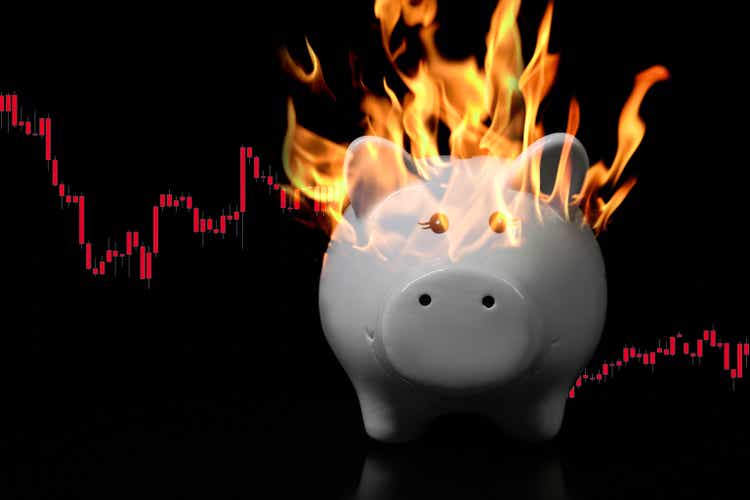 What A Year: Investing Amid Inflation, War, Drought, Supply Chain Breakdowns, Rising Rates, and Recession Fears
Inflation is on fire. We've experienced multiple rate hikes, and the Fed is hinting at a continuation of 75-basis point increases for July. As geopolitical headwinds around the globe continue to disrupt supply chains, the consensus among many economists is that stagflation is upon us, and the possibility of a soft landing has substantially declined. According to Mohamed El-Erian, Economist and President of Queens' College, Cambridge University, "What we are experiencing now inflation high, growth slowing down… the balance of risk has shifted significantly in favor of… recession."
Fear remains the overarching sentiment moving the markets. As evidenced below, investors should consider stocks that can weather all storms, given the hypersensitivity.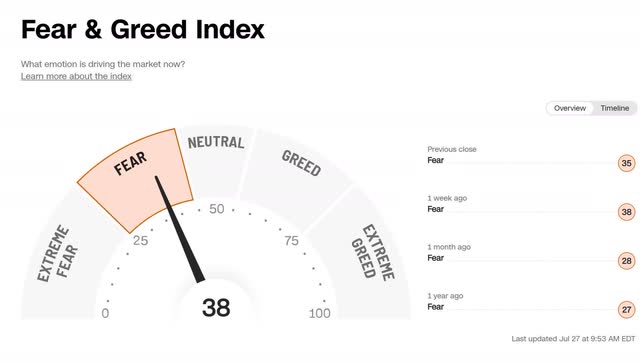 We have five stocks that have performed well in this environment and prior. And while past performance is not indicative of future results, these companies are in diverse sectors and possess excellent investment characteristics that stand to benefit from tailwinds throughout the year.
The decline in equities, surge in bonds, and rate hikes add intense pressure to portfolios amid recession fears. Over the last five weeks, volatility has reached heights not experienced since 1928, with the S&P 500 whipsawing by 5% on multiple occasions, as shown in the S&P chart below. Less than 2% of S&P 500 stocks are trading above their 50-day averages.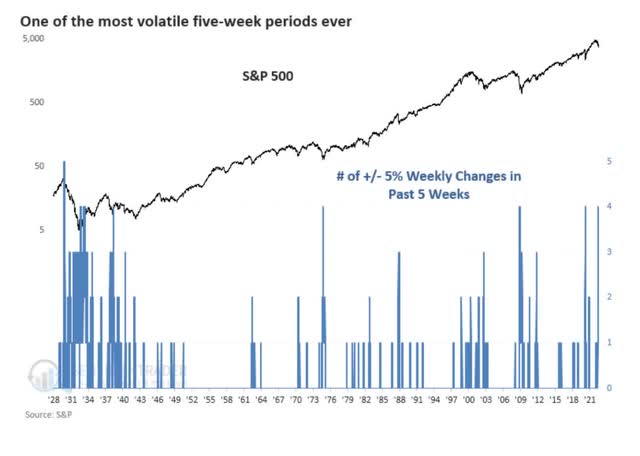 Our Quant Ratings and Factor Grades System provides powerful signals when markets rotate from irrational exuberance to alarming confusion, helping investors minimize risk and maximize returns. We believe our stocks with the shared traits of value, growth, profitability, rising earnings revisions, and momentum are best equipped to withstand a pullback. Check out our top five stocks for 2022.
Top 5 Stocks For Rising Rates, Recession Fears, And the Potential Rebound
Diversification is crucial when selecting stocks in rising rate environments and setting up for an extended bear market. Our stock picks are in unique sectors and industries and should offer something different for each investor.
Semiconductors Stocks
Some of my favorite stocks and top-ranking tech industry picks are semiconductors because they're used in many of the world's products, including electronic devices, smartphones, vehicles, and renewable energy.
Semiconductors present a buying opportunity for long-term investors because they come at reasonable valuations and showcase strong earnings, and the long-term cycle looks very favorable. Semi stocks have been all over the news due to chip shortages.
Given the market environment and uncertainty for the future, investors want stocks with solid fundamentals and tailwinds that can provide benefits as the economy and specific industries experience declines. As demand remains high for chips worldwide, two of my top five picks are in this industry.
1. Qualcomm (
QCOM
)
Market Capitalization: $172.14B

Quant Rating: Strong Buy

Quant Sector Ranking (as of 7/25): 14 out of 633

Quant Industry Ranking (as of 7/25): 2 out of 66
A wireless technology innovator and one of the largest global suppliers of mobile chips, QCOM heavily focuses on selling premier semiconductors, especially to big-name companies like Apple (AAPL) and Samsung (OTCPK:SSNLF), in the shift to 5G. Like most stocks that have taken a nosedive amid recession and rising inflation worries, Qualcomm also experienced a price drop. But QCOM continues to showcase its strength and its advantage with 5G RF modems, dominating 76% of the market share in 2021.
QCOM maintains a strong buy rating and is trading at a relative discount near its 52-week low of $118.24/share. Seeking Alpha's factor grades which rate investment characteristics on a sector relative basis, showcase why we believe QCOM is a strong buy.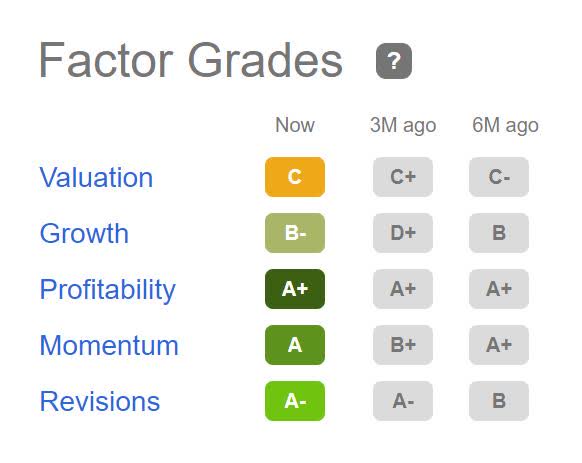 At a C valuation, trading nearly 34% below its sector with a forward P/E of 14.11x and forward PEG with a -46.20% difference to the sector, QCOM is at a discount. The stock has strong growth and excellent profitability metrics that delivered record revenues of $11.2B in the second quarter of 2022, resulting in 25 analysts increasing their earnings estimates within the last 90 days. Cristiano Amon, Qualcomm President and CEO, said it best,
"Our advanced edge processing and power-efficient AI is incomparable across our peer group(s). Advanced processing and artificial intelligence are the fastest-growing silicon content areas for Qualcomm. As such, we can no longer be defined just as a communications company serving one industry. Rather, Qualcomm is a leading connected processor company for the intelligent edge serving multiple new-end markets… with leading system solutions expertise and capabilities across multiple domains, Qualcomm is fast becoming the preferred industry partner for the auto industry and is well positioned for continued growth."
2. ON Semiconductor Corporation (
ON
)
Market Capitalization: $25.82B

Quant Rating: Strong Buy

Quant Sector Ranking (as of 7/25): 5 out of 633

Quant Industry Ranking (as of 7/25): 1 out of 66
Another innovator and supplier of intelligent power technology and one of my favorite chip companies, ON Semiconductor, exceeded EPS estimates eight times. With another record-setting quarter, ON delivered revenue of $1.95B, a tremendous 31.27% year-over-year growth propelled by sustainable energy and long-range electric vehicles, solidifying ON, on the Fortune 500 list!
Like Qualcomm, ON Semiconductor has experienced some price fluctuations resulting from market volatility and negative investor sentiment on the heels of inflation and geopolitical factors affecting supply chains. Luckily, semiconductors, which I deem as tech essentials and are thus in a relatively recession-resilient industry, are likely to maintain bullish momentum. High-value trends like electric vehicles and sustainable energy sources remain in demand, and ON's Factor Grades are very attractive.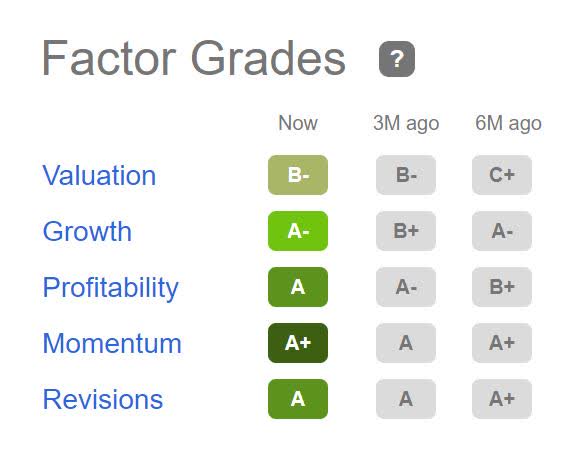 As illustrated in ON Semiconductor's factor grades above, ON's B- valuation indicates the stock is trading at a discount. ON's valuation suggests a good value with a 0.06x PEG (TTM) ratio and forward P/E ratio of 12.90, indicating a -39.80% discount to the sector. As indicated above, earnings have consistently resulted in 28 analyst upward revisions in the last 90 days. ON also has a strong balance sheet and $2.04B in cash from operations.
"Despite an overhang of unfavorable macroeconomics and geopolitical dynamics, demand for products in our focus end markets of automotive and industrial continues to be strong… Our intelligent sensing products are long-lived and design wins tend to be sticky. Awarded projects typically span multiple years with lifetime in excess of 15 years… This longer life cycle and sticky nature of our products gives us greater revenue stability and visibility." - ON Semi CEO Hassane El-Khoury
ON Semiconductor's CEO said it best, coupled with our quant ratings, ON is a strong buy recommendation.
Material Stocks
Because raw materials are necessary for economies to produce goods and services, this sector can also prove beneficial and a diversifier for portfolios.
3. Valhi, Inc. (
VHI
)
Market Capitalization: $1.39B

Quant Rating: Strong Buy

Quant Sector Ranking (as of 7/25): 4 out of 278

Quant Industry Ranking (as of 7/25): 1 out of 47
A unique conglomerate of specialty chemicals, component products, and real estate worldwide, Valhi is a materials company ripe for picking on a longer-term bullish trend. VHI operates in three segments. Its Chemicals Division, which is the company's largest segment, accounting for nearly 85%, produces and markets titanium dioxide pigments used in various paints, plastics, and decorative laminate. The company's Component Products Division manufactures locking mechanisms for cabinets, ignitions, mailboxes, and more. And its Real Estate Division offers an array of services in real estate.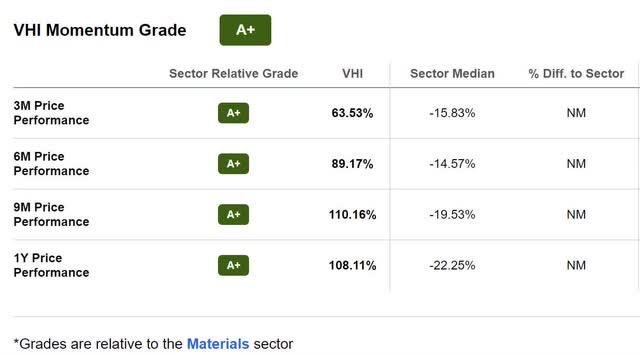 With stellar momentum and an eclectic mix of industries, this family-owned stock has been surging, up more than 67% YTD and 106%-plus over the last year. As evidenced by the above Momentum Grade, Valhi substantially outperforms its sector peers' quarterly price performance.
Solid growth and earnings from each business segment collectively resulted in a Q1 EPS of $1.59 and revenue of $629M (23.6% year-over-year increase). Not only is VHI a strong buy recommendation on an uptrend based upon our quant ratings, but the stock also comes at a discount, with a more than 33% difference to the sector (trailing P/E ratio 8.86x), a solid consideration as a portfolio diversifier.
Healthcare Stocks
With lockdowns still in place around the globe, healthcare is a sector many investors want to see as part of their portfolio, especially as new variants and viral diseases pose concerns. Although there are many healthcare stocks to choose from, we have selected one healthcare stock, Merck & Company, in the pharmaceutical industry that we believe will stand the test of time and is the perfect complement for portfolios.
4. Merck & Co., Inc. (
MRK
)
Market Capitalization: $227.87B

Quant Rating: Strong Buy

Quant Sector Ranking (as of 7/25): 6 out of 1157

Quant Industry Ranking (as of 7/25): 2 out of 225
Operating worldwide through two segments: Pharmaceutical and animal health, Merck & Co., Inc. offers an array of drugs with strong patent protection, including its blockbuster immuno-oncology drug Ketruda and vaccine Gardasil for cancer. This development and its excellent factor grades make this company poised for growth. MRK was able to raise its full-year guidance between 17% and 19% after beating first-quarter EPS of $2.14 by $0.31 and revenue of $15.90B by nearly 32% year-over-year. Check out its profitability grades below.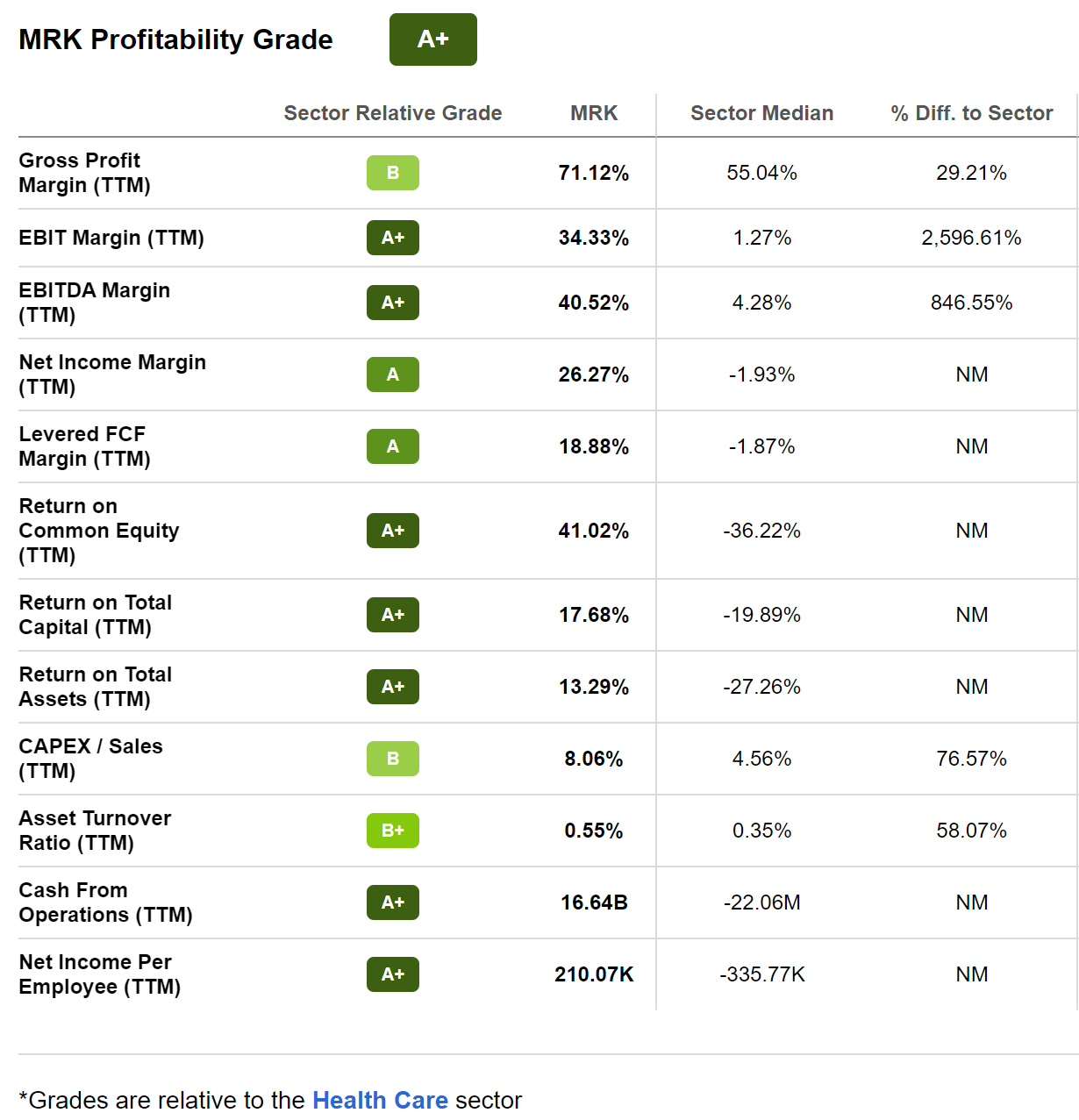 As evidenced by the A+ profitability grade and underlying metrics, MRK's gross profit margins outperform its sector peers, given its favorable product mix. With a $16.64B cash hoard and excellent balance sheet, it's no wonder it possesses a 3.06% dividend yield, a strong dividend scorecard, and 32 years of consecutive dividend payments. We agree with MRK's company executives on an uptrend over the last year, with a share price of +17 YTD.
"We remain very confident in the growth of our business, driven by the global demand for our innovative medicines and vaccines. We are in a position of financial and operational strength and our continued execution will enable us to deliver value to patients and our shareholders well into the future" - Caroline Litchfield, Merck & Co. CFO.
A tremendous performer in its sector, proving that companies can grow and be profitable in even the most challenging circumstances and environments, our last stock pick is also doing just that and has proven how energy can benefit in a rally or market downturn.
Energy Stocks
As a necessity rather than a luxury, energy tends to be a recession-resilient sector, even as society and governments seek alternative and renewable energy sources. With the recent invasion of Ukraine resulting in a shortage of energy sources throughout the Eurozone and nations supplied by Russia and Ukraine, rising prices and increasing demand have proven profitable for the sector.
Many energy stocks possess strong cash flows and provide a steady source of income through their dividends. Although some energy stocks are trading at all-time highs, consider the collective characteristics and fundamentals of the company because there are still good buy opportunities amid rising energy prices.
5. Exxon Mobil Corporation (
XOM
)
Market Capitalization: $366.89B

Quant Rating: Strong Buy

Quant Sector Ranking (as of 7/25): 1 out of 245

Quant Industry Ranking (as of 7/25): 1 out of 19
Yes. With persisting pain at the pump, bullish momentum, and excellent profitability, energy is the sector for an inflationary environment that outperforms them all, +28% YTD. Our final pick is Exxon Mobil Corporation, one of the world's largest oil and gas companies and a top energy pick based on our quant ratings.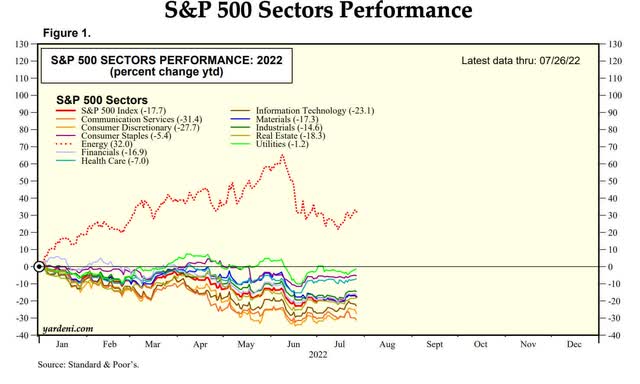 Although XOM is relatively overpriced given its C- Valuation Grade, the stock's collective metrics are strong, as evidenced below in profitability, momentum, and revisions factor grades.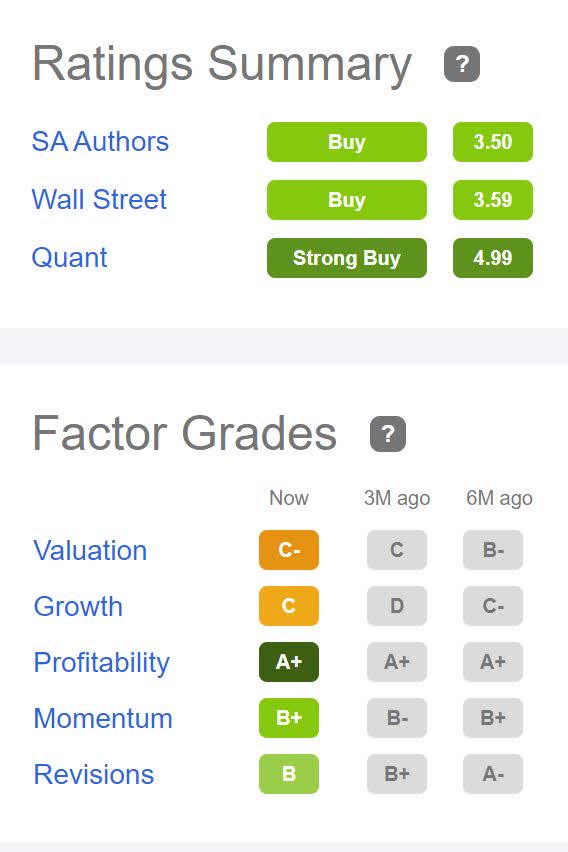 XOM missed Q1 2022 EPS of $2.07 by $0.16, but revenue beat by 53.01% year-over-year. Exxon also offers relative strength in forward revenue growth (C+ grade) and solid operating cash flow growth (B+), delivering 106% more than its sector median. The largest companies tend to have the most liquid stocks, best profitability, and, therefore, the ability to pay a handsome dividend, which is the case for XOM. XOM has a forward dividend yield of 4.04% and strong dividend scorecard, with an A+ for 40 years of consecutive dividend payments.
Exxon is +41% YTD and, over the last year, +53%. Although some believe that energy has peaked, the sector is not going away any time soon as it's a necessity around the globe; the turmoil in Ukraine prompting the energy crisis in Europe is unlikely to have a near-term solution; and Saudi Arabia and the UAE say they have limited spare oil capacity which is prompting a rise in crude oil prices – yet again. Is it possible to see a sell-off in this sector or any of the above discussed above? Sure. Anything is possible. But in the near term, we do not see this happening. Our top five stock picks rank among the leaders of their specialized industry and meet my additional investment criteria, which is why they are strong buy recommendations.
Bear Down! These Are Strong Stock Picks
This year has brought greater volatility than 2021. Tighter monetary and fiscal policies, Russia's invasion of Ukraine, and lack of consumer and CEO confidence have paved the way for negative sentiment, getting the best of the markets and bringing significantly greater weakness to the major U.S. indexes (S&P 500, Nasdaq, and Russell 2000), as illustrated below.
2022 Major Index YTD Drawdowns

2021 Major Index YTD Drawdowns

While each index possesses varying holdings, the Nasdaq possesses some of the most prominent tech companies like Apple (AAPL), Amazon (AMZN), and Tesla (TSLA), which experienced some of the most significant drawdowns, thus taking with them the index. Negative sentiment surrounding monetary policy, recession fear, and global unease contributed to most of the 2022 declines compared to last year's sentiment leaning towards greed.
This year's uncertainty is leading to crushing blows to the percentage of stocks above their 200-day moving average.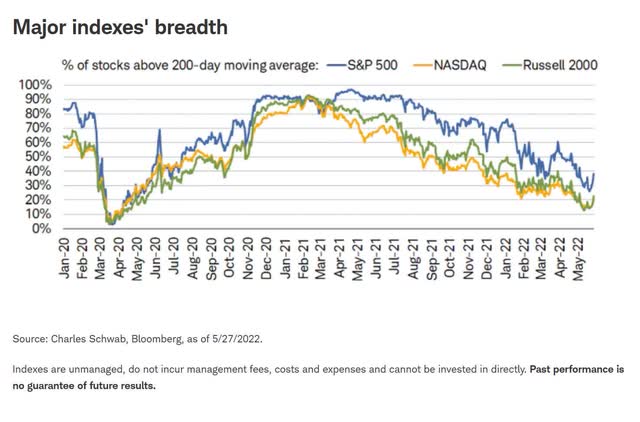 As investors look to the future and the Fed attempts to tame inflation, hopefully, there will be some moderation. We've seen a few indicators already, as the price of some food items has started to decline; the national average price of gas has come down; some commodity prices, including wheat and copper, have fallen, all of which are strong indicators that perhaps the Fed can take a less hawkish stance. However, if inflation stays above 8%, Jerome Powell reiterated his stance to Congress last week that "ongoing rate increases may be appropriate," which could induce a recession. Whatever the outcome, Seeking Alpha wants you to make smart investment decisions by maximizing returns and minimizing risk.
We have dozens of Top Rated Stocks. Consider our top five stocks for 2022, QCOM, ON, VHI, MRK, and XOM, which possess solid growth and profitability metrics, rising earnings revisions, and great tailwinds. Collectively, all of these recommendations possess stronger fundamentals than the Mega-Tech stocks driving the S&P 500. Our investment research tools help to ensure you are furnished with the best resources to make informed investment decisions. We appreciate you as a member and hope you find value in creating Stock Screens to suit your specific investment objectives.