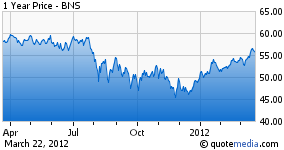 The Bank of Nova Scotia (NYSE:BNS) is poised to have a strong 2012 in spite of global and domestic economic uncertainty.
In Q1 2012, the Bank of Nova Scotia reported a profit of $1.436 billion, up 15% from Q1 last year. The bank reported Q1 revenues of $4.647 which was also up 9.8% over last year. The profits were supported by the Canadian banking segments' higher loan volumes and a gain on the sale of real estate assets.
The Canadian banking segment had an excellent quarter. It reported a net income of $475 million, compared to $451 million a year ago. The increase was attributed to higher volumes and increased transaction-based revenues.
Diluted earnings per share were reported at $1.20 in Q1 which was an increase of 9% over last year. Scotiabank stated in its Report to shareholders (PDF under Quarterly Report), "this quarter benefited from a gain on the sale of a real estate asset in Western Canada which amounted to 8 cents per share."
Three of Canada's "big five" banks raised their dividends this quarter. Scotiabank, along with Royal Bank of Canada (NYSE:RY) and Toronto Dominion Bank (NYSE:TD), all raised dividends. Scotiabank raised its dividend to $.55 per common share, an increase of 5.5%. RBC and TD raised their dividends 6% and 5.6%, respectfully.
Even though Scotiabank reported a strong quarter and raised its dividend, the bank must still be cautious about uncertainty in the markets. President and CEO Rick Waugh stated: "Consistent execution of our strategy and focus on our core businesses has led to a strong quarter. While we continue to watch global economic conditions closely, diversification across our business and focus on high growth international economies have continued to contribute to our results."
With global market uncertainty being of concern, Group Head and Chief Head Officer Robert H Pitfield discussed the issue surrounding Europe as Morningstar reported: "Our exposures to certain European countries of concern; Greece, Ireland, Italy, Portugal and Spain, are not significant and are virtually unchanged from last quarter. Our market risk remained low and well controlled. Our average one-day All-Bank VaR was C$17.5 million versus C$15.9 million in the prior quarter. There were two losses in the first quarter compared to 14 in the previous quarter, reflecting lower volatility in capital markets. Both of our loss days were well within the range predicted by VaR."
Two domestic concerns for the bank are: The residential mortgage portfolio and consumer debt levels. Scotiabank does not believe that there will be a housing bubble like the U.S. as they believe that the Canadian market will remain healthy. Robert H Pitfield stated: "We believe that solid economic fundamentals will enable the Canadian market to remain healthy and adjust without the bubble-bust scenario that we've seen in the United States.
Scotiabank's Robert H Pitfield also addressed the Canadian consumer debt levels by stating: "The continued low interest rate environment and reasonable economic performance will enable consumers to manage debt levels well. Credit quality and the performance of the portfolio remains strong. Our disciplined underwriting standards through all of our origination channels have resulted in extremely low loan losses."
Even with the global and domestic concerns that surround the bank, BNS still had a strong Q1 with an increase in profit of 15% and an increase of revenue of 9% over Q1 last year. Looking forward, 2012 should be a good year for Scotiabank with estimated revenues of $18.91 billion and net income of $5.83 billion.
Estimated Sales = $18.91 billion

Estimated Profit Margin = 30.83%

Profit = $5.83 Billion

Shares Outstanding = 1.19 Billion

EPS = $4.90

Forward PE = 11.79
BNS - Bank of Nova Scotia Stock Price Target for 2012 = $57.77 USD
| Action | Analyst | Rating | Price | Date |
| --- | --- | --- | --- | --- |
| Target | CIBC World Markets | | $60.00 « $59.00 | 03/07/12 |
| Target | Macquarie Research | | $58.00 « $58.50 | 03/07/12 |
| Target | RBC Capital Markets | Outperform | $61.00 « $62.00 | 03/07/12 |
| Upgrade | National Bank Financial | Sector Perform « Underperform | | 03/07/12 |
| Maintain | CIBC World Markets | Sector Outperform | | 03/07/12 |
| Maintain | Scotia Capital | Sector Perform | $62.00 | 03/07/12 |
Disclosure: I have no positions in any stocks mentioned, and no plans to initiate any positions within the next 72 hours.