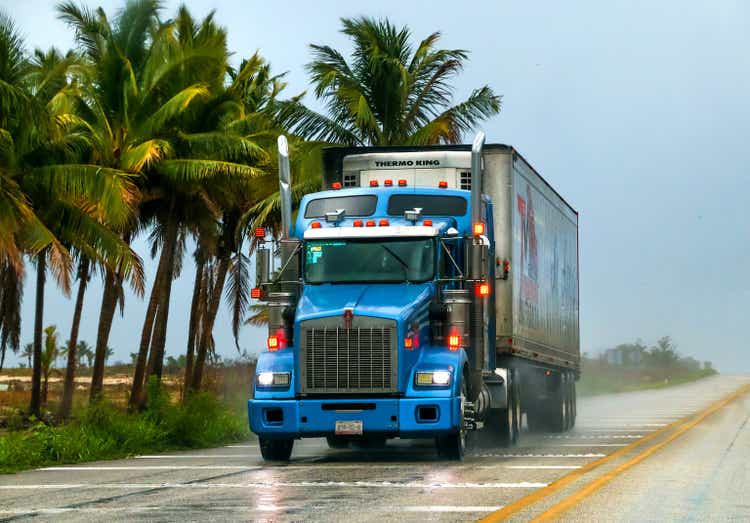 Introduction
A month and a half ago I published six articles to cover the main players of the truck and buses industry, starting from the three recent spin-offs of Daimler Trucks, Iveco Group and Traton Group, to then moving on to three other: Volvo Group, Nikola and PACCAR. The result of this coverage was that Volvo and PACCAR were the best investments, with Daimler in third place. I warned about Traton and Iveco because they have low margins, and then I stated that I think Nikola still trades at high multiples.
Now, PACCAR (NASDAQ:PCAR) has just reported its earnings and a follow-up is necessary because there are new data that strengthen my buy thesis on the company.
PACCAR's strengths: brands and customer service
Besides the value of strong brands like Kenworth, Peterbilt and DAF, PACCAR is a company that has a strong legacy of positive results. In the past 83 years, the company has always managed to achieve a net profit and, no doubt, it will reach this year its 84th with good chances of making 2023 the 85th (let's keep in mind that, at the moment, PACCAR is sold out for the year and the first quarter is already beginning to fill-in). However, PACCAR doesn't only have unique trucks. Among its peers, it is the company that focused the most on service and spare parts. As we will see, PACCAR knows that every truck sold is not only revenue at the moment of delivery, but it is also a stream of cash that will return to the company as the truck needs maintenance and assistance. PACCAR has invested year over year to build a logistically perfect network of warehouses spread across 4 continents in order to build a best-in-class customer service. Currently, the company owns 18 warehouses and it stated in the earnings release that it will open a new 260,000 square foot PDC in Louisville, Kentucky in the third quarter to further enhance parts availability for customers and dealers.
Investors were pretty sure that revenues from sales were going to be high, due to the fact that the time between order intake and delivery is now very long. On my side, I was curious to see how the spare parts segment is performing.
Before we jump in, let's take a look at the overall performance during the quarter.
Net income $720.4 million ($2.07 per diluted share); +45% YoY compared to $495.5 million ($1.42 per diluted share). First half net income reached $1.32 billion ($3.79 per diluted share); +36% YoY compared to $966.3 million ($2.77 per diluted share).
Net sales and financial services revenues were $7.16 billion; +22% YoY compared to $5.84 billion. First half net sales were $13.63 billion; +16% YoY compared to $11.69 billion.
Gross margins of 14.4% compared to 13.5% in the same period last year.
Global truck deliveries were 46,900 units, well in line with the previous guidance of deliveries for the second quarter between 44,000 and 48,000.
What about market shares? In the U.S. and Canada, Kenworth and Peterbilt's Class 8 retail sales market share is 29.4%. In Europe, DAF's above 16-tonne market share is 17.5%; while in Brazil, the most important Latin American market, DAF has a market share of 6.9% in the above 16-tonne truck segment.
Here is the geographic breakdown of PACCAR's revenue. As we can see, the company earns 61% of its revenue in North America and 24% in Europe. While this could be a weakness, as geographical diversification is a hedge against slowing economies, I believe that in the current geopolitical environment it is actually an advantage, as the company is exposed mainly to the West and is thus easier to understand and control as it runs its business.
Furthermore, while 61% of the revenue comes from North America, only 52% of truck deliveries are in this region, a sign that this is the market with higher margins. After all, strength in North America means interesting results in the bottom line. Another positive effect of this concentration is that PACCAR is not as exposed to USD fluctuations which is damaging many earning reports of companies that are U.S. based and that have a big chunk of their earnings come from outside the U.S.
PACCAR Parts
For the joy of many investors, PACCAR Parts achieved record quarterly revenues and profits. Earned quarterly pretax income was $353.3 million, 32% higher than the $266.8 million earned in the same period last year. The revenue for the second quarter was $1.43 billion, +18% compared to the $1.21 billion reported in the same period last year. If we look at the first half, revenues were $2.82 billion, an 18% increase compared to $2.37 billion in the same period last year. The pretax profit was $693.5 million in the first half, +33% compared to $518.4 million earned in the first half of 2021.
As Harrie Schipper, PACCAR's President and CFO, stated during the Q2 2022 earnings call:
Customers increased truck utilization and higher average fleet age have contributed to PACCAR Parts record results. PACCAR Parts outstanding performance is driven by an expanding network of 18 parts distribution centers, 2,200 dealer locations, 250 independent TRP stores, as well as technologies like managed dealer inventory and innovative e-commerce systems.
Let's consider these numbers, and let's make a rough calculation of the extra future income that PACCAR will earn thanks to its sales. We saw that 20% of PACCAR's revenue comes from the Parts segment. If we go back to the revenue from trucks, and we divide it by the number of vehicles sold, we find that PACCAR's average revenue per truck sold is $155k. We know that PACCAR sells approximately 180,000 vehicles per year and that the average fleet age is increasing and that it should be around 15. Let's say that PACCAR has thus 2.7 million vehicles on road. This fleet generated a $1.43 billion revenue which is $500 per vehicle per quarter. This means that a vehicle sold today on average should generate another $2,000 per year, which we then have to multiply by the current average truck of 15 to reach an extra $30,000 of future revenue. This is actually a conservative estimate as spare parts will increase in price and trucks may actually have an even longer life given the constant improvements in technology. Things get even more interesting when we look at margins.
As we can see, PACCAR has seen truck margins decrease. However, its Parts segment has been on a steady rise that brought gross margins to 30%. This means that, while out of every $100 of truck revenue, PACCAR retains around $9, for every $100 of parts revenue, PACCAR retains $30. Let's get to the conclusion. If the average revenue per truck sold is now $155k, PACCAR will retain around $14,000. But the company also forecasts to earn an extra $30,000 during the truck lifecycle. From this revenue, PACCAR will receive an estimated income of at least $9,000. This brings the total value of a truck sold for PACCAR to around $22,000, depending on how much we want to discount the future income coming from after sale spare parts.
In addition, the parts revenue is reliable as trucks are used and need maintenance. Focusing on this segment allows the company to have hedge against economic downturns that may slow down the order intake. While orders are low and truck sales are postponed, used trucks age and need spare parts, thus giving PACCAR another source of revenue.
PACCAR has it clear: in the manufacturing industry, the only way to have a constant stream of income that somewhat resembles a subscription is by hitting it right on customer service and spare parts. The results are before everyone: PACCAR's after-tax return on invested capital is now an industry leading 23% in the first half of the year.
Conclusion
I think that, after these results, the price target of $115 I gave in my previous article is even more reasonable. True, the company trades at a slight PE premium compared to its main peers, but not all of them have focused so thoroughly on customer service and spare parts. Given the quality of this segment and the contribution it gives to the whole company, I believe the 11.5 PE is appropriate, and this is why I still rate the stock as a buy.