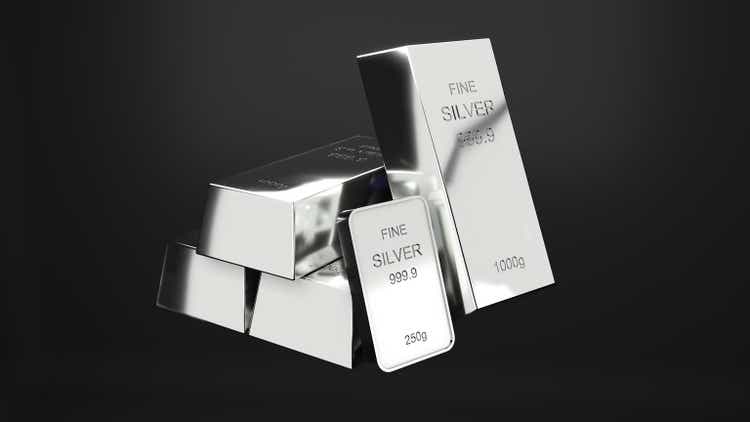 Silver prices posted a strong bullish reversal day yesterday despite the Fed hiking by 75bps which is a positive sign that the bottom may finally be in. The metal has been under pressure in part due to tightening monetary conditions, but it is now highly likely that we have passed the peak of such conditions. With silver trading at deeply undervalued levels relative to gold and the broader commodity complex, the bullish case is clear.
This positive outlook for silver makes the iShares Silver Trust ETF (NYSEARCA:NYSEARCA:SLV) a strong buy. The ETF which has tracked the spot price with a median 12-month tracking error of just 0.48%, should continue to offer investors direct exposure to the metal. With an expense fee of 0.50%, this is far lower than the spreads on buying the physical metal. SLV is the largest and most liquid silver ETF, but has a slightly higher expense ratio relative to others such as the Aberdeen Standard Physical Silver Shares ETF (SIVR). The decline in silver prices over the past three months has occurred alongside significant outflows in the SLV ETF, which has seen the number of ounces under management decline by 17% since its April peak. Ounces under management are down 28% from the reddit-inspired surge seen in early 2021, which happened to be a great contrarian indicator of a market top.
Sell The Rumor, Buy The News
When the Fed hikes by 75bps and precious metals prices rise, it is a clear sign that market participants have more than priced in the impact of tighter monetary policy. My favorite gauge of monetary tightness is the 10-year inflation-linked bond yield, which fell sharply following the hike and is now back to the levels seen on June 10 before the May CPI shock caused a huge spike in hiking expectations.
As I have argued in several articles before, I continue to believe that real bond yields will fall back into negative territory over the coming quarters as the Fed is forced to adopt a more dovish stance amid ongoing economic weakness. While real yields may remain quite low from a historical perspective, when compared against the real GDP growth outlook and in the context of the higher levels of debt in the economy, they are far from it. This decline in real yields should help to support demand for silver as a store of value.
Extremely Undervalued
While one could argue that gold is a better alternative to silver in the context of easing monetary conditions, particularly with the economy facing growing recession risks, silver's discount to gold and the broader commodity complex makes it by far the best option in my opinion. The chart below shows silver prices relative to fair value based on their correlation with a 50:50 basket of gold and the broad commodity complex. Going back to 2000 the chart has an r-squared as high as 0.91, and suggests that silver should be trading around USD30/oz.
The next chart shows the same variables but over a longer time period, going back to 1980. On this measure, silver should be trading around USD35/oz, and is the most undervalued it has ever been.
Weak Speculative Interest Is A Positive
Another positive factor for silver prices is the low level of speculative interest at present. Net non-commercial long positioning stands at just 1% of open interest, which is the lowest we have seen since mid-2019. Such low readings tend to occur at or near market bottoms and so should be considered a contrarian indicator. While there is still room for speculators to turn outright bearish, such occasions are rare.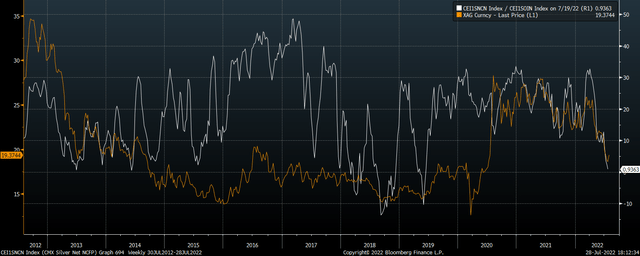 Summary
Despite the Fed hiking by 75bps at yesterday's meeting, monetary conditions appear to have peaked and real bond yields should resume their long-term decline which should be supportive of precious metals. I prefer silver to gold, despite the rising risk of recession, as the metal is deeply undervalued from both a short and long-term perspective. The SLV has a proven track record of tracking the price of silver and is highly likely to continue doing so over the coming years.