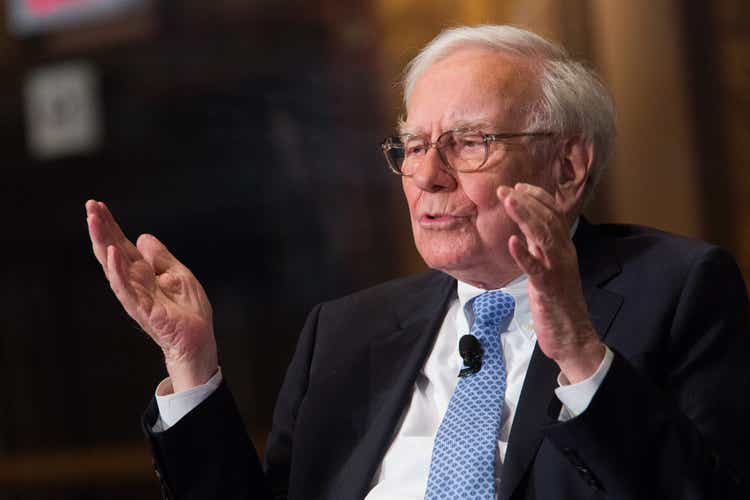 Investment Thesis
As high inflation deteriorates purchasing power and central banks indulge in aggressive momentary tightening, investors would be better off investing in high-quality stocks with solid balance sheets that are well-positioned to outperform the market despite the macro-economic headwinds.
Berkshire Hathaway Inc. (NYSE:BRK.A), (NYSE:BRK.B) is a financial fortress and provides a compelling investment case due to its nearly recession-proof business model, with broad diversification and investments in companies that will continue to provide handsome returns on capital for investors. Most importantly, the company has a history of beating the market in periods of economic downturn, supporting the strong buy rating under the current economic environment.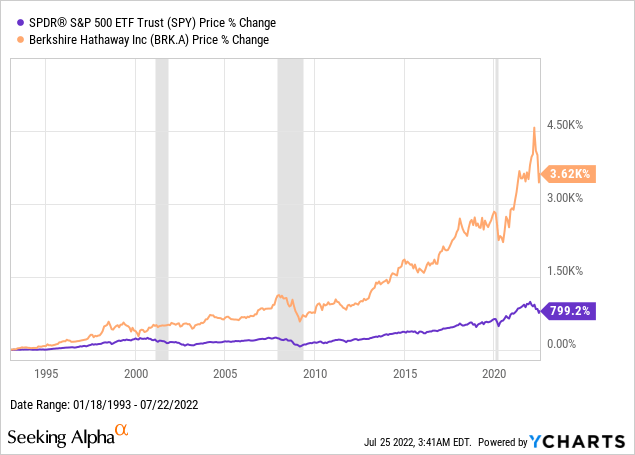 Deploying Cash Amidst High Inflation
Berkshire Hathaway's diverse business units contribute to long-term earnings power, and while supply-chain challenges and inflation risks remain, the company largely remained resilient during Q1 2022. Despite the macro headwinds, the conglomerate's operating profits stayed near-record levels.
Operating earnings remained at about $7 billion during the latest quarter compared to a year ago. Earnings improved in every unit except Insurance, which was hurt by Geico, as auto repair costs hurt the entire industry. Earnings from Manufacturing, Service and Retail increased significantly by 15.5% during the quarter, offsetting most of the decline from the Insurance segment.
While adhering to long-term principles, CEO Warren Buffett is more motivated to put cash to work in light of materially rising inflation. Although share repurchases slowed in Q1, the company has invested much more capital into acquisitions and equities in 2022 than in the previous two years. During the past few years, one of the primary contentions of investors had been Berkshire's lack of capital deployment. The company was sitting on $146.7 billion of cash and short-term investments at the end of 2021; of this amount, $120 billion were held in U.S. Treasury bills, earning a minimal return for investors in a low-interest rate environment. Buffett even wrote a letter to shareholders lamenting the market's lack of good investment opportunities at the start of the year.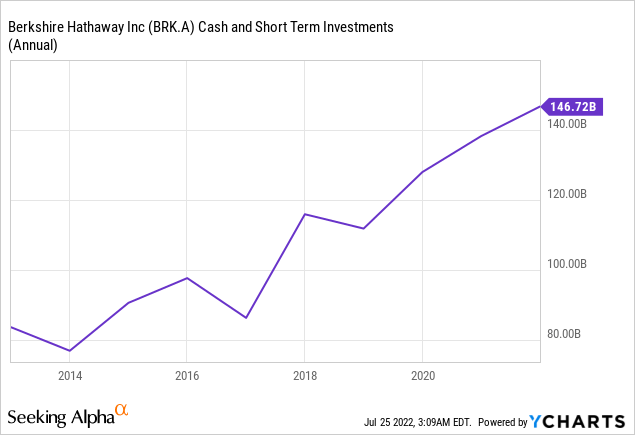 However, the narrative changed during Q1 2022 as the firm aggressively started deploying capital amid concerns of high inflation and the risk-off environment. Berkshire was a net buyer of equities in Q1 by almost $41.4 billion, including roughly $21 billion in Chevron (CVX) shares. In addition, the company took several new multibillion-dollar positions in equities as share buybacks slowed to $3.2 billion. As a result, the cash and short-term position declined from $146.7 billion at the end of Q4 2021 to $106.3 billion at the end of the most recent quarter. Not surprisingly, during the high valuation environment in 2020-2021, the company was a $4 billion net seller, but now the current rise in equity purchases reflects the firm's view of the current valuations and bullish stance on the energy sector.
Bullish on Energy Stocks
During Q1 2022, Berkshire increased its holding in Chevron Corporation to 159M shares from 38.2M. The energy play has been one of the best-performing stocks this year, up nearly 25% YTD as oil remained on elevated levels due to supply constraints. In addition, the company sold pharma names AbbVie, Bristol-Myers, and Royalty, while increasing exposure to the energy sector as Berkshire Hathaway purchased about $27 billion worth of stocks of Chevron and Occidental Petroleum (OXY) this year.
Not surprisingly, the conglomerate purchased another 4.3M shares of OXY earlier this month, pushing its total ownership nearly to 20%, fueling talks of a takeover. Thus, Berkshire Hathaway's near 20% stake in OXY is reflective of Buffett's bullish stance on the energy sector, and there is a wide belief that Buffett is on his way to acquiring the firm and turning it into a 'cash machine' for his other investments, similar to what he did with BNSF railways in 2009.
Occidental had bounced back from its financial woes after leveraging up with debt to pay $35.7 billion for Anadarko Petroleum right before the COVID-19 outbreak, which destroyed oil demand. A recovery in oil demand to peak levels has sped up debt repayment and reduced interest payments. In addition, the 20% stake will allow Berkshire Hathaway to use 'equity accounting' and report its share of OXY's profits, further boosting Berkshire Hathaway's earnings. Lastly, according to Refinitiv, Occidental's cash flow is expected to increase to $19.36 billion this year from $3.84 billion two years ago.
Activision – A Merger Arbitrage Deal
Berkshire has increased its stake in Activision Blizzard, Inc. (ATVI) to 64.3M shares from 14.7M shares at the end of 2021, and Berkshire Hathaway now holds 9.5% of the company's stock. Shortly after Buffet's purchase, Microsoft announced its intention to acquire ATVI in a $68.7 billion deal earlier in January. However, despite the acquisition being approved by stockholders of Activision, there is still a cloud of uncertainty over the deal as the FTC has been investigating the deal due to antitrust issues.
As part of its antitrust investigation, the agency is reportedly probing into the impact of the acquisition on competition between gaming consoles, the working conditions for game developers, and Microsoft's handling of consumer data if the deal is successful. Activision's stock is currently trading 16% lower than Microsoft's bid of $95 per share on concerns about the FTC probe. The aggressive purchase of Activision shares reflects Buffet's optimistic view of the merger, making it a merger arbitrage bet for Berkshire.
Berkshire is Nearly Recession Proof
A cursory analysis of Berkshire's performance during recessionary periods reveals that the company has outperformed the S&P 500 during recessionary periods in the US. Although the company suffered during the financial crisis of 2008 and the more recent two-month recession period after the outbreak of COVID-19, the company's stock price return has historically outperformed the market during the recessionary periods quite significantly, as evident from the table below.
To properly assess the case of Berkshire during a bear market, it is critical to analyze the company's operational results, which is far more important because those results are the true reflection of Berkshire Hathaway's material value rather than its market-based value based on short-term price fluctuations.
Undoubtedly, strong diversification is one of Berkshire's strengths. But, overall, the manufacturing, service and retail companies are more vulnerable to a downturn in the economy and possible supply chain disruptions and inflation. However, Berkshire Hathaway has outperformed the market primarily because of its investments in companies whose operations remain largely unaffected by headwinds in the macro-environment.
For example, The Coca-Cola Company (KO), a company in which Berkshire holds a 9.2% stake, is up 6.3% YTD compared to the S&P's decline of 16.1%. Indeed, as a consumer staples stock with high brand value, the company remains largely unaffected by changes in economic cycles; this is why despite the turbulent macro-economic environment, analysts expect the company's top and bottom lines to increase by 8.1% and 6.5% during the current year. Therefore, the company has managed to pay out increasing dividends for the last sixty years, reflecting the business's strong fundamentals.
Moreover, Berkshire Hathaway's operating earnings should remain strong and expand this year despite supply-chain challenges, as most margins held up well in Q1. Insurance and energy businesses are resilient through economic conditions, and discretionary units have been performing well. Its primary division, the P&C reinsurance group, and its utilities and energy companies are more likely to withstand a typical economic slump. Although BNSF may see some mild downturns, the company is less susceptible to facing a downturn than the overall economy.
Historically Low Valuation
Last but not least, from a valuation perspective, Berkshire Hathaway remains undervalued despite the recession fears that have already pushed investors to safer quality companies. Even though Buffet urged investors not to focus solely on the book value per share, the Price to Book value (P/B) ratio still is the leading determinant of Berkshire Hathaway's intrinsic value. The conglomerate has historically delivered satisfactory growth in book value per share, but the P/B remains below its long-term average of 1.40, which I consider a fairer reflection of Berkshire Hathaway's value.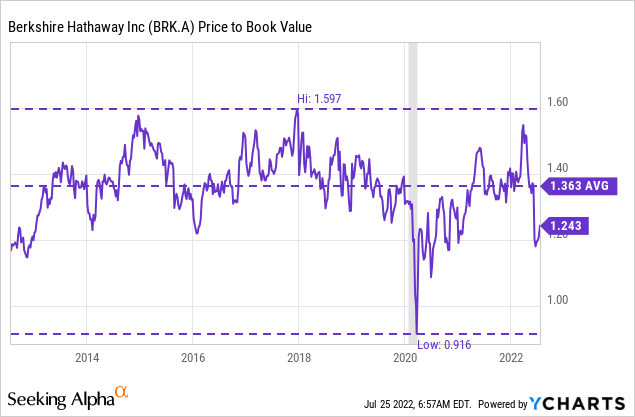 Conclusion
I firmly believe Berkshire Hathaway is a stock to own for the long term, but especially throughout the recession, as it offers downside protection due to its quality holdings, broad diversification, and low-risk profile. Finally, the turbulent times ahead will eventually drive more investors to recognize Berkshire's quality and value, gradually stretching its P/B valuation closer to the 1.5x level.