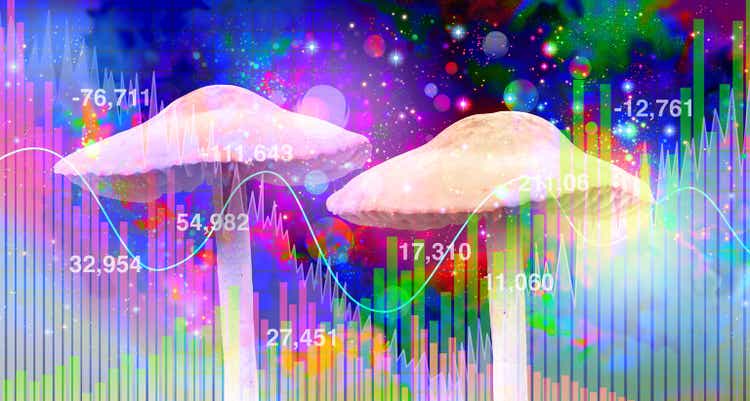 A Psychedelic Resurgence
In 2018, writer Michael Pollan published How to Change Your Mind, an in-depth look at the resurgence of psychedelics in the treatment of mental illnesses. Recently, Netflix (NFLX) released a video version of Pollan's book, and it has been one of Netflix's most-watched programs.
On July 13, 2022, a pair of amendments passed in the U.S. House of Representatives that would provide access to psychedelic drug treatment for veterans and active-duty service members. The amendments were proposed by two representatives who couldn't be more different: Rep. Dan Crenshaw, R-Texas, and Rep. Alexandria Ocasio-Cortez, D-N.Y. While their outlooks might be completely different, both representatives agree on the need to rethink the restrictions that were placed on psychedelics during the "War on Drugs" that began in June 1971 with President Richard Nixon declaring drug abuse to be "public enemy No. 1." He also increased federal funding for drug-control agencies.
In 1968, psychiatrist Charles Dahlberg and others published an article in the American Journal of Psychiatry that described how individuals in government and the pharmaceutical industry had sabotaged psychedelic research and labeled researchers as quacks. Research into psychedelics ceased entirely in 1971 with the passage of the Controlled Substances Act and psychedelics were categorized as "Schedule I" drugs by the DEA. In 1971, the UN Convention on Psychotropic Substances also classified psychedelics as Schedule I drugs, making them illegal worldwide and making it next to impossible for researchers to study them.
What Are Psychedelics?
Psychedelics are a class of hallucinogenic drugs that produce a significantly altered state of consciousness by reducing activity in the brain's default mode network, and by increasing connectivity between different regions of the brain.
The term "psychedelic" was derived from the Greek for "mind" and "to manifest," meaning that psychedelics can reveal unused potentials of the human mind. The term was first used by the psychiatrist Humphrey Osmond in his correspondence with the famous author Aldous Huxley who had suggested his own term for the drugs, "phanerothyme" - Greek for "visible soul." Today, the term "psychedelic" has largely been replaced by the term "entheogen," meaning "god within" because these drugs give rise to religious, spiritual, and mystical experiences that produce a connection to the "divine within."
Research has shown psychedelics to be useful in treating obsessive-compulsive disorder (OCD), post-traumatic stress disorder (PTSD), alcoholism, depression, and cluster headaches, and unlike antidepressants that must be taken every day, psychedelics are usually only administered one time. At higher doses, users of psychedelics experience synesthesia, where stimulation of one sense leads to stimulation of a second sense such as people who view letters or numbers as having an inherent color. Users also report experiencing additional dimensions of both space and time.
The downsides to the psychedelic experience can be a feeling of dread, known as a "bad trip," and users can become injured, especially if they attempt to drive while under the effect of the drugs.
Psychedelic drugs include:
LSD (Lysergic acid diethylamide): a derivative of an alkaloid found in a fungus that primarily infects rye; LSD is an antagonist to both dopamine and serotonin receptors in the brain.
Psilocybin: produced in over 200 species of fungi, due to its ability to manifest mystical experiences, it has attracted the greatest academic interest; psilocybe mushrooms are used by the native Mazatec people of Oaxaca, Mexico.
Mescaline: found in various species of cacti, the most well-known of which is Peyote; mescaline produces the largest amount of colors and patterns.
DMT: an indole alkaloid found in a number of species of plants, various South American tribes consume it as ayahuasca; users in the U.S. are said to inhale a vaporized version of DMT that causes them to enter a separate reality that contains hyperbolic geometry and various "entities."
(2,5-dimethoxy-4-bromophenethylamine): was first synthesized in 1974 by Alexander Shulgin, who modified the structure of mescaline.
Psilocybin Decriminalization
In October 2018, the U.S. Food and Drug Administration granted psilocybin breakthrough therapy status for its use in the treatment of drug-resistant depression and addiction. Breakthrough status is given to treatments that show the promise of improving upon existing treatments.
This year, Connecticut started a process that would lead to legalizing centers using psilocybin to treat veterans and first responders. Texas, Utah, and Washington state have all set up task forces to study the usefulness of using psilocybin to treat mental illness. Maryland has set aside $1 million to study the use of psychedelics in treating PTSD and traumatic brain injury.
In May 2019, Denver, Colo., became the first city to deprioritize psilocybin, making arrests for its possession or use the lowest priority for police. Denver was followed by Oakland and Santa Cruz, Calif., in June 2019 and January 2020, respectively. In November 2020, Washington, D.C., deprioritized psilocybin, ayahuasca, and mescaline, followed by Somerville, Mass., in January 2021, and Cambridge and Northampton, Mass., in February 2021 and March 2021, respectively. In October 2021, Seattle became the largest U.S. city to deprioritize psilocybin.
On Nov. 3, 2021, Detroit voters approved Proposal E which decriminalized psilocybin. On May 26, 2020, two initiatives were approved for Oregon's November 2020 ballot, one to decriminalize psilocybin statewide, and one to legalize medical psilocybin. On Nov. 3, 2020, both measures were approved by voters, and starting on Jan, 1, 2023, licensed therapists in Oregon will be able to use psilocybin in controlled settings.
New centers for psychedelics research have recently been launched, including the Centre for Psychedelic Research at Imperial College London, the UC Berkeley Center for the Science of Psychedelics, the Center for Psychedelic and Consciousness Research at Johns Hopkins University, the Center for Psychedelic Research and Therapy at the University of Texas at Austin, and the Center for Psychedelic Psychotherapy and Trauma Research at the Icahn School of Medicine at Mount Sinai in New York.
Psychedelic Stocks
A report from Research And Markets stated that the Psychedelic drugs market is projected to reach $10.75 billion by 2027, with a CAGR of 12.36% between 2021 and 2027. However, due to their newness, none of the publicly traded psychedelics companies has proven its ability to produce revenue and profits - yet. As we have seen time and time again, investments in companies that are pre-revenue and then go on to be profitable produce huge returns. The primary risks to the psychedelic drugs sector are: potential trial failure, the drugs won't receive FDA approval, and dilution due to the companies' need to raise new capital to fund research and clinical trials.
Below are five publicly traded psychedelics stocks that could have long-term growth potential.
Atai Life Sciences
One of Atai Life Sciences' (ATAI) early investors was venture capitalist Peter Thiel. The company went public in June 2021 at $15 and is currently trading at $3.78 with a market cap of $594.71 million. Atai Life Sciences is developing multiple drugs based on the psychedelics ibogaine and ketamine, and it has nine drug candidate programs, four of which are already in clinical testing including RL-007, which is in Phase 2 testing for the treatment of schizophrenia.
COMPASS Pathways Plc
COMPASS Pathways (CMPS), a UK-based company, went public in September 2020. Currently, it has a market cap of $646.17 million and its synthetic psilocybin product COMP360 is currently being tested for treatment-resistant depression and PTSD. COMPASS Pathways went public in September 2020 at $17 and traded as high as $61 before falling back to $14.91. Further clinical trial data will create volatility in CMPS stock.
Cybin, Inc.
Canadian pharmaceutical company Cybin (CYBN), with a market cap of $89.70 million, has partnered with popular author Deepak Chopra to raise the profile of psychedelics in the treatment of mental disorders. It is creating psychedelic drugs to treat depression, anxiety, and addiction. In May 2021, the company was approved to begin Phase 2 trials of CYB001 used to treat major depressive disorder, and in November 2021, Cybin reported positive findings for its psilocybin analog in the treatment of alcoholism.
Mind Medicine, Inc.
Biotechnology company Mind Medicine (MNMD) - based in Vancouver, Canada, and New York - is currently running clinical trials on its MM-120, a formulation of LSD that would be used to treat anxiety, ADHD, and chronic pain. Its MM-402, a form of MDMA, will begin a Phase 1 trial shortly to assess its effectiveness in autism spectrum disorder. Another Mind Medicine drug, MM-110, is a form of ibogaine and is being investigated in the treatment of opioid addiction. Mind Medicine went public in April 2021 after previously trading on the Toronto NEO exchange, and its market cap is $289.99 million.
Seelos Therapeutics, Inc.
Bio-pharmaceutical company Seelos Therapeutics (SEEL) has an intranasal ketamine drug, SLS-002, and a sublingual ketamine drug, SLS-003. It is testing SLS-002 for the treatment of suicidal behavior in patients with major depressive disorder. It's also testing SLS-003 in the treatment of chronic pain. The company also has two gene therapy programs designed to treat Parkinson's disease. Its current market cap is $92.86 million.
Psychedelics ETFs
A psychedelics ETF allows investors to spread their risk among several of the psychedelics companies, with potential gains in a few offsetting potential losses in others. Each of the psychedelics ETFs shown below utilizes a slightly different strategy.
Horizon's Psychedelic Stock Index ETF (PSYK): PSYK is passively managed and its makeup and weighting is tied to the North American Psychedelics Index, which tracks the North American psychedelics market based on market cap. No company can have a weighting greater than 10%, and its top positions are in Revive Therapeutics (OTCQB:RVVTF), Mind Medicine, Cybin, COMPASS Pathways, and ATAI. It has over $19 million in AUM.
Defiance Next Gen Altered Experience ETF (PSY): PSY is passively managed and tracks the BITA Medical Psychedelics, Cannabis, and Ketamine Index, which is also based on market cap. The fund includes cannabis companies and its top holdings include cannabis company Cronos Group (CRON), Mind Medicine, ATAI, Cybin, Seelos and COMPASS Pathways. PSY has $2.99 million in AUM.
AdvisorShares Psychedelics ETF (PSIL): This is the only psychedelics ETF that is actively managed. Its top positions are in Cybin, Mind Medicine, COMPASS Pathways, Atai Life Sciences, and Seelos Therapeutics. PSIL has over $99 million in AUM.
Bottom Line
Just last week, an analysis of previous studies that appeared in the journal Healthline showed that low levels of the brain chemical serotonin might not be the cause of depression. This result could render the $13.7 billion selective serotonin reuptake inhibitor, or SSRI, market moot, and it might open the door to other drugs.
The Healthline article went on to say that "recently, using psychedelic drugs like ketamine has become more common as a potential option for people with depression." Just as people in the 1960s couldn't imagine cannabis ever being decriminalized, it might only be a matter of time before psychedelics are decriminalized and used to treat a host of mental illnesses.