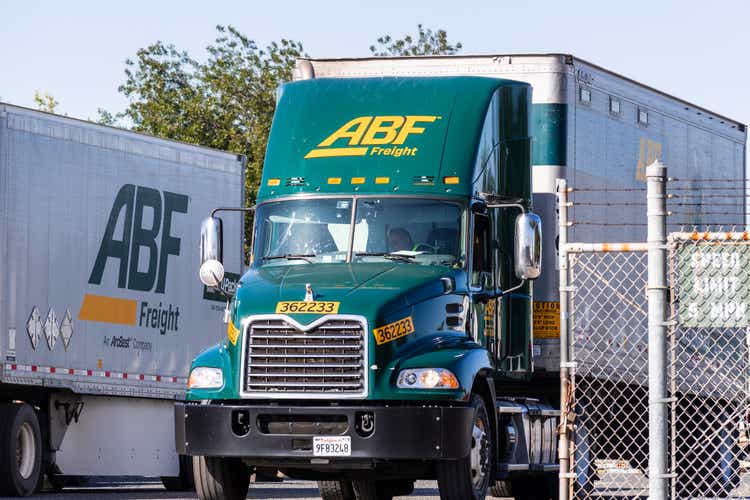 Investment Thesis
A few years ago, ArcBest (NASDAQ:ARCB) shifted from a pure-play LTL player to an integrated logistics company and gained the ability to fulfill multiple needs of customers with its integrated solutions. This is helping the company to grow customer partnerships. Large cross-selling opportunities between LTL and its logistics business coupled with a growing logistics business should help the company post good revenue growth in the long term. I also anticipate long-term operating margin expansion in the company's LTL business helped by high operating leverage. While there could be some pressure from difficult macro conditions in the short term, valuations are cheap and it appears that the street might be underestimating the long-term growth prospects.
ARCB Key Metrics
After the pandemic, the company recorded a healthy ~35% y/y growth in revenue in a good demand environment in 2021. The strong growth in 2021 revenue was supported by good volume as well as pricing growth in Asset-Based business and an increase in demand for logistics services. The addition of MoLo to the Asset-Light business also benefited the company. The Asset-Based business tonnage/day improved by ~8% y/y while revenue/CWT increased ~15% y/y in 2021. Operating leverage from increased volume in the network and higher pricing helped the Asset-Based operating margin, which improved 540 bps y/y to 11.2% in 2021. Asset-Light's adjusted operating margin also increased to 3.2% as the company was able to better manage costs.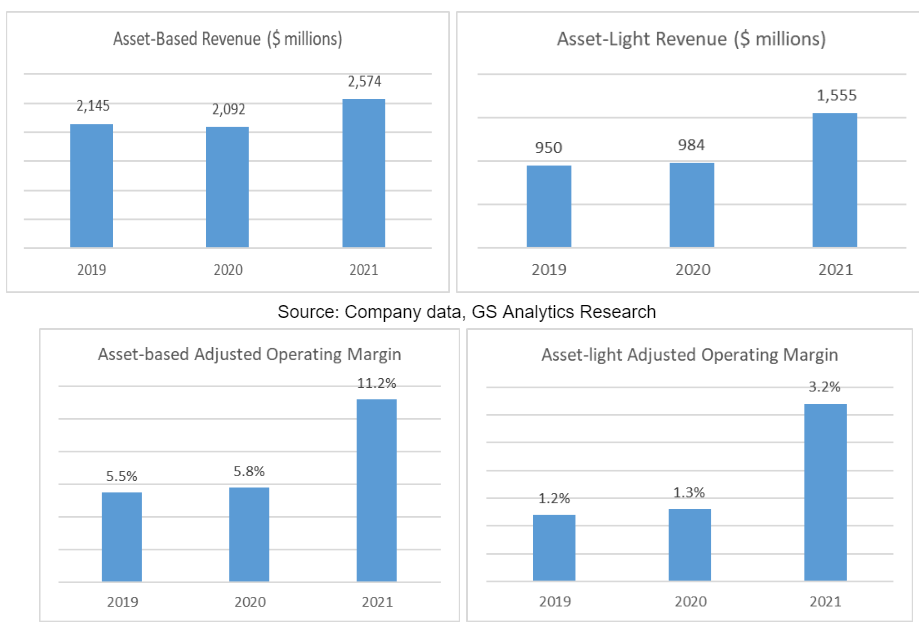 The strong trend from 2021 continued in Q1 2022 and the company recorded ~61% y/y growth in revenues, driven by good growth in yields in the Asset-Based business and benefit from the MoLo's acquisition in the Asset-Light business. The consolidated operating margin also grew ~340 bps y/y due to margin improvement in both segments.

In Q1 2022, the Asset-Based revenue increased by ~27% y/y, which reflects a solid revenue/CWT growth of ~21.1% y/y and a slight improvement in tonnage/day of ~3.6% y/y. The segment's adjusted operating margin increased by ~570 bps y/y helped by strong pricing. The Asset-Light segment also recorded good revenue growth of ~104% y/y, primarily driven by the addition of MoLo. Its adjusted operating margin increased by ~70 bps y/y.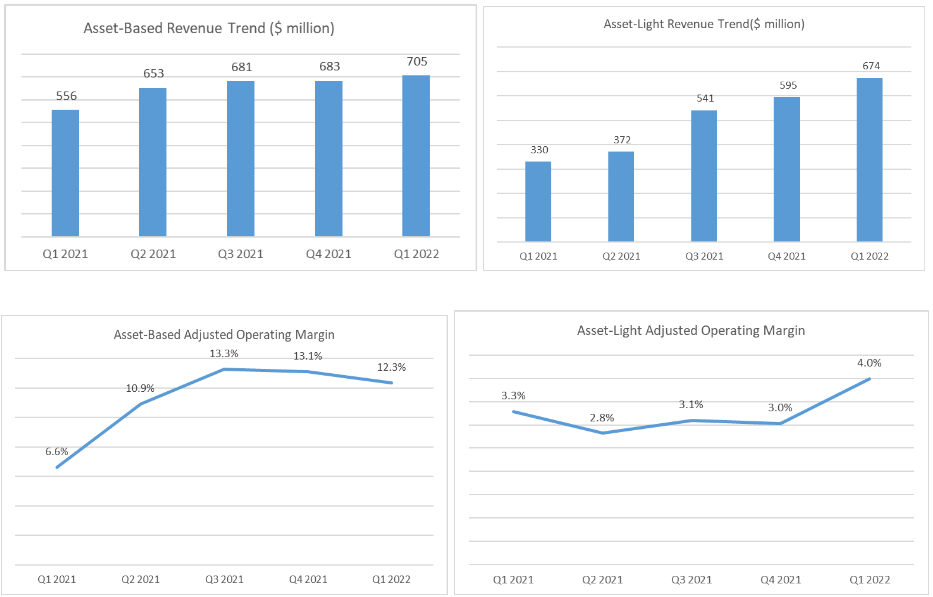 Yield continued to grow at a healthy pace in a solid pricing environment. The company recorded its highest ever quarterly Asset-based revenue per hundredweight of $43.70 in Q1 2022, which is a ~21.1% y/y growth. So far it has benefited from a tight capacity environment, fuel surcharge, and freight mix changes.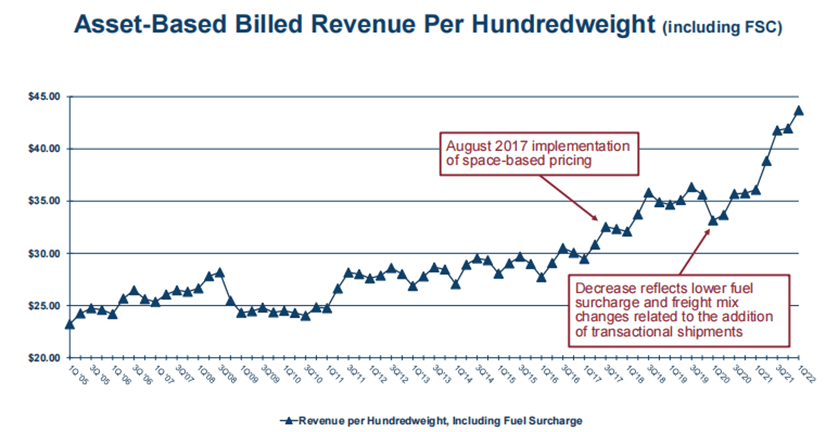 The company provided intra quarter update on its business trends in its 8-K in June. The growth continued in the months of April 2022 and May 2022. Asset-Based Revenue/CWT increased ~19.3% y/y and ~17% y/y in April and May, respectively. The segment's tonnage/day grew by ~3.5% y/y and ~6% y/y in April and May, respectively. The Asset-Light segment's Revenue/day grew by ~122.2% y/y in April and ~82% y/y in May.
Growth Prospects
While the company has continued to post strong growth, if we look closely at April and May data, the growth rate seems to be slowing. For the month of May, consolidated revenues including MoLo grew 38% per day y/y, which was slower than Q1 revenue per day growth of ~60% y/y. The company is facing a headwind from the slowing macroeconomic environment due to rising interest rates. The spot truckload market has also shown some softness in recent times. In the short term, ArcBest may find it challenging to record meaningful volume growth as the environment is challenging and the comparisons also get harder in the second half as there was an exceptional demand environment in 2021. This is reflected in the stock's low valuation.
However, the company's long-term growth prospects look very promising. According to the company, 78% of its customers indicated a need for more than one logistics service offered by ArcBest. 38% of customers already leverage more than one logistics service offered by the company. So, the company can target remaining customers to get them on board for multiple services that ArcBest has. The company's ideal customers, who are loyal and less price sensitive, currently spend more than $5 billion on Asset-Light logistics services. The company is using data and analytics in decision-making and information gathering to target these customers and offer them integrated logistics solutions. This is not only helping the company increase its revenues but is also helping improve profitability and retention. In 2021, the company recorded 5x more revenue in cross-sold accounts and 4x more profit in cross-sold accounts. The retention rate is also 9% higher on cross-sold accounts. So, I see a big opportunity here.
ArcBest is executing a 3-point strategy to drive long-term growth. This strategy includes:
Expanding revenue opportunities through deeper customer relationships and also securing new customers

More balanced business mix

Optimizing cost structure through the adoption of innovative technology
In addition to cross-selling opportunities, the company is also doing M&As that are consistent with its 3-point strategy. The recent acquisition of MoLo is one such example. In 2021, ArcBest acquired truckload brokerage company MoLo for an initial purchase price of $235 million, which was paid in cash. It is rapidly scaling and one of the fastest truckload brokerage companies in the US and has about 500 customers and access to 45,000 carriers. This acquisition should boost the growth of ArcBest's Asset-Light segment with the help of a large scale.
The addition of Molo should benefit not only the Asset-Light segment but also the Asset-Based business because the Asset-Based business is better utilized when combined with the Asset-Light segment, as customers prefer to get an integrated solution. So, this acquisition further widens the cross-selling opportunity and deepens customers relationship.
Apart from this, MoLo should help the company grow the size of its contractual business relative to spot business, because of which ArcBest should perform better in a deflationary spot price environment.
This acquisition has also resulted in a more balanced business mix for the company, as it has increased Asset-Light's contribution to the consolidated revenue to 44% compared to 34% pre-acquisition.

Apart from MoLo, the company has recently invested $25 million in Phantom Auto. It offers Human-Centered remote operation software, which enables drivers to remotely operate, assist, and supervise vehicles. ArcBest invests around $150 million annually in technology and innovation and these kinds of investments should assist ArcBest in achieving growth in both revenue and profitability.
The company has started to benefit from the greater access to capacity from the early stage integration of MoLo as the carrier partnerships of ArcBest are now more than double what they were previously. ArcBest will now have 80,000+ carrier relationships after the addition of MoLo. This additional capacity in the network will help enhance the ability to serve larger customers across the segments.
The management is encouraged by the trend of demand for the company's key services and has updated its long-term financial targets. For 2025, the management is forecasting consolidated revenue of $7-$8 billion. Given softening macro environment, I would like to be conservative, but even if we assume the company is not able to reach these targets and only maintain the current revenue run-rate with cross-selling opportunities offsetting any macro softness, the stock at P/E of ~5.97x current year consensus estimates looks too cheap to ignore. With the company growing logistics business through both organic and inorganic routes, these cross-selling opportunities are going to continue increasing. Hence, if one is ok looking beyond the current cyclical slowdown, the company is a very interesting long-term secular growth story in making.
Operating Margin Outlook
In addition to focusing on revenue growth, the company is also prioritizing revenue quality by focusing on less price-sensitive customers. These efforts have yielded good results so far, as reflected in the improved yields and operating margins. Efforts to enhance digital channels have also helped lower costs.
Looking forward, in the long term, asset-based operating margins are expected to continue benefiting from high operating leverage. Costs related to the LTL network, including real estate costs, labour costs related to local pickup, delivery and cross-docking of shipments are largely fixed in nature unless service levels are significantly changed. So, as cross-selling asset-based services to logistics clients grow and asset-based volumes improve, the company will see improved margins in the long run. Apart from the operating leverage, technology and automation are also contributing to cost-cutting. The pilot test program at ABF Freight involves patented handling equipment, software, and a process to load and unload trailers. It is improving transit performance and reducing cargo claims.
Further, the recent MoLo acquisition will also help add scale to the company's asset-light business and its margins will improve with scale over the next few years.
For 2025, management is forecasting Asset based operating margin of 10-15% and Asset-Light (excluding FleetNet) operating margin of 4-6%. Management's track record of yield management in recent challenging times has been good so far, which also gives confidence in their ability to achieve these targets.
Valuation and Conclusion
ArcBest is well positioned for long-term growth thanks to the recent MoLo acquisition and cross-selling opportunities. The sizeable increase in the network capacity, with the support of MoLo's integration, further enhances its position in the market to meet the growing demand from its customers. ArcBest is a good long-term story with secular revenue growth and margin expansion opportunity. The stock is trading at just 5.97x current year consensus EPS estimates which is a significant discount to its 5-year average P/E.

Hence, I have a buy rating on the stock.