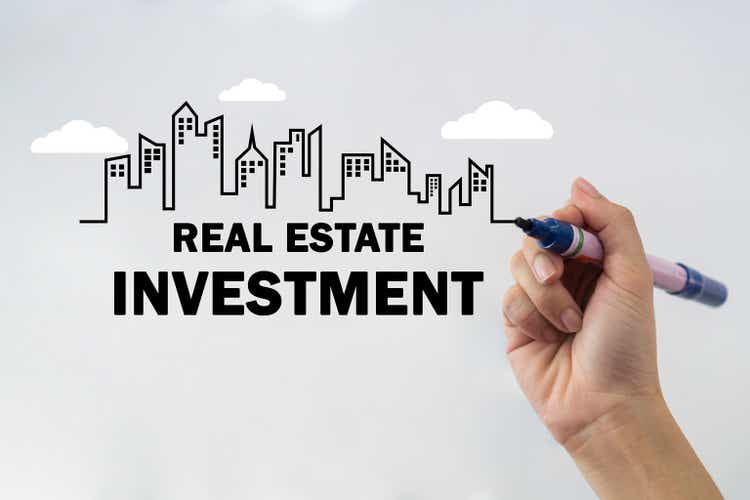 Veris Residential, Inc. (NYSE:VRE) is a real estate investment trust ("REIT") that does not currently pay a dividend. Due to the Covid-19 pandemic and people working from their homes adversely impacting office space rental, its share price has suffered from a net downtrend since 2020, and was down by 22.62% during the past year alone.
For comparison purposes, we have also shown the price performances of Piedmont Office Realty Trust (PDM) and Brandywine Realty (BDN), two other office REITs whose stock has dropped by even more, or 29.11% as seen in the chart below. These two pay dividends.
The reason for Veris suffering less could be linked to the fact its strategy to diversify into multifamily units is bearing fruit. Thus, the aim of this thesis is to elaborate on the transition from operating as an office REIT to a residential one while not forgetting to assess how this is working out from the financial perspective.
The Diversification Strategy
Veris is focusing on mainly diversifying into multifamily units, and it is gradually reducing its suburban office footprint. During the first quarter of 2021, it was formerly known as Mack-Cali. The company had both office spaces and multifamily units, but there has been a transition from office spaces to family residences. Thus, during the first quarter of 2022 (Q1), as shown in the figure below, 24% of the REIT's net operating income was generated by the suburban office segment when it was still under the Mack-Cali brand. This has been reduced to only 3% in Q1-2022, as shown in the pale blue section of the pie chart.

Furthermore, net income from the waterfront segment also decreased from 37% to 33%, while multifamily units increased substantially from 39% to 64%. Therefore, the shift to residential rental properties is well underway, while the company almost stopped operating in suburban office space.
Looking deeper into the waterfront offices segment, 600,000 square feet were leased during a period of 12 months in 2021, compared to 500,000 square feet during Q1 alone, showing that the company is benefiting from the return to the office trend. However, compared to the classical suburban office space which most people were used to before the pandemic, the waterfront constitutes a more premium asset class. Properties there can fetch higher rents as they are located in front of rivers, normally associated with greenery.
In terms of figures, at the end of March, 70.9% of waterfront assets were leased. However, going a step further towards judicious use of capital, Veris has a strategy to dispose of its non-strategic waterfront offices. Thus, in the first quarter, 29% of them were sold.
This strategy to diversify and sell nonstrategic assets seems to be working as depicted in the financial part.
The Financials
Like many other office REITs, the company was impacted by the Covid slump, which saw many companies and freelancers canceling their leases and caused revenues to fall by $19.7 million from the December 2019 quarter to June 2020, as shown in the table below. However, the company was back to growth in the June 2021 quarter when it grew at 3.89% on a year-on-year basis. Growth eventually reached the phenomenal rate of 32% mark in the last reported quarter or Q1.
As shown in the above table, the company's operating income also surged to $22.9 million in contrast to a loss of $2.1 million in the same period last year. This figure is even better than what it achieved in the final quarter of 2019, but it is always fruitful to perform an industry-level comparison.
In this respect, Veris' year-to-year growth in 2021 was better than peers Piedmont and Brandywine Realty. On the other hand, its operating margins were lower, as shown in the table below. Its operating cash flow ("OCF") was way lower.
Now, its cash flow has been the subject of further analysis by SA. For this matter, Veris' OCF regreasing by -34.31% for the fiscal year 2021 has been flagged as a risk to future performance. This regression is in sharp contrast to the real estate sector's median of 16.49%.
However, to be realistic, the company still generated $61.46 million of OCF in 2021 and $186.46 million of levered free cash flow. More importantly, in the latest quarter, it delivered $31.5 million of OCF representing a 20.44% YoY progression and $229.2 million of FCF.
Therefore, historically speaking, the company has underperformed on cash metrics. But for those looking ahead, Veris deserves further analysis, and for this matter, I look at debt.
Debt, Valuations and Risks
First, the debt-to-equity ratio of 112% is not out of range when compared with peers as shown in the table above. The company has repaid its collateral-backed loans using proceeds from $1 billion in nonstrategic asset sales. On a further positive note, it only has to effectuate $238 of repayment in 2022 and 2023. Most debt maturities are scheduled in 2024 and 2026.
To sustain its growth trajectory, Veris has acquired The James Building in New Jersey for $130 million at a 4.0% cap rate. It has also developed Jersey City-located Haus25, including 750 units which were leased at the tune of 44% in May. This development includes the type of hospitality-style amenities in demand by the new generation of income earners, enabling Veris to charge a premium.
In consequence, its Average Monthly Rent per Home of $3,103 surpasses eight other REITs in the Multifamily Residential category by nearly $400 which has, in turn, played favorably on valuations, namely the trailing Price-to-Rental revenue. At a multiple of 4.44x as shown in the table below, these are undervalued with respect to the sector median by more than 40%. Thus, based on the current share price of $13.8, Veris' stock could rise to $19.3.
The stock is also undervalued when considering price-to-sales and price-to-book metrics as shown in green above.
On the other hand, Veris remains overvalued when considering funds from operations ("FFO") and profitability, which earns it an overall valuation grade of D-, and this is where the risk factor shows up.
In a market where the value strategy prevails due to higher interest rates which push up borrowing costs, the stock could suffer from a downside in case there is a slump in demand for its rental properties, or investors focus more on profitability. Downside risks could also stem from a flaring up in Covid-29 cases, as the coronavirus still lives among us. In this case, Veris' 36% of exposure to the office category could induce volatility in the stock depending on which of its building locations are impacted.
Concluding with Total Returns
This said, looking at rental income and sales, Veris remains undervalued with a lower Price-to-Rental multiple. Its diversification strategy is working, thereby generating more revenues and operating cash flow. The company had $78 million outstanding on its $250 million capacity revolver as of the end of Q1.
Looking further, REIT investors tend to overlook Veris as it does not currently pay dividends like Piedmont and Brandywine, which pay yields of 6.26% and 8.31%, respectively. However, a comparison of total returns which includes both the price returns and dividends in case these are reinvested shows that it is Veris that has delivered better performance than peers, albeit at sub-zero levels.
Still, viewed from another angle, the stock has offered investors a higher degree of capital preservation in a period that has been turbulent for the broader market. Moreover, its one-month price performance shown in the deep blue chart above points to a more sustained than peers.
Finally, while not offering dividends, Veris offers better capital appreciation and is, therefore, a buy. At the same time, volatility will continue, but investors should note that REITs offer downside protection during recessions.