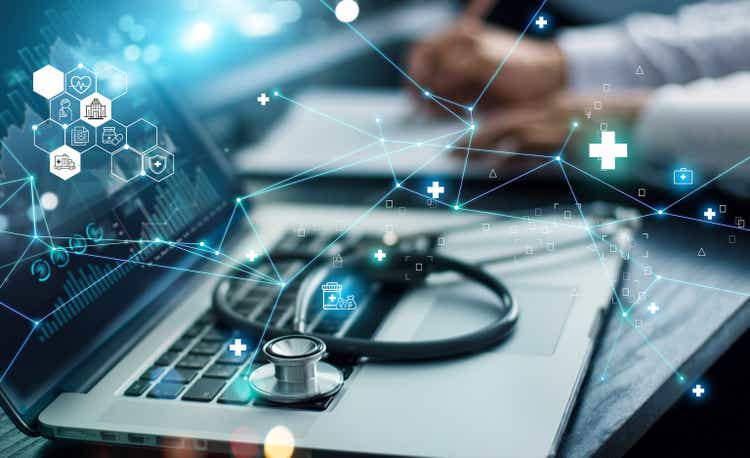 Introducing Premier
Premier, Inc. (NASDAQ:PINC) is a business that operates to enhance healthcare. To change healthcare, the company is bringing together an alliance of over 4,100 hospitals and health systems in the US and about 200,000 other providers and organizations.
Supply Chain Services and Performance Services are the company's two reportable business segments. Its Supply Chain Services section conducts direct sourcing and group buying organizations ('GPO') for the healthcare industry. The company's performance service business offers government services, consulting services, performance improvement collaboration, software as a service ('SAAS') informatic solutions, integrated data and analytics, as well as insurance management.
The company participates in the healthcare sector by working with members to jointly develop long-term innovations that reimagine and enhance how care is provided to people across the country.
Industry Outlook
Due to:
Ongoing pressure on reimbursement rates from government and managed care payers
A change in the payment model from fee-for-service to value-based payment
And the fact that national health costs make up a sizeable portion of the economy
Healthcare providers are looking at all possible sources of cost reductions, with supply chain spending being a key area of focus.
Before being consumed by the provider or patient, healthcare items travel via a protracted supply chain that includes manufacturers, distributors, GPOs, pharmacy benefit managers, retail, long-term care, and integrated pharmacies. Participants in the supply chain are looking for more practical and affordable ways to get goods to patients and providers in response to the national focus on healthcare spending and cost management.
By bringing it into line with other industries that have more sophisticated supply chain management, improving the healthcare industry's supply chain may minimize material inefficiencies and costs.
For these reasons, the healthcare supply chain market could potentially grow at an attractive rate.
Healthcare supply chain management was valued at USD 2.19 billion globally in 2020, and according to Emergen Research data, this market would increase to USD 3.94 billion by 2028, with a revenue CAGR of 7.6 percent during the forecasted period of 2021-2028.
Competition
The markets for its goods and services in both its Supply Chain Services sector and Performance Services segment are fragmented, fiercely competitive, and defined by continuously changing user demands, product standards, and technological advancements.
Other big GPOs including Managed Health Care Associates, Inc., Vizient, Inc., and HealthTrust Purchasing Group (a division of HCA Holdings, Inc.), are the main rivals to its Supply Chain Services business. In this market, Premier also faces competition from online sellers and certain GPOs controlled by healthcare providers. Its direct sourcing initiatives mainly compete with distributors, producers, and private label options from companies including Cardinal Health (CAH), McKesson Corporation (MCK), Medline Industries, and Owens & Minor (OMI).
The rivals in its Performance Services category range from tiny, specialized businesses to substantial, well-funded, and cutting-edge organizations. Information technology companies like Allscripts Healthcare Solutions (MDRX), Cerner Corporation, Change Healthcare (CHNG), Epic Systems Corporation, Health Catalyst (HCAT) its main rivals in this market segment, as are consulting and outsourcing companies like Deloitte & Touche LLP, Evolent Health (EVH) and Healthagen.
Competitive Position:
According to a Premier Company Overview presentation, the company claims that one of their competitive advantages is their integrated platform that offers full technology-enabled solutions. They make use of modern technology such as AI and machine learning, services, and industry-leading analytics to improve clinical and financial advancement for its clients.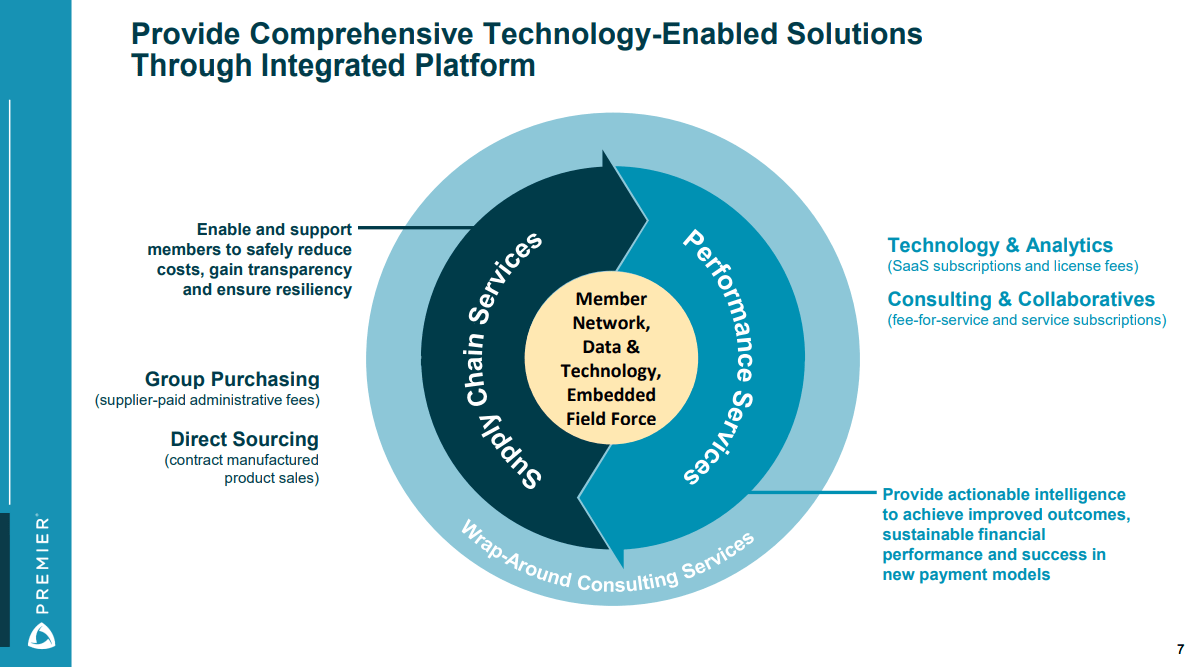 They also state in their presentation that next to its technology enablement, partnership and collaboration since 1996 has led to innovation that both improve and accelerate good quality and cost-effective healthcare to its clients.
Another of its competitive strengths is its large national footprint in the U.S., leading to scale of economies and a well-known brand.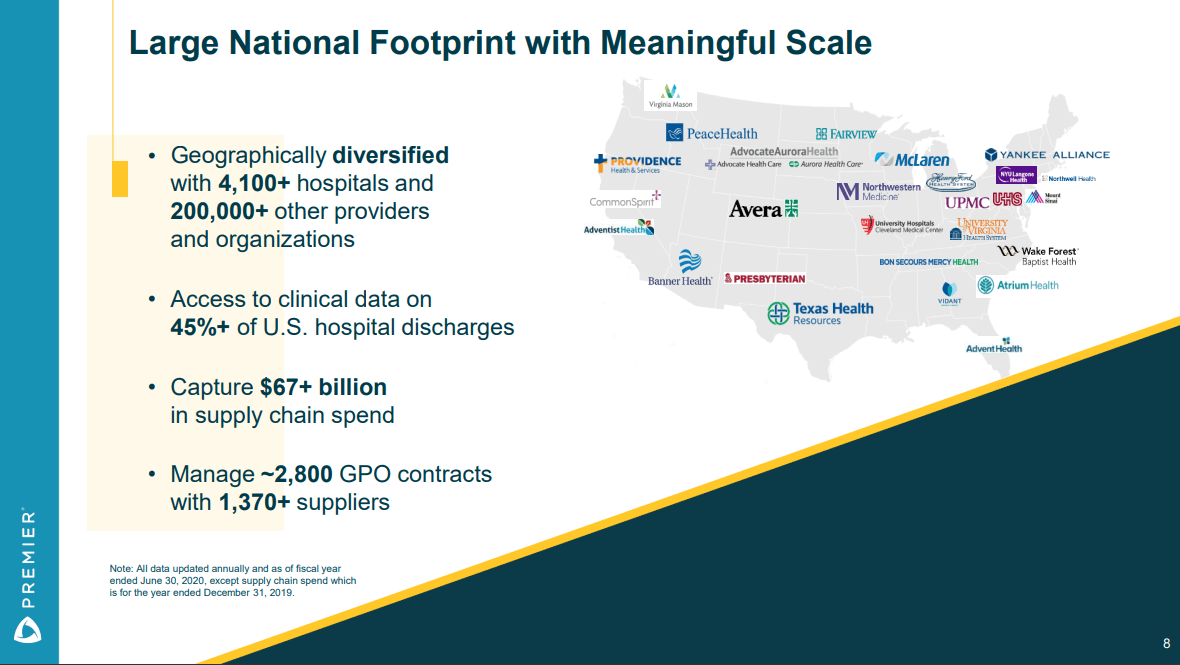 To further strengthen its capabilities and product offering, Premier has acquired several companies. According to its latest annual report, the company acquired Medpricer in 2019, a SaaS-based vendor of technological solutions that allow hospitals and other businesses to evaluate, compare, and source bought. In 2020 they acquired Acuty, a regional GPO and Nexera, a hospital financial improvement consulting business. They also bought Health Design Plus a third-party administrator arranges for staff care. In 2021 it acquired Invoice Delivery Services, a digitization company.
I think that the quality of its products can be backed up as the presentation states that Premier has a high Net Promoter Score of 70 (a market research metric that indicates sentiment of users). The company also has a 98 percent three-year average GPO retention rate and a 96 percent institutional SaaS renewal rate, indicating that its current users benefit enough from its product to stay. Furthermore, Forbes named Premier as one of the 218 best management consulting firms in the U.S. in 2022. This list was formed
by surveying 7,500 partners and executives of management consultancies, as well as roughly 1,300 senior executives who worked with such firms over the last four years.
Despite the strong competition, I believe that the company has a relatively solid competitive position as it's respected by users and executives, seemingly due its product offerings that was shaped by a long history of technology-enablement, partnership and collaboration.
Valuation & Financial Performance
Basic statistics comparison:
| | | | | | | |
| --- | --- | --- | --- | --- | --- | --- |
| index | Forward PE | Gross Margin | Free Cash Flow Margin | 3Y sales growth | 3Y EPS growth | Debt / Equity |
| Premier | 13.59 | 55.97% | 29.66% | 13% | - | 0.27 |
| UnitedHealth | 24.51 | 23.89% | 6.46% | 8% | 14% | 0.65 |
| Change Healthcare | 14.79 | 59.34% | 12.08% | - | - | 1.42 |
| Owens & Minor | 10.58 | 14.64% | 1.26% | 1% | - | 3.01 |
| Health Catalyst | nan | 48.45% | -12.88% | 29% | - | 0.52 |
Source: Seeking Alpha
Premier, compared to its competitors is relatively cheaply valued. Its forward PE ratio is also cheaper than the S&P 500 median PE of around 15.
Its 3Y sales growth is quite high. However, it blown a bit out proportion due the explosive sales of personal protective equipment related to COVID in 2021, according to its latest annual report. As the COVID-pandemic is easing, the revenue growth is normalizing again, according to its latest quarterly report. Nevertheless, throughout the years, Premier has seen its revenue increasing quite consistently, as well as its diluted EPS.
Moreover, as the company has a low debt to equity ratio, high free cash flow margin and low beta of 0.29, I believe that the stock is relatively low risk.
Final Take
Overall, I do think Premier is a nice buying opportunity. It has a large footprint in an attractive and important market, whilst acquiring new business to sustain and improve the quality of its product offering. Additionally, the stock is relatively low risk. Furthermore, the stock is currently priced cheaper than other players in the healthcare market, as well as the S&P 500 median.