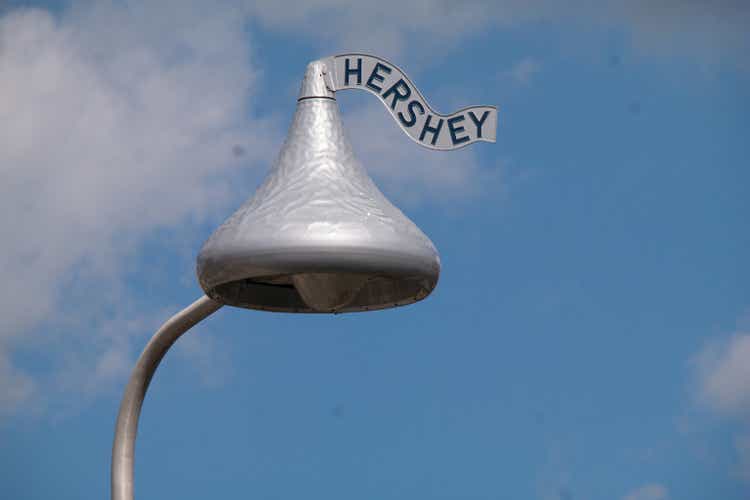 Hershey (NYSE:HSY) stock has performed exceptionally well in 2022, outperforming the broader market by about 30% year-to-date.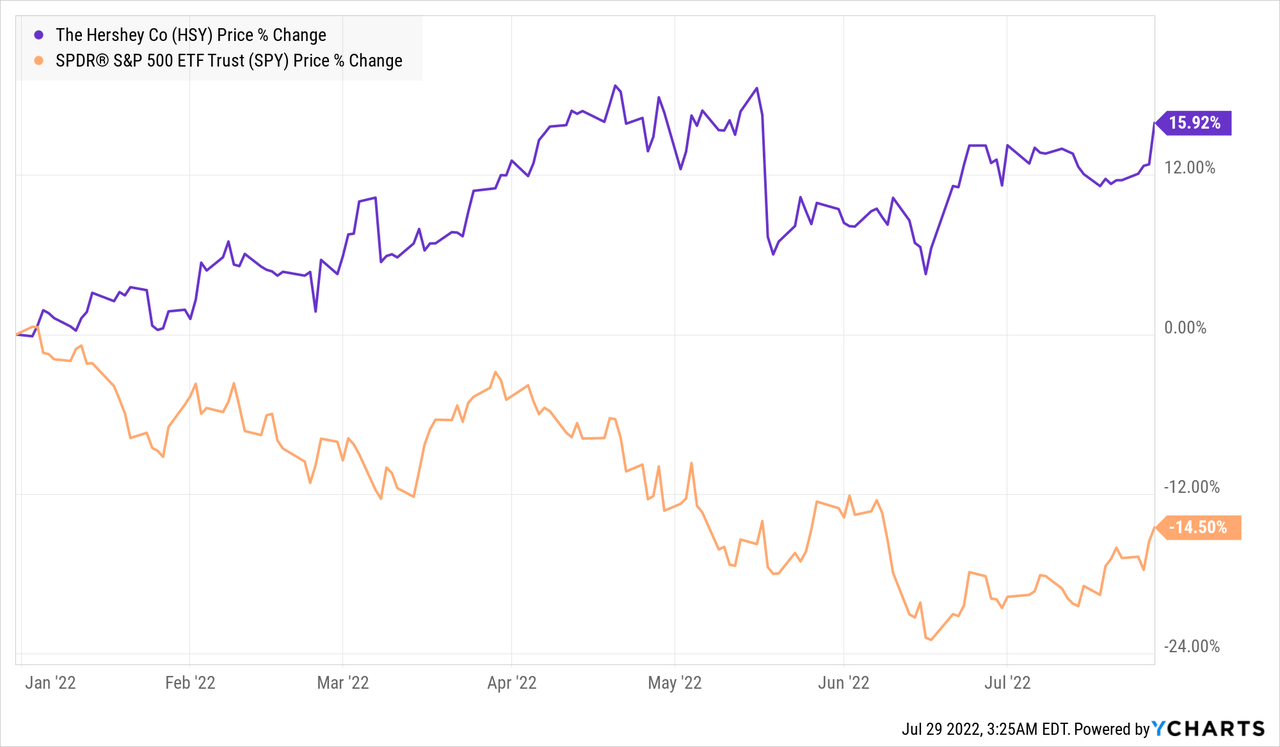 In our opinion, this outperformance is likely to last in the near term for three important reasons. These are:
1.) Financial performance is expected to be relatively unaffected by declining consumer confidence.
2.) It offers an attractive valuation and dividends.
3.) It reported strong financial performance in Q2 and a rosy outlook for the rest of 2022.
Let us dive now deeper into these individual items.
Performance during times of low consumer confidence
Consumer confidence - a leading economic indicator - is often used to predict potential changes in the spending pattern of the consumer. A low or declining consumer confidence often indicates that people are becoming more uncertain about their financial outlook, which could lead to less spending and more saving. Such a behavior could have a pronounced impact on the demand for durable, discretionary, non-essential goods. On the other hand, firms in the consumer staples sector are expected to be impacted less, as the demand for their products is relatively inelastic.
Consumer confidence in the United States has been continuously declining in the past months, falling even below levels recorded in 2008-2009, during the financial crisis.
In order to form expectations about the firm's performance in such an environment, we are going to take a look at how HSY's stock price actually developed during times characterized by low consumer confidence. These periods are marked by the red circles on the graph above.
2001-2003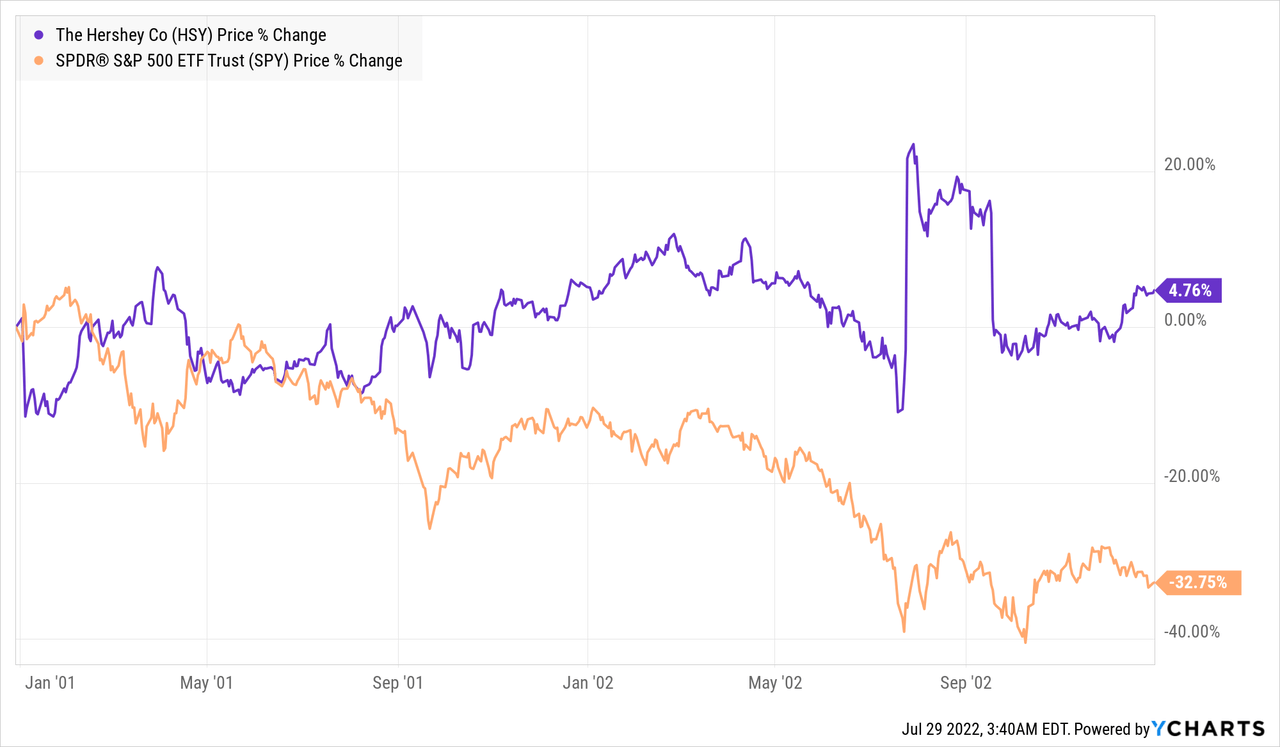 2007-2010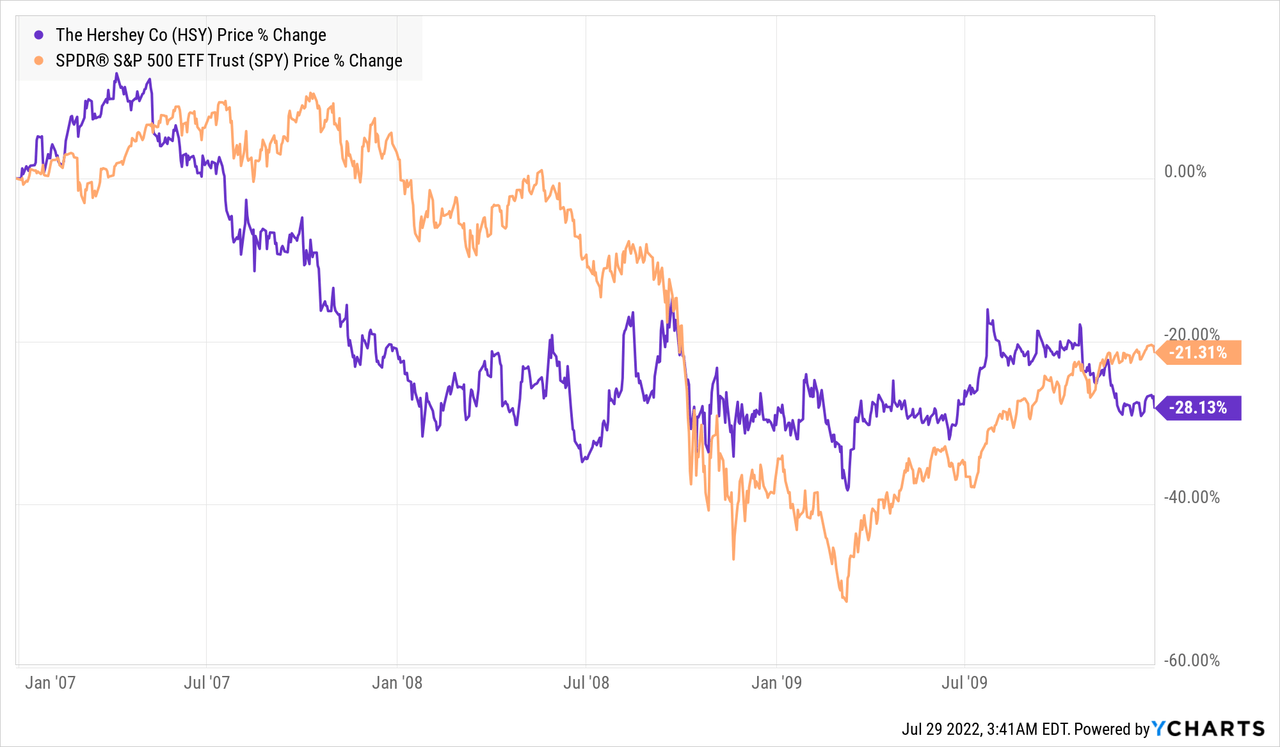 2011-2013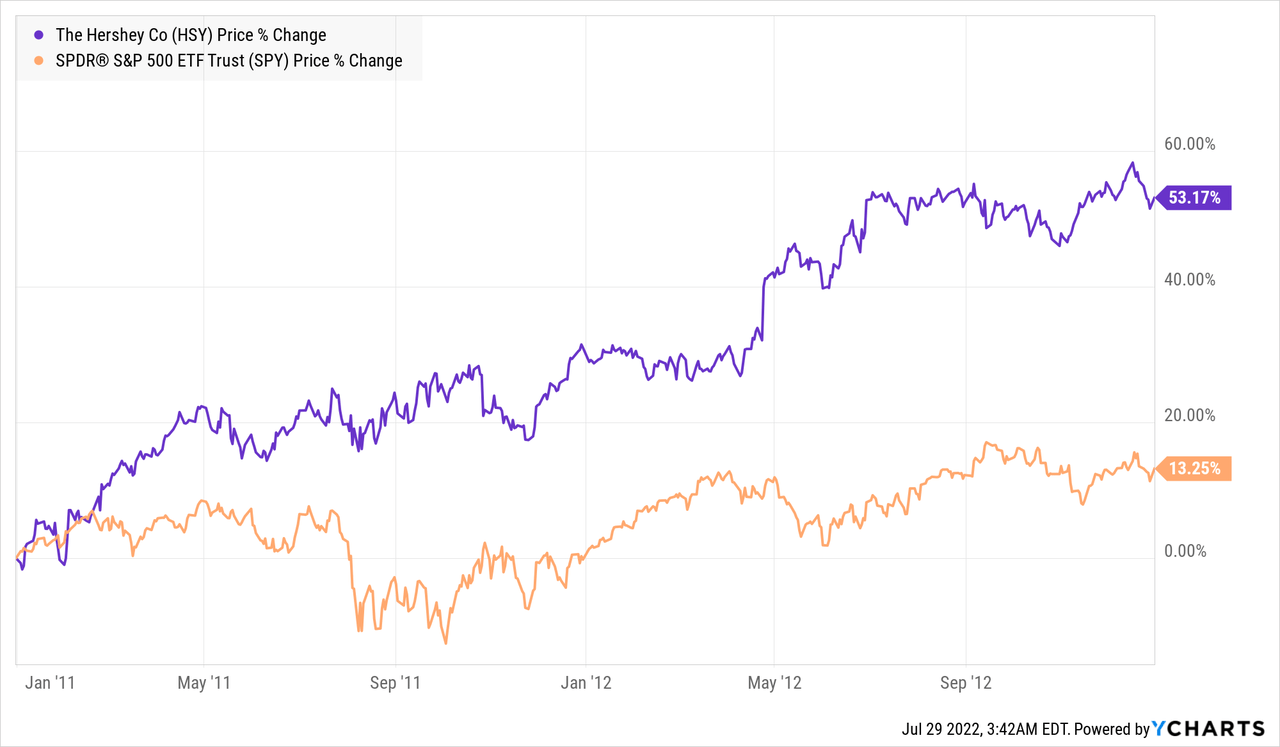 Two out of three periods HSY's stock has substantially outperformed the broader market during times of low consumer confidence.
But past performance alone is not always sufficient to determine whether the stock is well-positioned to outperform in the current environment or not. Therefore, it's important to look at some of the current trends.
It's important to mention that earlier this month, when Pepsi (PEP) reported earnings, they pointed out that some of the COVID-induced trends, including more snacking at home, are still positively impacting their sales and financial performance. In our opinion, these trends are likely to continue creating tailwinds for HSY as well in the near term.
Due to these trends and the firm's past performance, we believe that HSY's stock could be an attractive choice in the current market environment.
Attractive valuation and dividends
HSY has a strong track record paying dividend.
The firm has been returning value to its shareholders in the form of quarterly dividend payments for the last 32 years consecutively. The company also managed to increase these payments each year in the last 13 years. In our opinion this is an impressive figure, considering that many firms were forced to cut their dividends, when the effects of the Covid pandemic unfolded in 2020.
HSY also has had a dividend payout ratio in the range of 45% to 60%, which appears to be safe and sustainable, considering that the sales of the firm are expected to increase in the years to come.
Considering that the firm yields about 1.65% annually, we believe that HSY's stock could be an attractive option for dividend and dividend growth investors.
The main question is, what are these dividends worth?
To answer, we will apply the Gordon Growth Model to determine the intrinsic value of HSY's stock.
Gordon Growth Model
The GGM is a simple dividend discount model, which can be applied to determine the fair value of dividend paying stocks. Some criteria however need to be met, in order for this method to be applicable:
1.) Paying dividends
2.) In the mature growth phase
3.) Relatively insensitive to the business cycle
A strong track record of steadily increasing dividend payments at a stable growth rate could also serve as a practical criterion if the trend is expected to continue in the future.
In our opinion, HSY fulfils these criteria and the model can be applied.
To calculate the fair value, we also have to make two key assumptions:
1.) Required rate of return
For required rate of return, we often prefer to use the weighted average cost of capital for the firm. It is in the range of 6% to 7% for HSY.
To stay within the range, we will be using 6.5% for our calculations.
2.) What's the sustainable dividend growth rate in perpetuity?
The following table summarizes the HSY's dividend growth rate for different periods.
Although HSY had impressive growth rates in the past years, we believe that such high rates are not sustainable in perpetuity. For this reason, we are going to use a range of 3% to 5.5%, which is about in line with the sector median figures.
The results of our calculation are summarized in the following table:
As currently HSY's stock is trading in the middle of this price range, we believe that the stock is about fairly valued.
Due to the expected outperformance in the near term and its attractive dividends, we believe the stock could be an appealing buy at these price levels.
Q2 earnings
Earlier this week, Hershey Co. has reported impressive results for the second quarter of 2022. The key highlights from their report are:
Second-Quarter 2022 Financial Results Summary
Consolidated net sales of $2,372.6 million, an increase of 19.3%.
Organic, constant currency net sales increased 14.1%.
The impact of acquisitions on net sales was a 5.3-point benefit while foreign currency exchange was a 0.1-point headwind.
Reported net income of $315.6 million and $1.53 earnings per share-diluted, an increase of 5.5%.
Adjusted earnings per share-diluted of $1.80, an increase of 22.4%.
In our opinion the organic sales growth of 14.1% on a constant currency basis is a positive indication that the demand for the firm's products remain strong and is even growing despite the low consumer confidence levels. The improved guidance for the rest of the year confirms the management's belief that it is likely to remain so for the rest of the year.
The table below summarizes the prior and current guidance:
The full earnings transcript for more details can be found here.
Also important to mention is that many firms selling their products internationally have been hurt because of the strong USD. Hershey on the other hand, while selling products internationally, generates most of its revenue in North America. For this reason, we do not expect severe headwinds in the near term due to foreign exchange rates.
In our opinion, the strong earnings report, combined with the improved guidance, sustainable dividends, and historic outperformance during times of low consumer confidence, make HSY an attractive option now.
Key takeaways
Hershey has a strong track record of performing well during times of low consumer confidence, which makes the stock an attractive option in the current, turbulent market environment.
Its safe and sustainable dividend payments at a fair price could be appealing for dividend and dividend growth investors.
Q2 results and an improved outlook for the rest of 2022 shows management's confidence that the demand for their products are likely to remain strong for the rest of the year as well.