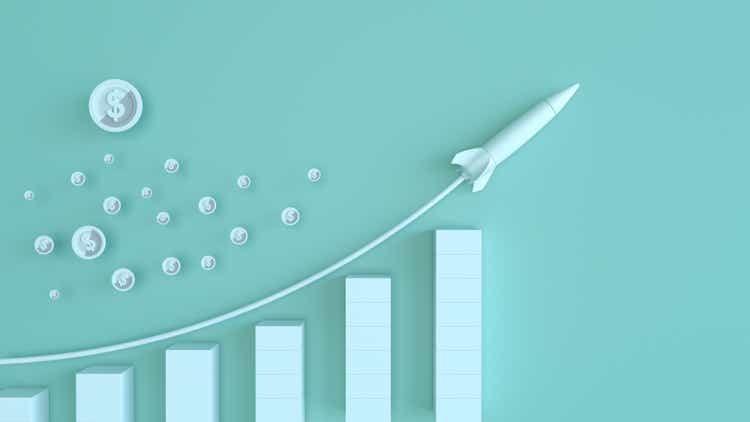 Northrop Grumman (NYSE:NOC) has provided its second quarter results on the 28th of July. Currently there are three themes governing earnings for aerospace companies and those themes are supply chain constraints consisting of material supply and labor, inflation, and the current environment for defense spending amidst an increased threat level.
Northrop Grumman is one of the companies I believe is navigating the current dynamic environment rather well with the first timeline indications for the translation of increased demand for defense solutions to the company's topline.
Why Northrop Grumman Sales Declined
Sales of Northrop Grumman declined by 4% year-over-year. This was driven by a 13% decline in Aeronautics Systems, a 9% decline in Defense Systems and a 3% decline in Mission Systems. This $584 million decline was partially offset by a $8% or $231 million increase in Space System revenues. Looking at it differently: The decline in Defense Systems and Mission Systems revenues were more than offset by higher Space Systems revenues. The decline of $350 million was for 19% or $65 million driven by lower EAC adjustments.
The $379 million decline in Aeronautics Systems was driven by lower volumes on the F-35, classified programs, Global Hawk and NATO Alliance Ground Surveillance. The $133 million in Defense System sales decline was primarily due to completion of a Joint Services support program, lower scope on an international training program, and wind down of the UKAWACS and JSTARS programs.
Mission System sales decreased $72 million, or 3 percent, primarily due to lower volume on Navigation, Targeting and Survivability programs, the Joint Counter Radio-Controlled Improvised Explosive Device Electronic Warfare (JCREW) program, and airborne radar programs. These decreases were partially offset by an increase in restricted sales in the Networked Information Solutions business area and higher volume on Ground/Air Task-Oriented Radar (G/ATOR) and Surface Electronic Warfare Improvement Program (SEWIP).
Space System sales increased $231 million, or 8 percent, primarily due to higher sales in the Launch & Strategic Missiles business area due to ramp up on development programs, including a $123 million increase on the Next Generation Interceptor (NGI) program and a $95 million increase on the Ground Based Strategic Deterrent (GBSD) program.
What I like about Northrop Grumman's results and comment is that in each segment they were able to point at specific programs that impacted sales. Sales were impact in some instances by ramp down or completion of sales and in many instances also by labor and supply chain delays affecting sales timing. Overall, Northrop Grumman missed sales estimates by $270 million or 3%. Obviously, right now we would like to see sales increasing but the supply chain delays are currently impacting the timing of sales.
Segment operating earnings showed declines that were in line with the top line decline, so that's not bad at all. In the segments that saw top line decline, we did see stable to slightly better margins while the Space Systems segment saw a contraction in margins likely driven by new development programs that have low margins in the early phases. Overall, we do see that the company kept its operating margins at 12.2%, which is good given the current environment.
Northrop Grumman reported earnings per share of $6.06 missing estimates by $0.01, which I think is quite good. The topline decline already brought a $0.21 per share pressure on operating income and $0.17 on reported earnings per EPS so I would say that Northrop Grumman executed rather well as earnings estimates suggested that margins would decline in the quarter.
Northrop Grumman Maintains Guidance
Despite the pressures faced across the industry, Northrop Grumman maintained its guidance, which to me is a sign that the company is executing well and has made a balanced assessment on those pressures and its ability to mitigate those pressures or handle them.
On a segment level, Aeronautics Systems revenues guidance has been maintained while the operating margin went from around 10% to low 10%. Defense Systems revenues are guided down somewhat from mid to high $5 billion to mid $5 billion but the operating margin will be around 12% instead of high 11%. Mission System revenues guidance remained unchanged but the operating margin has low 15% to high 15%. Space Systems strength translated to an improved guidance from mid to high $11 billion to high $11 billion at a margin of around 10% instead of low 10% driven by introduction of new development programs to the mix which bring lower margins.
So, what we're seeing is that the guidance is maintained but within the segments there are some changes. What I liked about comments from management is that they did provide additional color in some areas. On the F-35 program, the company shared the program represented around 10% of its sales and maybe more interesting were comments on the increased threat level translating into sales. In areas like missile defense, there will be increased interest but the company now also provided 2024 as the first moment that increased interest could start translating into sales.
Conclusion: Northrop Grumman Stock Remains A Buy
Northrop Grumman has been one of the companies I tipped for investment a while ago and I continue to believe that Northrop Grumman stock offers a nice investment opportunity. The company is navigating the current environment quite well and also was able to provide some timeline markers on how increased interest in defense solutions is going to translate into contracts and eventually sales. Northrop Grumman has a longer-term view on its business and products and that's something I definitely like.