In the first two months of the year, SPDR Dow Jones Industrials (NYSEARCA:DIA) garnered 6.5% and the underlying benchmark made a successful run at 13,000. It was a phenomenally fast start that persuaded many investors with cash on the sidelines to reconsider.
Perhaps surprisingly, foreign stock ETFs dramatically outperformed domestic counterparts in January and February. For example, Vanguard Emerging Markets (NYSEARCA:VWO) raked in 16.8%, Market Vectors Brazil Small Cap (NYSEARCA:BRF) rocketed 27.9% and Wisdom Tree India Earnings (NYSEARCA:EPI) catapulted 31%. In essence, the "risk trade" was striking Madonna's vogue pose.
However, things changed in the month of March ... and the mainstream media seemed to miss it. Even as the S&P 500 topped 1400 - even as the Nasdaq surpassed 3000 - significant risk assets were starting to slide.
Specifically, energy and materials stocks dipped. Small-cap U.S. stocks waned. And most notably of all, emerging market equities everywhere responded poorly to weak demand from China.
Personally, I don't view potential contraction in China's manufacturing sector or uncertainty over a so-called property bubble as alarming. On the contrary. I believe Chinese authorities will exert their fiscal firepower in the form of a direct stimulus package and People's Bank leaders will lower interest rates and cash reserve requirements as needed. Ultimately, that will benefit investors in certain aspects of the emerging market space.
However, I am troubled by economic contraction in Europe as well as the burdensome rise in Spanish bond yields. With eurozone PMI declining to 48.7 in March, and European banks demonstrating fear in lending to one another yet again, the media might want to lay off the U.S. economic recovery angle a tad.
In truth, trillions in deficit spending combined with electronic money printing and unbelievably low interest rates have made U.S. stocks attractive. That said, a "straight line through the roof" is not a probable investing outcome with three-month LIBOR rates hampering any chance at a European renaissance. (Note: The rapid decline in three-month LIBOR that began in 2012 helped fuel risk assets through February, but the rate is stuck at .47 since March began.)
Click to enlarge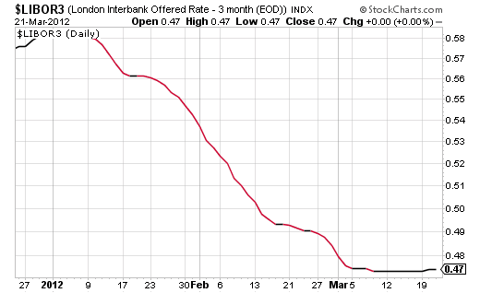 In sum, Spanish bond yields are rapidly rising, picking up where Italian bond volatility left off. That is rekindling concern in the inter-bank lending rate, which causes investors to back away from foreign equities. Eventually, global fears are likely to drag on U.S. equities as well.
Do I think investors should run from the hills? Nope. Here are several dividend ETFs that I'd look to pick up on fear-driven sell-offs:
1. EG Shares Low Volatility Emerging Market Dividend (NYSEARCA:HILO). This exchange-traded tracker has greater relative strength than its most appropriate benchmark, the MSCI Emerging Market Index; in fact, the HILO:VWO price ratio is well above an intermediate-term (50-day) moving average. HILO also tracks an index with a yield in the 6% range. Best of all, those high yields are primarily coming from less risky segments of emerging economies, including telecom and utilities.
Click to enlarge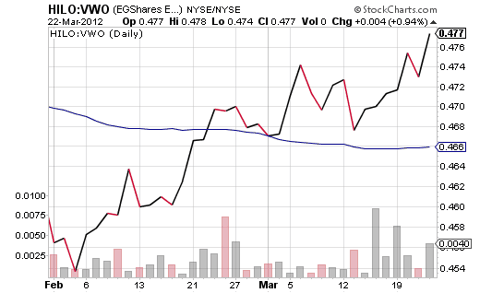 2. Guggenheim Multi-Asset Income Fund (NYSEARCA:CVY). This exchange-traded fund offers more than a way to track dividend paying stocks. It also targets master limited partnerships (MLPs), real estate investment trusts (REITs), closed-end funds (CEFs) and preferred shares as a way to enhance cash flow. Whereas the S&P 500 SPDR Trust (NYSEARCA:SPY) may be able to deliver 1.9% annualized, CVY is currently offering 5.0%, and with a little less risk than the market at large. If you're expecting the market to trade in a range or potentially pull back, CVY can provide juicier quarterly distributions while keeping pace with large-cap value U.S. stocks.
Disclosure: Gary Gordon, MS, CFP is the president of Pacific Park Financial, Inc., a Registered Investment Adviser with the SEC. Gary Gordon, Pacific Park Financial, Inc, and/or its clients may hold positions in the ETFs, mutual funds, and/or any investment asset mentioned above. The commentary does not constitute individualized investment advice. The opinions offered herein are not personalized recommendations to buy, sell or hold securities. At times, issuers of exchange-traded products compensate Pacific Park Financial, Inc. or its subsidiaries for advertising at the ETF Expert web site. ETF Expert content is created independently of any advertising relationships.