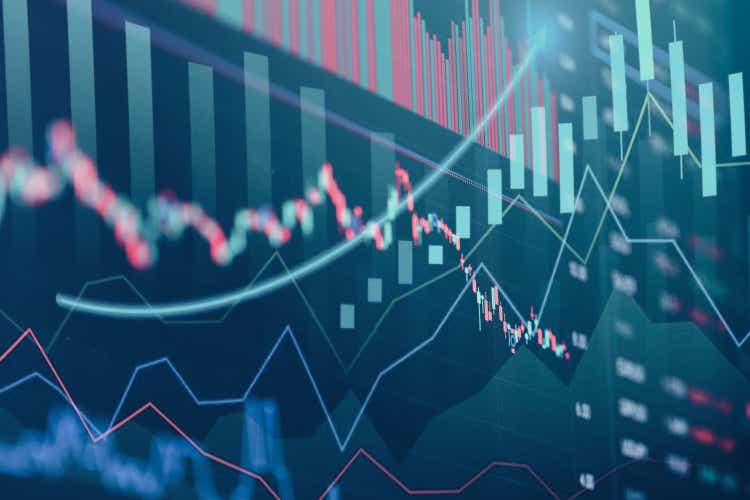 I have a multiplicity of motivations for writing on this forum. For instance, I like having access to the collective wisdom of the crowd, as expressed in the comments sections of my articles. Nevermind that some of the "wisdom" expressed by people who follow certain stocks serves as great contraindications. At least as important is the fact that sometimes I get to brag. This is important to me because I'm a very small man. With that admission out of the way, it's time to write again about Allied Motion Technologies Inc. (NASDAQ:AMOT). Since I recommended continuing to avoid the shares, they're down about 10.3% against a loss of 5.2% for the S&P 500. I need to take a moment to let that sink in. Alright, moving on. The company has reported earnings since I wrote the above piece, so I thought I'd review the name yet again. After all, a stock trading at $28 is, by definition, less risky an investment than when the same stock was trading at $31. I'll decide whether or not it makes sense to buy based on that financial performance and by looking at the stock as a thing distinct from the underlying business. Finally, I wouldn't be me if I didn't spend some time to write about, and brag about the short put trade here.
Welcome to the "thesis statement" portion of my article. I write this paragraph near the beginning of each of my articles as a public service to all of you. You're welcome. You see, some people find bragging like the above tiresome for some reason, so they want to get out before being exposed to too much "Doyle mojo." I write these so such people won't completely loathe me. I'd characterise the most recent financial performance here onomatopoeically as "meh." Sales have grown, which is obviously a positive, but net income has fallen as the capital structure has deteriorated substantially. In spite of this, the shares are not particularly cheaply priced. Thus, I'd recommend continuing to avoid the shares. Lastly, my options trade worked out reasonably well, and I will remain short the October puts with a strike of $25 because I'd be comfortable buying at a net price of $23.75. My experience with these options offers a lesson for new options traders. Options can move rapidly in price, especially if they're thinly traded. For that reason, never write puts on companies unless you're comfortable being exercised at the strike price. Those are my thoughts in a nutshell. If you continue to read from here, I don't want to read any complaints in the comments section about my tiresome bragging or the fact that I spell words like "characterise" in the correct, non-American way. If you read on from here, that's on you.
Financial Snapshot
I'd characterise the most recent financial performance as "troublesome." While revenue and gross profit were ~13% and 11.3% higher than the same period a year ago, net income absolutely collapsed, down over 79% from the year ago period. The same dynamic exists when we compare the latest quarter to the same period in 2019, suggesting a (disturbing) trend.
Of course, the reason for the collapse in profits mostly relates to the fact that expenses grew at a faster pace than revenue. For instance, engineering and development were up by about 35%, while amortization of intangibles was up 61%. Additionally, business development expenses ballooned from $19 thousand last year to $848 thousand this year. Finally, the company wasn't helped by the fact that the income tax situation flipped from a $6 million benefit to a $679 thousand outflow.
This prompts me to remind investors of a fact that they sometimes seem to forget. We as owners aren't compensated with sales. When you own a business, you get whatever's left over after suppliers, employees, the government etc. are paid. Thus, the fact that the acquisitions I wrote about previously might be driving sales is nice, but it's not relevant unless rising sales can be translated into rising profits. Put another way, if growing sales doesn't lead to growing profits, what will?
In case you were worried that I wasn't going to write about the capital structure, fret no further. I have to note that long term debt has obviously ballooned by ~$59 million or 49% relative to the same period a year ago. Cash on the books has collapsed. This obviously increases the level of risk, and I'll need to see that heightened risk reflected in the stock price before I get too excited.
All of that written, I'm comfortable owning the shares at the right price as I think the risk of bankruptcy is pretty low, and there's always the chance that the company will work things out and translate higher sales into higher profits. To paraphrase a game show of my youth, I'll buy if the price is right.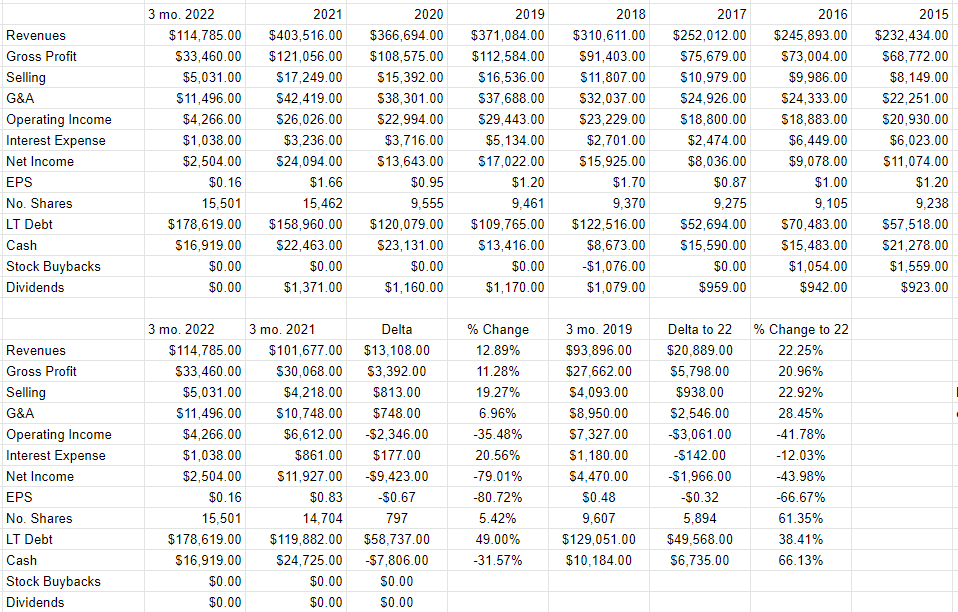 Allied Motion Technologies' Stock
If you read my stuff regularly, you know that I am of the view that a great business can be a terrible investment if you overpay for it and a mediocre business can be a great investment if you can get it on sale. This highlights my view that the stock and the company are distinct from one another. The company, for instance, takes various inputs, adds value to them, and then sells the results (hopefully) for a profit. The stock, on the other hand, is a traded instrument that reflects the crowd's aggregate belief about the long-term prospects for the company. The crowd changes its views about the company relatively frequently, which is what drives the share price up and down. Added to that is the volatility induced by the crowd's views about stocks in general. "Stocks" become more or less attractive, and the shares of a given company get taken along for the ride. The fact that I write articles on this topic, and the fact that you read them indicates to me that we sometimes (often) don't trust that the crowd's current view is correct.
In my view, the only way to earn a sustainable profit in the stock market is by finding where the market is incorrect about a company's long-term future prospects and exploiting that inaccuracy by buying or selling. I'm also of the view that there's a strong negative correlation between price paid and subsequent returns. The higher the price paid, the lower will be the subsequent returns. In order to buy at these cheap prices, you need to buy when the crowd is feeling particularly down in the dumps about a given name. So, in a nutshell, cheap wins.
If you read my stuff regularly, you know that I measure the relative cheapness of a stock in a few ways ranging from the simple to the more complex. On the simple side, I like to look at the ratio of price to some measure of economic value, like earnings, sales, free cash, and the like. To refresh your memory of an idea expressed in the previous paragraph: cheaper wins. I want to see a company trading at a discount to both the overall market, and the company's own history. In case you forget the valuation the stock was trading at in my previous article, I'll remind you now. I'll do this for two reasons. First, and most importantly, reminding you of my previous call on this name gives me yet another chance to brag. Second, it allows us to consider the current valuation in context. Previously, I decided to eschew the shares when they were trading at a PE of ~18.5. Fast forward to today and they're actually more expensive on this basis per the following: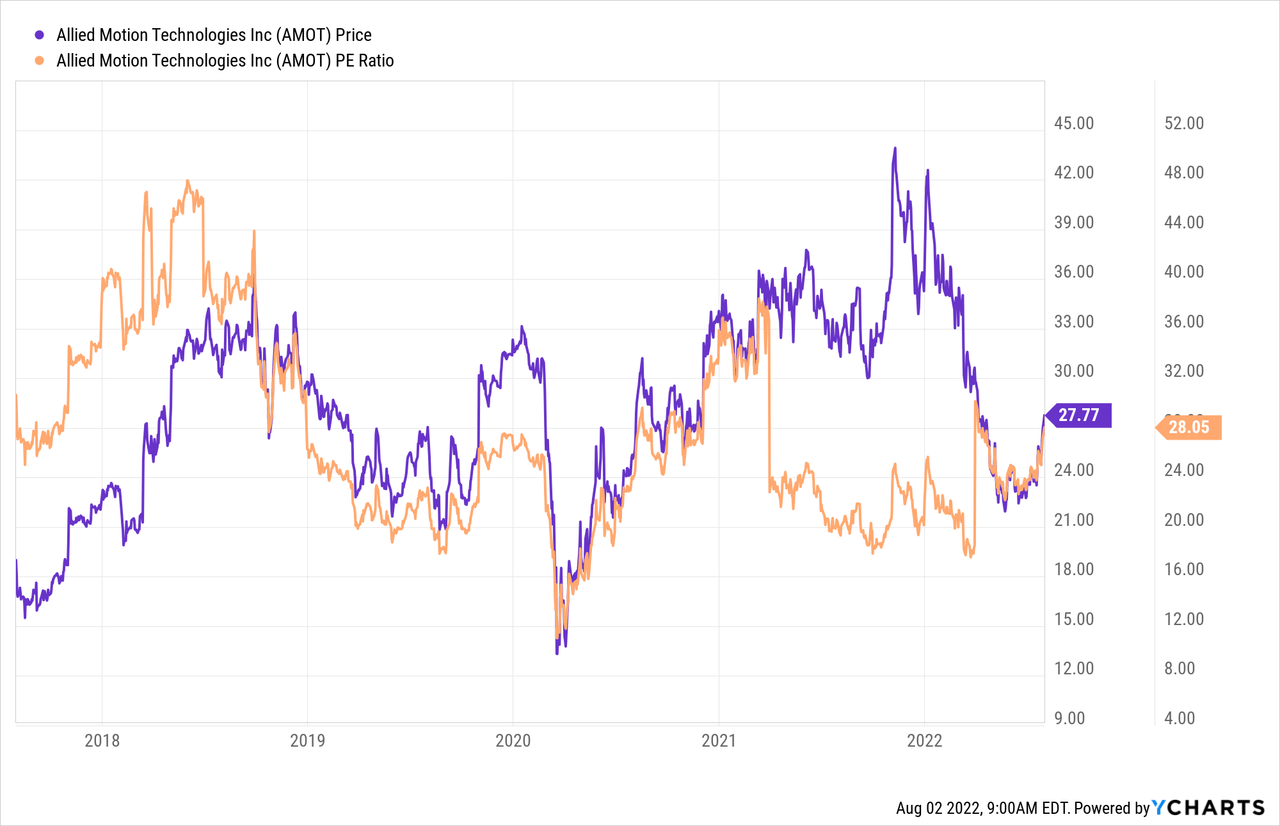 Obviously this is a consequence of the fact that earnings have collapsed, so an argument could be made to suggest that we should "cut the company some slack." The problem with this view is that, again, we're compensated by earnings and not sales. Unless and until the company demonstrates the capacity to turn growing sales into growing profits, I'm of the view that we should not cut any slack.
Additionally, while I'll admit that the shares are trading on the low side on a price to sales basis per the following chart, they're certainly not extraordinarily cheap.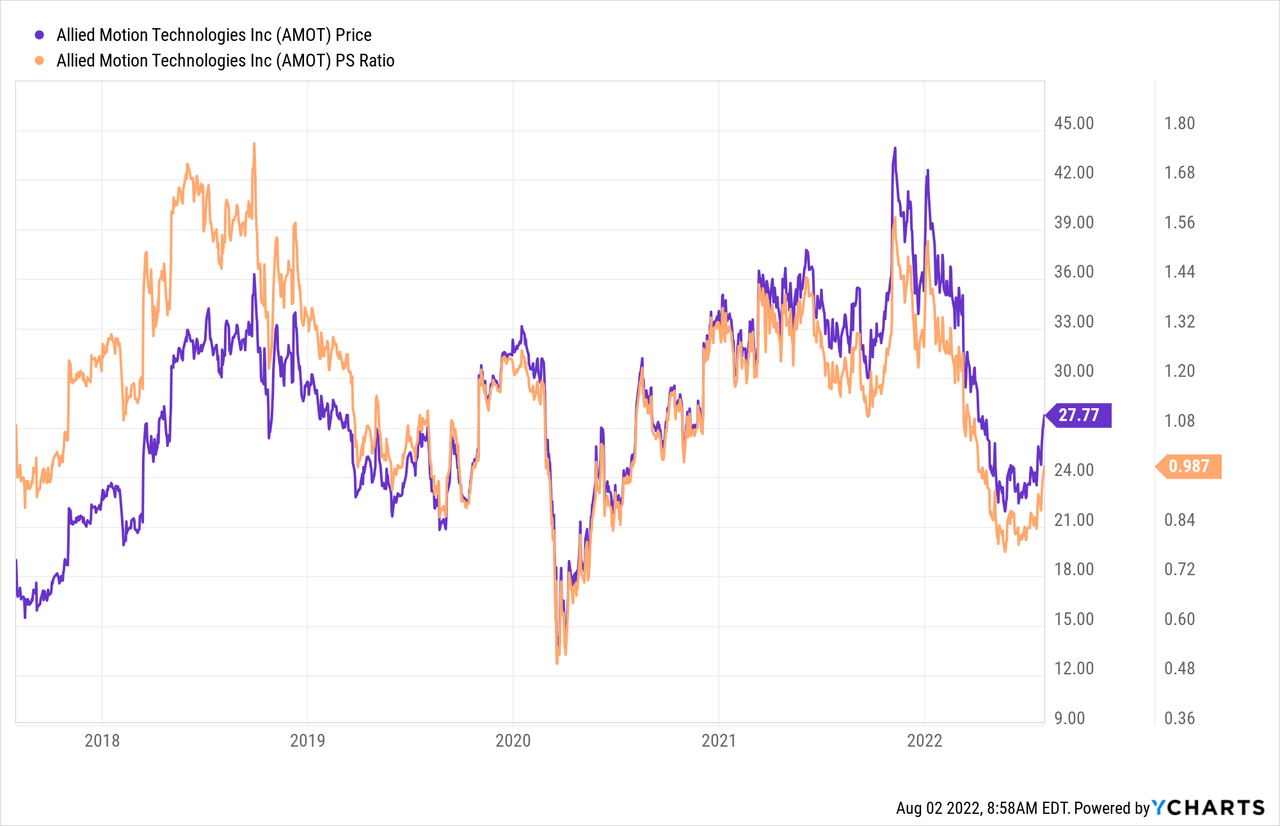 For that reason, I'm going to continue to avoid the name until there is some evidence that the company can boost earnings and/or if the stock comes down in price.
Options Update
In case you don't have your "almanac of Doyle's trades" open in front of you, I'll remind you that I previously sold 10 October Allied Motions puts with a strike of $25 for $1.25 each. In spite of the significant drop in stock price, these are currently bid at $0.25, so I think that trades worked out pretty well. I should also point out, though, that they changed hands as high as $3.20 as the stock priced crashed. This is an important lesson for anyone who's interested in selling deep out of the money puts. Options, especially thinly traded options, can move wildly in price. For that reason, I'm of the view that you should only ever write puts that you're comfortable being exercised on. Unless you're comfortable buying a stock at the agreed upon net price, you should not sell the put. For my part, I'm comfortable taking a position in this name at an adjusted price of $23.75 ($25-$1.25), and so I'm going to wait for these puts to expire worthless, or not.
For the rest of you, I don't think the premia on offer at the moment makes the exercise worthwhile. I think the market is too optimistic at the moment, and is therefore paying very little for stock insurance. Thus, I would recommend avoiding the options market until the crowd gets a bit more skittish or until the shares drop further in price from here.
Conclusion
In my view, the financial performance here doesn't justify the current valuation. For that reason, I would recommend continuing to avoid the name. Net income is down, in spite of the fact that sales are up. In spite of this, the shares are not remarkably cheap. I'd need for them to be remarkably cheap to get excited. That written, I think there's value here, just not at the current price. I'd be comfortable buying at a price ~$4 cheaper from current levels, and so I'll remain short the puts I wrote earlier. My recommendation to the readers is to continue to avoid the name because the risk adjusted returns just aren't there.