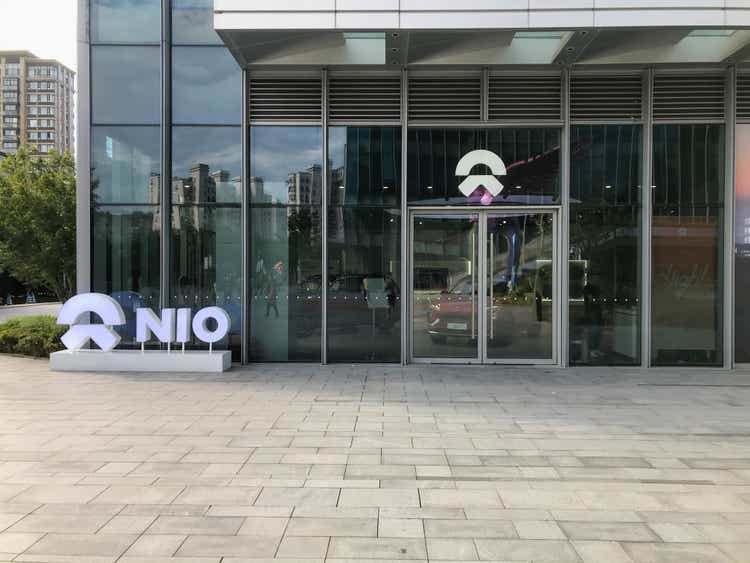 Chinese electric vehicle ("EV") maker NIO Inc.'s (NYSE:NIO) deliveries remained above the important 10 thousand unit threshold in July, but dropped off compared to June due to resurfacing supply problems. While NIO's deliveries in July still grew at a 27% rate year-over-year, delivery growth in the Chinese electric vehicle market is decelerating due to challenges ranging from factory shutdowns to supply chain problems to inflation. NIO's ET7 ramp experienced an unexpected setback in July and it may weigh on NIO's delivery prospects in the short term!
A look at NIO's delivery card for July
NIO delivered 10,052 electric vehicles in July, showing 27% year over year growth. NIO did not break down the number of sales per model in its latest release, but said that it delivered 7,579 sport utility vehicles -- which include the ES8, the ES6 and the EC6. Sedan deliveries, which so far only include the ET7, for which deliveries started in March, totaled 2,473 units. ET5 sedan deliveries are expected to begin in September.
Meanwhile, XPeng (XPEV) once again saw the highest year-over-year delivery growth rates: XPeng delivered 11,524 electric vehicles to its customers in July, showing 43% year over year growth. XPeng also continued to produce the largest number of electric vehicles among its rivals. Li Auto (LI) delivered 10,422 Li ONE sport utility vehicles in July, showing 21.3% year over year growth. Delivery growth rates in the Chinese EV industry have been decelerating in FY 2022 chiefly due to COVID-19 lockdowns that worsened existing supply chain problems.
Although XPeng saw the highest delivery growth rate year over year, the EV company also saw the steepest month over month drop of 25% in delivery volume, but didn't blame supply problems. NIO's deliveries dropped 22% month-over-month due in large part to supply issues.
| | | | | | | |
| --- | --- | --- | --- | --- | --- | --- |
| Deliveries | May | May Y/Y Growth | June | June Y/Y Growth | July | July Y/Y Growth |
| NIO | 7,024 | 4.7% | 12,961 | 60.3% | 10,052 | 26.7% |
| XPEV | 10,125 | 78.0% | 15,295 | 133.0% | 11,524 | 43.0% |
| LI | 11,496 | 165.9% | 13,024 | 68.9% | 10,422 | 21.3% |
(Source: Author)
A new problem for NIO
NIO delivered 4,349 ET7s in June, meaning ET7 delivery volumes contracted 43% month over month... which the electric vehicle manufacturer attributed to supply problems related to casting parts. EC6 production was also affected by the same problem.
ET7 production limitations are a big problem for NIO because the ET7 sedan ramp has been responsible for upwards momentum in NIO's delivery growth lately. In June, NIO's ET7 deliveries soared 154.8% month over month to a record 4,349 units. The share of sedan deliveries has also increased materially in the second-quarter and the ET7 has been key in reinvigorating NIO's delivery growth: the ET7 delivery share rose from 2% in March to 34% in June. Unfortunately, because of problems sourcing parts, this momentum has now been interrupted and NIO's ET7 delivery share dropped to just 25% in July.
| | | | | | |
| --- | --- | --- | --- | --- | --- |
| ET7 Deliveries | March | April | May | June | July |
| Total Deliveries | 9,985 | 5,074 | 7,024 | 12,961 | 10,052 |
| NIO ET7 Deliveries | 163 | 693 | 1,707 | 4,349 | 2,473 |
| M/M Growth | 0.0% | 325.2% | 146.3% | 154.8% | -43.1% |
| ET7 Delivery Share | 1.6% | 13.7% | 24.3% | 33.6% | 24.6% |
(Source: Author)
The drop in sedan deliveries is a major setback for NIO because the ET7 ramp has been a rare bright spot in the company's business. NIO said that it hopes to resolve its supply issues in the third-quarter, but the drop-off in ET7 deliveries in July could definitely hurt NIO's delivery prospects in the short term.
Revenue estimates may start to trend down
NIO is still expected to grow its revenues rapidly going forward... with estimates now calling for 58% revenue growth year over year in FY 2022 and 76% revenue growth in FY 2023. However, recently disclosed supply chain problems that now include the ET7 ramp create delivery and top line risks that have not previously been considered. For that reason, I expect revenue estimates to trend down.
A massive revaluation of Chinese EV manufacturers has taken place in 2022 due to persistent supply chain problems and decelerating growth. Based off of FY 2023 sales, NIO now has a P-S ratio of 2.1 X. XPeng and Li Auto have similar price-to-revenue ratios, but, like NIO, were significantly more expensive last year.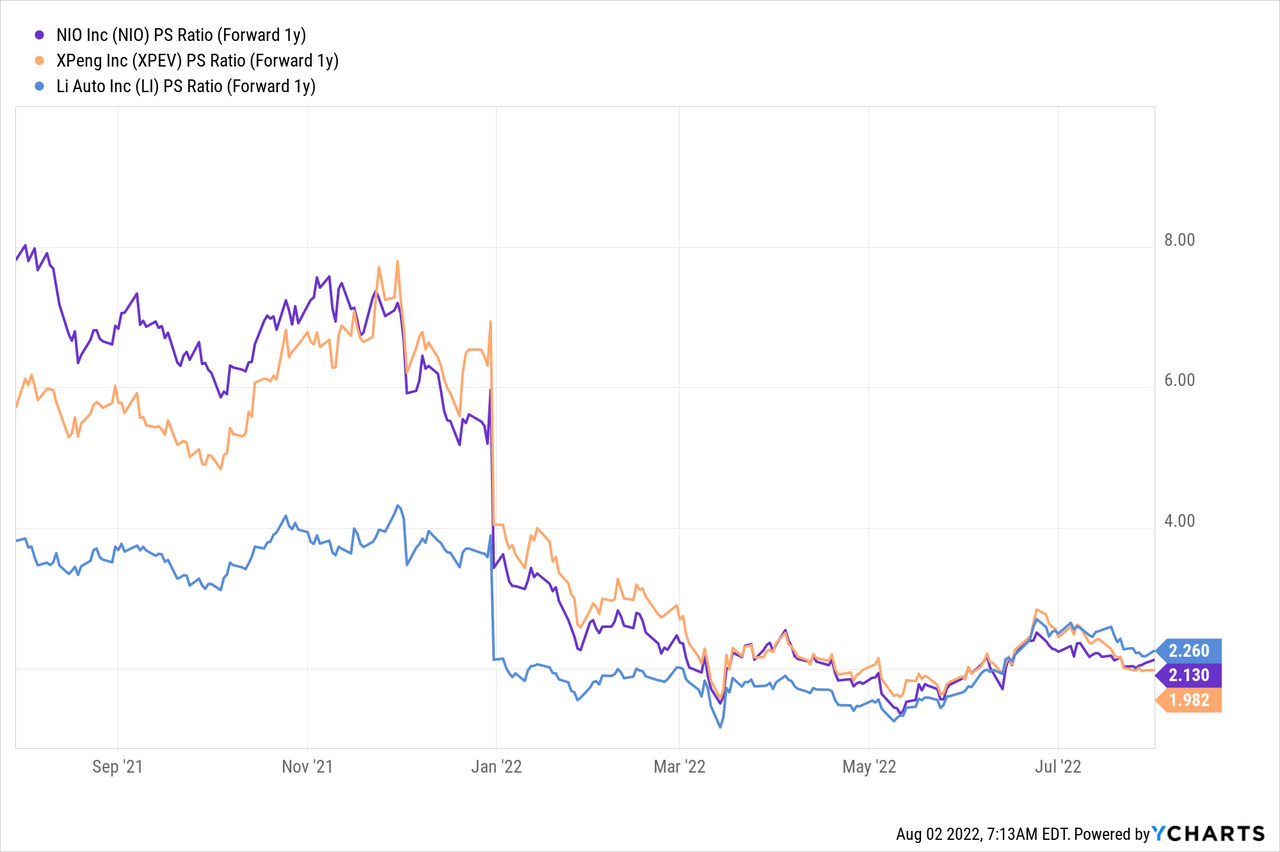 Risks with NIO
COVID-19 lockdowns, supply chain problems, a potential global economic down-turn and soaring inflation are all problems that consumers and electric vehicle manufacturers have to deal with. Unfortunately, NIO just disclosed a new supply problem affecting its fastest-growing ET7 production line. If NIO can find a quick solution to its supply problems, the firm's ET7 production would likely see a strong rebound. If it doesn't, slower delivery and top line growth may get priced into NIO's valuation.
Final thoughts
The drop in ET7 deliveries and a declining sedan delivery share create a new problem for NIO because the ET7 has been key to NIO's resurgent delivery volumes in the second-quarter. The supply issues relating to NIO's fastest-growing product are a problem that could create negative overhang for NIO's shares in the short term!