Airbnb: Obliterates Earnings With A Major Growth Runway Ahead
Summary
Airbnb is a leading travel accommodation provider which provides unique stays from all over the world.
The company has recently beaten earnings expectations and is gaining great feedback on new product features.
ABNB has a fortress Balance Sheet with nearly $10 billion in cash and management has approved $2 billion in share repurchases.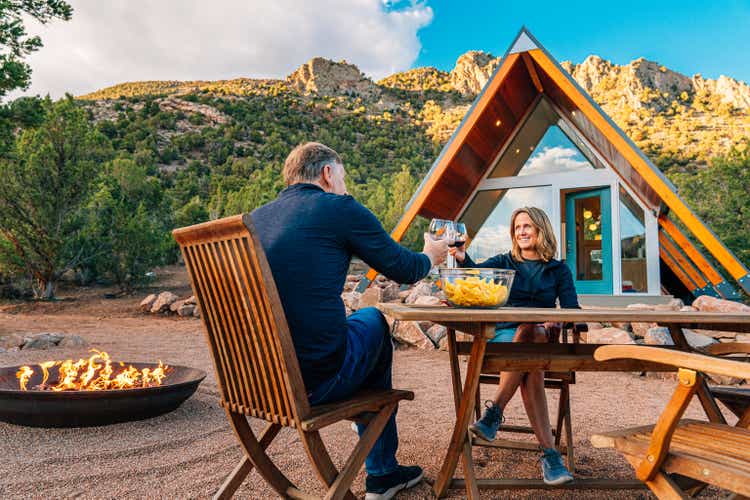 Airbnb (NASDAQ:ABNB) is a leading travel accommodation provider, which is disrupting the traditional Hotel Industry. A couple of months back I wrote a post on Airbnb and recommended the stock as a "Buy" based on their valuation and New Summer Release strategy. Since that post, the stock popped by 16%, dipped slightly and then rose by nearly 30%, leading up to the earnings announcement for the second quarter of 2022. Airbnb obliterated earnings estimates and they even recorded their highest single day revenue ever on July 4th, which could be a signal of the huge pent up travel demand. This makes complete sense as despite the looming "Recession", many people haven't been on vacation in two years, due to the lockdowns and uncertainty with travel. Airbnb now has a huge growth runway and a fortress balance sheet with nearly $10 billion in dry powder to execute and repurchase stock. Management has shown confidence and already authorized a $2 billion share buyback program. In this post I'm going to break down the recent earnings report and dive into the valuation.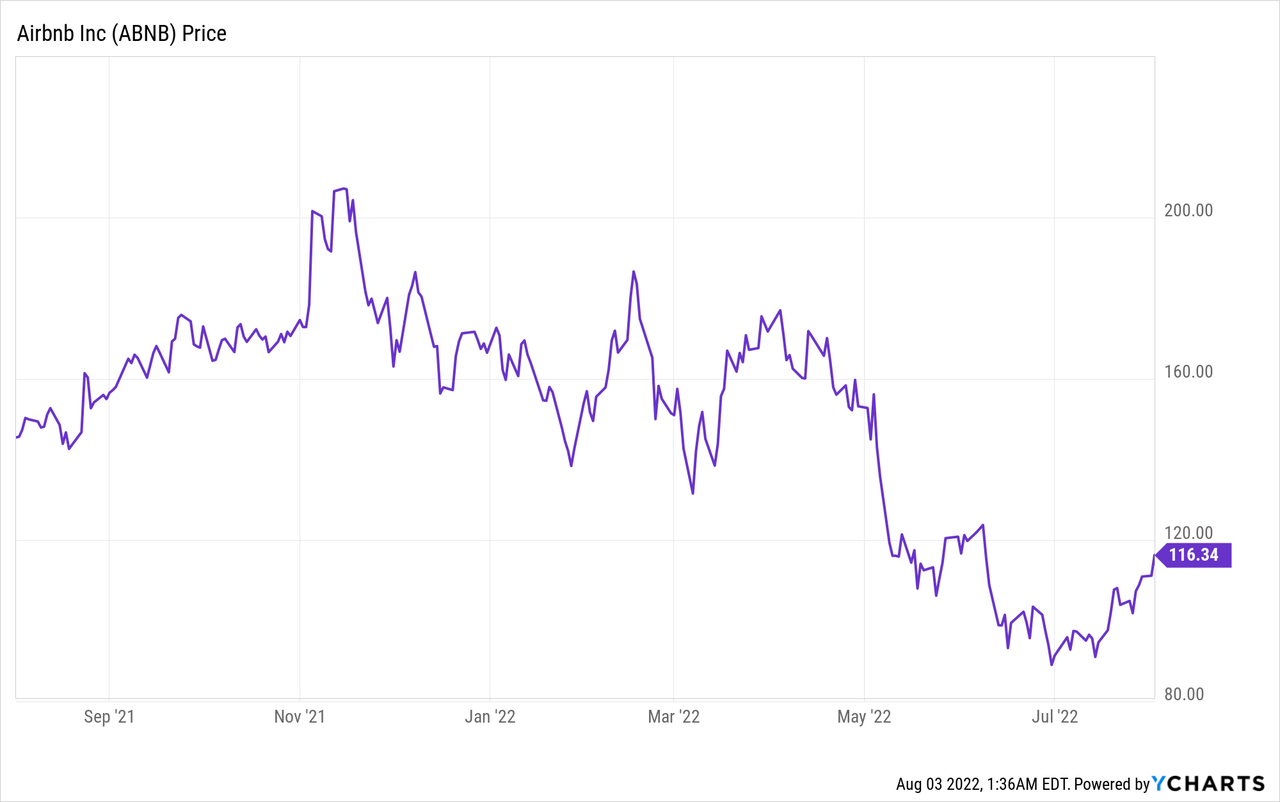 Airbnb's Earnings Take Flight
Airbnb generated strong financial results for the second quarter of 2022. Revenue popped to $2.1 billion, up a rapid 58% year over year and up 73% over Q2 2019.
This growth was driven by increases in per Night bookings and Experiences which rose to 103.7 million, up 25% year over year or 23% over a three year period. Higher Average Daily Rates (ADR) also helped to increase revenue and Gross Booking Volume (GBV) to $17 billion. This represented an increase of 27% year over year, which if we adjust for the foreign exchange rates was actually 34% higher. It also makes sense to compare this to pre pandemic levels (2019) as a baseline and relative to that period, GBV has increased by 73%.
As mentioned in my prior post, Airbnb announced various new features on May 11th for their "2022 Summer Release". One new feature was "Airbnb Categories" which enabled people to search for unique stays and destinations in an easy manner. For example, somebody can book to stay in a Modern Desert Home, a Castle, a French wine vineyard or even in a submarine converted into apartments. The idea was to capture peoples imagination and focus on the unique part of Airbnb's value proposition. The strategy has proven successful so far as Airbnb Categories have been viewed over 180 million times since May 11th. However, the company didn't break down exact bookings from the categories feature.
Airbnb also announced "AirCover" which is the most comprehensive travel insurance policy on the market. This helps to solve a main objection or worry customers have when booking an Airbnb and that is if the host cancels or doesn't turn up. After all, the beauty of a hotel is you know there is a concierge and there will always be someone available to check you in. However, Airbnb has now leveled the playing field with this new service which protects guests from this issue. According to Airbnb, it's net promoter score (NPS) increased by ~70pts due to AirCover. In addition, when a host does need to cancel AirCover has resulted in a 10% increase in rebookings.
The company's strategy to drive "long term stays" of 28 days or more is also working well. Long term stays made up ~19% of gross nights booked in the second quarter of 2022, up from 13% compared to Q2 2019 and flat versus Q2 2021. The trend is good, but personally I would have liked to have seen stronger growth this year in longer stays, as that was a key part of managements strategy announced in May. In addition, this would act as another key differentiator for Airbnb versus the Hotel industry. The good news is 45% of gross nights booked were from stays of at least seven nights in Q222, which is greater than expected.
Back to the financials, second quarter Net Income popped to $379 million, which represented a $679 million improvement from the negative -$279 million produced in Q2 2019. This was mainly driven by revenue growth and discipline with expenses.
It's net profit margin increased to 18%, up from -5% last year and -25% since 2019. Adjusted EBITDA also showed strong growth, more than tripling from levels since last year to $711 million.
Free Cash Flow was also a strong $795 million, which was the company's highest Q2 ever. This cash flow boost was driven by the strong revenue growth, increasing margins and seasonal bookings which drove "unearned fees".
Moving forward, Management is expecting Nights and Experiences Booked year over year growth to be "Stable" with the growth generated in Q222. However, they are forecasting record quarterly revenue of $2.78 billion to $2.88 billion, up 24% to 29% year over year. Driven by the seasonality boost as we enter the peak of summer. Slightly higher Average Daily Rates are also expected which will boost Gross Booking Volume (GBV). In addition, management expects profitability to be the "strongest" in Q3 due to seasonality and it's prudent management of fixed costs.
ABNB Stock - Advanced Valuation
In order to value Airbnb, I have plugged the latest financials into my advanced valuation model, which uses the discounted cash flow method of valuation. I have forecasted 23% revenue which is fairly conservative given the company's guidance, in addition I have forecasted 22% for the next 2 to 5 years.
I have also forecasted its operating margin to grow steadily over the next 6 years from 14% to 18% by the end of the period, as the company scales. This is still below 23% average operating margin for the software industry and includes adjustments for R&D expenses which I have capitalized.
Given these inputs, I get a fair value of $112 per share, the stock is trading at $116 per share at the time of writing and thus is "fairly valued".
As an extra data point, Airbnb is trading at a Price to Sales (FWD) Ratio = 8.69, which is the lowest it's historically traded at relative to IPO data in 2020.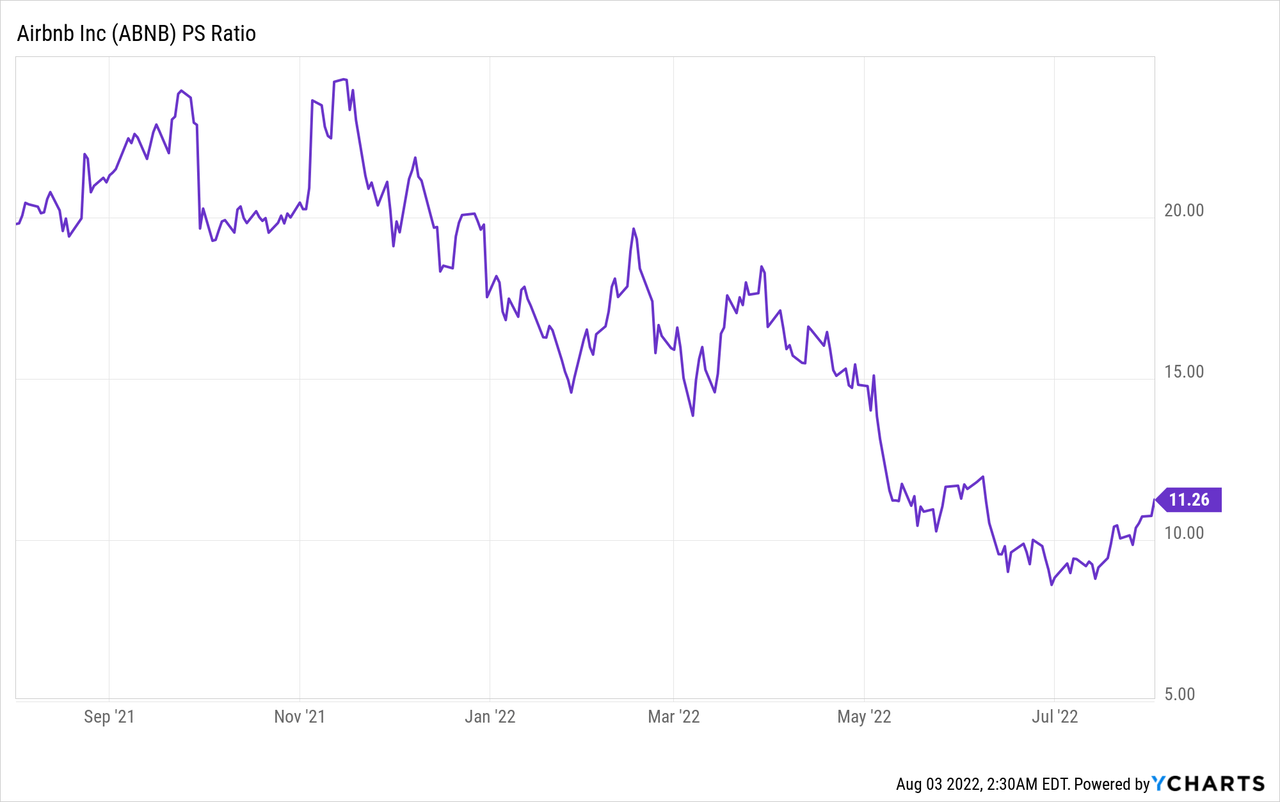 Risks
Valuation Perspective
With newly public companies and especially growth stocks, I like to look at private market valuation as an indication of "real value". As the public markets are more susceptible to the emotional general public and "Mr Market". Airbnb was privately valued at "just" $35 billion in 2019. At the time of writing the stock trades at a market capitalization of ~$75 billion, after a major pullback.
A public company is generally higher valued as the stock is more liquid, in addition the company has grown substantially and its cash position is much stronger. If I scale the market cap by the 73% revenue growth generated between Q2,19 and Q2,20, I get a ~$60 billion valuation.
If I add the +$6 billion in cash balance to the 2019 cash and short term investments of $3 billion, I get a valuation of ~$66 billion. Then if I add "liquidity premium" of 5% for being a public company I get a valuation of $69.3 billion. This is still ~7% cheaper than the $75 billion market cap but at least it gives us some indication of value. The market heavily buying at a $90 share price or 22% below the $116 price at the time of writing and thus this could be another indication of value and key buy points you may wish to write down.
Travel Seasonality and Recession
Travel is a seasonal business and although they are experiencing record high revenue and profits, "Winter is coming" and so is a forecasted recession. This is expected to be driven by the high inflation environment which is squeezing costs for both businesses and consumers. Thus cutting back on discretionary travel is usually the first place people decide to reduce expenses, which will directly impact Airbnb's bottom line.
Final Thoughts
Airbnb is a fantastic company and true disrupter of the Hotel Industry. The company has a strong culture, is founder led and is continually innovating its product line. The company has smashed earnings expectations for Q2 and they have a growth runway ahead given the strong travel demand. The stock is fairly valued at the time of writing and thus could be a great investment for the long term. However, the aforementioned risks such as a recession and travel seasonality will impact the company's financials in the fourth quarter of 2022.
This article was written by
Senior Investment Analyst for Hedge Funds. Interviewed Hedge Fund Managers and CEO's. Investment Strategy: Focus on Deep Dive Valuation, G.A.R.P (Growth at a Reasonable Price). Masters in Equity Valuation, 755+ Companies Analysed.
Analyst's Disclosure: I/we have no stock, option or similar derivative position in any of the companies mentioned, and no plans to initiate any such positions within the next 72 hours. I wrote this article myself, and it expresses my own opinions. I am not receiving compensation for it (other than from Seeking Alpha). I have no business relationship with any company whose stock is mentioned in this article.
Seeking Alpha's Disclosure: Past performance is no guarantee of future results. No recommendation or advice is being given as to whether any investment is suitable for a particular investor. Any views or opinions expressed above may not reflect those of Seeking Alpha as a whole. Seeking Alpha is not a licensed securities dealer, broker or US investment adviser or investment bank. Our analysts are third party authors that include both professional investors and individual investors who may not be licensed or certified by any institute or regulatory body.