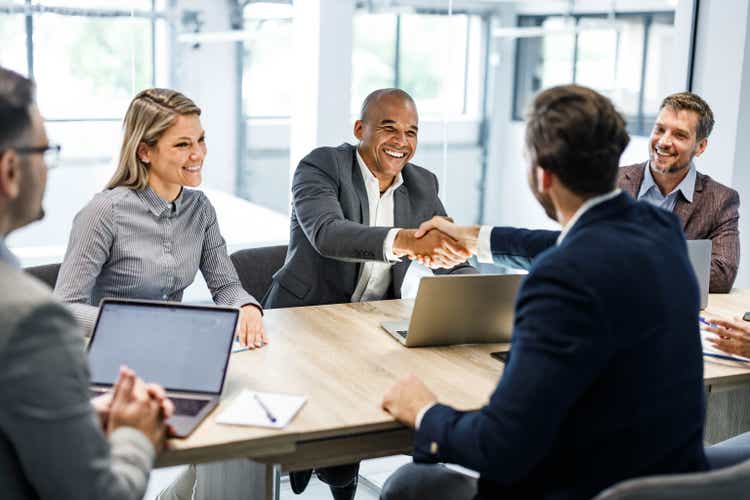 In January of this year I concluded that shares of SMART Global Holdings (NASDAQ:SGH) looked fair, as the business has focused on greater diversification, notably with the purchase of the LED business from Cree. This diversification and a cyclical recovery have been beneficial, yet with most of the operating momentum being a thing of the past already, I was holding a neutral stance at the time.
Where Do We Come From?
In its very essence, the core expertise of SMART is that it buys flash and memory modules from producers like Micron Technology (MU) and Intel (INTC), only to configure them and sell them to end clients like HP (HPQ), Cisco Systems (CSCO) and Dell, among many others. In essence, these are lower valued-added tasks in a competitive and cyclical industries, at least that was the core business at the time of the IPO in 2017.
The company generated $1.3 billion in sales in its fiscal 2018 (ending in August that year) of which $800 million in Brazil, while posting earnings power close to $5 per share. It must be said that the company has undergone a two-for-one stock split earlier this year, so really earnings power came in around $2.50 per share if you look up a recent chart from those days.
Momentum faded quickly as performance fell back to just over a billion in sales in 2019 with earnings power cut to $2 per share (ahead of the split) and ever since shares recovered again. At the start of this year shares traded at $65, corresponding to a split-adjusted price of $32.50.
2020 sales came in at $1.1 billion and with that fiscal year ending in August of that year, it included a substantial pandemic related impact. Adjusted earnings fell to $2.59 per share (pre-split) as the company reached a $300 million deal with Cree to acquire its LED business, including a nice financing structure. This deal and a recovery made that first quarter sales for 2021 came in at $292 million, revenues rose to $304 million in the second quarter and even $436 million in the third quarter. In October of last year, fourth quarter revenue numbers came in at $468 million (including a $123 million contribution from the Cree acquisition) as adjusted earnings of the quarter came in at $2.16 per share, or about $1.75 per share if we factor out stock-based compensation charges.
With earnings power trending at $7 per share (pre-split), and net debt of $142 million looking modest with EBITDA trending at $300 million per annum, things looked good. At the start of the year 2022, the company posted first quarter results with revenues coming in at $470 million, yet the company guided for second quarter sales at $435 million and earnings at $1.45 per share, indicating that momentum might have topped out already.
Pegging the realistic earnings at $4 per share per annum, I noted that margins at the start of the year were still a bit high given the history and volatile operations. Still holding 50% of my original stake, I found myself a bit in doubt, hanging on to 50% of an older position.
All Downhill
Since my take in January, shares of SMART have seen a bit of retreat as well, essential down 40% from $32.50 per share to $20 per share here, amidst the pullback in technology names. In April, second quarter results came in better than feared with revenues up 48% to $449 million which was a bit stronger than anticipated, yet adjusted earnings came in at $0.87 per share (after the stock split).
The company guided for some stability in these results with third quarter sales seen at a midpoint of $455 million and earnings (adjusted) seen around $0.75 per share. Cashflow power was solid, with net debt only reported at $125 million, in part by the savvy Cree financing structure. With stock-based compensation still hurting earnings power by nearly twenty cents a share, realistic earnings only trend around $2.50-$3.00 per share here, yet this is based on the new share count, so really still about $5.00-6.00 per share based on the old tally.
Late in June, SMART posted sales for the second quarter at $463 million, up 6% on the year before and comfortably ahead of the guidance, as adjusted earnings came in flat (and thus ahead of the guidance) at $0.87 per share. The company guided down again, with third quarter sales seen around $440 million and earnings at $0.65 per share. With a share count of 53 million shares, Smart only represents a $1.06 billion equity value at $20, although that number rises towards the $1.2 billion valuation if we factor in net debt just over a hundred million.
In the meantime, the company announced a big deal as well, as it reached a deal with Siris Capital Group to acquire Stratus Technologies in a $225 million deal, with earn-outs having the potential to add another $50 million to that transaction price. The deal should improve SMARTs positioning in specialty end markets with high-availability and fault-tolerant computing solutions.
The deal presentation reveal that Stratus generates $150 million in revenues, indicating that a 1.5 times sales multiple was paid excluding an earn-out, or about 1.8 times if we factor this in. Gross leverage is posted at 2.5 times, and net at 1.6 times upon deal closing, as the EBITDA contribution of Stratus is not reported. Needless to say, this is a different breed of acquisition, as SMART posts gross margins around 20% and with a $1.8 billion run rate it trades at just 0.6 times sales.
Stability
The announcement of the Stratus purchase and the second quarter results coincided late in June and with shares falling from $20 to $16 per share, it is hard to read into the market reaction. While the third quarter guidance was a bit softer, it is lily that the market is not too pleased with the deal. Nonetheless, leverage seems under control and with earnings still trending close to $2.50-$3.00 per share, we find ourselves in deep value territory.
The deal is set to grow and diversify the business in a rapid pace, but leverage is hardly much of an issue, the resulting multiples are cheap, and the business is improving from a diversification and margins point of view.
Amidst all of this, I am warming up to SMART Global as shares have regained some ground over the past couple of weeks, down from the lows around $15 per share to $20 per share. Right here, shares still trade at 6-7 times earnings and while Stratus is a bit of an unknown, leverage seem under control, leaving me cautiously optimistic here, the reason why I have added a modest chunk to my existing position here. I fully recognize that this is a volatile position, yet hoping for a cyclical rebound again as the track record of SMART in terms of profitable growth has been quite decent in the last couple of years.