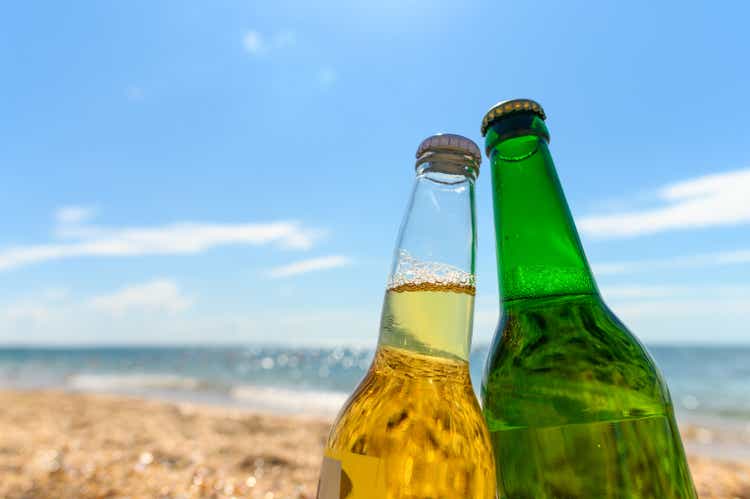 Introduction
Sometimes it's difficult to please everyone. O-I Glass (NYSE:OI) beat the Q2 EPS consensus, raised its full-year guidance but was rewarded by the market with a high single-digit percentage drop. Why? I think a comment on the Q4 EPS caused some worries, but I think these are unfounded.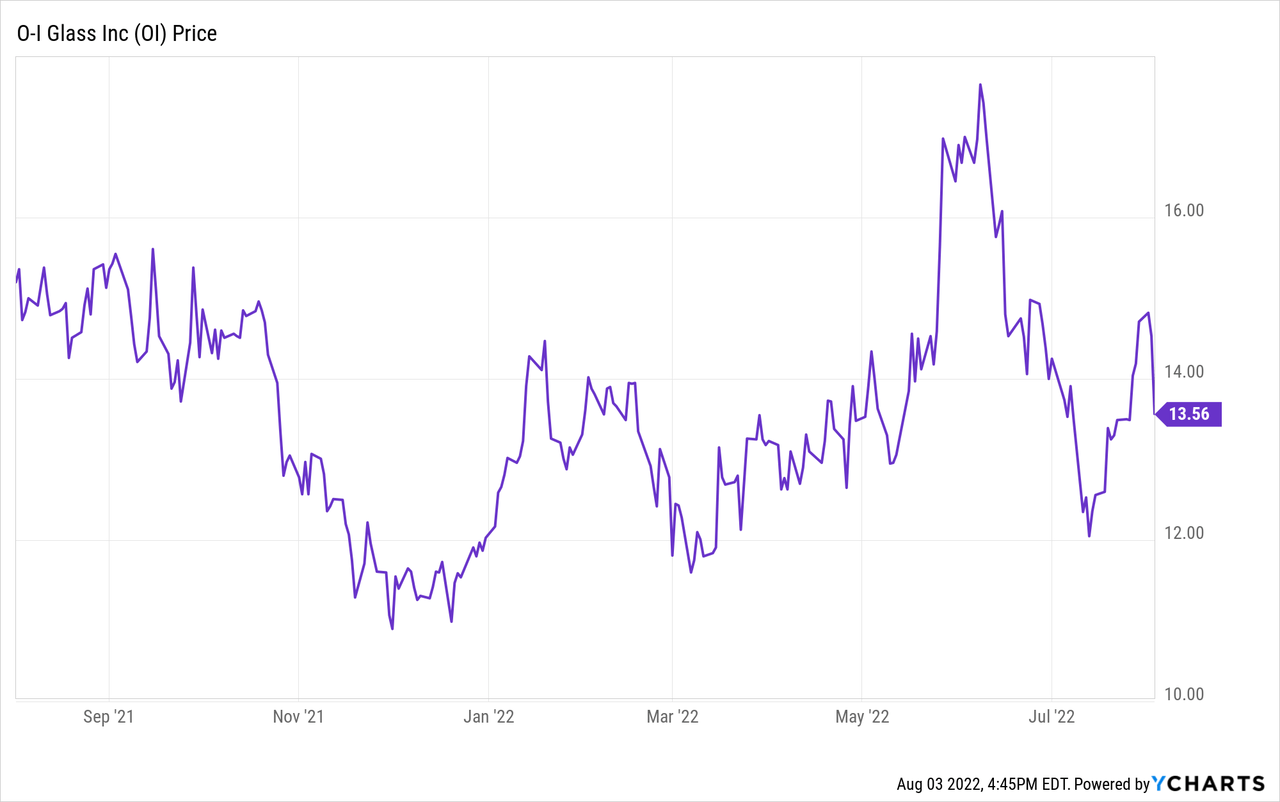 So far, so good: the cash flow is pouring in, and the balance sheet is getting safer
In my previous article I made the argument we wouldn't see the net debt decrease as O-I was planning on funding the Paddock asbestos scheme. This only occurred in July so the balance sheet as of the end of Q2 still reflects the Paddock liability of $625M and I will just add this to the financial debt.
The company reported an excellent net income result in the second quarter of the year, but investors were warned the $1.62 net income per share is not representative as it was boosted by a $168M 'other income' (mainly caused by a sale and leaseback transaction) which basically doubled the pre-tax income. On an adjusted basis, O-I Glass reported an EPS of $0.73.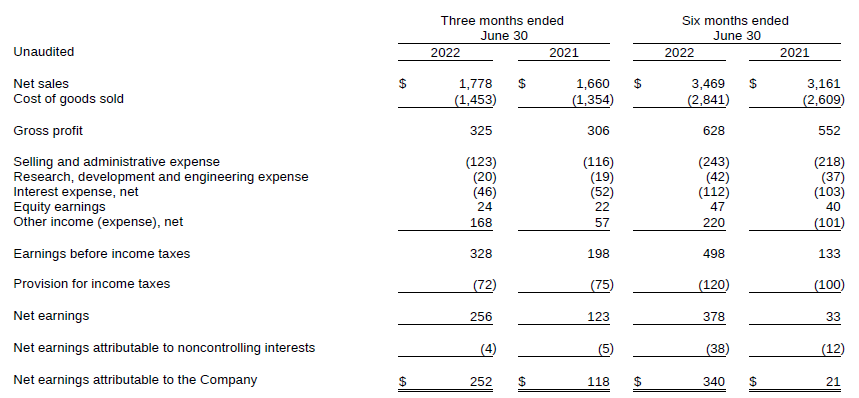 The income statement above is just to show where the starting point in the cash flow statement is coming from as my entire investment thesis for O-I Glass is based on free cash flow. And as you can see below, a total of $182M was deducted from the net earnings as that was a non-cash income. The reported operating cash flow was $193M and approximately $194M after isolating the changes in the working capital position, pension payments and cash restructuring payments.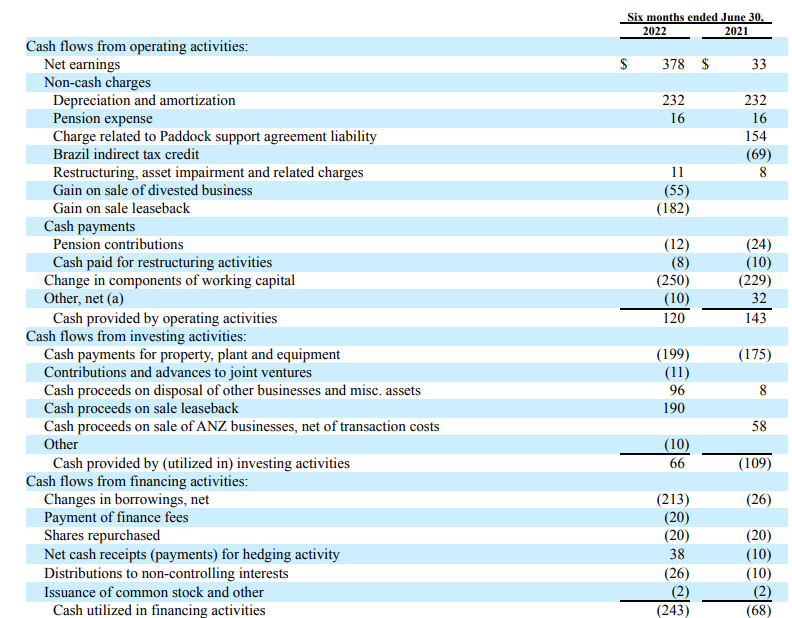 As you can see above, there also is a $26M payment to non-controlling interests. This is not a normal quarterly payment so it wouldn't be correct to take 100% of this payment into consideration in the Q2 cash flows. If I would use an average cash outflow of $10M per quarter related to this, the adjusted operating cash flow would come in at $184M.
With a total capex of $103M (excluding contributions to JVs), the free cash flow was $81M. With approximately 155.6M shares outstanding, the free cash flow result was approximately $0.52.
Keep in mind O-I will ramp up its capex in the second semester as the company is still guiding for a total capex of approximately $600M. $225M of this amount is an investment in growth (new production lines will come online in H1 2023 while O-I is kicking off the development of the MAGMA process with a Kentucky-based investment). This means the sustaining capex is only $375M.
The full-year guidance calls for a reported free cash flow of $175M and a sustaining free cash flow of $400M after adding back the growth-related capex.

The $225M in growth investments is part of a bigger plan to spend $630M on growth capex in the 2022-2024 era, which works out to be approximately $210M per year. That's a lower amount than originally guided for as it looks like the MAGMA greenfield additions have been scaled back from 'up to 11' to just two. I'm not too worried about that at this point as it is likely the additional MAGMA-related investments will just fall outside of the 2022-2024 scope. The first MAGMA Generation 2 site will only start up in the summer of 2024 and I think the reduction from 'up to 11' to 2 is just a timing issue. Meanwhile, it will give O-I Glass more time to fully repair its balance sheet.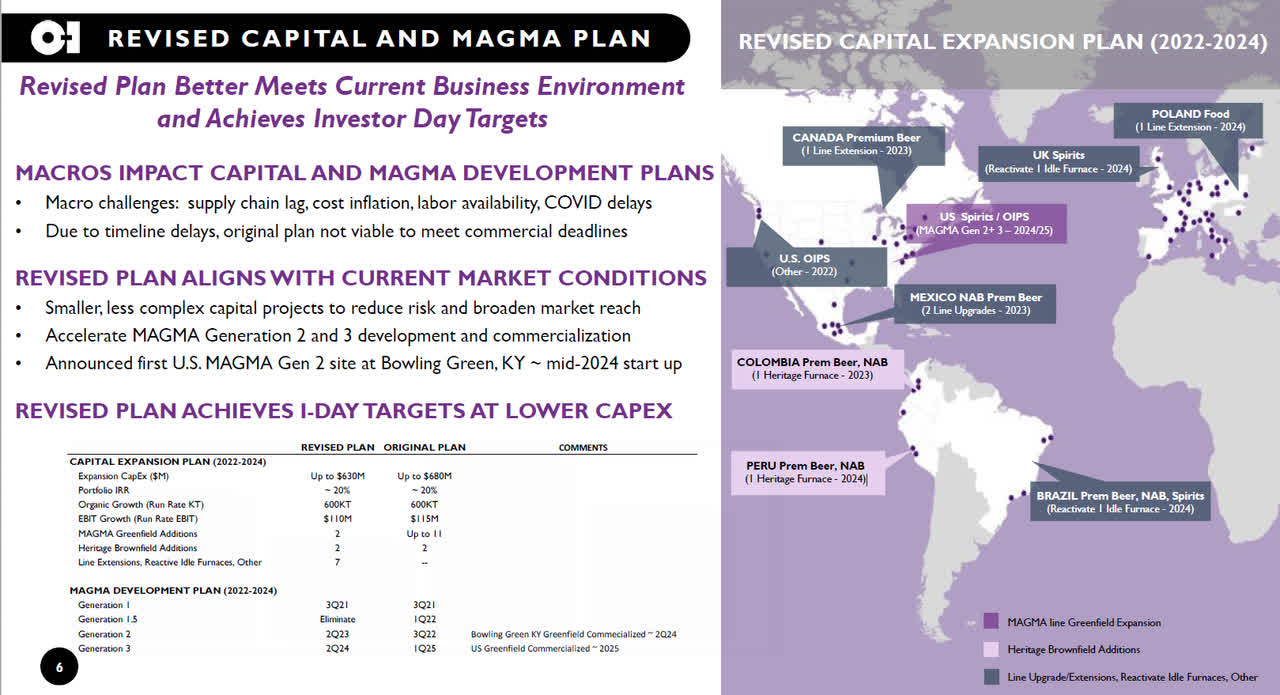 As of the end of June, O-I had $661M in cash, $65M in short-term debt and $5.05B in long-term debt (including the Paddock liability). The total net financial debt is approximately $4.45B and $4.6B including the unfunded pension liabilities. With an LTM EBITDA of $1.16B, the debt ratio currently stands at 4 times EBITDA and this should enable O-I to indeed end the year with a net debt versus EBITDA ratio in the 'high three' range.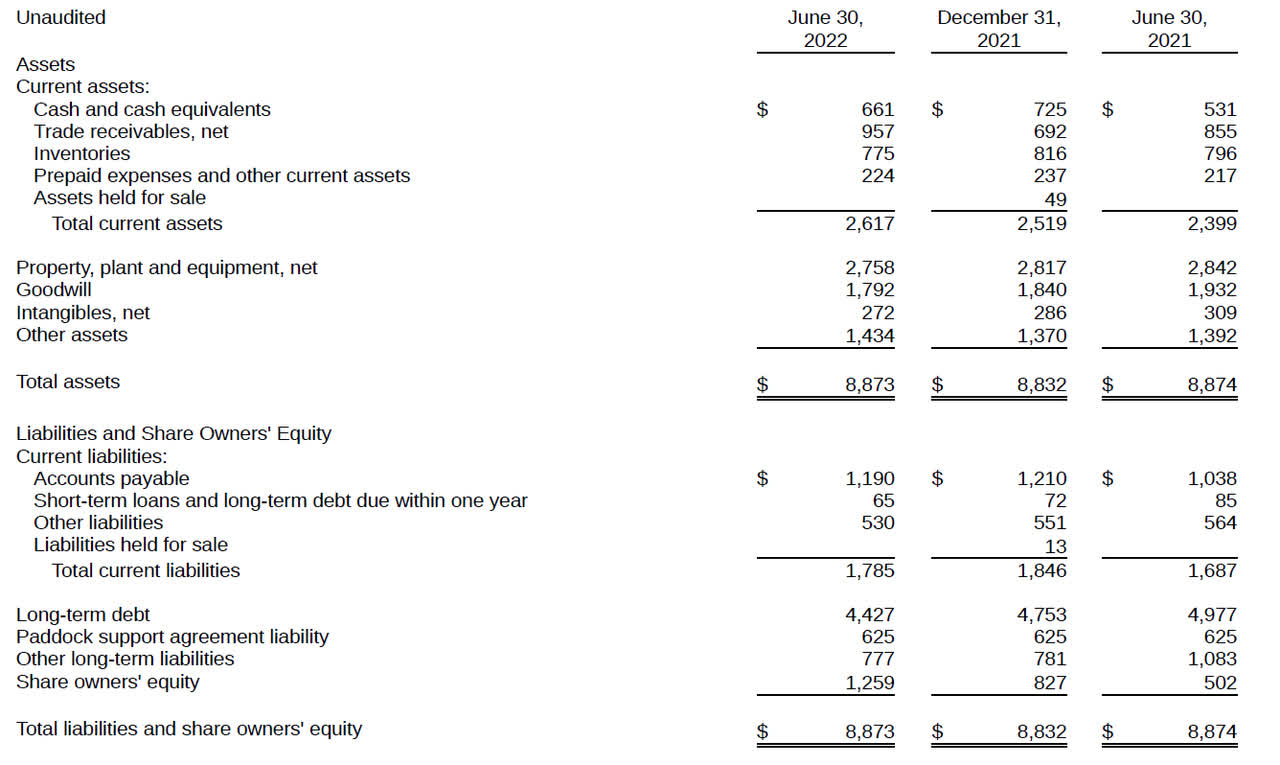 So why did the market panic despite the guidance increase?
Although the press release only contained a Q3 EPS guidance, investors were able to put 1 and 1 together. If the adjusted EPS was $0.56 in Q1 and $0.73 for Q2 and assuming a Q3 EPS of $0.55, the implied adjusted EPS in the first three quarters of the year already is $1.84. So even though the full-year guidance was hiked to $2.05-2.20 per share, this implies the Q4 EPS was estimated at $0.21-0.36 per share.
A typo? Not really. On the Q2 conference call, management confirmed it expects a Q4 adjusted EPS of $0.20-0.30 per share. There are two reasons for this. First of all, Q4 is a seasonal low. That's not new. The majority of the demand and deliveries in North America and Europe occur in Q2 and Q3. Q4 is a good quarter in South America but that is only a relatively small market for O-I Glass.
Secondly, the fourth quarter of last year was exceptionally strong as volumes increased by 5.5%. For Q4 of this year, management is expecting a volume decrease of 3-5% but as that's based on a strong Q4 2021, the Q4 performance is really just normalizing. Q4 2022 won't be abnormal, Q4 of last year was the abnormal quarter. Those additional volumes were sold from existing inventories and as of the end of Q2, inventory levels represented less than half a quarter's revenue.
Investment thesis
And this lends more credibility to my general thesis for the glass container market. Pretty much all plants are sold out and producing at full capacity with inventory levels still low. Of course, not every glass container producer is equal and the next few quarters energy prices and inventory management will play an important role. O-I Glass should be able to position itself well ahead of 2023 where it will likely be able to hike prices again while it will open new production lines which will start contributing to the operating cash flow.
Based on the current situation, O-I's sustaining capex and growth capex are fully covered by the incoming operating cash flow, and the free cash flow should increase further in 2023. This means that the underlying sustaining free cash flow for 2023 will likely be as strong as the $400M expected for this year, even if O-I wouldn't be able to pass on all higher operating expenses to its customers.
I have a long position in O-I Glass and will increase my position on this drop (likely through writing put options). The investment thesis remains intact and the sustaining free cash flow per share the next few years will likely continue to exceed $2/share.