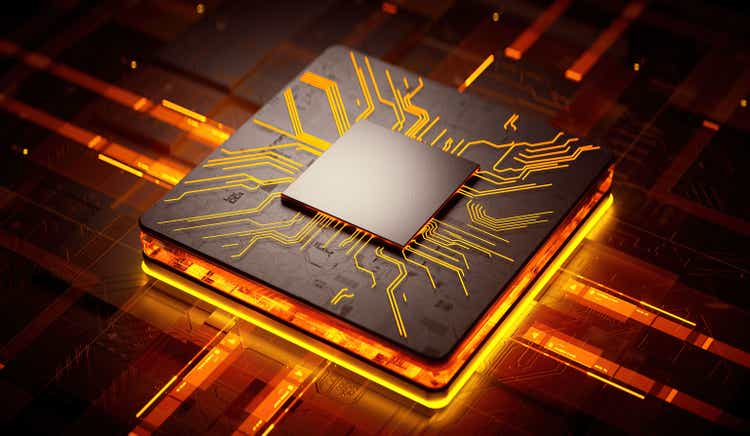 Investing During Recession and the Riskiest Months of the Year
If you're waiting for an official recession announcement, you may risk missing out on cheap investments with growth opportunities. We can debate whether we are or aren't in a recession. What is a fact is that U.S. GDP fell by 0.9% in Q2, signaling the economy shrank for the second consecutive quarter. Although this may have been the technical definition of a recession in the past, Bloomberg Intelligence equity strategists Gina Adams and Michael Casper say, "While 15% to 20% market corrections are customary outside of a recession, the 23.4% peak-to-trough decline this year in the S&P 500, combined with an inverted yield curve, largely assures an economic recession is imminent." This may mean bad news for some investors but could spell a buying opportunity for others.
Historically, August and September are the worst months for investing, with the S&P 500 posting some of its weakest returns in September, highlighted above as the Seasonality Snag. As the Federal Reserve continues to raise interest rates and fear moves the markets, bear markets can be followed by recession.
As I wrote in Investing for a Potential Recession, "Many of the best days for Wall Street have occurred during a bear market, just prior to, or just after the end of one." Investors are unclear whether or not inflation has peaked. Have we reached the bottom? Uncertainty makes going against the grain a beneficial strategy that the greats like Warren Buffett and Charlie Munger have used.
Short Bear Market Rallies
As showcased in the above Bloomberg visual, the Nasdaq has returned from market declines, rising to new all-time highs. Staying true to long-term investment objectives regardless of the market cycle is key because some of the best days in the market tend to follow the worst. Quality growth stocks may be ripe for picking. During times of slowdown, growth stocks with strong balance sheets, low debt levels, strong free cash flow, prudent management, and overall fundamentals may present an opportunity for investors.
Some Growth Stocks Are an Opportunity
Finding growth stocks with solid fundamentals at a reasonable price has been difficult in the current environment, as high inflation and supply chain constraints coupled with geopolitical issues have impacted the future value of a company's earnings. Many more popular sectors like tech offer potential buying opportunities as they trade at a discount. With the anticipation of more pain ahead in the months of August and September coupled with recession risks, many growth stocks are already substantially undervalued. So, I've honed in on one of my favorite industries, semiconductors. As part of the popular tech sector, chips have proven resilient during the pandemic and may withstand a recession, especially given the passage of the new semiconductor act.
Semiconductors and the CHIPS Act 2022
The Chips Act is a semiconductor bill that includes $52B in subsidies to increase U.S. chip production while limiting reliance on foreign sources. Some of the most advanced types of semiconductors are produced in Taiwan and China. Following the bipartisan vote, Nancy Pelosi and a delegation of U.S. representatives made a trip to Taiwan aimed to reaffirm its ties to the nation, while according to a SA News Article:
also encouraging "manufacturers such as Taiwan Semiconductor (NYSE:TSM), which makes chips for companies like Advanced Micro Devices (NASDAQ:AMD), Apple (AAPL), NVIDIA (NVDA) and others, to build foundries in the U.S…(The Chips and Science Act) will also provide a new, four-year 25% tax credit to encourage companies to build semiconductor plants in the U.S. and authorizes grants and loans as well. Taiwan Semiconductor (TSM) is currently building a plant in Arizona that is expected to begin production in 2024."
The appeal of semiconductors used in countless products, including communications, computing, healthcare, clean energy, and more, is why I love the industry and have selected TSM and AMD for this article. Not only have they proven to withstand and be resilient during some of the most difficult times, but they are also a product of the current times and for the future, in high demand. As part of the technology sector, semiconductors have grown in popularity among investors, managing to withstand the significant falls tech stocks have seen and the recent bear markets. With semiconductors at the forefront of headlines as Biden gears up to sign the bill into law, this supercharged effort, and the industry is one of my favorites to invest in for a rally or recession.
1. Taiwan Semiconductor Manufacturing Company Limited
Market Capitalization: $425.74B

Quant Rating: Strong Buy

Quant Sector Ranking (as of 8/3): 6 out of 632

Quant Industry Ranking (as of 8/3): 2 out of 66
Differentiated chipmaker, TSM offers advanced semiconductors for diverse product offerings, including high-performance computing and automotive divisions that lead the drive.
"TSMC's strategy is to continuously develop multi-source supply solutions to build a well-diversified global supplier base and to improve the local supply chain. For specialty chemicals and gases, including neon and geon we source from multiple suppliers in different regions, and we have prepared a certain level of inventory stock on hand. We are also working closely with our suppliers to further strengthen the resilience and the sustainability of our supply chain" - C. C. Wei, Taiwan Semiconductor Manufacturing CEO.
Tech stocks, including semiconductors, have been beaten down this year, with TSM -32.83% YTD. Fears of a Chinese invasion, lockdowns, supply chain disruptions, and other risks make TSM, which holds more than 53% of the world's most advanced chip manufacturing, a concern for investors. For this reason, Nancy Pelosi's recent trip to Taiwan was a show of the U.S. upholding the peace and security of Taiwan, according to the Taiwan Relations Act.
Taiwan, which derives most of its revenue and operations from the U.S. and China, receives some of the biggest chip contracts globally by market share, totaling approximately $85.13B in 2020. Despite shortages, semiconductors are in high demand, and TSM is a strong buy according to Seeking Alpha's quant ratings and comes at a great value.
TSM Stock Valuation is Cheap
Taiwan Semiconductor has gotten crushed along with the broader market but possesses great characteristics and discounted prices. TSM is trading below $90 per share with an overall B valuation grade. Forward P/E is 13.60x, a 38.97% discount to the sector, and a forward PEG of 0.56x, a -61% difference to the sector.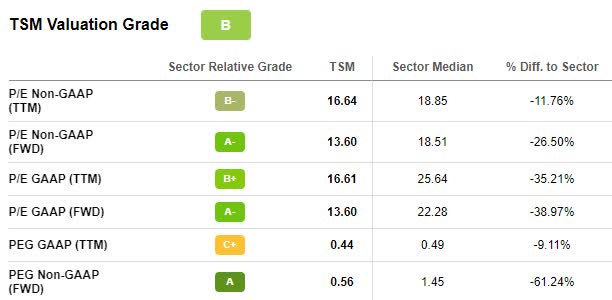 Given the price-to-earnings ratios, TSM's impressive margins, and five upward revisions in the last 90 days, it's no surprise that the company beat top- and bottom-line earnings for Q2.
Taiwan Semiconductor Growth and Profits
With cash from operations sitting pretty at $43.87B, an overall A+ profitability grade, and solid Q2 earnings that resulted in an EPS of $1.55 beating by $0.05 and revenue of $17.83B beating by $327.19M, TSM continues to showcase why semiconductors and the company is a continued success.
Gross margins increased by 59.1% from Q1, given cost improvements and a favorable currency exchange rate. With lockdown easing in Asia and tailwinds that favor the company, its management is optimistic about next quarter's guidance, expecting Q3 revenue to increase by 11.2%, roughly $19.8 to $20.6B. While inflationary costs and headwinds out of China are challenges out of TSM's control, their executive team believes their long-term gross margin of +53% is attainable. At the current discounted price coupled with the latest earnings results and Q3 guidance, this strong buy-quant rated recommendation is great for portfolios.
2. Advanced Micro Devices, Inc. (AMD)
Market Capitalization: $160.90B

Quant Rating: Strong Buy

Quant Sector Ranking (as of 8/3): 14 out of 632

Quant Industry Ranking (as of 8/3): 4 out of 66
Considered one of the fastest growing semiconductor brands in the world and posting the highest percentage revenue gain of $6.6B, worldwide semiconductor company Advanced Micro Devices operates in two divisions: computing and graphics. Like Taiwan Semiconductor, AMD has felt the effects of the volatile market, despite it being an analyst favorite with impressive results. Trading near its 52-week low of $71.64, AMD maintains its $26.3B guidance while continuing to trade at a relative discount.
AMD Stock Valuation & Momentum
Although AMD maintains strongly bullish momentum, analysts indicate that this stock is overbought, with investors actively purchasing its shares and driving the price higher.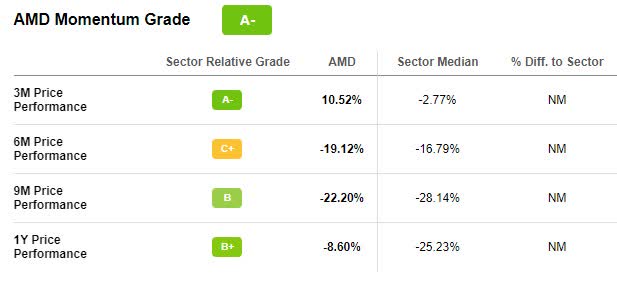 Although the stock is down more than 12% over the last year, and -34.71% YTD, AMD is trading just under $100 per share, a relative discount with a forward PEG ratio of 0.64x, -55.91% difference to the sector.
Q2 guidance for AMD was solid and maintained at $26.3B. But the market reacted negatively to the news, prompting AMD's share price to fall, despite the broader chip sector experiencing a rally.
"Several Wall Street analysts praised the company's results, including Morgan Stanley analyst Joseph Moore, who said the figures and outlook were "impressive," citing the current environment. "We continue to like the opportunity here, though we can understand some disappointment," Moore wrote in a note to clients, adding that the "decelerating momentum" was obvious and "mostly discounted"' - Chris Ciaccia, SA News.
Despite fears of a recession prompting a slowdown in demand and lack of supplies, AMD continues to experience significant growth, reporting revenues of +70%.
AMD Growth & Profitability
AMD is focused on developing premium chips, and its quality product has resulted in a Q2 EPS of $1.05, beating by $0.01, and revenue of $6.55B, beating by $20.78M. Each of the company's divisions grew substantially, year-over-year, and gross margins were up 54% YoY, more than 2x from the prior.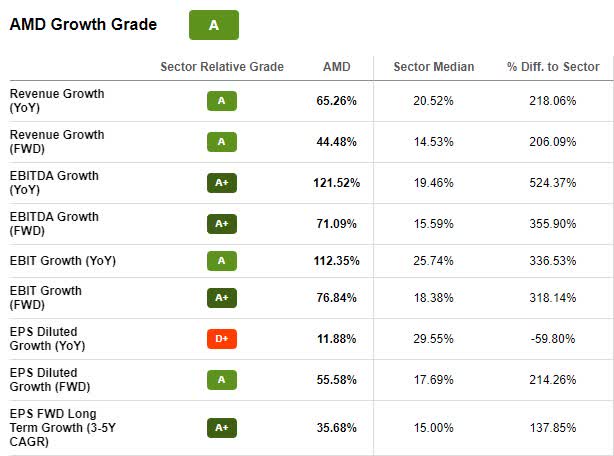 Gaming revenues saw a 32% YoY increase to $1.7B. AMD is on a significant growth trajectory by expanding into other markets and experiencing robust demand. According to our quant ratings, this stock is a great consideration for a portfolio and a strong buy. As AMD's Chair and CEO Lisa Su said:
"AMD has never been stronger, and the markets for our products have never been as large or diverse. As a result, we have now delivered eight straight quarters of record revenue as our strong execution and leadership products have driven increased adoption across an expanded set of markets and customers.

Despite the current macroeconomic environment, we see continued growth in the back half of the year, highlighted by our next-generation 5-nanometer product shipments and supported by our diversified business model. We remain laser-focused on executing our product and technology roadmaps, further deepening our customer relationships and investing strategically across the company to drive our next phase of growth across the $300 billion high-performance and adaptive computing market."
Craving chips…for your portfolio?
Various sectors offer inflation- and recession-proofing investments that can stand the test of time. Semiconductors are a long-term consideration because they are not only used in an array of current products, they are evolving for the future – used in electric vehicles (EVs), solar and clean energy, and ever-evolving technology products. Check out this brief SA video.
My two strong buy recommendations, TSM and AMD, have been beaten up over the last year and trade at a relative discount while possessing great outlooks and collective characteristics. The semiconductor industry offers tailwinds amid the Senate passing of the CHIPS Act, a positive sign for continued momentum, growth, and profitability.
Whether we are in a recession or not is debatable. Be on alert for tips and investments that can prepare you for periods of downturn. Even in a down market, the right tech stocks can be great buys if you identify those with fair valuations and solid fundamentals and capitalize on their growth and momentum. TSM and AMD are trading near 52-week lows, and buying at their current price offers your portfolio the opportunity to capitalize on potential upside. If you're not a fan of these two stock picks, there are dozens more Top Technology Stocks and Top Growth Stocks for you to choose from that utilize our quant grades and investment research tools to help ensure you are furnished with the best resources to make informed investment decisions.